Want to learn how to make beaded Christmas spiders and find out why every Christmas tree needs a beaded Christmas spider ornament among its branches? I'm going to show you the tutorial for a DIY Christmas spider ornament – and also share The Legend of the Christmas Spider (also known as the Christmas spider poem or Christmas spider story). If you'd prefer a printable PDF tutorial, you can find that here – I also have a limited number of a handmade, one of a kind Christmas spiders for sale here.
Prefer a Printable PDF Tutorial?
*NEW* for 2022! If you'd prefer a printable PDF tutorial for how to make a Christmas spider, I just launched a 13-page tutorial with brand new photos that are LARGE and clear. Also included is a condensed 2-page printable tutorial, plus the spider original story.
Once you learn how to make a DIY Christmas spider ornament, you'll want to make one for everyone you know! DIY beaded spider ornaments make a wonderful handmade gift topper or homemade stocking stuffer idea. They're so sparkly and, the way I make them, no two are alike!
Christmas Spider Story:
Wondering what is the story behind the Christmas spider? This is the story behind the Christmas spider tree ornament and why every tree needs a Christmas spider ornament: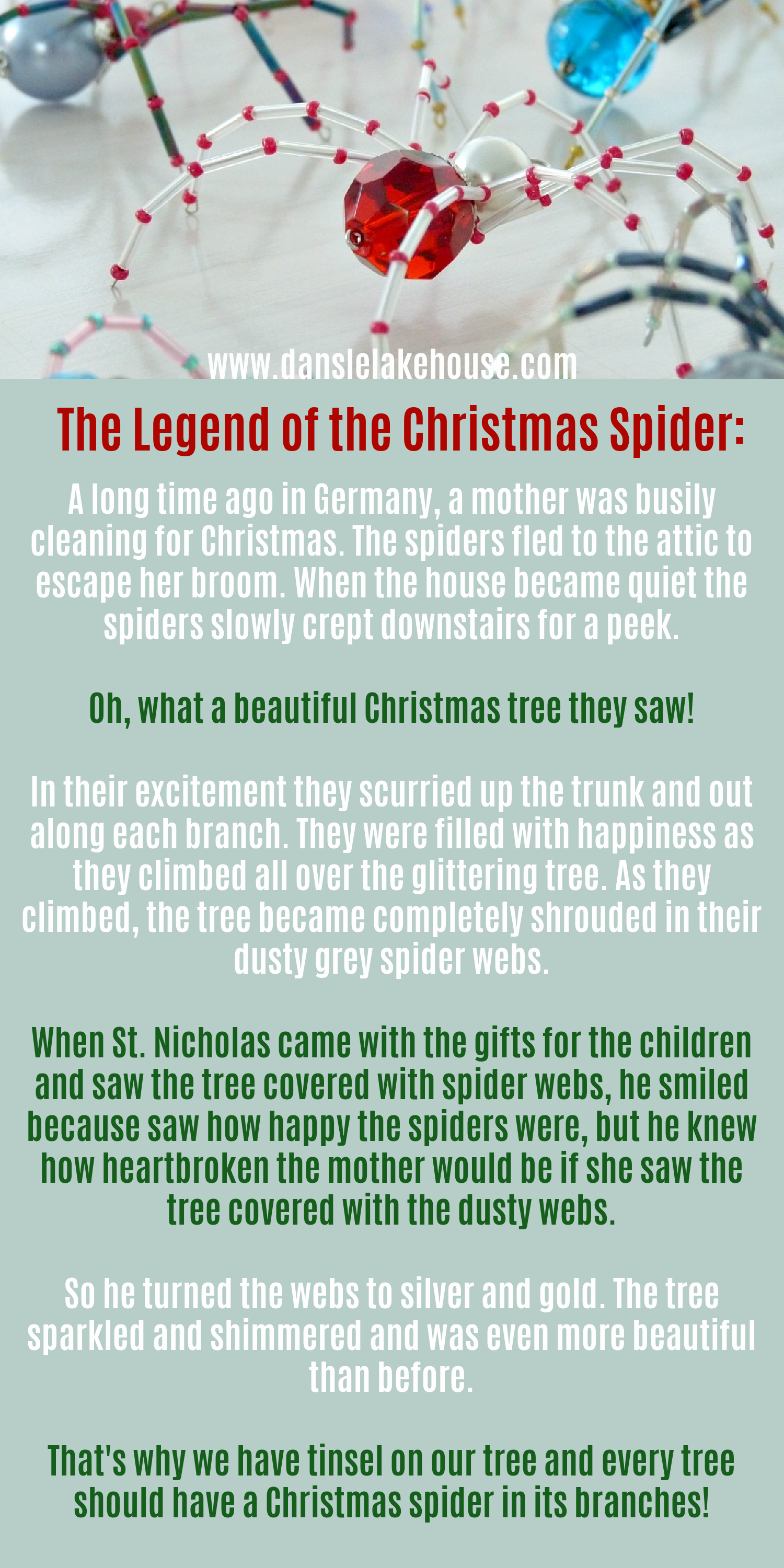 The Legend of the Christmas Spider:
A long time ago in Germany, a mother was busily cleaning for Christmas. The spiders fled to the attic to escape her broom. When the house became quiet the spiders slowly crept downstairs for a peek.
Oh what a beautiful Christmas tree they saw!
In their excitement they scurried up the trunk and out along each branch. They were filled with happiness as they climbed all over the glittering tree. As they climbed, the tree became completely shrouded in their dusty grey spider webs.
When St. Nicholas came with the gifts for the children and saw the tree covered with spider webs, he smiled because saw how happy the spiders were, but he knew how heartbroken the mother would be if she saw the tree covered with the dusty webs.
So he turned the webs to silver and gold. The tree sparkled and shimmered and was even more beautiful than before.
That's why we have tinsel on our tree and every tree should have a Christmas spider in its branches!
~Author Unknown (and the story varies – sometimes Santa Claus is the leading man)
Isn't that a sweet story? I suggest printing out the Christmas Spider origin story and gifting it alongside this handmade Christmas spider ornament so your recipient will know why these are so special. I have been making and selling these Christmas spider ornaments for years and years, so today I'm excited to show you how to make your very own DIY beaded Christmas spiders! I might be biased, but I think I make the prettiest spider tree ornaments!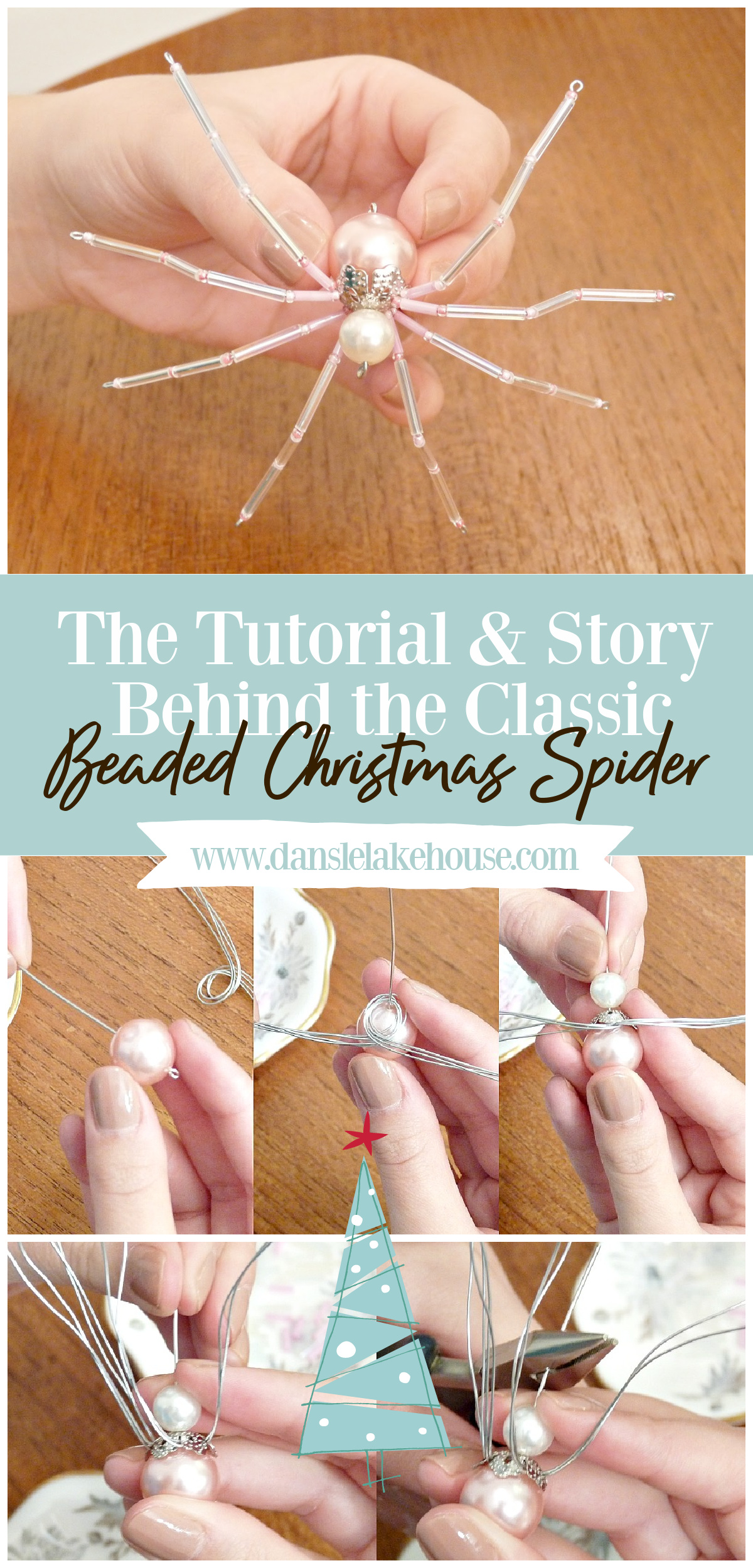 Supplies for Making a Spider Tree Ornament:
1. 4 pieces of 24 gauge wire (approx. 8″ long each)
2. 1 eye pin (approx. 2″ long, a lower gauge for durability)
3. 1 bead cap (sized to cover largest bead perfectly)
4. 1 large approx 20mm bead (for the body)
5. 1 small approx 8-10mm bead (for the head)
6. Seed beads
7. Bugle beads
If you'd like more suggestions for spider making supplies, I've curated a list of supplies and beautiful beads that are the right size right here. Click here for more bead suggestions!
Tools Required for DIY Christmas Spiders:
1. Needle nose pliers
2. (Optional) Wire cutters
Time Required to Make Beaded Christmas Spiders:
Once you get the hang of it, no more than 15 minutes per spider ornament, so you can make one for everyone you know in a weekend.
How to Make Beaded Christmas Spider Ornaments:
First, cut the wire for the spider legs to approx. 8″ length. Once you get the hang of it and have made your first one, I recommend cutting a lot of legs at once to save time.
Wrap all four wires gently around your finger. Keep them as neat & lined up as possible:
Make a gentle loop, not a kink or bend.
Thread the larger bead onto your eye pin, followed by the wire you've made a loop in, then the bead cap and finally the smaller bead (this will be the spider's body):
Hold the spider body together tightly and adjust the wires so they come out of the bead cap similar to a real spider's legs. Take a moment to line up and position the wire. Holding the spider together tightly, trim excess wire from the eye pin (using either your needle nose pliers or wire cutters) leaving enough to create a loop:
To create a loop, use the same steps I outlined in this post about DIY earrings & this post about my DIY pearl & chain necklace. Bend the wire in one direction then, using your needle nose pliers, gently bend the wire to create a loop in the opposite direction:
Once your spider's body is nice and tight (not wibbly-wobbly), move on to beading the legs. Thread on one seed bead, then a bugle, then a seed bead . . . until the legs are the "right" length (this is purely subjective). For this spider, I used one short bugle and three longer bugles. You can mix it up with size and colour but don't ditch the seed beads because they act as "joints". When you've beaded a leg, trim the excess wire and close with a loop. Make sure not to make the legs too tight, or beads might break when you bend the the legs. But not too loose, either, because you might see gaps. You'll get the feel for it right after making your first one! Finish beading all of the legs.
Your spider might look a bit octopus-like when you're done. Take some time to bend and shape the legs the legs. It will take some fiddling, but that's the fun part!
That's it! I promise it's really easy to get the hang of making these DIY beaded Christmas spider ornaments.
How to Make One of a Kind Christmas Spider Ornaments
Hopefully you enjoyed this tutorial for how to make beaded DIY Christmas spiders and will try this Christmas spider craft. For one-of-a-kind spiders, I like to use reclaimed beads from vintage jewellery. I scour yards sales and flea markets for funky necklaces to take apart and mix those beads with supplies from local bead shops, big box craft stores – even dollar stores. Click here to see more colour combinations to get inspired for making your own Christmas spider ornaments!
P.S. Don't Forget to Pin for Later!