Today I'm going to share my tips and tricks for how to reupholster dining chairs – specifically how to upholster rounded corner seats without any bunching! See how smooth and flat that corner is? And how nice and tight that upholstery is overall? I'll show you all of my upholstery tips and tricks!
Here are the beautiful chairs in my kitchen – I wanted black and white upholstery with the teak wood, and it was absolutely the perfect choice!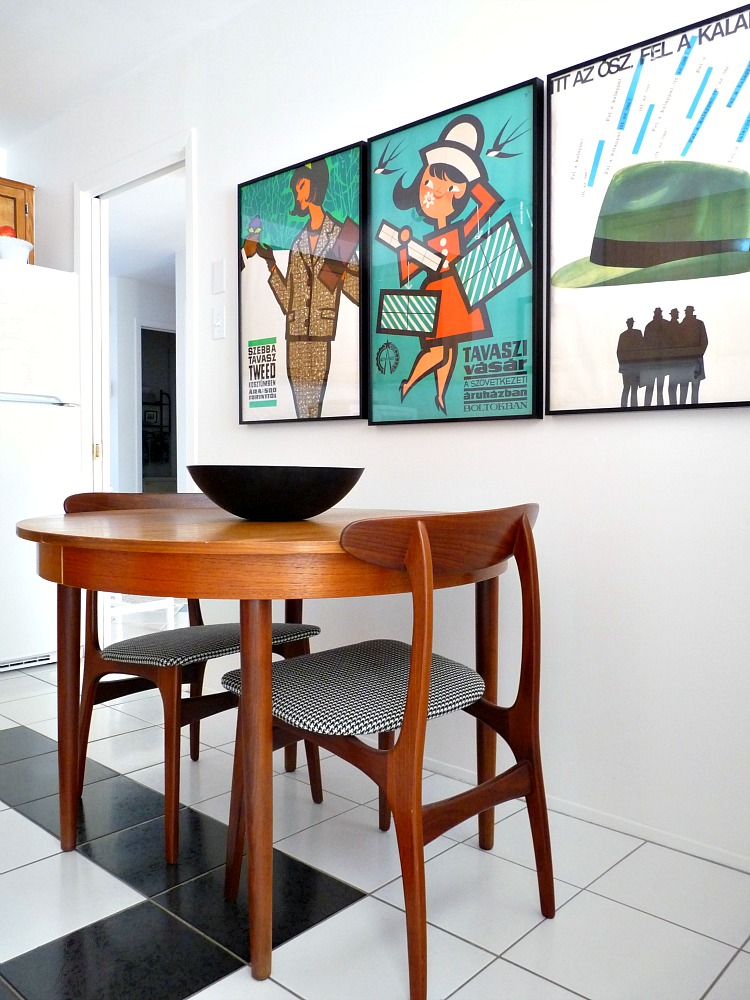 Here's a quick look at the before & after:
Hubby & I have our own way of upholstering chairs seats, especially our own advice for how to upholster rounded corners, that guarantees a smooth and secure finished product. However, it also makes it miserable for whoever tries to undo this lovely work, because we use a lot of staples!
Supplies:
Quilter's batting and/or upholstery foam (we used three layers – how much you need will depend on the size and number of your chairs)
Upholstery grade fabric (again, dependent on size and number of your chairs – I also bought extra in case some genius spills tomato juice)
8mm staples (many)
Pliers
Screw driver (to remove seat)
Patient set of second hands

How to Reupholster Dining Chairs:
First remove the chair seat.
Save the screws some place you will find them.
These screws have literally been in this bowl since 2009
Remove the old staples, using pliers. I really got attached to the tool pictured below because, although it is meant for cutting, it has such a fabulous grip. I used it for pulling 2.6 billion staples from the sub-floor after ripping up carpet for hardwood floors. But pliers are what you'll probably have on hand.
Throw out the old foam – especially if it is a vintage/used piece. Blech. I've seen people keep the grossest foam that is starting to disintegrate. I just worry about mites, farts and dust trapped in old foam. I used quilter's batting because I wanted to maintain the super flat look. But usually people will use upholstery foam with some batting on top. Use what you find comfortable!
Trace the chair seat onto your foam or batting, leaving enough allowance that you can wrap and staple the batting on the back comfortably. If you're using foam, cut the foam to size and top with a layer or two of batting.
Tips for Replacing Foam/Batting on Upholstered Chairs:
This is where we deviate a bit from other tutorials (you can skip this step if you'd prefer). Once cut it out, we affix the batting to the chair seat with a few staples so we're not wrestling with it and the fabric simultaneously. I don't see a lot of people do this, and it is extra work, but it makes upholstering so much easier – which I think helps to get a perfect end result. After affixing the batting, trim some of the excess batting for less bulk in the finished product.
Throughout the whole process, stop periodically and check fitment. You don't want bunches of fabric on the underside of the seat where it will be affixed to the chair frame.
With the batting wrangled into submission, trace and cut out the fabric (making sure the pattern is "facing" the same way on each chair). You can use the old fabric as a template.
Begin upholstering by pulling the fabric tautly and stapling in a few staples on one side, then the opposite side, checking the alignment and also the tension. These first few staples really anchor your fabric, so take your time to get it right. It helps to have a second set of hands so one person can hold the fabric and the other can staple.
How to Upholster Rounded Corners:
Keep working your way around the seat, pulling the fabric tight and stapling. Pull corners especially smooth, even if that means you have a bunch of excess fabric a few inches from the edge. Don't worry about that, we will trim it later – just focus on getting a really smooth corner. Check it from the top, periodically, to make sure it looks good.
To tackle the fabric bunching, after pulling it so tight on the rounded corner, we make slits in the excess fabric once it's stapled in place. This allows us to overlap the fabric and really staple it down smoothly. It is hard to take a photo of that because this print is so busy when zoomed in on.
We go a little staple crazy, I know this. We even add a second "ring" of staples so everything is smooth and lies flat with no puckering or bunching. But this helps keep everything smooth and looking really perfect.
When you're done, you can add a cut-to-size piece of no-fray, very thin material to make the work look a bit tidier. This involves more staples.
And that's it! Re-affix the seat to your chair and host a dinner party. Once you learn how to reupholster dining chairs, you'll want to recover every chair you see!
have I mentioned how much I love the black and white houndstooth with the warm teak wood? The chairs of my mid-century mod dreams…
We also like to leave a little love for future DIY-ers. Anyone who is ambitious enough to remove the staple overkill happening here (gosh, I hope it's not future-me – UPDATE it was) will be affronted by this message:
P.S. Am I the only DIY'er whose nails get totally wrecked?!? They looked so pretty in my latte post but now the deep plum shade that previously looked so chic is all chipped and worn, making me look like an angsty teen.
Don't Forget to Pin for Later!