If you're ready to create your own DIY painting, but not sure where to start, check out this super easy DIY wall art tutorial. I'll even show you how to frame it!
I am constantly ogling dramatic black and white art but a stark, graphic painting just didn't seem to fit anywhere in the townhouse . . . until we started working on the basement. That's when I realized that I have the perfect spot: the stairwell! So I hauled out my art supplies and decided to make my own black and white abstract art that's simple but bold.
I spotted a great black and white painting on Pinterest and that was definitely my inspiration. I didn't achieve an exact replica (far from it), but it was a fun challenge to try to imitate someone else. It's actually an assignment I have had to do for art classes and a great way to get those creative juices flowing. Usually when you try to copy someone else's work, what you paint can go in a different direction and that's perfect.
Here's how you can make your own, easy black and white abstract art:
Ignore the bad lighting and mess – I was painting in the evening, in our super dreary basement that's in the middle of an update.
Supplies for Easy DIY Wall Art Tutorial: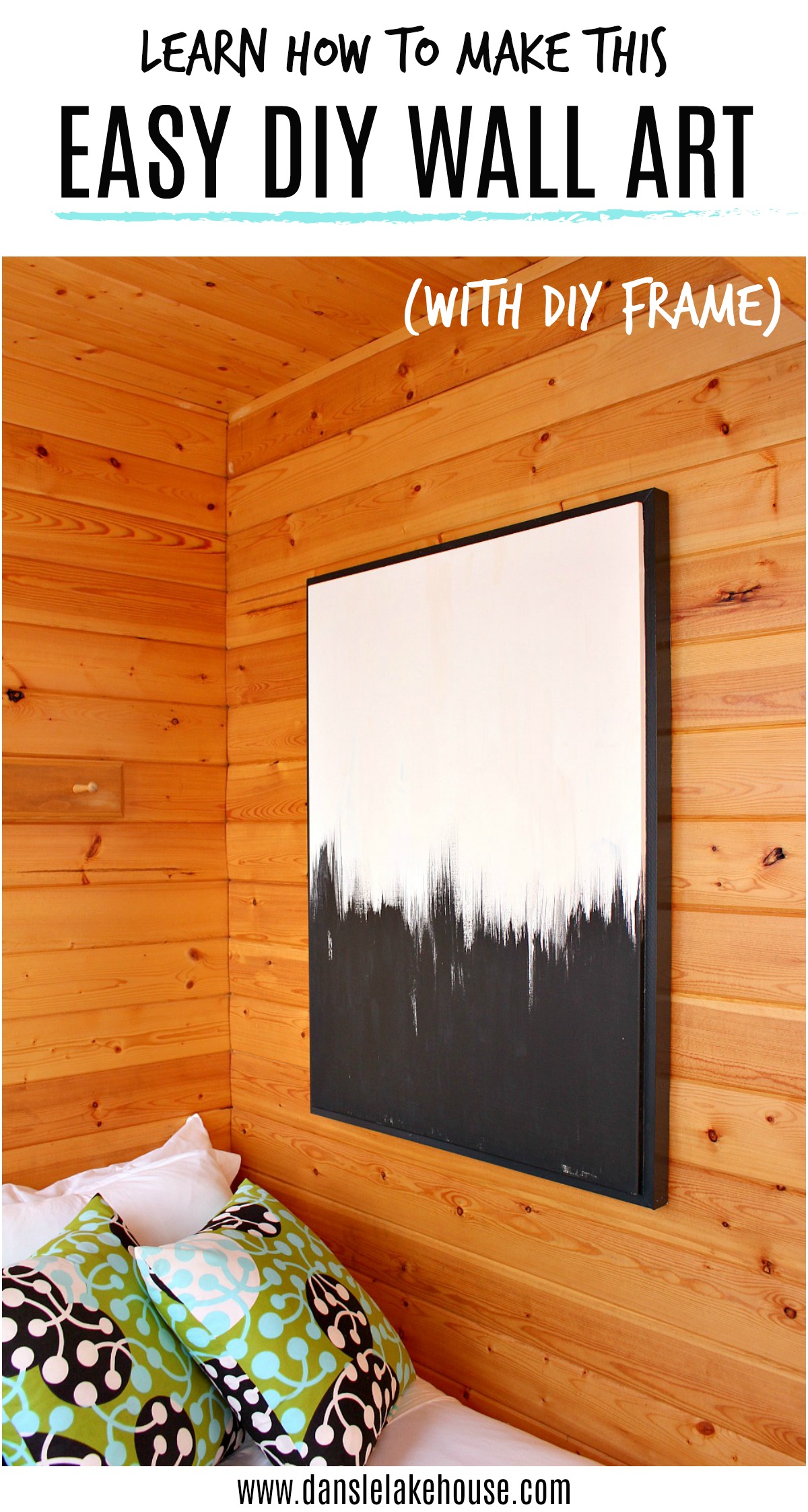 DIY Wall Art Tutorial:
I started with a blank white canvas. I had originally painted it a shade of cream for another (abandoned) project, so I painted over it with white. Because paint is so expensive I cheated and used primer. It actually worked really well. You can use a plain, gessoed canvas, fresh from the store, and skip this step, but I do like the look of brush strokes.
Step 1: I flipped the canvas upside down (to encourage paint to flow) and, with a giant paintbrush quickly dipped in water and some black acrylic paint, starting making broad brush strokes.
Steps: 2, 3 & 4. I flipped the canvas back around so I could shape the composition and I built up the paint in layers. I let little pops of white peek through but made other sections very inky.
Step 5: I flipped the canvas over again so I could paint the bottom. I wrapped the painting around the sides, too, which creates a neat effect. And it's a great way to avoid deciding on a frame (although I have some tips on that).
And, voila! My simple but striking, DIY wall art! You could easily create this DIY art in other colours or by using gold leaf instead of paint. I hung it in the dining room to show it off, but it's going in the stairwell soon enough. It fades in kind of a neat way against the white walls, but it will really pop against the greige walls. You can also see the black DIY frame we built for it – and its new location – by clicking here.
Want to Frame Your Own Art?
Want to make an easy and inexpensive frame for canvas art? Check out these tutorials:
Here's a close up view of my new DIY wall art (in real life, there's more texture and depth):
You should know, I suffer for my art. When I first picked up this canvas to get to work, I narrowly missed touching the giant centipede lurking inside. I threw down the canvas, phoned and harassed Hubby at work (looking for centipede squashing tips, I guess? It is officially his job), then took anther look and the centipede seemed to have vamoosed. Not entirely convinced, I poked at the canvas with a stick and out he popped. Why do they like to run toward me? Shudder.
If you're new to Dans le Lakehouse, check out my DIY Projects Gallery for other DIY art ideas.
UPDATE: I have loved this piece of DIY wall art so much that, over the years, it's moved spots – first in my budget-friendly bathroom makeover: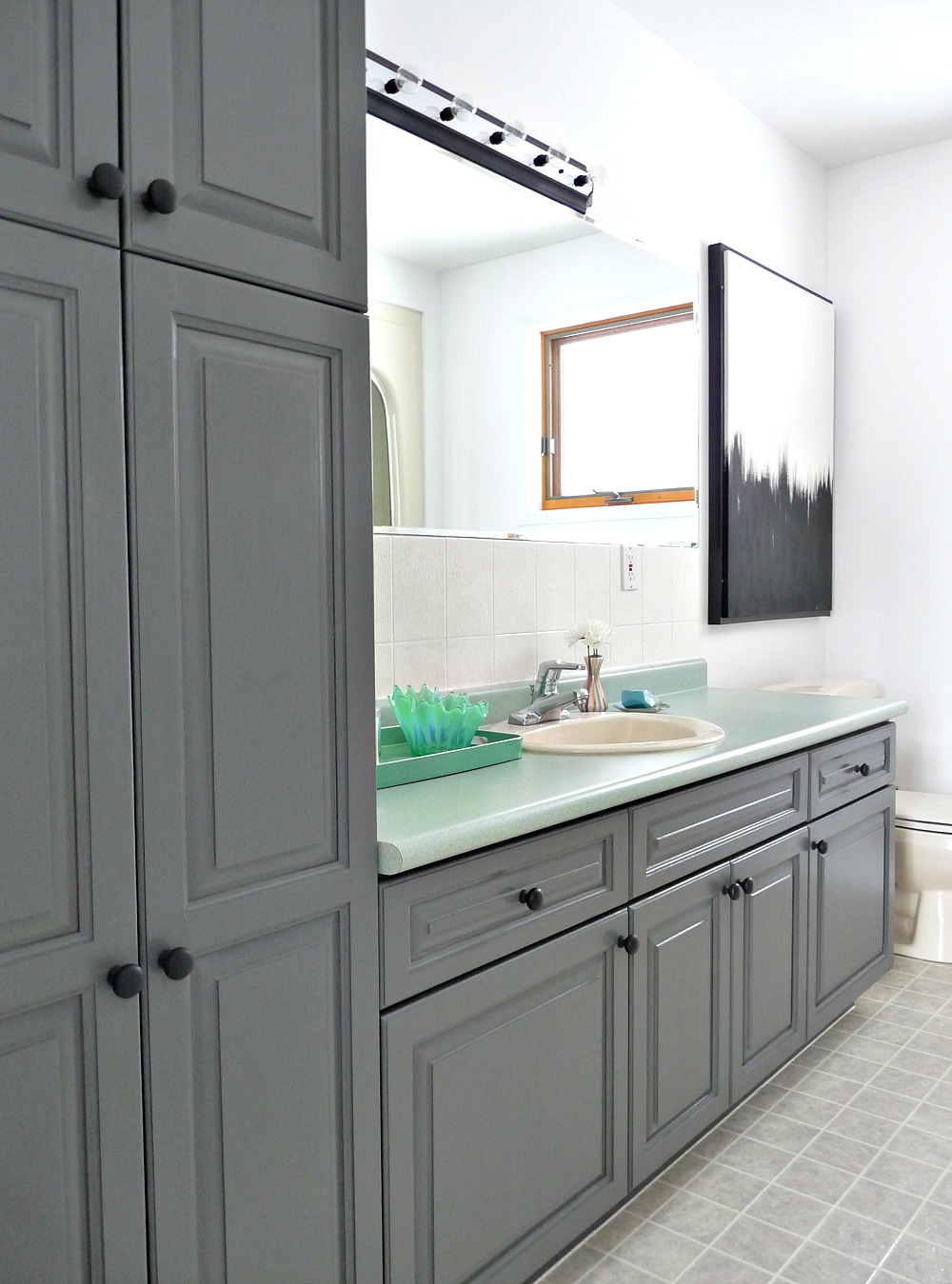 And then in my guesthouse bunkie: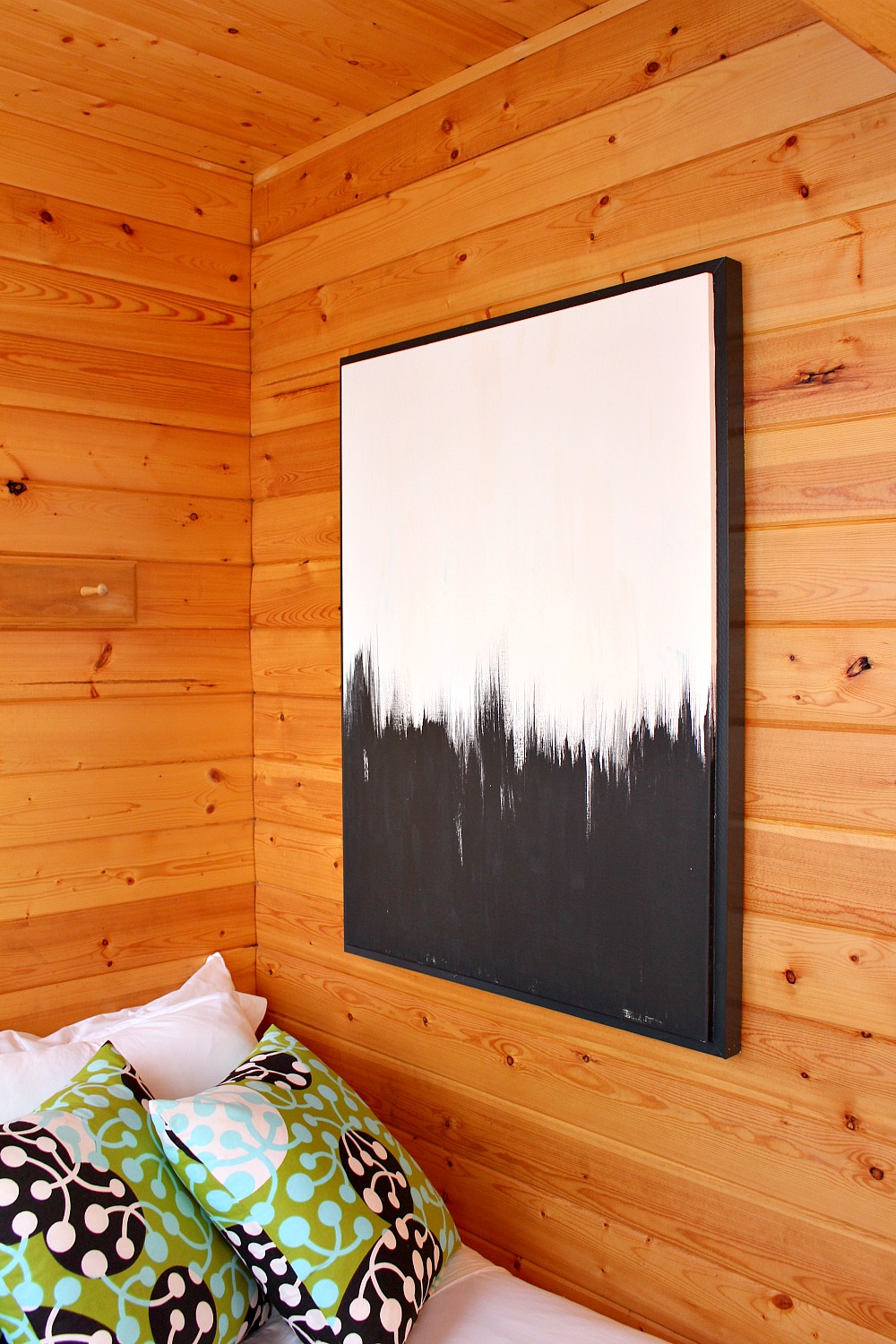 This pretty black and white wall art – even though it's so simple – has been such a keeper!