I'm so excited to share this dipped leg furniture makeover with you because it's a trend I've been wanted to try for ages!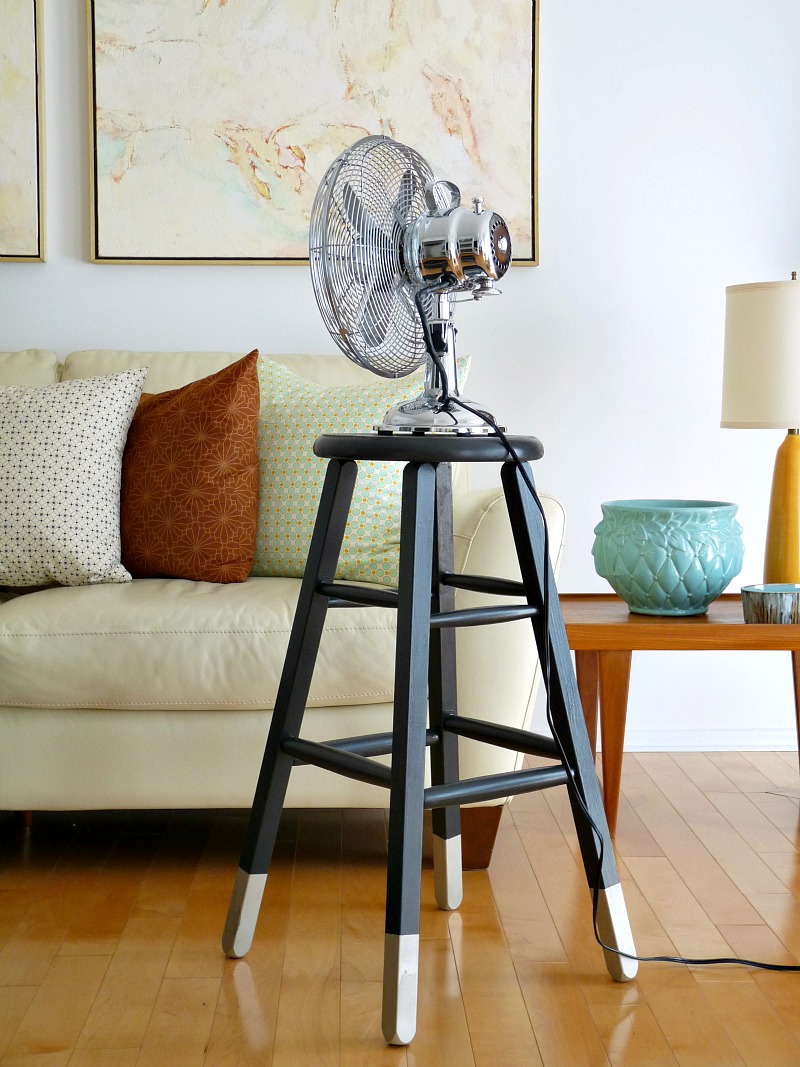 What's This Pinterest Challenge All About?
I tackled this dipped leg furniture makeover as part of a Pinterest challenge. We're probably all guilty of pinning tons of great ideas but never finding the time (or motivation) to actually do them. I have had moderate success in that department and have really been committed to trying DIY projects I've pinned to Pinterest. I pinned painted wine bottles before I tried mine and the many white ceramic things I pinned inspired my ceramic bird makeover. I tackled a piece of artwork I pinned. I even made a play kitchen after pinning some ideas!
But still, I have oodles of ideas pinned, so I really needed the push to tackle another pinned project, instead of pining for it longingly. So thanks Sherry, Katie, Kate and Michelle for another Pinterest Challenge.
Challenge accepted.
Dipped Furniture Leg Inspiration:
I really like "dipped" furniture legs (having already "dipped" some wooden spoons):
Secret: two of the legs above only looked dipped because the natural wood was left bare while the rest was painted.
My Dipped Leg Furniture Makeover:
Because I am slowly, but diligently, working on making the basement pretty, I've been wanting to spruce up some of the furniture that dwells down in the pit of despair. I have thought about axing this stool (a yard sale find) so many times, but it's ridiculously useful. Such a workhorse: from holding my palette when painting to balancing a laundry basket when I am begrudgingly doing laundry, it's become a basement staple. But it was a little plain . . . and paint stained. And sad:
It was the perfect contender for a dipped leg furniture makeover!
How to Tackle a Dipped Leg Furniture Makeover:
The project was super simple:
I sanded off the dribbled paint with a belt sander
Nest I spray painted the bottom of each leg using a brushed metallic silver (the same one I used for the stenciled mirror frame), applying multiple, thin coats.
Once dry, I measured and taped off the legs.
Then I applied my favorite mis-tinted black paint using a brush (leftover from painting the railing and the frame for my black & white DIY painting).
I applied two coats to cover the bare wood stool.
Optional: I can also add a coat of Varathane clear finish to protect the surface.
Now this simple stool is chic enough to even spend some time on the main floor (an honor for a former basement dweller), positioning our fan (right in our faces) to help keep us cool for movie night!
The verdict: now that I've dipped my toe (had to say it) in this trend, I love the look. All furniture legs in the townhouse are fair game from now on. Have you tried this trendy dipped leg furniture makeover yet? See the rest of the Pinterest Challenge Projects here: Young House Love, Centsational Girl, Bower Power & Ten June!
P.S. Don't Forget to Pin for Later!