Today I'm going to share a little trick I discovered for how to easily remove wallpaper. All wallpapers are different so this might not work but give it a try!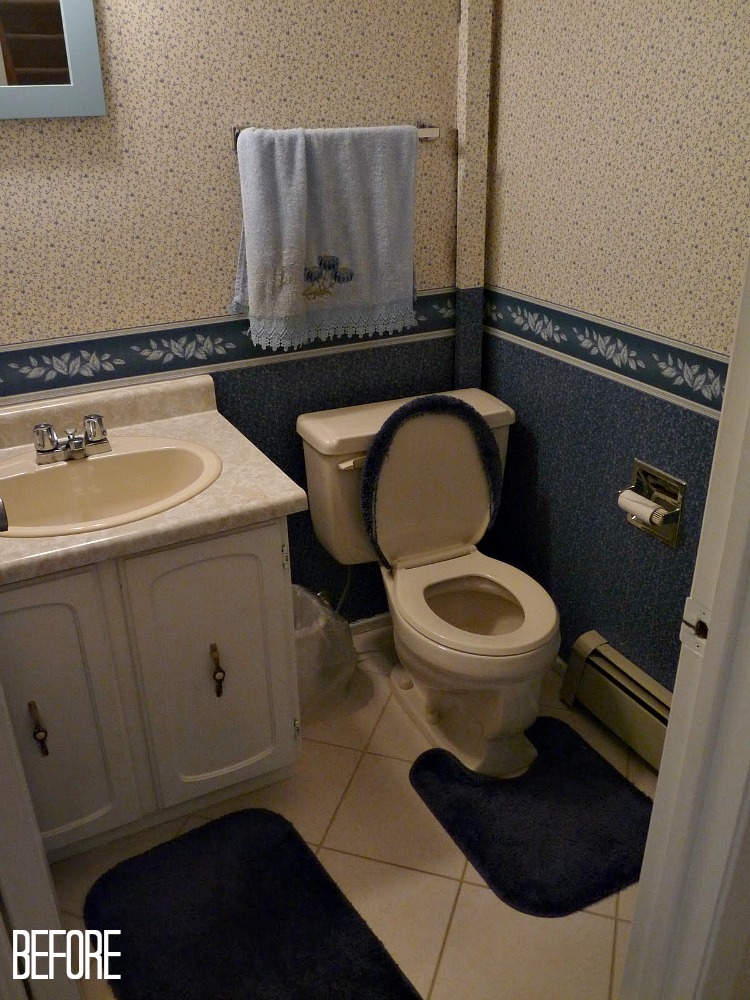 We were so lucky that the townhouse didn't have much wallpaper. One half bath was papered, which we had intended to leave until other renovations were done. At some point in the middle of other renovations, though, I couldn't take it anymore and that's why any photos of me removing the wallpaper capture the gusto with which I ripped it off.
Check out how that formerly blue wallpapered bathroom turned out!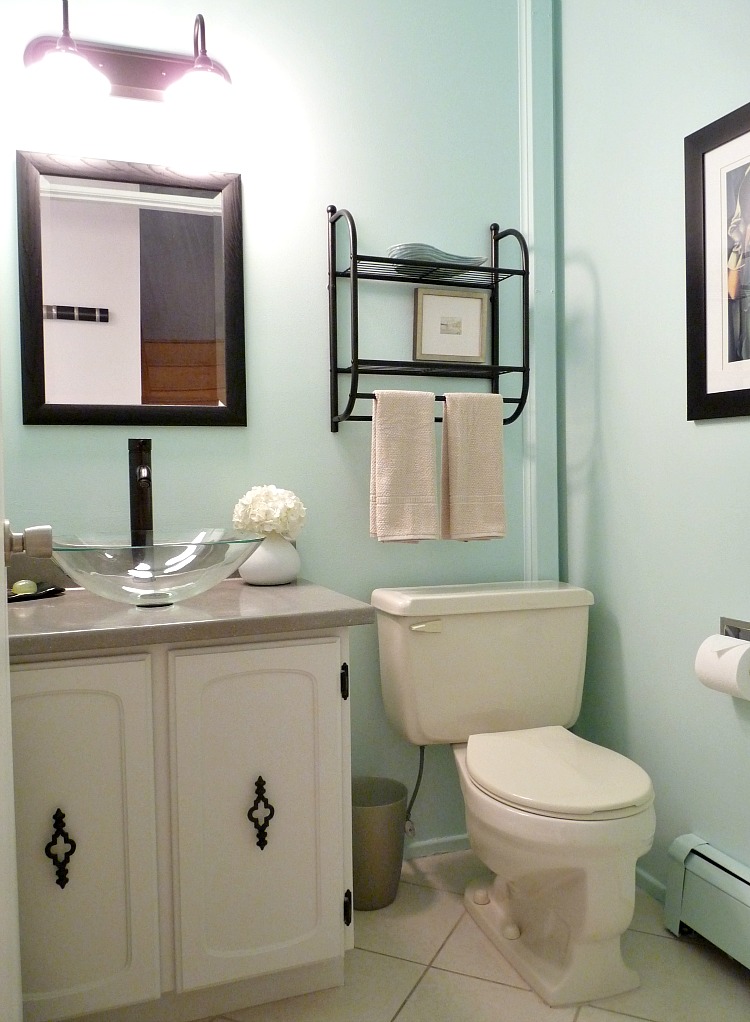 Our basement has wood paneling that, in some spots, was painstakingly filled, primed and then wallpapered. Ugh, wallpaper again. Why would you wallpaper paneling? The wallpaper had become frayed in areas and had majorly stalled progress in the basement as I tried to figure out what to do. Just ripping everything out and dry-walling was probably the best idea, but that would have just led to us replacing everything: carpet, ceiling, doors, etc. And we just don't have the money for a full reno. If we did, the kitchen would get an overhaul first.
In an effort to do a quick spit and polish, I planned to paint over the wallpaper. Remember how they often did that on Trading Spaces? I removed loose bits but, even with first filling, sanding and priming rough areas, the paint (I tested it to the left) didn't cover the texture of seams.
So I bought paint with a subtle texture in the hopes of disguising the wallpaper texture and seams, but the minute I rolled it on, the wallpaper started getting soggy and drooping. Enter crazy-eyed Tanya and her last minute wallpaper ripping decisions. I used my same trick from when I removed the powder room wallpaper, so I thought I'd share. Now, this may not work for all wallpapered walls, but it doesn't hurt to try!
Supplies:
How to Easily Remove Wallpaper:
I peeled off the durable top layer (with the design). Old wallpaper will probably already be peeling or curling – look around the ceiling, floor, or seams for a place to start grabbing and pulling. Once the porous bottom layer was exposed, I sprayed it with warm water and, with the tiniest bit of coaxing (the scraper tool helped), it came off like butter.
Last time around, I had splurged ($10 lol) on a wallpaper scoring device and the special headache-inducing spray – neither of which worked and both of which still required a ton of work. In the end, this method was easier, faster, and less expensive for both wallpaper removal projects.
Once you peel that protective layer back, the water can really easily penetrate to the back and loosen the paste. It's really a similar principle to those scoring tools, actually, but faster, easier and cheaper! I have removed wallpaper twice this way and I hope it works for you too.
Now I have a patchy ugly wall, but at least I removed the wallpaper. I'm thinking paint and a gallery wall full of art will disguise this perfectly!
Do you have any wallpaper removal tips, tricks or horror stories? Share them in the comments below!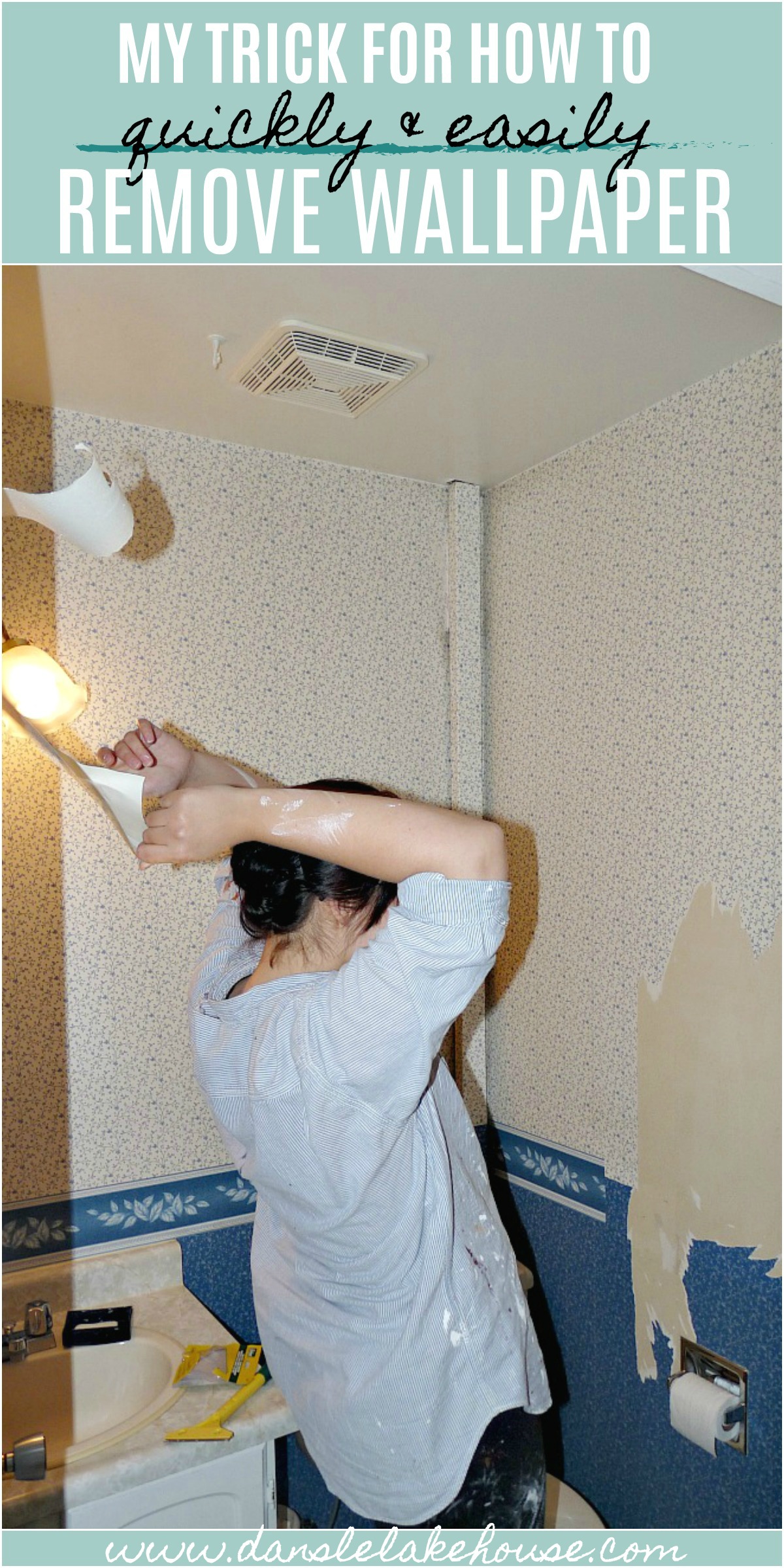 P.S. take a look at the finished basement reveal by clicking here!