I have such a fun DIY abstract art tutorial, with step by step photos and instructions, to show you! You might have guessed, I really enjoy painting. One day, in high school art class – which I cannot believe was 10 years ago – I was working with such vim and vigor on a painting (the black tree in the office, actually) that in addition to getting paint in my hair, on my glasses, on my school uniform and up my nose, I totally demolished the delicate watercolour of the girl next to me with my crazy over spray of paint. I thought "good artists" painted with "flair" (which to 18 year old me meant flailing arms). After the "incident" I was sent to paint alone in a small, windowless supply room, where I splashed around and got 98% for my final mark (high marks for enthusiasm, plus Handy Hubby – who was Buildy Boyfriend then – made custom stretchers and frames for all of my work). I LOVED art class because it was scheduled time to create – such a luxury that I took for granted. I highly recommend painting as stress relief and a creative outlet, but a lot of readers have expressed some hesitation about getting started. I think once you get started, you'll quickly and easily develop your own style and compose a beautiful abstract without even thinking about it!
To get you started, here's a look at how a recent painting I made involved. Hopefully these step by step photos and abstract art tutorial (I use the word loosely, lol) will inspire you to pick up a brush and have some fun painting!
How to make a DIY abstract painting:
To achieve a loose, drippy look, I started with a dry brush and acrylic paint and then used a plant mister filled with water to spray the paint after I applied it to the canvas. It gave me more control than a wet brush and kept things looking kind of light and watery.
Then I just kept working at it, applying paint where I saw fit. (And trying not to douse the whole room in paint.) Here are a few full size photos from the progress collage:
I worked my way around the canvas, layering on more color. As some areas dried, I could layer paint and have colors peeking through from beneath. In other spots, I didn't let the paint dry so the colors are more sheer and blend together more. Basically, I played!
As a last step, I added some black and white paint in sharper lines to contrast the softness.
It was an experiment and – most important – a ton of fun!
Don't worry if you don't like your result – it is easy to paint over acrylic paint. Remember how I tweaked the bedroom triptych and then totally fell in love with version 2? I also reworked this geographic painting (details soon).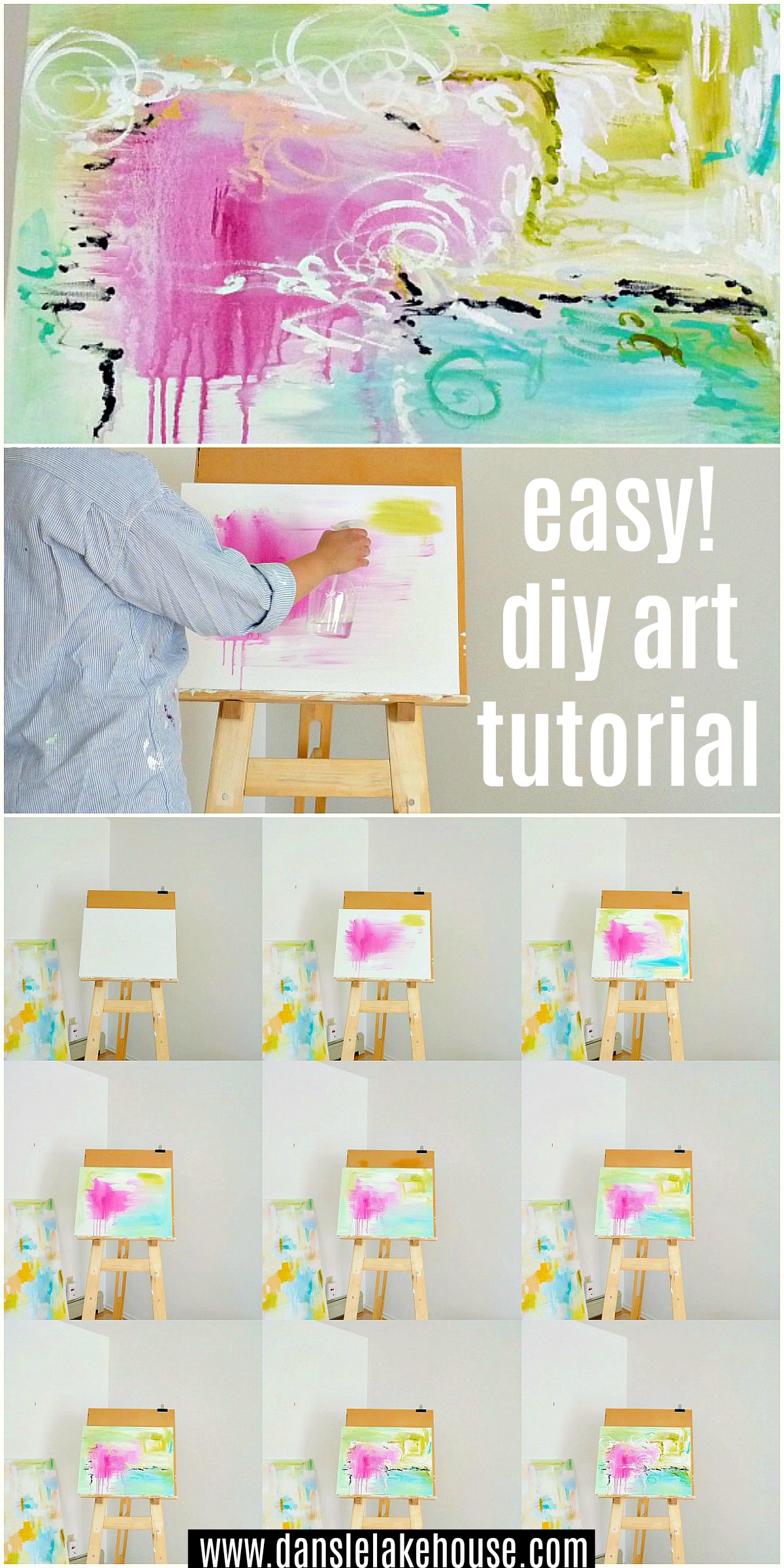 I hope you liked this DIY abstract art tutorial. And I hope that you try making a DIY painting – you won't be disappointed! P.S. This abstract art tutorial was featured by Domino & In Style!