I'm so excited to show you how to make this easy DIY Halloween spider wreath!
Yup – it's finally time to reveal the Halloween themed wreath I started making in August! I have been meaning to make one of these yarn wreaths – with my DIY Christmas spiders – for years, but kept forgetting until the day before Halloween. Not this year! This year I was really on top of things.
Supplies: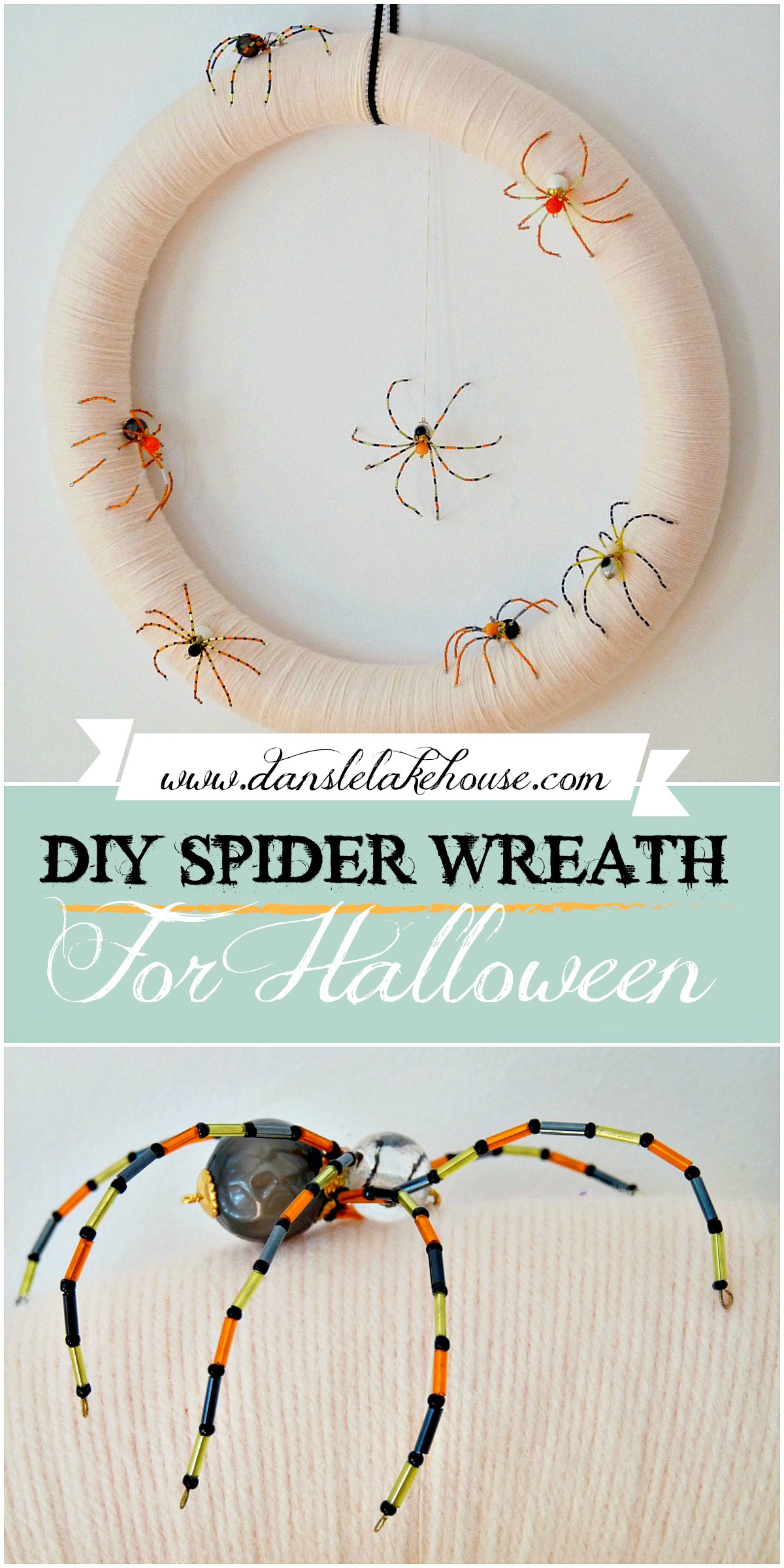 How to Make This DIY Halloween Spider Wreath:
After I made my orange and black beaded spiders (using this tutorial of mine) and turned a pool noodle into a wreath (it's still holding strong!) I was ready. I glued the end of a piece of yarn to anchor it.
Then I started wrapping the yarn around my wreath form. Oh boy. No one seems to mention in their yarn wreath tutorials what a boring and never-ending task making a yarn wreath is. In the beginning, I hated wrapping the yarn so much I almost abandoned the idea again. I persevered (mostly because I'd already shared my pool noodle and plans), and spread it out over about a week of re-runs of Buffy the Vampire Slayer. An excellent choice because a) I loved (and still love) that show and b) the campy-scary plot lines were perfectly themed.
But yeah, I think it took about seven hours to wrap this darn thing. I am sure there are a million ways to do this, but I wrapped the yarn firmly, with gaps, and then when I had a few rows done, I simply pushed the yarn over. It sped up the process instead of perfectly lining up each one individually.
When I was done, I tied off the yarn in the back. To attach the spiders, I ran some white thread through one end of the eye pin and tied it tightly, with the knot at the back. I wanted them to dangle a bit, like they're crawling around. You could also use a dab of glue and affix them by their bodies, but this way they can be removed if I ever want to re-work this DIY Halloween spider wreath.
I used the same thread to dangle a spider in the middle.
To hang the wreath, I originally just wrapped a piece of black ribbon around the wreath:
But then Hubby came up with this genius idea: he twisted in two screws (with a touch of glue on the ends) and then once the glue dried overnight, he wrapped picture hanging wire around the screw, fashioning a little loop. We hung the loop on a screw already in our front door and it's completely hidden.
I only did one layer of yarn and, in certain light, the orange of the pool noodle seems to make the cream a bit orangey. It works for my orange, black and white colour scheme but for other noodle-users, I recommend a darker yarn or double wrapping the yarn to hide the pool noodle. If you're using a wreath form, which is typically white, it wouldn't show for this project but it might pop up from under dark yarn – just an FYI.
Ta da! I just how this DIY Halloween spider wreath turned out. It's simple and pretty, but still a teeny bit creepy for Halloween.
For the first time, I'm thrilled with our condo-issued orange front door! It really works for Halloween front door decor. You can, of course, use any colors for your DIY beaded spiders but I chose classic Halloween colors. Here are some creepy crawly close ups:
My neighbor tells me that her little girl loves this wreath and she always wants to come over to touch, examine, and pet each spider. I'm totally cool with that because it really makes me smile that this brings her so much joy. If it didn't take a billion hours to wrap the yarn, I'd make her a wreath too!
What do you think of this DIY Halloween spider wreath? Do you think you'd make one?