Today I'm sharing my newly DIY dyed dress – and showing you how to dye clothes in the washing machine! I love dresses. While it's easy enough for me to find a good sleeveless dress, affordable, comfy dresses with sleeves are harder to find. That's why I settled for this beige 1950s-style cotton shirt dress. Actually, I think the pockets sold me. The cut of the dress is cute and comfy, but it was, admittedly, a touch frumpy thanks to the drab beige (which really does nothing for me). I packed this for my trip to Hungary and literally only wore in once!
I decided to dye my dress a dark teal green. Rit Dye has a formula guide on their website for mixing colours and I liked the look of dark green mixed with navy or teal (221 or 224 – top row). I meant to buy dark green and navy dye but I accidentally grabbed dark green and royal blue. I didn't realize until I was pouring the dye into the machine! At that point I abandoned the formula and poured both bottles in. I read that Rit dye can be lighter than expected, so I figured doubling the amount wouldn't hurt (instructions on their website say to use no more than two bottles at a time, so I was in the "safe zone").
Supplies for Dyeing Clothes:
Washing machine (that isn't brand spanking new)
Rit Dye (here's the Navy Rit Dye and Dark Green Rit Dye I intended to buy)
1 cup salt (helps achieve more intense colour with cotton, rayon, ramie, or linen)
1 tbsp. laundry detergent (I buy this earth-friendly stuff at Costco)
Kitchen timer (had to link to an adorable retro-looking one!)
Bleach (for cleaning up)
Centipede poking stick (may not apply to everyone – I encountered three during my dyeing extravaganza in the basement)
How to Dye Clothes in the Washing Machine:
I washed my dress in warm water, then set it aside.
I filled the machine with enough hot water for the dress to be able to move around.
I added one tbsp laundry detergent and the two bottles of dye as the machine was filling.
I let the machine agitate, to mix up the dye, for a minute.
I smoothed out and added the dress, then closed the lid (boy, does it splatter!)
At the five minute mark, I added 1 cup of salt, diluted in warm water (the delay helps the dye process).
The dress was in the dye for a total of 25 minutes because it rinsed and spun before I could stop it in time (30 minutes is the minimum).
I rinsed the dress in warm, then cold water, until the water ran clear.
Then I washed it again on the warm cycle, before rinsing it again.

At this point, the dress looked okay: dark green, not much blue, but good. EXCEPT that from the one time I wore this dress my crazy strong antiperspirant chemically altered the fabric so there were lighter splotches under the arms.
No worries! I went out and bought more dye. This time I purchased two bottles of navy. I figured a darker colour might cover the lighter areas better. And the green was feeling a bit military, anyway. I repeated the process, but stopped and re-set the machine to the beginning of the agitation, so it was in the dye for about 40 minutes this time. I rinsed and washed the dress again. The under arm region looked better! The colour turned out really interesting – a deep, inky hue that's kind of navy but warmer. (The light spots aren't on the dress – it's the camera). The end formula was 2 parts navy, 1 part dark green, and 1 part royal blue – but the original colours impacts the outcome a lot.
I'm going to call this a success because it's no longer blah. Added bonus: it didn't even shrink after being dyed in hot water! Here's another look at the dress before:
The stitches didn't take the dye and were really visible at the waist, but I always found this dress a little frumpy anyway, so I added a hand painted belt I bought in Hungary last year.
A fashion blogger, I am not, lol.
How to Clean a Washing Machine After Dyeing Clothes in it:
I quickly wiped down any splatters with a soft cloth and soapy water.
I poured in one cup bleach.
Then I ran the washing machine – empty – on the hottest setting.
I washed a load of dark laundry first, just in case.
Does Dye Stain a Washing Machine?
My machine tolerated the dying process well! A few plastic areas were tinted every so slightly, even after I scrubbed them, but I knew that was a possibility and I wasn't concerned because our machine is really old. It is such a workhorse, but isn't pretty. You can also dye clothing in a basin or sink but you have to stir the dye bath for the whole time for even results. That sounded too labour intensive for me (plus, hanging around in the basement that long really doubles my centipede-seeing risk).
Tips for Dyeing Clothes:
Read the dye instructions carefully – instructions vary from brand to brand.
Double up the dye if you are using a dark dye, to get desired results.
Be flexible about the results & don't dye anything precious.
Be sure to wash items before dyeing – twice if you still feel sizing on the material.
Be wary of dying clothing that may have come in contact with chemicals like perfume, antiperspirant, etc.
Use the hottest water you can because it helps the dye take
For the first few washings of a dyed item, wash it by itself in cool water with small amount of detergent that does not contain bleach.
Always wash a dyed item with items of a similar colour.
Be prepared for an item to fade over time.
Note that thread, zippers, and other parts may not take the dye
P.S. Don't Forget to Pin for Later!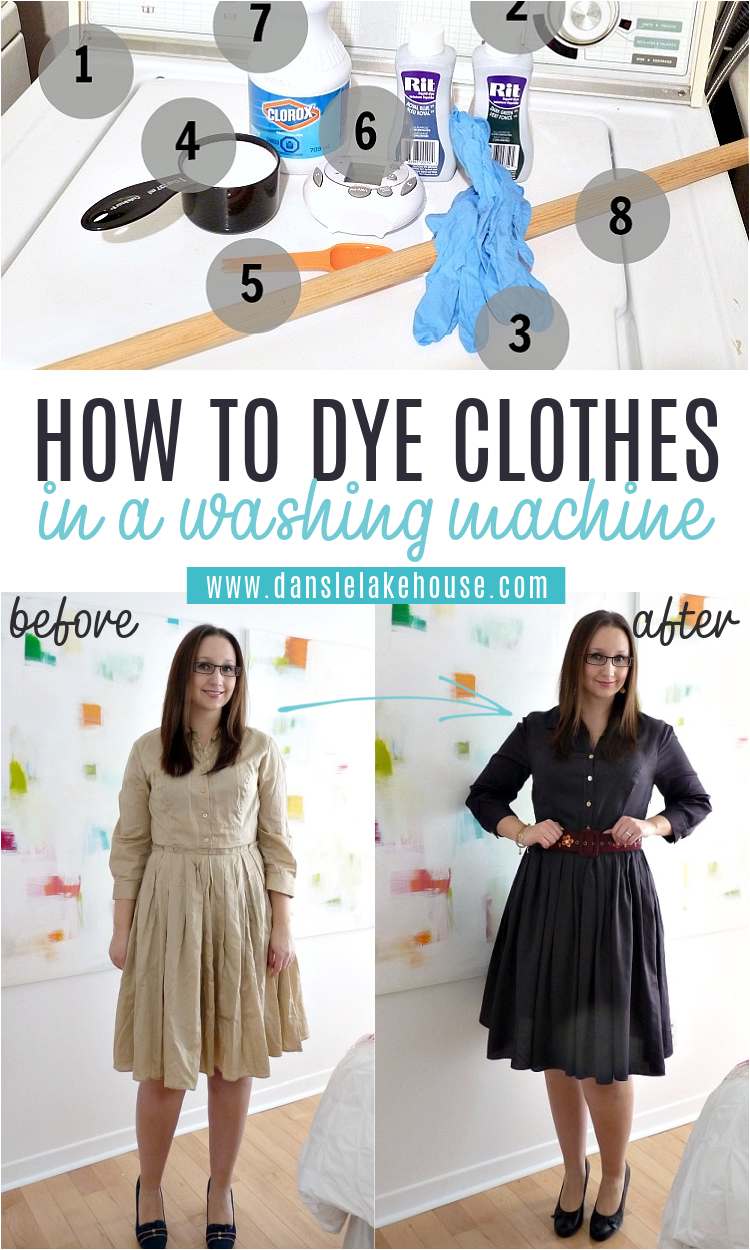 More DIY Dye Projects!
Dye Vintage Doilies a Bold New Color:
Since dyeing my dress, I've dyed some vintage doilies (with napkins to match). I love using these to make a seasonal runner and the new colors freshen up the vintage vibe.
Dye Jeans Darker:
I also routinely dye light wash jeans scored for cheap a darker indigo shade to save money on clothes. This post has TONS of additional tips and FAQ about wear and transfer.
Dip Dyed Fabrics for a Watery Vibe:
I have a tutorial with tips for dip dyeing – there's one simple tip you need to know for getting a softer gradient. I love the watery vibe of this DIY dye project – picture the bottom of a skirt or tablecloth dip dyed! So much potential with this easy idea.
For something really fun, take a look at all of my ice dyeing tutorials. Ice dyeing creates really organic, one of a kind designs with minimal effort.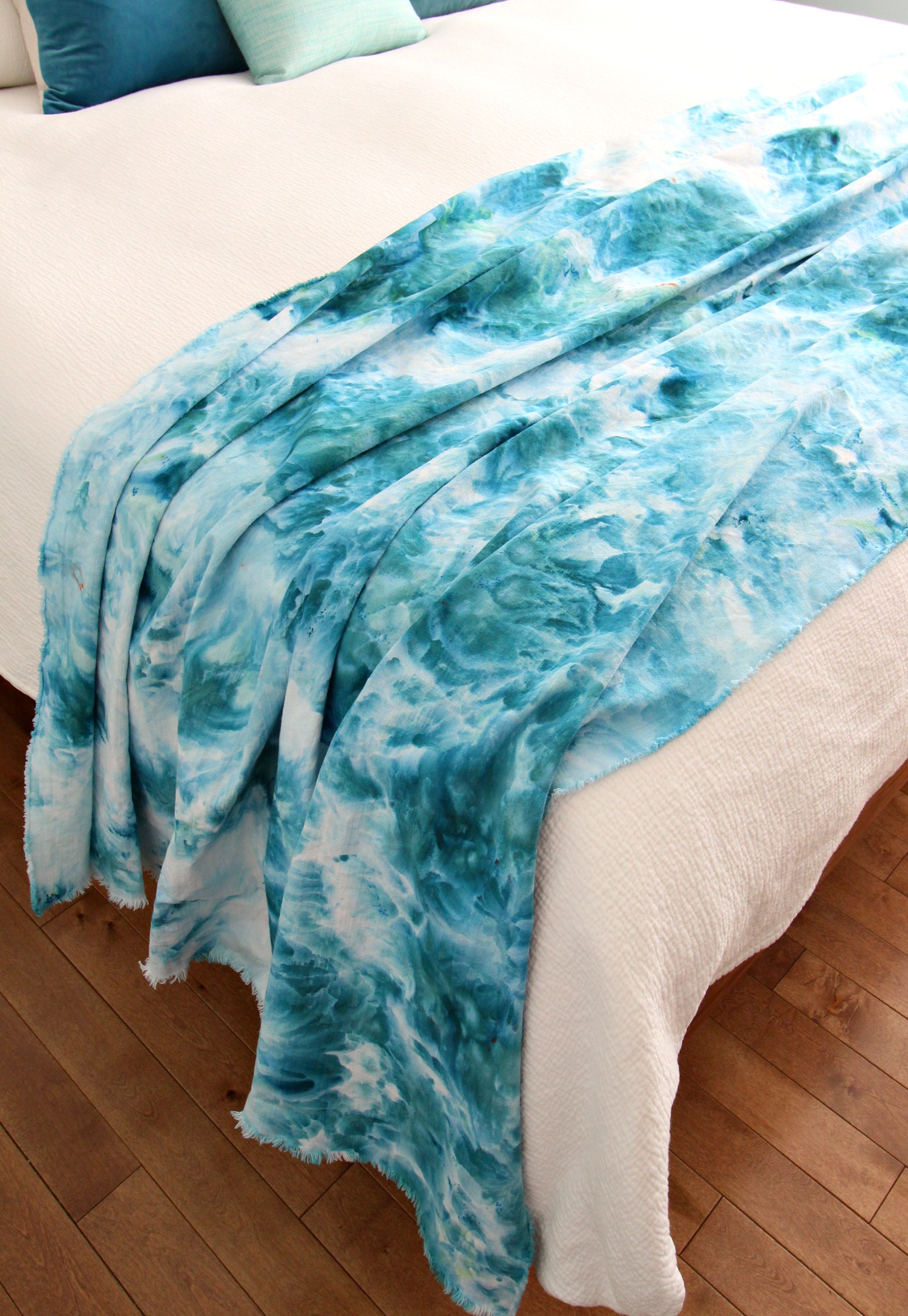 Dyed Bottle Brush Trees:
I even dyed some bottle brush trees! This is a great way to create custom holiday decor in any color you want.