I am really loving my new DIY nautical knot bracelet – okay, technically my four new nautical knot bracelets. I ended up making a bunch because they're so easy and inexpensive to make! With the help of my nautical loving Hubby, I tried a few different kinds of knots before finding an awesome one that lies flat, works perfectly, and looks so pretty as a bracelet. Here's how we made these summery DIY nautical knot bracelets (sometimes called a Sailor's knot bracelet)!
Supplies:
How to Make a DIY Nautical Knot Bracelet: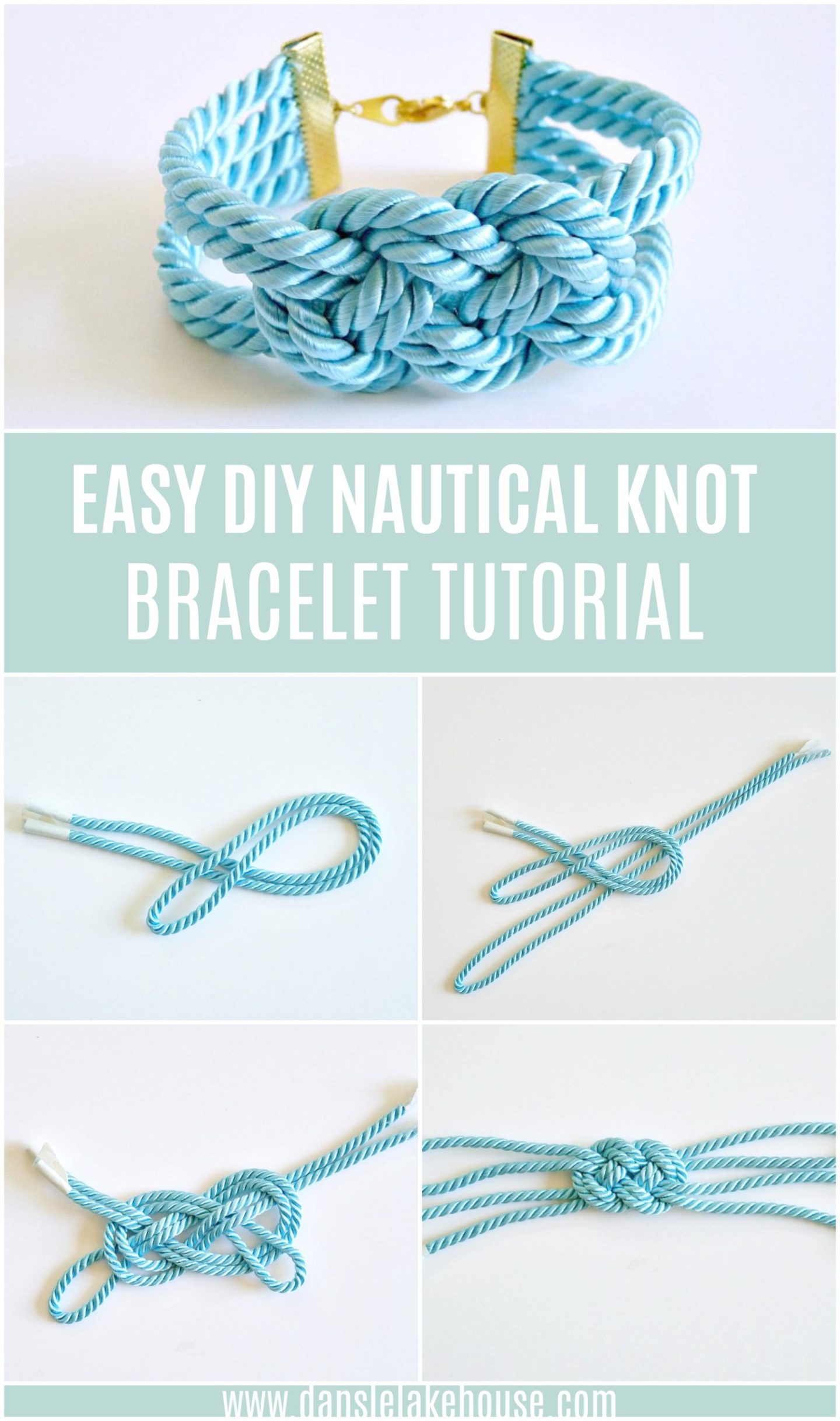 Before you get started on your DIY nautical knot bracelet, open up the crimp ends a little, using pliers.
Take one length of cord, fold it in half. Lay it down on your work surface so it forms a loop. For my bracelets, I used 2 pieces of cord, each 22″ long, and that made a 6″ long bracelet (including the clasp). Use more cord if you have thicker cord or want a longer bracelet.
Sneak your second length of cord (also folded in half), under the loop.
Loop the bottom cord over and then under the tails of the loop you made.
Then wrap it over one half of the loop, then under itself and then over the second half of the loop.
Gently pull the knot tight, shaping it a bit so it lies flat and the ends are even.
Measure how long you would like your bracelet (don't forget the clasp adds length). Place tape all the way around the four strands where you want to cut them.
Using sharp scissors, cut all four ends after the tape so the tape holds the cord together. This type of cord unravels quickly, so we immediately added epoxy to the ends. Some tutorials show gluing on the sides of the cord but then it shows, so we glued the ends and only a millimeter between each cord to hold them together invisibly. We mixed the two-part epoxy with a toothpick and used the toothpick to spread on the glue and coax a little between the cords.
Hubby's hands!
Let the epoxy dry for a minute, just so it's tacky but not hard (this epoxy dries rock hard).
Place the cord into the opened ribbon crimp and use a toothpick to push it all in. It's wriggly and will try to escape, but the epoxy (still pliable but not totally glued) will help hold it together.
Close the crimp with needle nosed pliers and let your new DIY nautical knot bracelet dry 24 hours.
Add a clasp using two small jump rings. Our clasps were provided by the Etsy shop, Antiqued and I really love them because they already come with tag connectors and look really sleek. At this point, you can also add some chain in lieu of the connector to make the length adjustable.
These easy DIY nautical knot bracelets took minutes to make (and cost only $1-2 per bracelet), so we made a bunch!
This DIY nautical knot bracelet is lightweight and really cheery, which makes it perfect for summer. Plus it's light and crushable, so it's the perfect accessory to pack when traveling because it won't add much weight to luggage but it adds a fun pop of color to any outfit.
P.S. My DIY nautical knot bracelet looks super cute with my Prada-inspired DIY raffia straw hat!