Today's basement update features a quick and thrifty idea: I'm sharing an easy solution for how to hide an ugly washer and dryer – just hang curtains!
After we drywalled and painted (including painting the floor a bright turquoise), the laundry room still had some unattractive elements: a really old washer and dryer, water tank, slop sink and mess of pipes.
I needed a cheap solution for how to hide an ugly washer and dryer. I had to think outside the box for this budget laundry room makeover, because so many inspiring laundry room makeovers involve a new washer and dryer! That's just not in our budget – plus these old machines work so well. In the end, we came up with something that fit our budget and was easy: curtains. That's how to hide an ugly washer and dryer for cheap!
How to Hide an Ugly Washer and Dryer:
We installed Ikea curtain rods as close to the ceiling as possible (although we originally priced out DIY rods, the whole shebang, including the drapery rings, was only about $30.00 at Ikea so we ditched the DIY plans).
Once the bar was installed, my Mom was roped in to help me do some sewing. Anyone recognize the fabric???
It's our old duvet cover! I loved the pattern but never really liked it with the DIY metal headboard. When we replaced the bedding with crisp white linens, I didn't want to just get rid of the old stuff, so I hoarded it in the linen closet. When my basement inspiration featured DIY stamped fabric, with a faded black pattern, I knew I had just the fabric to achieve the look and reusing what I had saved me money. We cut open the duvet cover and simply hemmed the edges. One problem: they were a bit floody.
I like my curtains to just touch the ground, puddling a tiny bit, so we used the old black bedskirt to add a border. We opted for a thick border so it looks intentional and adds a bit of weight.
Now the ugly laundry room is hidden but easily accessed. Peekaboo!
Plus, I can access one side while keeping the other hidden. Although both sides look much better closed! I thought curtains might be a hassle, but I just push them aside with my bum when my arms are occupied carrying a laundry basket. They slide really easily on the rings. A door on the laundry room would be a solution too, but it's a sub-standard size plus blocking off the room right at the doorway made the basement seem closed off and weird. Also, opening a door with a laundry basket is much less convenient. I can still toss things in the hamper or take things off the dry line without touching the curtains. It works for us! When I show photos of the rest of the space, you'll see how sharp the laundry room looks now from the rest of the basement.
It's so hard to take a good photo in the laundry with NO natural light, but I'll take a stab at better shots for a full "after" tour! I just couldn't wait to share my idea for how to hide an ugly washer and dryer – hopefully this budget-friendly laundry room makeover inspires someone else with a tiny budget to make their laundry room a little less scary – and a little more invisible, haha.
Don't Forget to Pin for Later!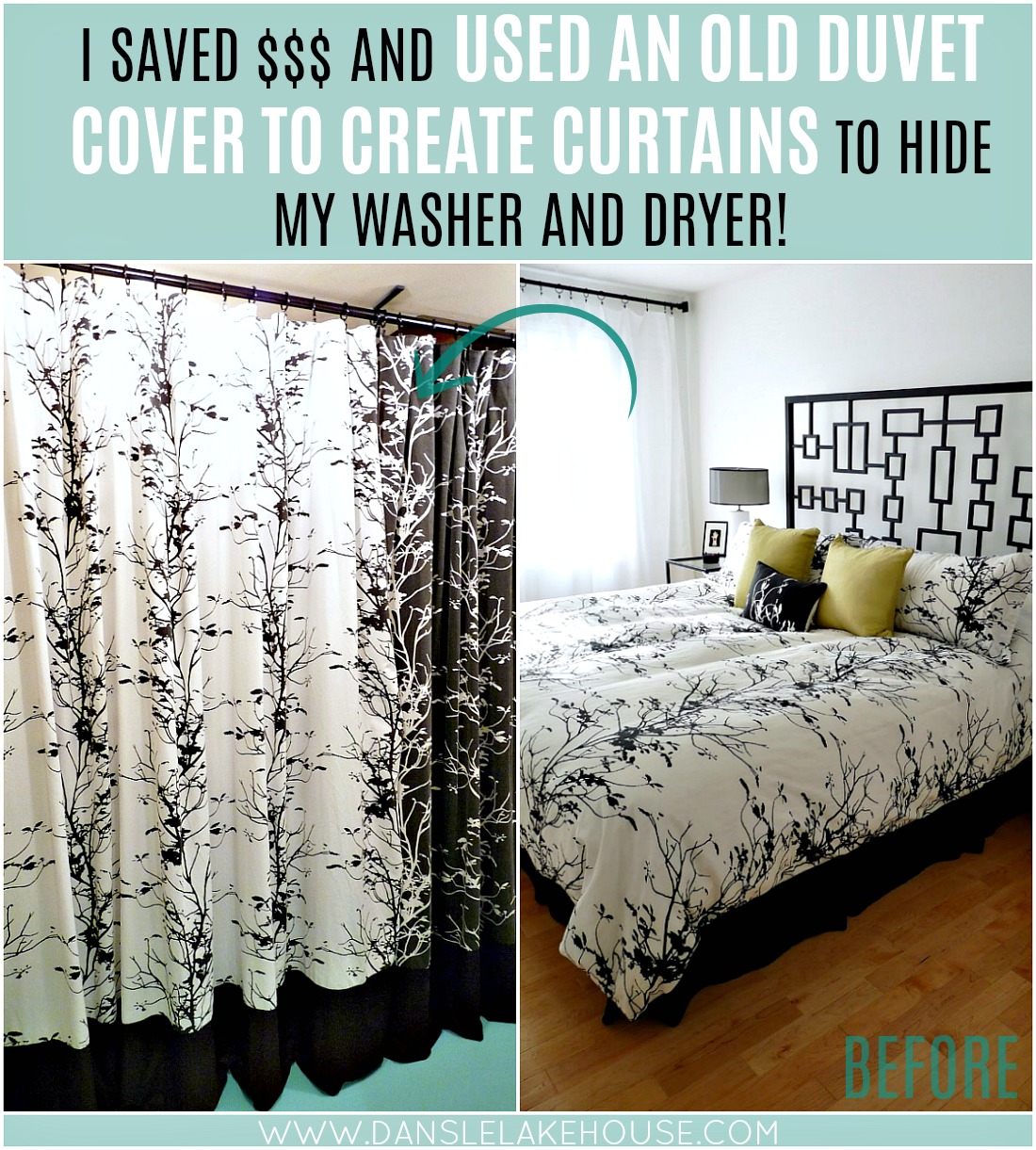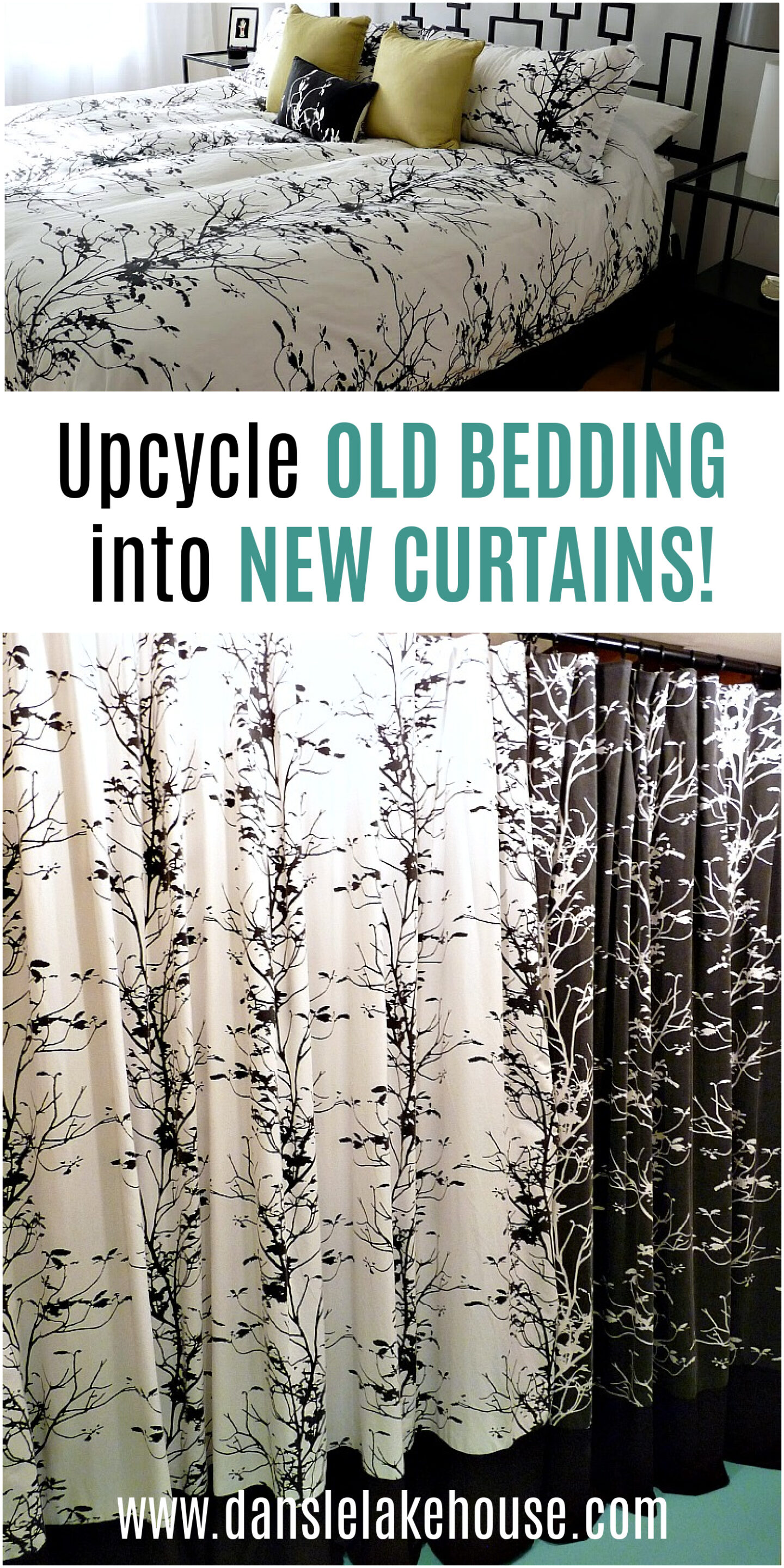 P.S. I've had a few people, over the years, ask me where we got the black and white tree bedding. It was purchased from HomeSense and I don't remember the brand, but I happened to find a very similar bedding set on Amazon (here's another sort of similar one and here's one with a larger tree design) for anyone trying to track it down.
Version 2.0:
UPDATE: I loved this idea for how to to hide an ugly washer and dryer SO MUCH that I did the same thing in my new house, but with a curtain track and heavier fabric. Check it out here!