Today I'm sharing our easy closet makeover and my (unsponsored) Rubbermaid Configurations Closet Organizer review. We installed the Rubbermaid closet organizer in the orange bedroom closet and it's incredibly satisfying to simply pull out a garment, instead of rooting around through heaps and boxes. We had torn out the old closet fittings, and replaced the missing flooring, but then we got busy with moving and work and the closet stayed like this: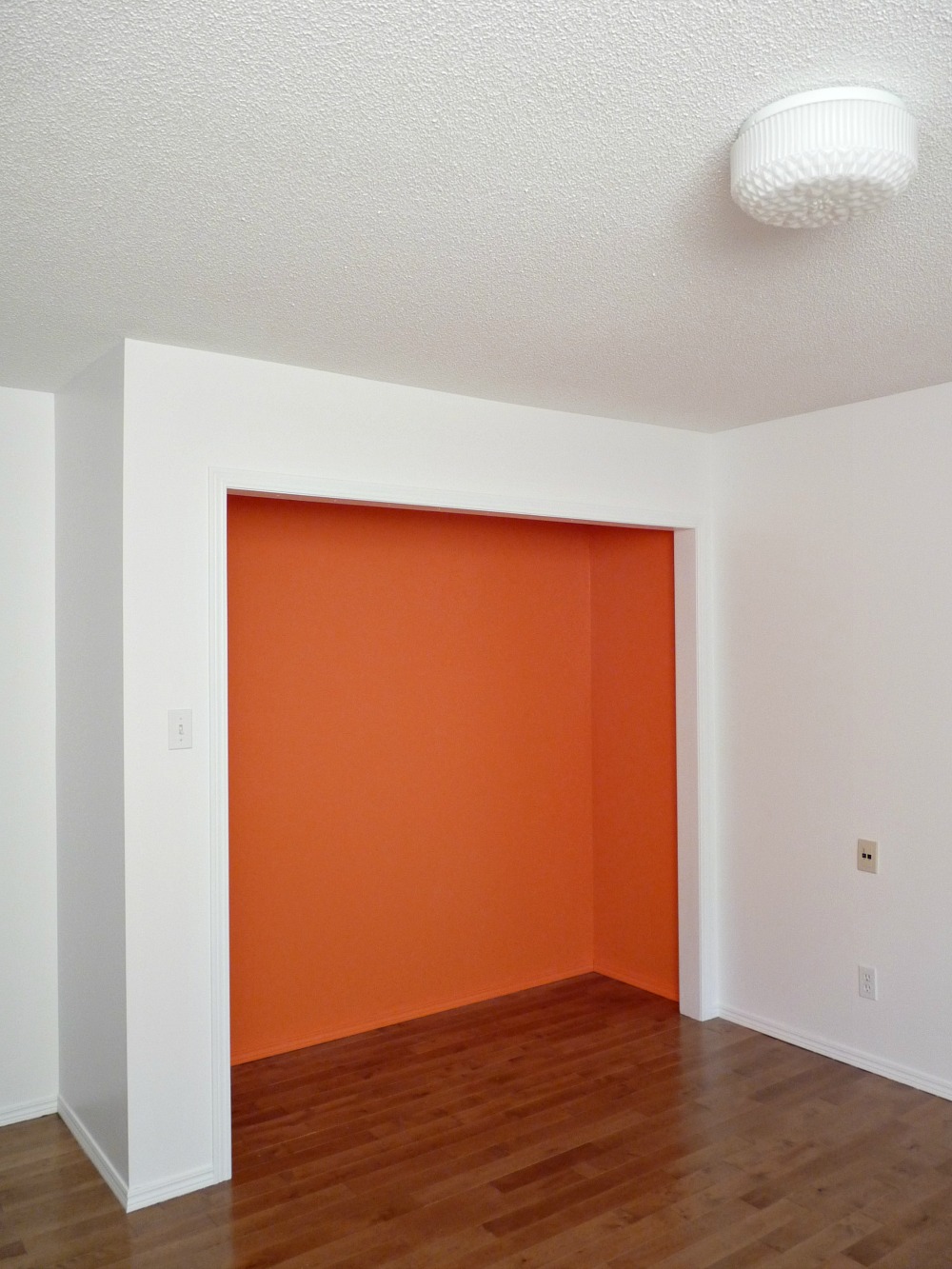 Moving is stressful enough – it feels good to finally find a home for things. We loved the maple-look closet fitting in the townhouse because it matched the floors nicely and looked more high end because of the wood tone. But we didn't find any wood closet systems to match our lakehouse floors. Actually, we didn't find many good options locally at all – the downside of moving from a big city to a tiny one. After some questing, we found a grey version of the ubiquitous white wire closet organizer that we thought looked kind of nice, so we gave our closet an easy makeover.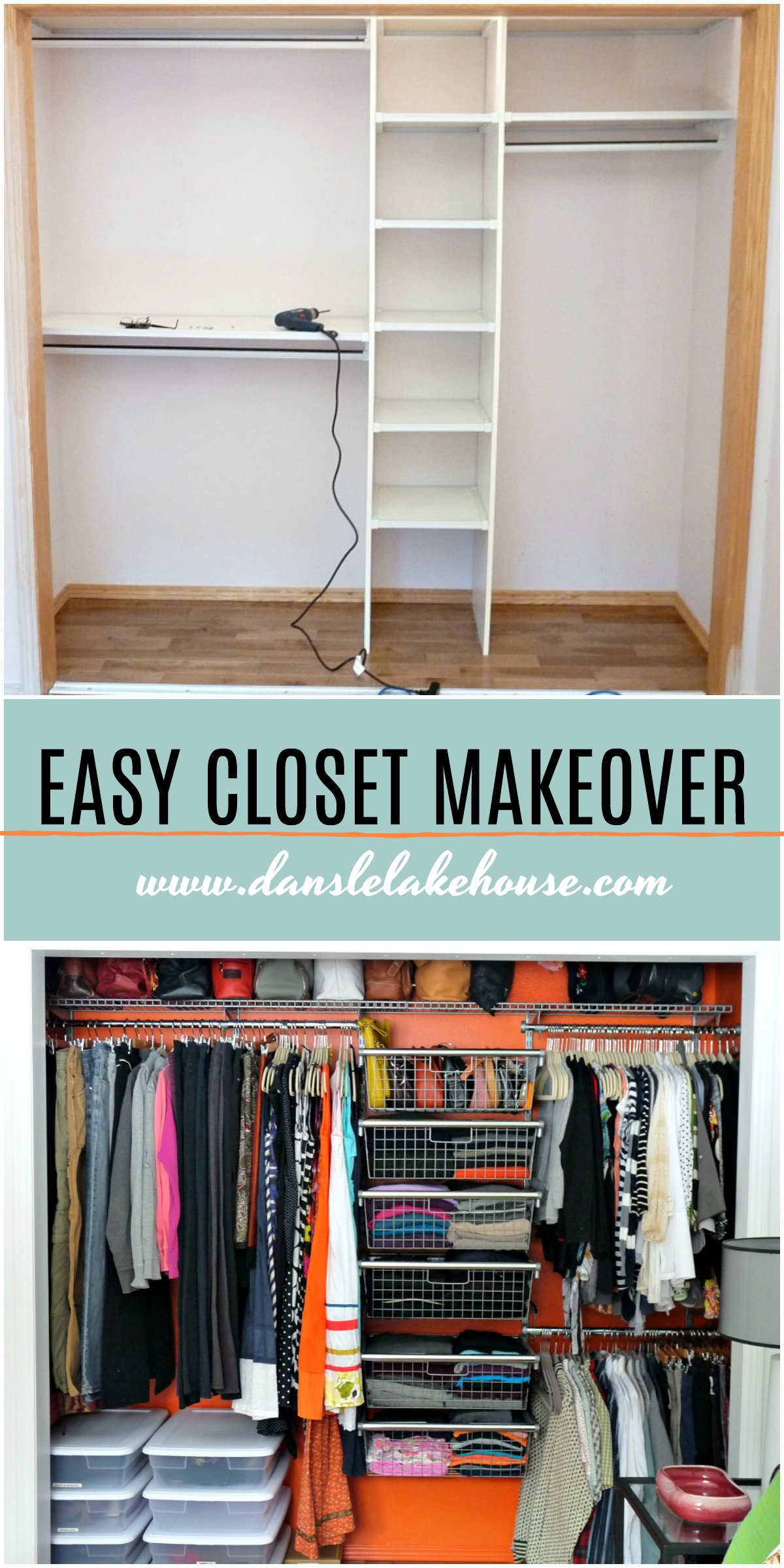 Rubbermaid Configurations Closet Organizer Review:
We purchased the Rubbermaid Configurations Closet Organizer system because it promised to be cheap and easy, but it didn't look cheap – to us, anyway. We liked the titanium color. When the dust settled, it turned out to be kind of pricey because we added Rubbermaid Slide on Baskets. Here's a look at the organizer installed. (I really hate when people stage closets for photos, so I hope you don't mind that these photos reflect what it actually looks like, day to day).
Thoughts on the Cost:
First I want to address the cost of the Rubbermaid system. Admittedly, the basic kit is only about $120 dollars, but we ended up spending a lot of money on the baskets (online they are about $45, but we paid $55 in store). When all was said and done, after we bought every little bit and bob we wanted, this configuration cost us around $500! So if you're shopping for a system like this, just be aware that once you add on all of the pieces, it can get a little expensive.
But, everything is organized and in it's place – and that's priceless, right? And you could save money with shelves instead of drawers, but I LOVE the drawers.
Thoughts on How Much You Can Customize it:
As customize-able as Rubbermaid claims this is, you're a bit limited with how you can place the vertical tracks if you want to add shelves or baskets, or any of the other add-on pieces. We also couldn't put the bars (on the right side) at the height we wanted them because the baskets use the same tracks to clip on to. That's why the baskets ended up unevenly spaced, and Hubby's shirts hang a bit lower than I would have preferred. We might need to fuss with this some more.
The spacing limitation has also left us with another problem: the baskets slide out, which is great, but now we can't install double sliding doors. If we move the baskets over to the right, they bump into the frame and won't open. That's okay – we'll just do a triple panel sliding door. Again, not a deal breaker, just something to consider if you're thinking of this closet organizer.
Thoughts on the Quality:
Happily, the wire shelving is smooth and doesn't snag or catch (although the basket brackets are a little sharp).
UPDATE 2020: Many years later, the quality is still there and these closet fittings look brand new! We've never had any issues with pieces breaking or wearing out (knock on wood) and the drawers still slide super smoothly.
Overall Impressions:
Despite these small installation issues, I'm really happy with the closet organizer. I think we really maximized the space. The shelf on top is perfect for bags and the drawers are amazing for sweaters and pajamas. Beneath the pants and dresses I even had room for larger versions of my shoe bins to store winter boots and make use of that awkward space under our longer items.
The colour still makes Hubby smile (I like it too!) and I'm really happy we took the time to swap out the dated light fixture for the cutie one I love so much.
Certainly, it's a far cry from before:
The former owners had installed the wood flooring around the old closet fitting (argh) so we had to replace the damaged floorboards. Take a look at this post to see how we did that!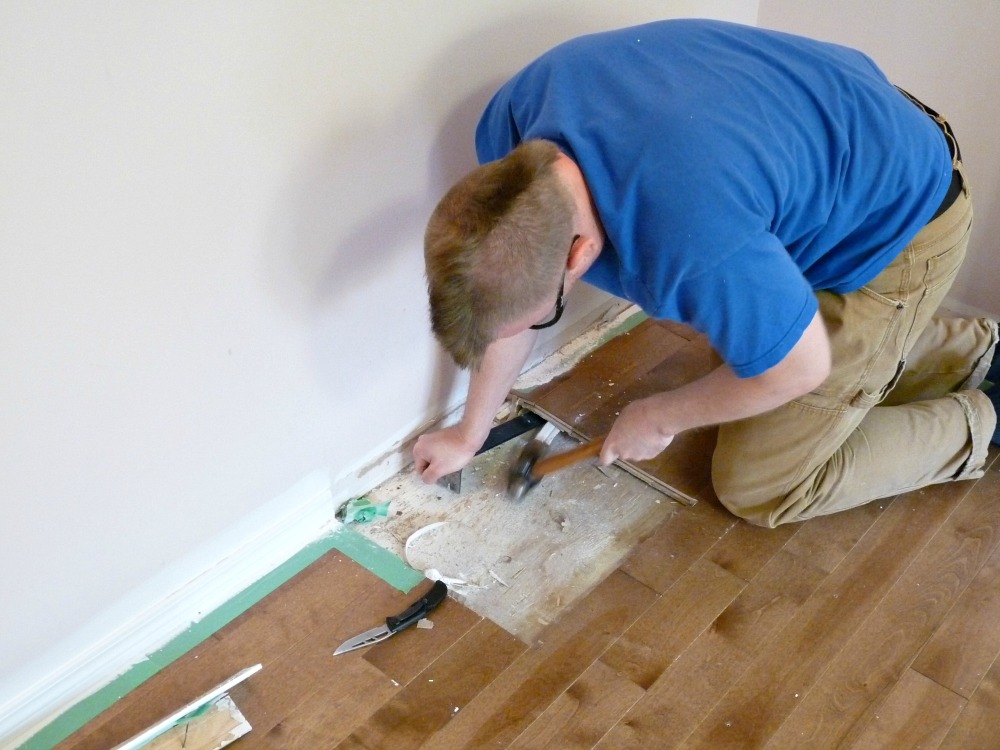 UPDATE: We purchased absolutely gorgeous, triple pass glass sliding doors. Take a look here!