My IKEA hack for Expedit bookcases has been one of my most popular DIY projects! The Expedit is a much-loved IKEA piece and my IKEA hack offers an easy, inexpensive and creative way to hide clutter without spending a ton of money on IKEA baskets and Expedit drawers. It's been exciting to see so many people try this project for themselves (see here and here for examples). If you missed Version 1.0, here's the idea behind my IKEA hack for Expedit bookcases in a nutshell: I used screw eyes and cup hooks to create swinging "doors" out of canvases for the Expedit cubbies. For Version 1.0, I painted little abstracts on the canvases and installed them randomly for an artsy vibe. For the lakehouse though, I decided to simplify the idea with one row of turquoise swinging "doors".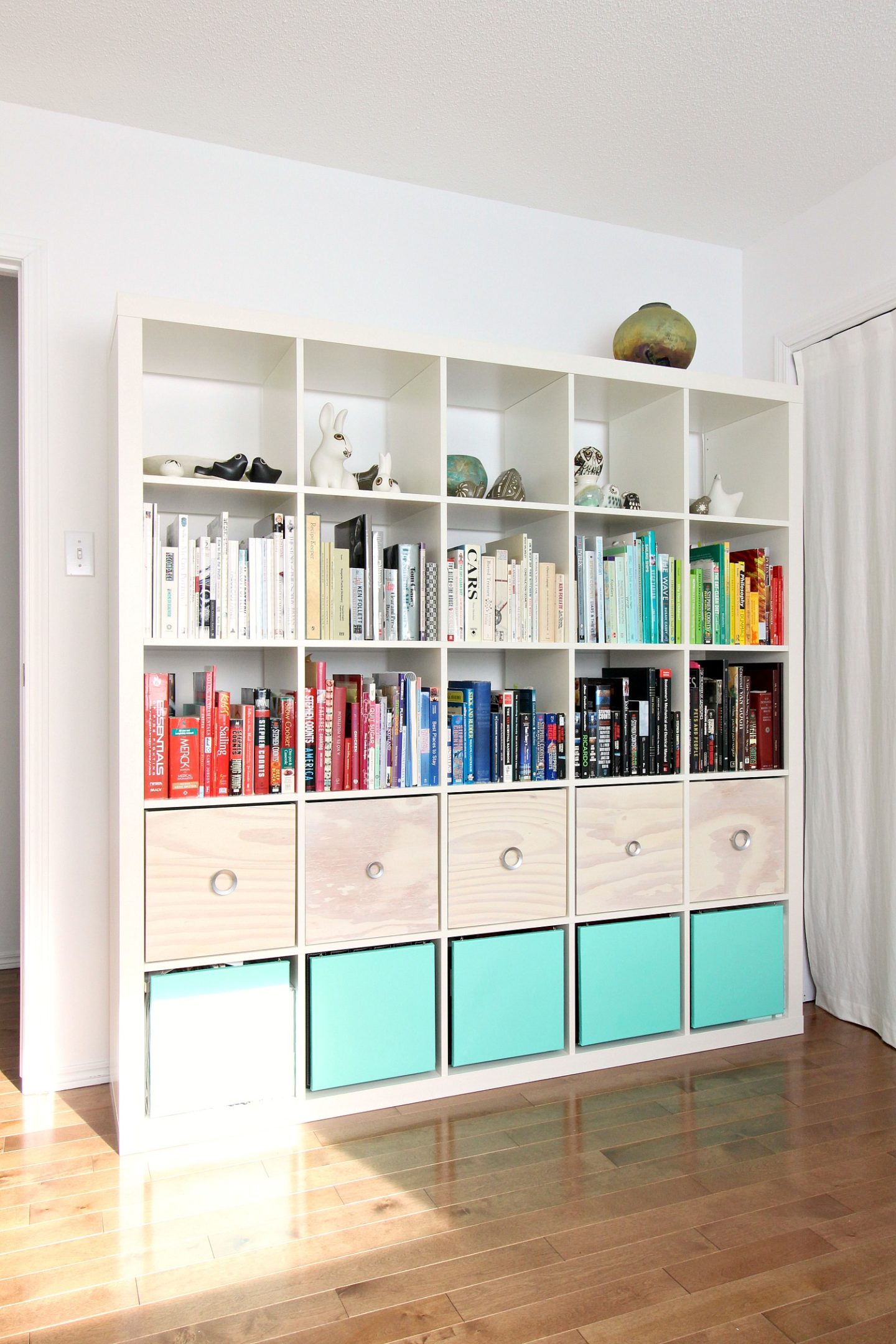 Here's a closer look at my IKEA hack for Expedit idea:
Supplies:
12″ x 12″ canvases (I bought mine at Michael's for $29.99 for pack of 7, less with a 40% off coupon)
Paint (acrylic, leftover wall – anything!)
Pliers
Pencil
IKEA Hack for Expedit Bookcases – Steps:
First paint the canvases – it's easier and a cleaner look if you do it before adding the hardware. You can paint them a solid color with leftover wall paint, paint an easy abstract, decoupage with gold leaf. Check out my DIY project gallery for tons of art ideas! Let the paint dry before moving on to the next step.
Measure where you'd like the hooks placed under an Expedit shelf and mark it with a pencil. Using pliers, you can just twist the cup hooks in – no drilling required. Make sure the hooks are facing the same way (I faced mine out) for a cleaner look. Facing them outwards (see photo above) makes it easier to just life the canvases up and off if you want to remove them completely to access what's behind. To finish this easy hack, measure where the corresponding screw eye should line up on the canvas and twist it into the canvas frame.
The Finished IKEA Hack for Expedit:
This IKEA Expedit Hack Version 2.0 has a much more minimalist, organized vibe. To underscore the orderliness, the next row up is filled with DIY plywood magazine files we made to fit the Expedit perfectly. Click here for the tutorial – the insides are painted turquoise to (secretly) match the "doors"!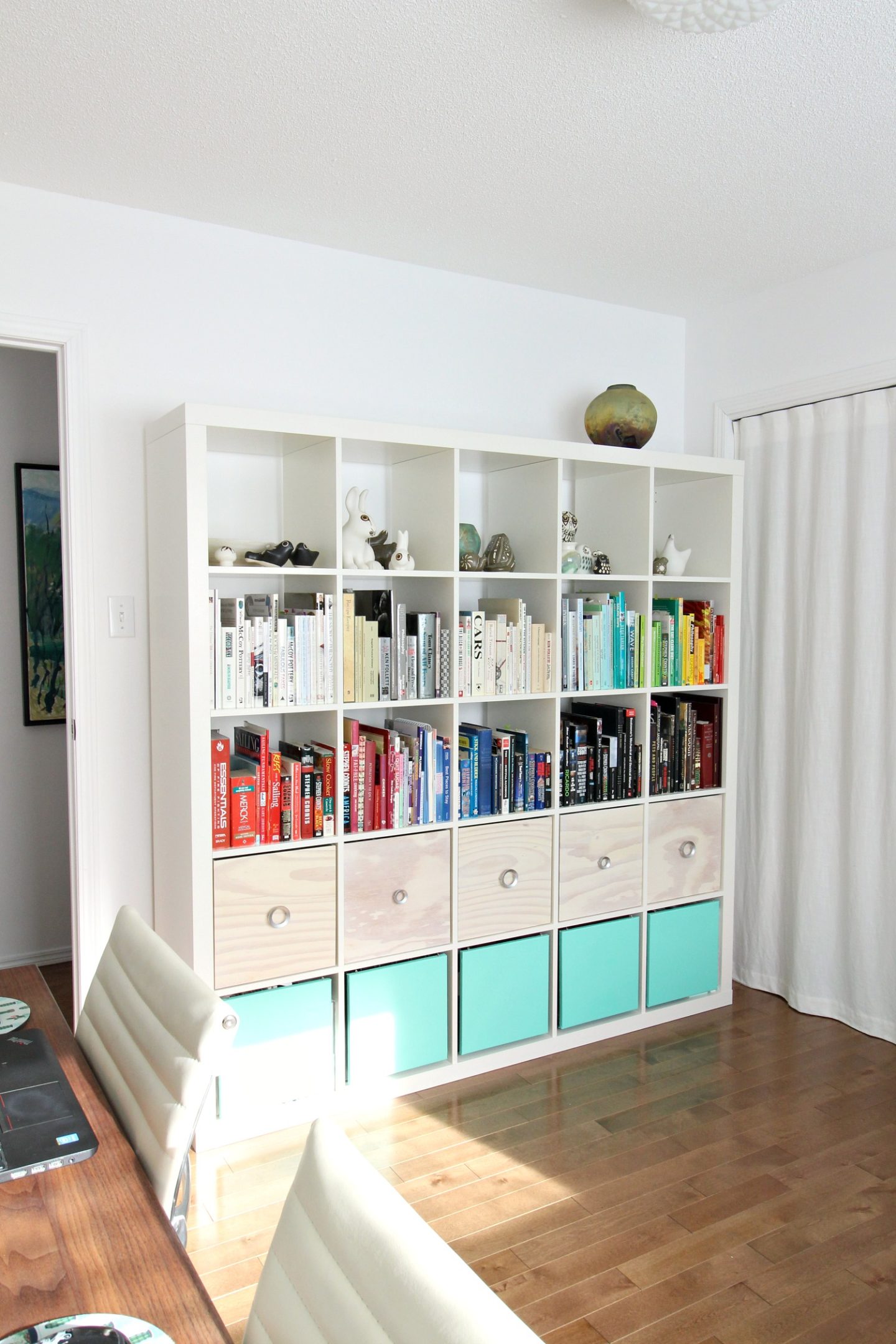 If you're curious about what's lurking behind the swinging doors:
You might have noticed that I have a new Ikea Expedit. I've always wanted a white Expedit but the floor models always look so beat up – more so than the dark brown, which is what I always end up buying. When my Dad said he wouldn't mind taking the two brown ones from the townhouse, I figured it was finally time to buy a white one. It's creamier than I thought it would be, and nicks and dents do show up more than on the dark finish, but it looks beautiful and I love it. The dark one took up so much visual space and was really imposing. The white doesn't close in the room as much, even though it's just as large and just as packed with books. I wish I'd trusted my gut years ago and chosen white.
You already caught a peek of the colourful books. We pared down our books a lot before moving because we used to have a second bookcase in the basement. We keep most novels in a box because we typically read those at the beach and pass them on. This bookcase largely houses reference books, cookbooks, and novels we read again and again. The rainbow organizing is so soothing to my brain.
My colour-blind Dad was visiting recently and spent a long time looking at the books. Eventually he looked at me, totally confused and sounding kind of helpless, and asked, "how are your books arranged?". I looked at him, then at the books, then at him and then realized – of course – it must look like total chaos to him!
The top row of cubbies has been reserved for my pottery collection.
Onward with office progress. In the meantime, has anyone else tried my IKEA Hack for Expedit Bookcases?