Check out this easy DIY painted OSB floors tutorial!
Did you know that you can paint wood floors? You can also paint particle board floors, you can paint OSB floors, you can paint plywood subfloors – with the right primer and paint, you can paint ANY floor surface! Here's how I painted these old, nasty OSB floors.
If you follow me on Instagram, you might have caught a peek of a project that's been keeping me busy. A local computer shop is moving from their current retail and tech space to a smaller spot in need of some TLC. It's downtown, with excellent parking (a rare combination!), so things like missing baseboards and particle board floors were overlooked.
DIY Painted OSB Floors – BEFORE:
At first I was a little intimidated by the amount of work to do, especially because the budget is miniscule and I'm being paid in tacos (that's not a euphemism for cash). But I'm always up for a DIY challenge! The first step was to fill in the hundreds of wall holes with putty, and then sand and prime them in preparation for painting the walls a warm grey (PPG's Aria). I wanted as light a color as possible to make the space feel bright and clean, but I knew white would quickly become covered in grubby fingerprints. Just painting the walls one neutral colour (and not painting around the furniture like the last tenants) improved the space.
The former tenants had put down what looks like some kind of oriented strand board (OSB, or maybe it's engineered wood particle board?), which had become badly stained from water damage and general foot traffic.
Putting something cheap over the particle board, like a peel and stick tile or even click laminate, wasn't an option because it's not 100% level (it's an older building, which exacerbates the wonky installation). Plus the shop owner didn't want to spend a lot of money improving a rental location. I decided paint would be an easy and inexpensive fix. A local paint shop suggested a simple primer + floor enamel combo because professional-grade epoxy finishes would crack given the uneven floor. Plus, without a top coat, a floor enamel can easily be re-touched, plus it's not very slippery during wet or snowy months.
How to Prep OSB Floors for Paint:
I started by giving the floor a good and thorough clean. I swept multiple times and then gave the entire surface a deep clean with a shop vac.
How to Prime OSB Floors for Paint:
Next came the primer coat. I used Kilz Max primer, which is now my favorite primer.
I used a large brush to apply primer along edge of the room (I didn't want to touch the freshly painted walls with my roller), and then just rolled the primer on. A roller handle extender was very handy – I highly recommend getting one. I started at one end of the room and painted my way out of the room, making sure everything I needed (car keys!) was accessible at my exit point. It was dry to the touch in 1/2 and hour and ready for re-coating in one hour, but I let it dry overnight.
The primer was fabulous: it covered nicely and, as promised, dried very quickly. Not all primers are created equal – and not all are suitable for floors – but this one did an excellent job of concealing water damage and stains. I had the primer tinted as dark a green as they could manage, which helped get the floor to a deep teal. This process is very similar to what we did for our painted laundry room floor, except we skipped primer then.
How to Paint OSB Floors:
The next morning, I applied the paint in the same fashion: starting with the edges and then using a roller and working my way out of the room. Like with painting walls, I painted "W"'s to ensure I got paint into the uneven surface. I took my time and often checked to make sure there were no bare spots. I worked slowly, with a very saturated roller to ensure full coverage.
Best Paint to Paint Floors?
This is the exact porch and floor enamel I used, and it's suitable for wood and concrete surfaces. It's designed to be walked on so, if you decide to use another brand, make sure it's a PORCH & FLOOR ENAMEL for best results.
How Long Do Painted Floors Take to Dry?
The manufacturer's instructions indicated that the floor could be walked on in 24 hours but I let it dry for 48 hours because after 24 it still felt tacky. The salesperson who helped me at the paint store informed me that paint doesn't actually cure until about the one month mark, but that a couple of days should be fine. The longer you can let your painted floors dry, the better – and note that humidity and temperature can affect paint drying times.
The enamel had great coverage, but I think the primer did the heavy lifting. So little of this paint soaked into the floor thanks to the excellent primer. I needed about a quart or two less of paint than primer. The painted floor turned out lovely. After I was done I quickly snapped some photos with my phone from outside, and the door wasn't open but a minute before a passerby complimented the color choice. With freshly painted walls and floor, the space looks much more attractive.
DIY Painted OSB Floors – AFTER:
You can still see the seams a bit, but they are more pronounced in these photos than in real life, thanks to the texture of the particle board and the slight sheen of the paint. Given the muted teal colour and texture, the floor has a vintage feel, like 1950s laminate counters.
All of the photos of the DIY painted OBS floors (above) were taken with my camera phone, which captured the color somewhat true to life – but a bit more vibrant and green. My regular camera, on the other hand, refuses to capture teal or turquoise so it photographed the floor more blue. The truth lies somewhere in the middle. Ultimately, the color (PPG's "Time for Teal") is a pretty, silvery, muted teal – much like the color of blue spruce.
Why Did I Choose Teal Paint for Floors?
I had a few criteria for choosing the color: I wanted something cheery because there will be little color elsewhere, but I also wanted something that would hide dirt. I also needed to be a color that wouldn't disguise rogue screws, and that would pair well with the espresso brown furniture that will be moving in. Plus I like teal; teal is always the answer.
P.S. Don't Forget to Pin for Later!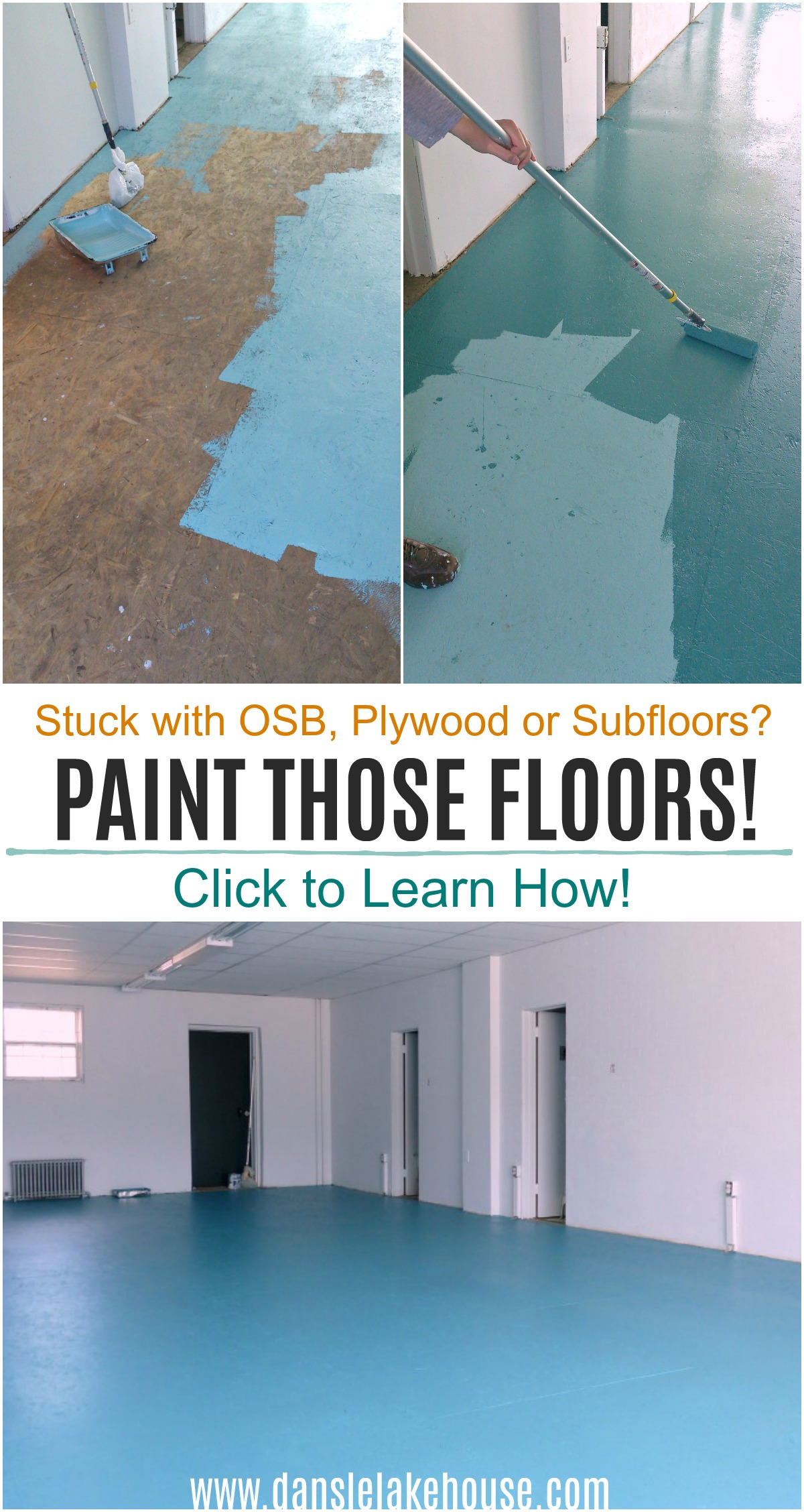 Love this DIY Painted OSB Floors tutorial and looking for more DIY floor ideas? Check out my DIY Painted Vinyl Floors here and my DIY Plywood Floors here.