I'm excited to show you the new DIY pantry cabinet – along with some more kitchen updates! That's right, we've slowly made some more progress on the kitchen: an open pantry has been built, shelves have been primed and painted, brackets have been installed, and shelves have been set on brackets and abandoned, lol. We just need to join together the shelf pieces and install them, finish installing baseboard and other trim (window trim is done though, yay), and then touch up some paint. I see the light at the end of the tunnel! Before we get to that "big reveal," I wanted to address some of the little issues we encountered along the way, and what kind of slap-dash, band-aid solutions we applied (this is, after all, just a temporary makeover).
First up, the piece of veneered MDF that was beside the fridge in the original kitchen:
Even after my Dad and I tore out the upper cabinets, it was still photographed loitering. Why? The flooring was installed around it so to tear it out would mean a little square of subfloor at the base of the cabinets.
We decided to keep the kitchen flooring because it's shades of cream, and a neutral enough pattern for it to work. It extends into the front entry, laundry room and half bathroom as well. To solve the problem, Hubby simply cut down the offending panel with a saw, I primed and painted it turquoise, and we installed the counter top right over it!
You wouldn't even guess that there's an extra piece lurking there (well, it's not fair for you to guess because you already know).
In the photo above (pre-paneling), you might have spotted the fan which had been behind the angled cabinet:
Aesthetic contentions aside, it didn't work. This isn't new territory for us: the range hood in the townhouse didn't work either. We've been conditioned to cook without one – when we browned meat, indulged in bacon (or burnt the butter), we just opened a window in the adjacent dining room. But this home also boasts a whole home air exchanger, AND a window in the kitchen (luxury!), so we'll be fine until we renovate and can fix this thing. With our phase II remodel, of course we'll install a proper range hood and make sure it works (dream big!) but for now we blocked it off with foam for insulation because it was drafty, and hid it behind the panelling. What fan?
Sneak peek: shelves (EDIT: after this post, I removed the shelves above the stove to keep it to code and also moved all the brackets)!
The next little thing was the pantry. I actually didn't mind the pantry (to the left of the fridge) in the original kitchen configuration. It had neat little pull out shelves for dry goods. But it had the 1990s cathedral style door I hate, so I ripped it out too. When demoing, it's really hard to stop.
The flooring was glued up to this part of the cabinetry as well, so when we removed it the subfloor was glaring at me. If you follow on instagram, you might have caught a peek of the pantry Hubs built (and how we accidentally burned the ceiling finishing it). But it was easy to build a simple DIY plywood pantry to gain back more storage while keeping things nice and modern to match the rest of this DIY kitchen makeover.
We started with a super sophisticated blueprint (which included a low shelf to hide the subfloor):
And ended up with this! (Ignore the wood piece screwed to the side, that was a plan that didn't pan out):
How to Build a DIY Plywood Pantry:
The pantry is almost 8 feet tall and is constructed of two sheets of birch veneered 3/4″ plywood, that is good on both sides (the sheets come in 48″ x 96″ sizes). It was relatively simple to build and we did it without a table saw (man, we really need one though, because it's getting ridiculous). For anyone who is curious, here's the how-to (you can easily adjust to your own custom measurements, of course):
Using our "detailed blueprint" and the cut list software that Hubby found for the kitchen panelling job, he marked and cut the pieces using a straight edge and a circular saw (or table saw for you fancy folks!). The unit is 24″ deep, so the sides are simply a single sheet of plywood that is ripped down its length and trimmed a little at one end in order to allow the unit to clear the ceiling.
Here's the circular saw we use in lieu of a table saw – we just clamp a straight edge next to it as a guide. Hubby originally chose a blade with a higher number of teeth to get a cleaner cut on the wall panelling and left the blade on for this job for the same reason. He finds it cuts a little slower, but does not tear the edges as much.
The shelves rest on braces (which are just strips of plywood) that are glued and screwed into the back and insides. Hubs marked the locations and pre-drilled the holes in the side panels. These holes are large enough to allow the screws to pass through without grabbing the first layer and sucking the second layer of wood in tight. With all the pieces cut out and the side brackets installed, Hubby brought everything into the house for assembly (it's a beast to move when it's assembled).
For assembly, we put it together face down, starting with the top and bottom. These pieces were glued and screwed into place. As soon as the screws were tightened and before the glue set, we checked to make sure the unit was square. This was done by placing a tape measure across the unit to opposite corners (two measurements). We compared the dimensions and shifted the cabinet to get it as close as possible. The rear shelf braces (the skinny pieces below) were then glued and screwed into place.
For a clever little trick, we used extra panelling for the back so when you glance at it quickly, you think you're seeing the wall behind. In my eyes, this little feature makes it look less like a plywood box, but we didn't sacrifice stability by skipping the back panel altogether. The back panel is just nailed into place using 3/4″ 18 gauge air nails.
A tip for nailing things together is to drive them at alternating angles. Even if the panel does want to pull off, it means that it will not slide easily.
Once everything was together and the glue had set, we lifted the unit upright. This was only possible because the ceiling in the dining room is a lot taller. As you can see from the image below, we did not leave a lot of clearance (intentionally). The shelves were then put in place to check for final fitment (two needed slight trimming). Edges were then lightly sanded to remove any sharpness or roughness.
We worked on this puppy late at night . . .
I painted it, but first we applied some wood edge tape to hide the visible plywood edges. There is a heat activated glue on one side, so we just grabbed an old iron and ironed it on.
The tape was then trimmed to fit using a sharp knife or a proper edge tape trimmer. We don't have a table saw, so do you think we own fancy tools like edge tape trimmers? Nope.
The unit and shelves were then primed and painted with semi-gloss paint, and the shelves installed. The shelves are screwed from the outside, to pull the sides together, and through the top of the shelves into the braces, to pull them down. We pushed the unit in place and put three screws through the back into a wall stud to hold in in place.
It's a little imperfect but that didn't stop us from high-fiving each other and congratulating ourselves for having built something so awesome and functional and HUGE. The minute we slid it into place, the fridge no longer seemed as prominent – which was exactly my plan! I've decided that every time something is a little imperfect – especially if I've painted it white – I'm just going to refer to it as "cottagey," which is perfectly acceptable for a lakehouse like ours. So this pantry is cottagey, and we love it. I can't wait to add large glass canisters and actually buy things like flour and sugar.
We still need to add baseboard to the wall, and in front of the pantry, because without that it's a little too cottagey, but it's definitely taking shape. I wander out the garage every now and then and caress my boxes or Pyrex and glassware. So close to a finished kitchen and then we can get to the really fun part – styling those open shelves!
As a finishing touch, a little bit of baseboard trim and caulk makes the pantry look more built-in and finished: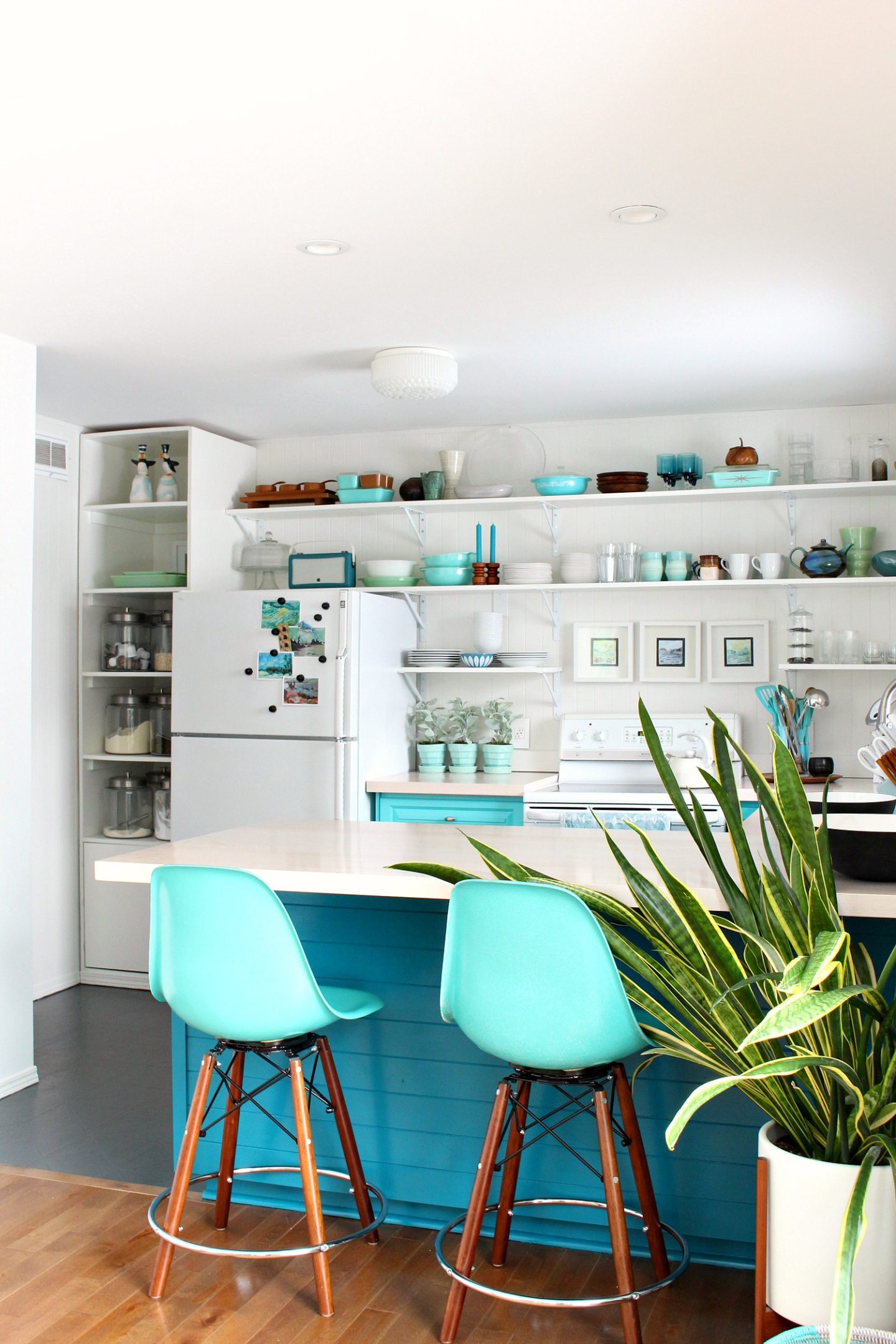 The paint for the paneled walls and pantry was provided by CIL. The colour is White on White (in eggshell for the walls and semi-gloss for the cabinetry). You'll see more of the painted paneling soon!
P.S. Don't Forget to Pin for Later!