As an avid vintage Pyrex collector, I've put together a thorough guide for how to clean vintage Pyrex (which also works for how to clean new Pyrex), with advice on: how to clean black marks from Pyrex, how to clean baked on grease from Pyrex, plus how to restore shine to dishwasher dead vintage Pyrex. I'm testing a lot of cleaning Pyrex "hacks," showing you which ones work – and which ones don't. Plus read through the comments because they're an excellent resource for even more fabulous tips on cleaning vintage Pyrex (from fellow Pyrex collectors)!
My Vintage Pyrex Collection
If you're a vintage Pyrex collector, or just getting into collecting Pyrex, I thought I'd quickly show you my Pyrex collection first – before sharing my tips for cleaning vintage Pyrex. I didn't always have a big turquoise Pyrex collection in my kitchen:
I got my first piece of vintage Pyrex (a butterprint fridgie) when I was a teenager. My grandma and I were yard-saling and she scooped it up. Conspiratorially, she told me it was special. After that I bought a few more pieces here and there, normally at yard sales for a dollar – or less. In 2011, my vintage Pyrex collection was actually still pretty small:
I don't know how I moved from just buying pieces we used in the kitchen, to starting an official "collection," but by 2013 I had a lot more turquoise Pyrex in my collection, plus an overflow cupboard of other colours:
Now my DIY kitchen is actually designed around my collection, which has largely stopped growing. I have splurged on a few rare pieces online in recent years, like my Blowing Leaves piece, but I don't really add to my collection anymore because I can no longer find any nice vintage Pyrex in local thrift stores or even antique shops.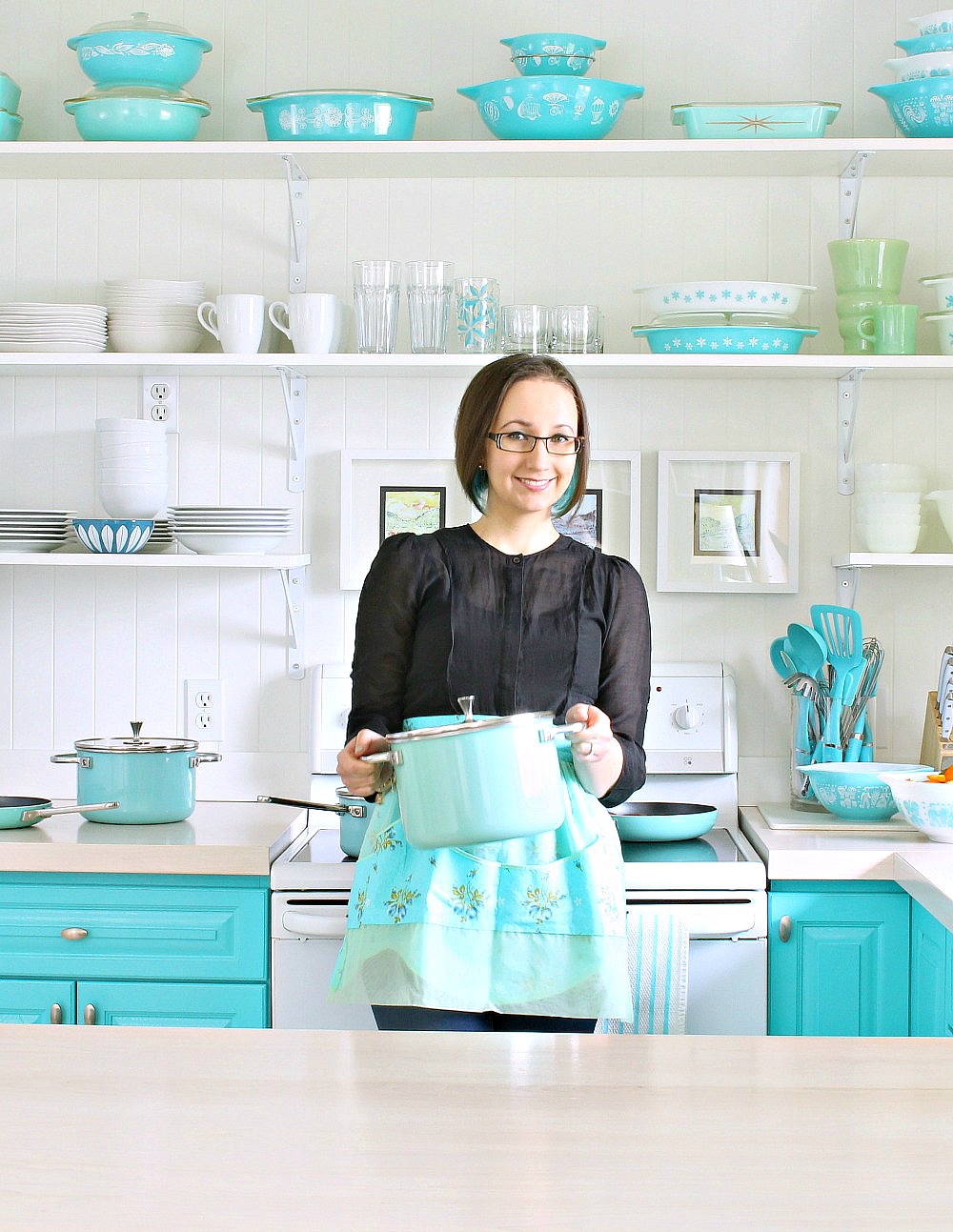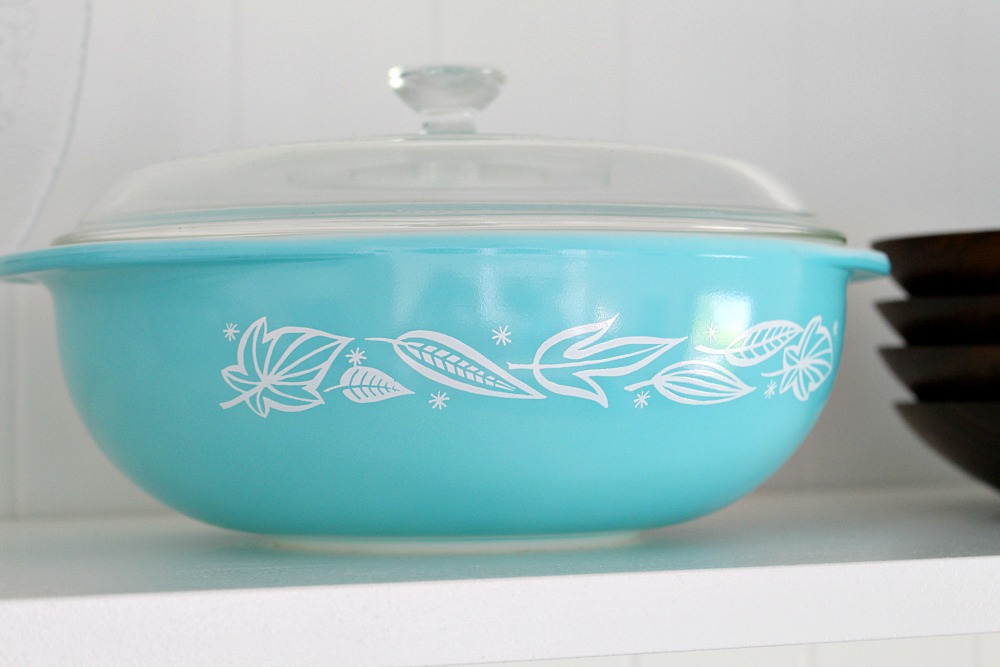 Why is Vintage Pyrex So Popular?
Wondering why vintage Pyrex so popular? I think there are quite a few reasons and each collector has their own "origin story". I began collecting because my grandmother told me vintage Pyrex was special. She used it in her kitchen, and kept her eyes peeled for it at yard sales, and she passed that passion on to me. I bought a few books on Pyrex (I love this book on Pyrex Collecting especially), and we would pour over the pages together. Now I collect and use Pyrex because the colors and patterns make me happy (plus the designs are so practical and useful). But most importantly: vintage Pyrex always reminds me of my grandmother! Here are some popular reasons why Pyrex is so popular:
Nostalgia: Many of us grew up seeing vintage Pyrex in our mother's or grandmother's kitchens
Happy Vibes: The vibrant colors and patterns of vintage Pyrex just make collectors happy
Collecting Obsession: Once you start, it's hard to stop trying to collect certain patterns or colors
Diminishing Availability: It's harder and harder to find Pyrex, and as it has become more rare it had become even more valued
Quality: Vintage Pyrex is great quality
Useful & Pretty: Vintage Pyrex is not only beautiful – it's so useful, with clever designs home cooks and bakers can appreciate
Community: Sharing with other collectors online has created a surge in popularity as we sell, swap, and share with each other on social media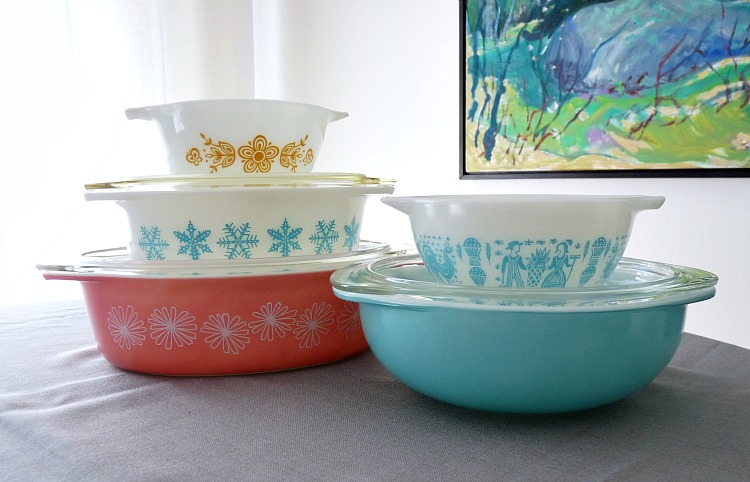 Why I Started Experimenting Cleaning Vintage Pyrex
As collecting Pyrex became more popular, with many local people picking up pieces to sell online or collect themselves, the inventory here dwindled. So I began experimenting with bringing dishwasher dead Pyrex back to life and scrubbing filthy vintage Pyrex I found left behind in thrift stores. I've tried a number of tricks for cleaning vintage Pyrex, from Mr. Clean Magic Eraser (hit or miss) to Coca Cola baths (didn't do a thing). Keeping reading to discover all of my Pyrex cleaning results. Even if you don't collect vintage Pyrex, these tricks work for cleaning any burnt glass pans and I've even got a trick for cleaning utensil marks off plates and bowls too!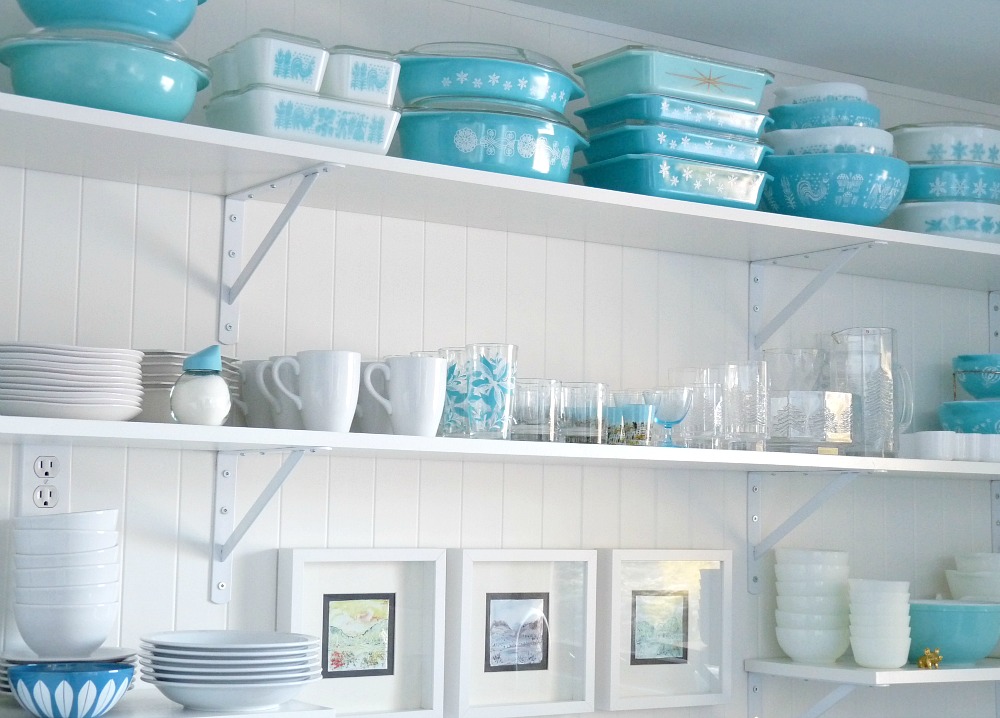 Can You Use Mr. Clean Magic Eraser on Vintage Pyrex?
You might have noticed that Mr. Clean Magic Eraser isn't really a cleaner, it's more of a fine sandpaper, so while a magic eraser can be used (gently and sparingly) to clean vintage Pyrex, use caution because it can remove the sheen from Pyrex. You might have noticed that if you use a Magic Eraser to clean a spot on your walls, the paint finish in that area changes. I do use it on Pyrex, occasionally, but on really badly baked on grime or stains. For a gentler approach, try using powdered Bar Keeper's Friend instead! If you don't have any, creating a baking soda paste for scrubbing can also be effective.
How to Get Rid of Black Marks on Vintage Pyrex?
What causes black marks on Pyrex? I've read that they're metal marks but it's peculiar so many pieces have them on the outside. My best guess is that they're from nesting bowls inside each other, shelf wear, or maybe from sitting inside metal pots and pans. Utensils or hand mixers create similar black marks, but they're found inside bowls. In my experience, I've found that Bar Keeper's Friend – the powder, not the liquid – gets most, if not all, of these black marks off Pyrex. Add a little sprinkle on a damp sponge but be careful because BKF can also take the finish off coloured Pyrex. I accidentally made a piece look a little dull by scrubbing too hard, but a gentle touch with the Bar Keeper's Friend can help remove black marks on Pyrex that dish soap, scrubbing, or even Magic Eraser cannot:
Here's another example of using Bar Keeper's Friend, this time more gently, to remove black marks from Pyrex:
How Do You Remove Metal Marks from Dishes?
Wondering how to remove metal marks from dishes? Remove utensil marks from dishes using Bar Keeper's Friend as well! I used powdered Bar Keeper's Friend on my cereal bowls to remove utensils scratches and, within seconds of scrubbing, they looked brand new. I simply rinsed the bowls, sprinkled on some Bar Keeper's Friend, and then scrubbed with a dish cloth. It took a little bit of elbow grease, but all four bowls took me fewer than fifteen minutes to clean! Unlike with cleaning Pyrex, there was no wear to the finish at all but the utensil marks were 100% gone.
Can Pyrex Be Washed in the Dishwasher?
Clear Pyrex glass can safely go in the dishwasher, but it is not recommended that colored vintage Pyrex be washed in the dishwasher. Dishwashers slowly etch the Pyrex, removing the glossy sheen and eventually also the painted finish, leaving a dull and discolored piece. Hand wash vintage Pyrex – especially colored vintage Pyrex – to keep it looking new.
DWD Meaning Pyrex Lingo
When referring to vintage Pyrex, DWD means dishwasher dead. This is typically used to describe colored Pyrex that is matte, has lost its sheen, and, sometimes, even the color, thanks to the use of dishwashers.
How to Restore DWD (Dishwasher Dead) Vintage Pyrex Pieces?
Ultimately, there's no way to truly "fix" dishwasher dead Pyrex, but dishwasher dead Pyrex can be saved by buffing on some coconut oil to fake the sheen on pieces for display or gentle use (like serving). With dishwasher dead Pyrex, sometimes the pattern has been washed completely off, while sometimes the finish is gone so the piece looks dull and matte. Coconut oil helps restore the sheen. Keep reading to learn how I saved a set of badly damaged vintage Pyrex bowls, removing the black marks and restoring the sheen.
How Do You Make Old Pyrex Look New? A Case Study:
I found a set of four turquoise mixing bowls at the thrift store and my heart leaped out of my chest when I spotted them. Then it fell to my toes when I saw the damage – and the outrageous Value Village price! I just couldn't leave them behind (luckily I had a coupon), so I took them home and worked some magic. Each piece looked like this when I bought it:
I let the Pyrex bowls soak for a good long time in hot, soapy water. They were severely damaged from a dishwasher, and had lots of grey scratches, so I went to town cleaning them with my Mr. Clean Magic Eraser, then Bar Keeper's Friend. This combo took off not only the marks, but also some of the dull white residue, which was making the bowls look more dishwashered than they were. Sometimes the opacity on vintage Pyrex is from built on film – not wear. But other times it actually has been put into a dishwasher, causing the glossy surface to wear off leaving behind a matte finish. In this case, there was damage beneath the film but scrubbing still helped reveal the colour hidden beneath the grunge.
Using Coconut Oil on Dishwasher Dead Pyrex:
Once they were cleaned, although they were a little less dull and hazy, the dishwasher damage remained – it's irreversible. Upon the advice of some fellow collectors, I grabbed some coconut oil and rubbed a tiny bit onto the surface. I really worked it in with my fingers – much like I would work it into my skin. You can even buff it with a soft tea towel. It worked like a charm to revive the dishwasher dead Pyrex bowls! The pieces are a tiny bit slipperier (but only barely so, because I really worked in the oil). Once they're oiled, a Pyrex piece should no longer go in the oven but you can use it for mixing, serving, or display. After a lot of washings, the bowls could use another oil but I haven't bothered because they still look leaps and bounds better than when I bought them. I think that, if I'm being honest, the oil is best for pieces on display or those that are rarely used, but it's nice to see that dishwasher dead Pyrex pieces can be somewhat revived.
If you'd like to restore the sheen on dishwasher dead vintage Pyrex by working in some coconut oil, here's the difference the oil makes: on the left the surface has been oiled and on the right (toward the bottom), it's still dull from the dishwasher.
The difference shows up more clearly on this piece, where the oil has been applied to the right:
Now my little thrifted set of dishwasher dead vintage Pyrex bowls has been revived and looks awesome on my shelf. One thing I noticed: the coconut oil didn't make a difference on white pieces with coloured pattern (like butterprint) – the best results were on solid pieces or those with a lot of colour, like my set of turquoise bowls:
How to Clean Baked on Grease + Grime from Vintage Pyrex?
I found a turquoise snowflake space saver at a local antique shop for a steal ($6!), but it was in rough shape with caked on grime that was burned into every nook and cranny:
I soaked it in hot soapy water, with grease fighting Dawn dish detergent, a couple of times, letting it sit for a couple of hours each time. I even scrubbed with Mr. Clean Magic Eraser but it did little. I scrubbed gently with my trusty Bar Keeper's Friend and a very soft chore boy scrub cloth (I save well worn ones for delicate cleaning), after which some of the grime came off. I soaked it in hot soapy water again. With these steps I was able to remove quite a bit of the burnt on grease, but there was still more to tackle (see below). I picked at parts with a toothpick and removed some grime that way. On the advice of Pyrex collectors, I opened up a pack of dishwasher liquid and let it soak in that, which helped a bit but not a lot.
Can You Clean Pyrex with Coca Cola?
Desperate, I decided to try a viral "hack" I had seen, cleaning Pyrex with Coca Cola. I placed the Pyrex casserole in a bucket filled with Coca Cola, weighing it down so it didn't float, and soaked it overnight. Using Coco Cola to clean vintage Pyrex seemed to do nothing – even though I've read rave reviews from other collectors.
Using Oven Cleaner to Clean Burnt on Grime From Pyrex:
Finally, I grabbed some glass stovetop cleaner and a soft scrub pad (I like Chore Boy Scrubbing Cloths). That worked to remove the rest of the baked on grime from this Pyrex casserole. The combination of the soaking, the Bar Keeper's Friend, some detailing with a toothpick, and the stove top cleaner worked to get most of the grease off, without damaging the finish at all (it had some paint loss when I bought it). I was lucky that after all that rubbing it stayed as shiny as when I bought it. I didn't get 100% of the grime off (it had worked itself into the texture of the design), but it was at least 80% improved. It was a good way to experiment with different methods, and I'm happy to have scored such a pretty piece for such a good price.
UPDATE: After some fellow collectors and commenters (see below) suggested it, I tried oven cleaner for that really baked-on-won't-scrub-off grime. Here are the details, but, long story short, it worked really well! I just popped the offending Pyrex into a bag, sprayed some cleaner on, and tied the bag shut. I let it soak for a few hours and then rinsed it off before giving it a good, soapy wash. The grease slide right off as I washed it! I did hear from one person who said oven cleaner left a hazy film on her Pyrex, so my recommendations are to experiment on very badly damaged pieces (maybe even do a spot test), and start by only applying the oven cleaner for 15 minutes.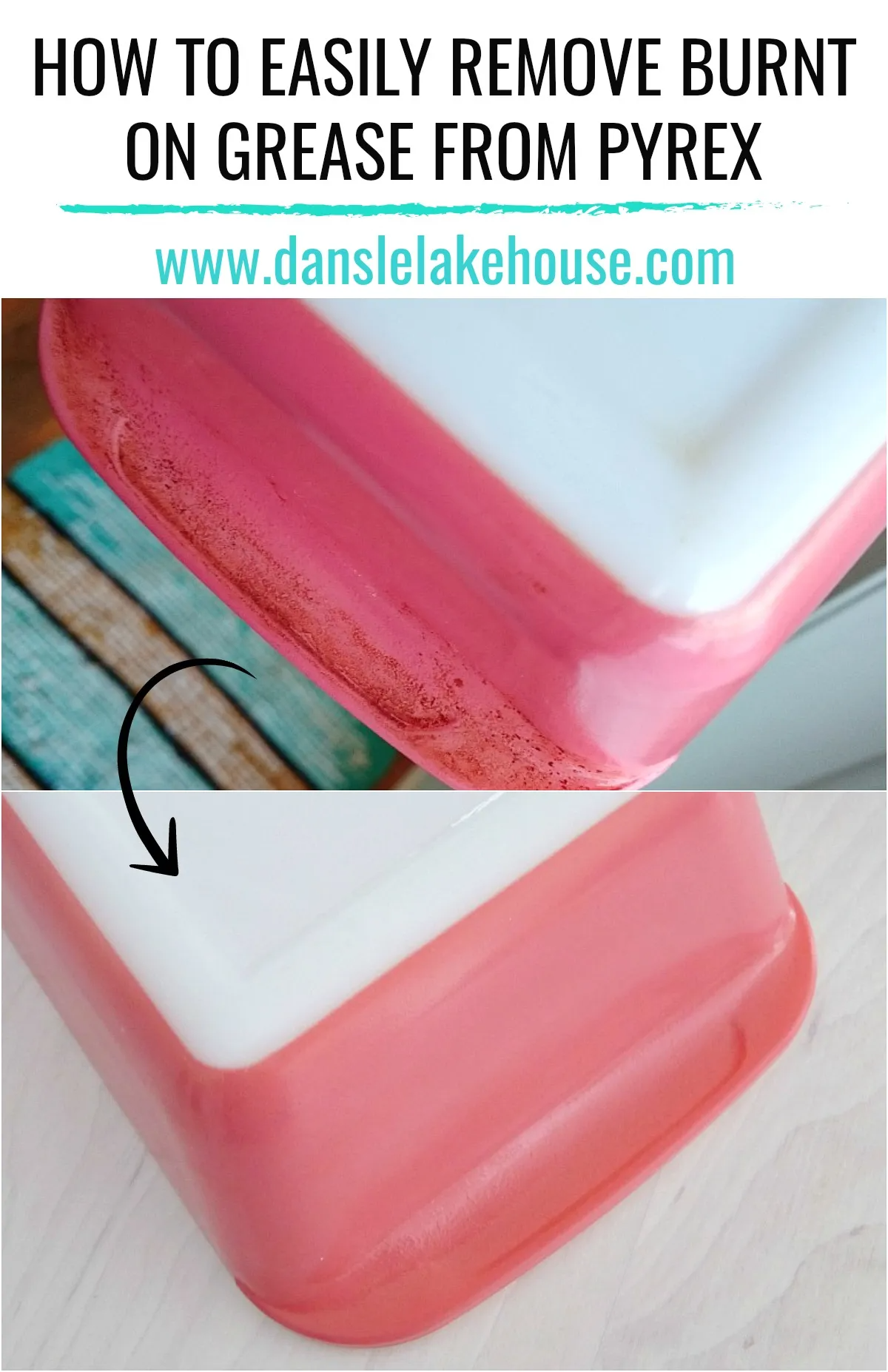 Successful Ways to Clean Vintage Pyrex
To summarize my Pyrex cleaning experiments, here are the most successful ways to clean vintage Pyrex:
Hot Soapy Water: Soak vintage Pyrex in hot soapy water, with a grease cutting dish soap like Dawn
Soft Scrubbing Cloth: Use a soft scrubbing cloth, like a wet chore boy, to give Pyrex a more thorough bath
Baking Soda: For less grimey Pyrex, you can also turn baking soda into a paste and use it to gently scrub baked on grease
Bar Keeper's Friend: Gently scrub with powered Bar Keeper's Friend and a damp cloth, to remove black marks or baked on grease
Toothpick: Use a toothpick to pick grime from crevices in Pyrex without risking the finish
Oven Cleaner: Cover Pyrex stains with oven cleaner and a plastic bag, allow to soak and then wash thoroughly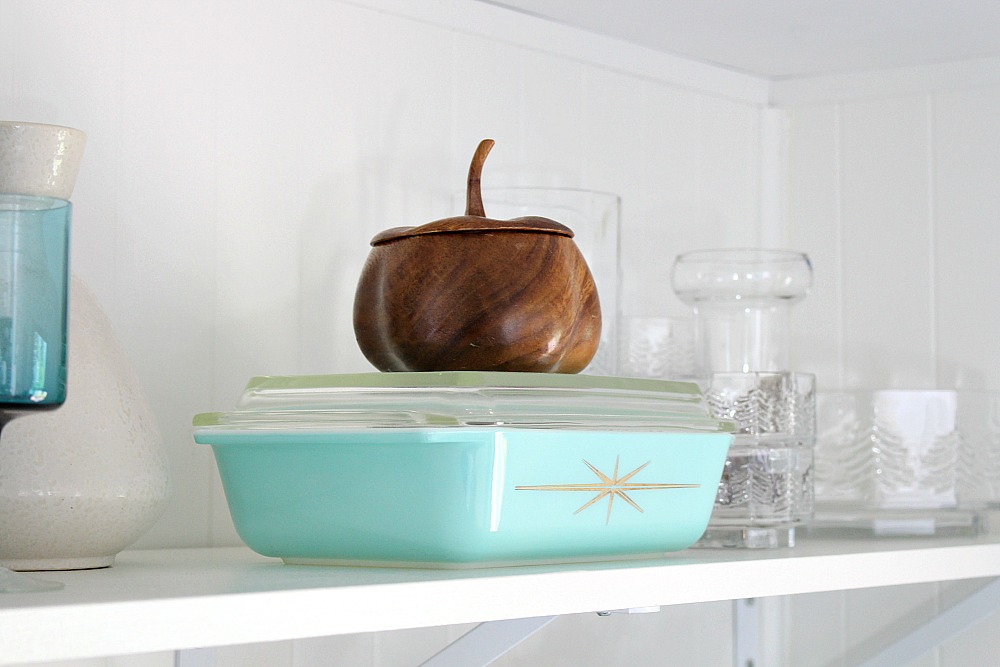 Please feel free to share your tips and tricks in the comments below! I love hearing advice and picking up tips from fellow collectors, so feel free to include a link to your own blog posts or Instagram pages so we can ogle your vintage Pyrex collection and soak up your vintage Pyrex cleaning advice.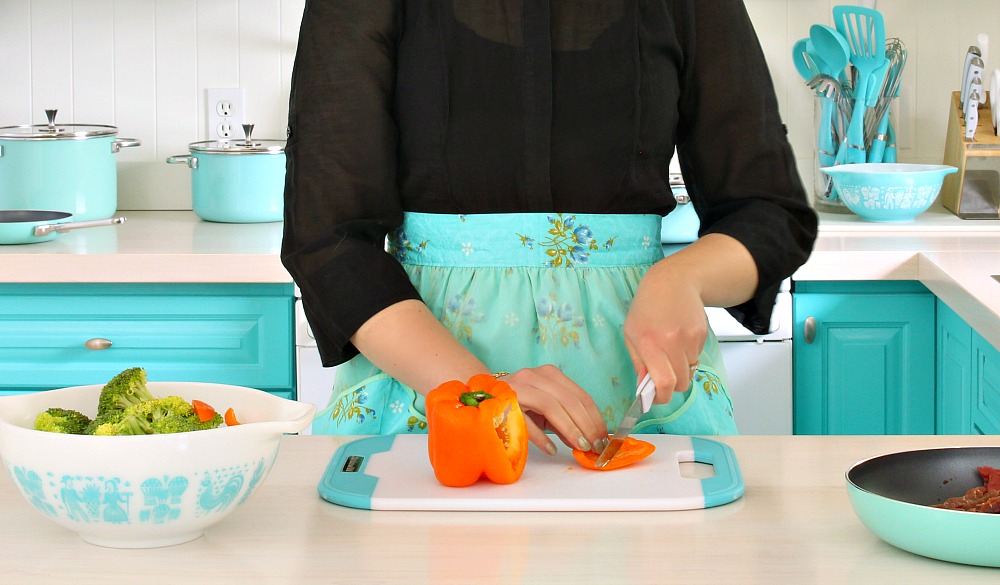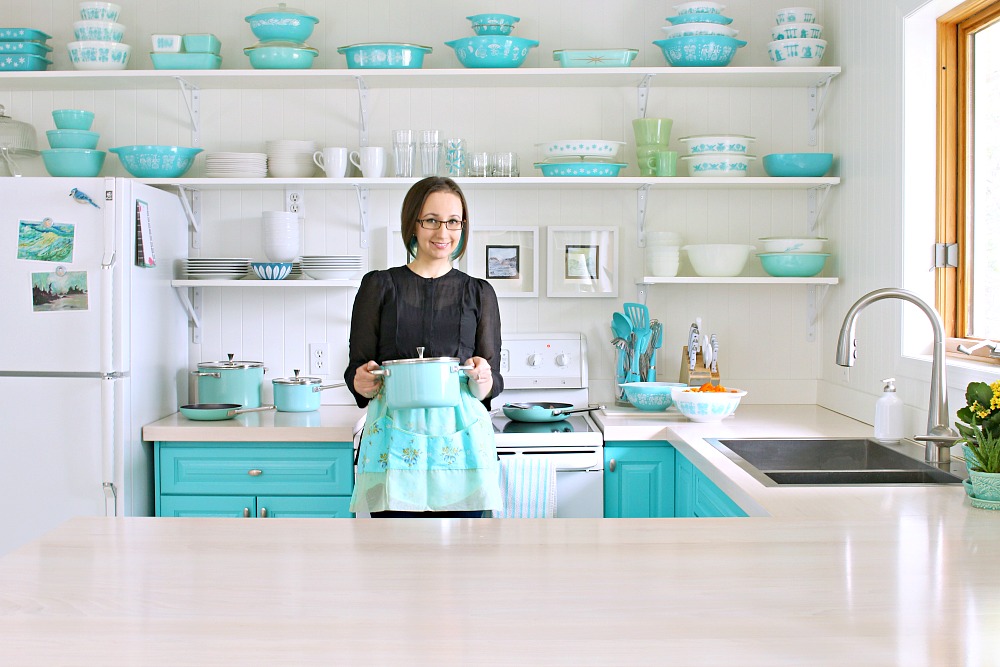 I love my vintage Pyrex so much, I took inspiration from my favorite piece (Blowing Leaves) to paint these adorable Pyrex pumpkins for fall! Take inspiration from any of your favorite Pyrex patterns and make your own, using this easy tutorial.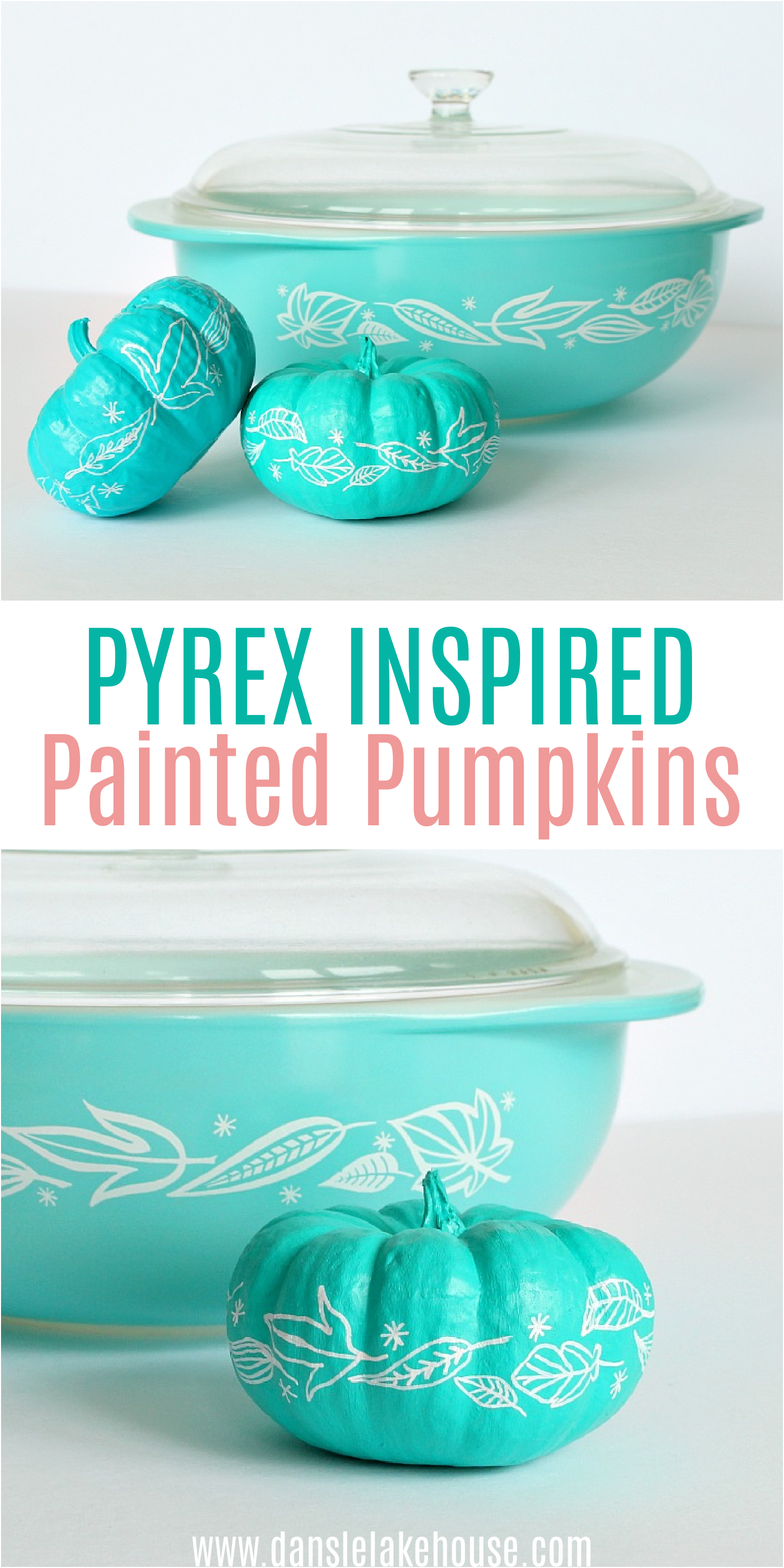 Looking for more cleaning tips?
Find all of my posts with cleaning and organizing tips and tricks by clicking this link, or check out some of the most popular cleaning posts below:
P.S. Don't Forget to Pin for Later!