We built Szuka a DIY raised dog bowl stand and I love the mid-century mod shape and hairpin legs! Our DIY dog bowl stand blends in with our decor but is the perfect height for our sweet pup.
Szuka, our Komondor pup, is a tall gal (she can rest her head on the dining table, lol). After watching her strain to reach her ground-level dog bowls like a brontosaurus, Hubs and I decided she could use a raised dog bowl stand. I decided that it should be mid-century modern inspired. And turquoise. With hairpin legs. Drool. These retro-inspired raised dog feeders were clearly the inspiration behind my DIY raised dog bowl stand, but they're unavailable – plus we wanted to customize the height. Inspired by the design, we whipped up our own version of a mid-century modern style, DIY raised dog bowl stand. Ours is so wonky it can hardly even be called a knock-off, but the three of us love it equally so we'll call it a success!
How to Figure Out the Height of a DIY Raised Dog Bowl Stand
The first step was figuring out the height, so we created a cardboard cutout of the shape we wanted and put treats on it for Szuka to munch on while we held it up at different heights. We made sure to factor in that the food would actually be lower once the bowls were in place. She thought it was the most. fun. game. ever. (free liver, just for standing here?!?). Once we found a height that seemed most comfortable for her, we noted the measurement. You might want to consult with your veterinarian to determine if a raised bowl stand is a good fit for your dog, and what an ideal height would be.

Next we rustled up the supplies for our DIY dog bowl stand – including some gorgeous hairpin legs.
Supplies
Three hairpin legs
Primer
Semi-gloss latex paint
2″ paint brush or smaller roller
Jigsaw
We ordered our hairpin legs from Hairpin Legs for Less (who gifted the product) because of their great selection. Even though I ended up choosing the gloss clear powder coat, I still enjoyed being tempted by white, turquoise and even brushed gold. The quality is excellent, they were shipped with care, and I was able to customize the height.
How to Build a DIY Raised Dog Bowl Stand
To assemble our DIY raised dog bowl stand, first we used our cardboard cut out to trace the design onto a piece of plywood. (We really should have blown up the image of the bowl stand we liked and traced it, but that felt too much like copying). We marked where the legs and bowls would go and then the bowl holes were traced and cut with a jigsaw before we cut out the whole shape. We made the bowl holes smaller than the bowl edges, so the edge would catch and hold them in place.
Once it was cut out, the entire piece was wrapped in edge tape (see this post about our DIY kitchen pantry, or this post about our floating credenza top to see how we do that). Then I primed and painted it. I mixed together the creamy white from the kitchen pantry and shelves, plus the turquoise of the cabinetry and the mintier office closet colour – all in semi-gloss – for a paler hue. See? There's lots of color variation in the lakehouse: there's lighter turquoise, darker turquoise, greener turquoise, bluer turquoise…
😉
And here is Szuka's brand new, 1960s-inspired DIY raised dog bowl stand – complete with hairpin legs.
Once the paint was dry, we attached the legs and dropped in the stainless steel bowls (from Petsmart). Szuka took to it right away. I photographed it in the dining room because the laundry room – her spot to chow down – is windowless and difficult to photograph. You'll have to trust that it fits perfectly in the corner and looks cute with the turquoise curtains and her matching quilt.
With raised feeding stations, there is some controversy as to whether this can cause bloat in dogs. Some studies say higher bowls contribute to bloat while others say they prevent it and relieve digestive discomfort. I didn't want to put Szuka's health in the hands of random internet sources so I consulted with our Vet who said the raised bowl is in no way a risk, especially given that Szuka is a pokey eater. She will nibble her kibble, all day – she never wolfs it down. But if you're thinking of making your pup an elevated dog bowl – high or low – chat with your Vet about what's healthiest.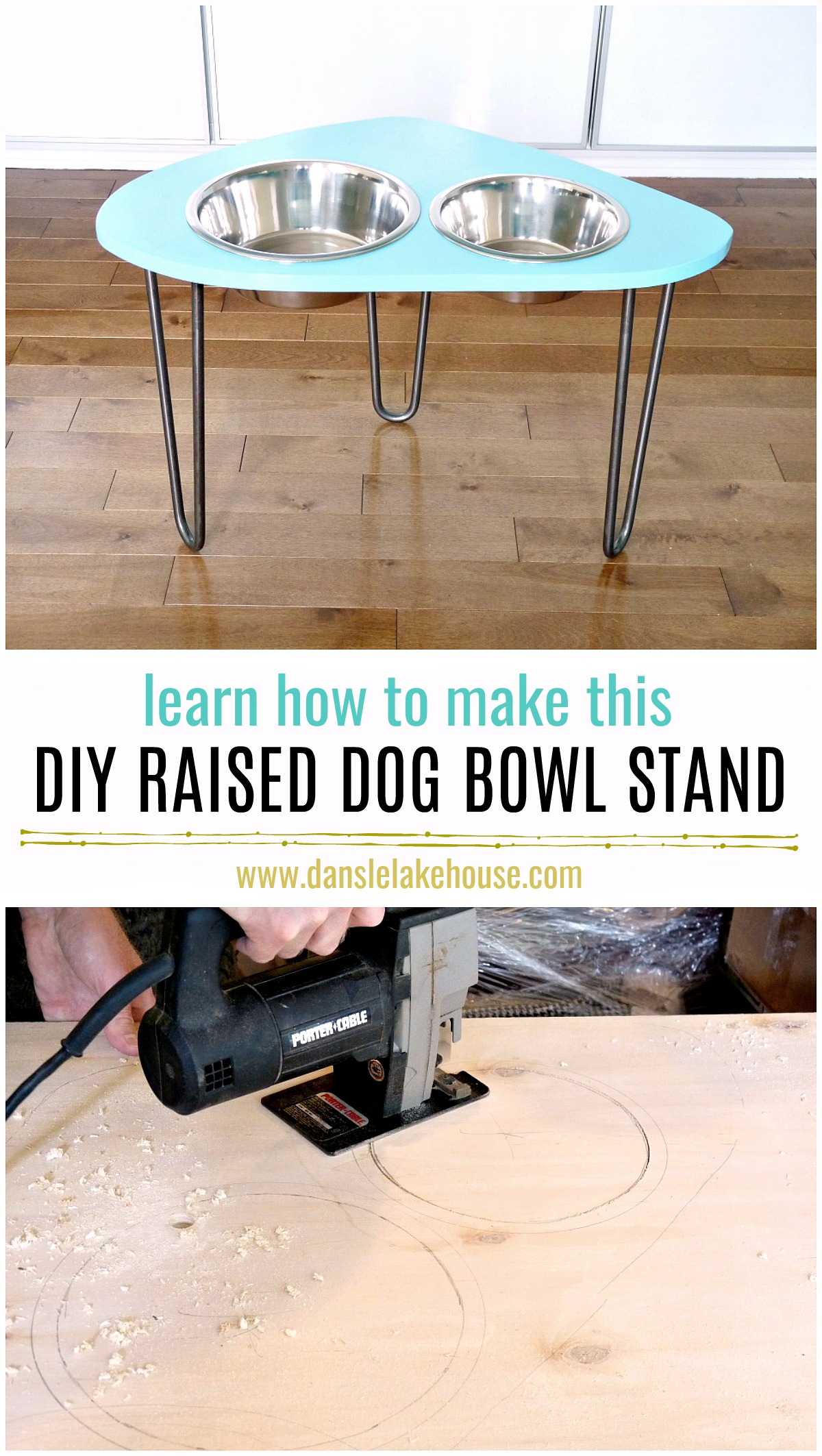 Thanks to Hairpin Legs for Less for providing the hairpin legs for this project!