This DIY solid wood trivet on legs (or you could call it a DIY wooden riser) is such a great project if you want to try your hand at a little woodworking! It's so easy to make, let me show you how.
Hubby and I recently spent a week house-sitting for my in-laws. They casually mentioned that they might not be able to go on a vacation because they couldn't find a house-sitter, so Hubby and I volunteered, even though their place (with two dogs, three kitties + a woodworking shop set on 80 acres of aggressively pollinating trees) always gives me massive allergy attacks. My desire for free rein in my father-in-law's amazing woodworking shop overruled any health concerns (plus it would have been so sad if they'd had to forgo their trip!). Handy Hubby and I knocked out four easy woodworking projects while we were there. Being surrounded by scrap wood really sparked my creativity!
My favorite project is this super simple DIY solid walnut trivet (or cutting board) on legs, aka a DIY wooden riser – which is actually a gift for my Mom! She lives in a small, post-war house with a teeny kitchen boasting a small teak table – the only dining space in the house. Mom's been on the hunt for a petite trivet to use at the table, but couldn't find one the right size or proportions. When I spotted this gorgeous piece of wood (which I thought was teak, but is actually walnut), I knew it would be perfect:
I tried to convince her of the merits of a trendy painted edge. She collects pink and yellow Pyrex and has pretty grey and pink patterned dishes, so I almost had her convinced that a pale pink accent would be perfect but, alas, she nixed the idea in favor of plain wood. Plain! But she did suggest that we attach little legs to give it some flair. With our instructions delivered, Hubs and I got to work making a modern, solid wood trivet on legs.
Supplies for a DIY Wooden Riser:
How to Make a Solid Wood Trivet on Legs:
First we trimmed the edges, because one was rough from the mill, using a radial arm saw (a table saw or circular saw would do the job too). If you're using a rougher piece of lumber, you might need to add planing – or at least running the belt sander along it – to your list of steps. You can also ask your local lumber yard for a piece of wood that is planted and ready to use. Lucky for us, this piece was already planed.
Next we cut off two identical strips, each about 1 1/2 inches wide. With these pieces removed, it was the length Mom requested.
After that came a lot of hand sanding.
Hubby suggested using a router to soften the edges, but I like the blocky look. Instead, I logged a little extra time with the sandpaper to soften the edges. I used a sanding block and started with 120 grit sandpaper before switching to 220. Here's a great article on how to properly switch grits. Basically, I just wanted it smooth to the touch. When the sanding was done, we wiped down the pieces and affixed the legs with waterproof wood glue, just in case it ever gets too vigorous a washing (although this really shouldn't be submerged in water).
It's important to have the resident kitty inspect all of your joints!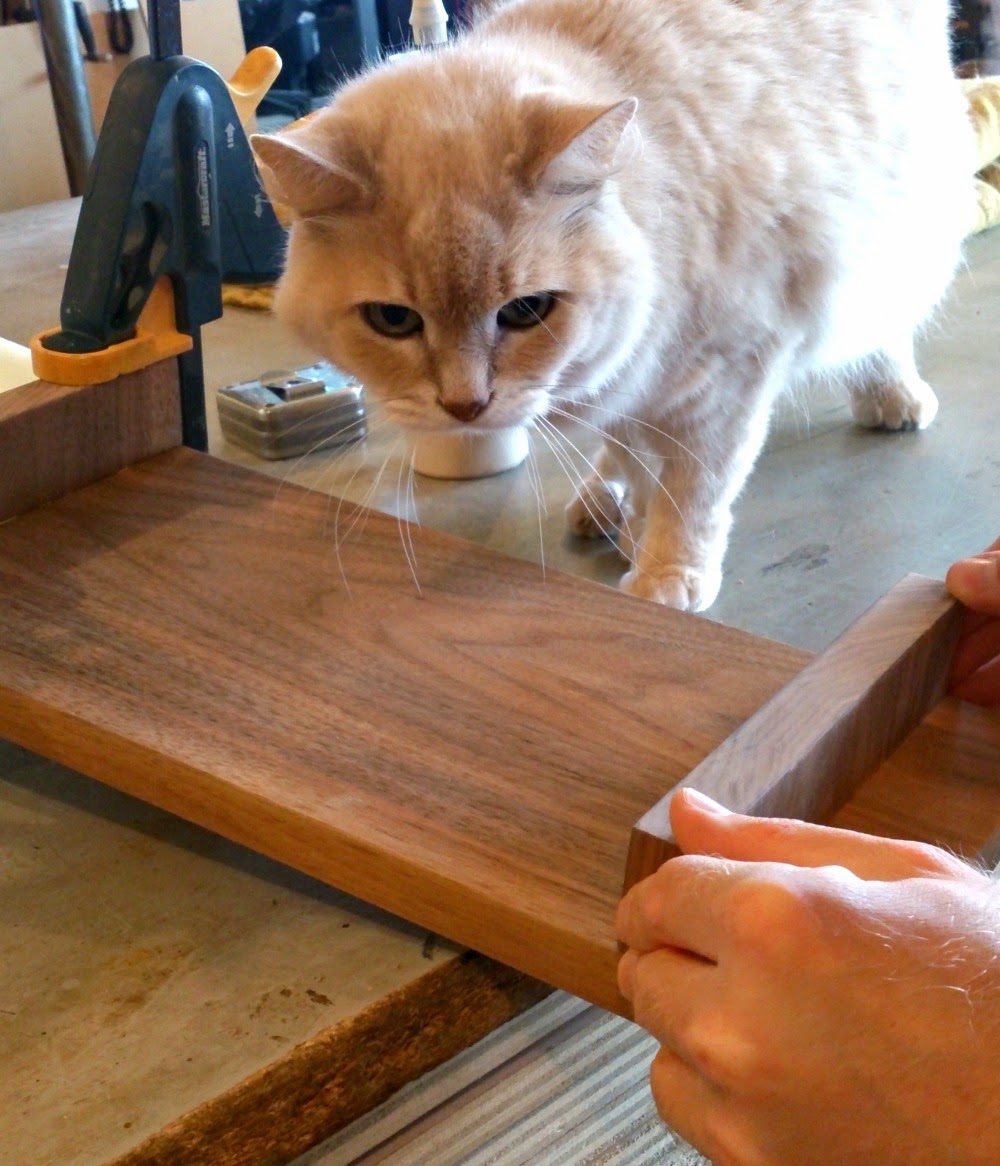 We used some clamps to keep everything in place and let it dry overnight. For fun, the distance the legs are inset is the same height of the legs. Aren't we exceptionally clever? 😉
We opted to skip screws/nails because this isn't a high-stress pieces so the glue will offer a sufficient hold and a cleaner look. Once the glue was dry, it just needed a finish.
I applied a few coats of teak oil. Applying eak oil is so simple (catch my teak oil tutorial by clicking here): apply with a cloth, let it soak in (manufacturer's suggestions will vary from a few minutes to a few hours), and then wipe off the excess. Food safe Danish oil would also be a good option, and then it could double as a cutting board.
I'm getting really hooked on oiling wood – remember the Danish teak tray I revived? Oh, and the arms for the velvet garbage chair? They still look incredible. Oiling wood is such an easy way to bring out its natural beauty.
Once I relinquish it, I'm sure Mom will be thrilled to finally have a trivet the exact size she was questing for. But it's so gorgeous, Mom should be a little nervous about this trivet actually making its way to her place…
This was such a fun and simple project – a perfect beginner woodworking project! Plus you can make one of these cute trivets with any scrap wood lying around after another DIY.
I still think this DIY wooden riser could use some pink…or turquoise!
P.S. Don't Forget to Pin for Later!