If you've ever wanted to know how to spray paint plastic lawn chairs, check out this before and after! The previous homeowners left us a pair of plastic lawn chairs but I didn't love the beige, so I decided to try spray painting plastic. It turns out that it's easy to spray paint plastic and painting my beige plastic lawn chairs immediately made them look crisp and new.
Here's a peek at our "new" aqua lawn chairs!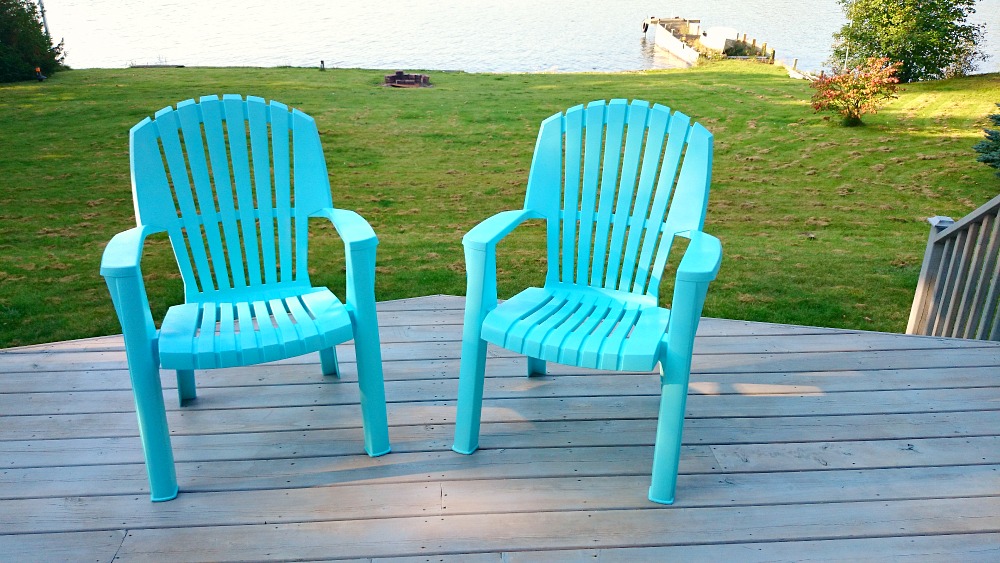 And here's what they looked like before:
Painting plastic is nearly identical to painting other surfaces. Although many Rust-Oleum paint products can be applied without a primer – or include a built-in primer – it was recommended that these chairs be primed first. I cheated and used a Rustoleum paint + primer combo in flat white as my first coat, because that's what I had on hand. Other than that, the steps for how to spray paint plastic lawn chairs were simple!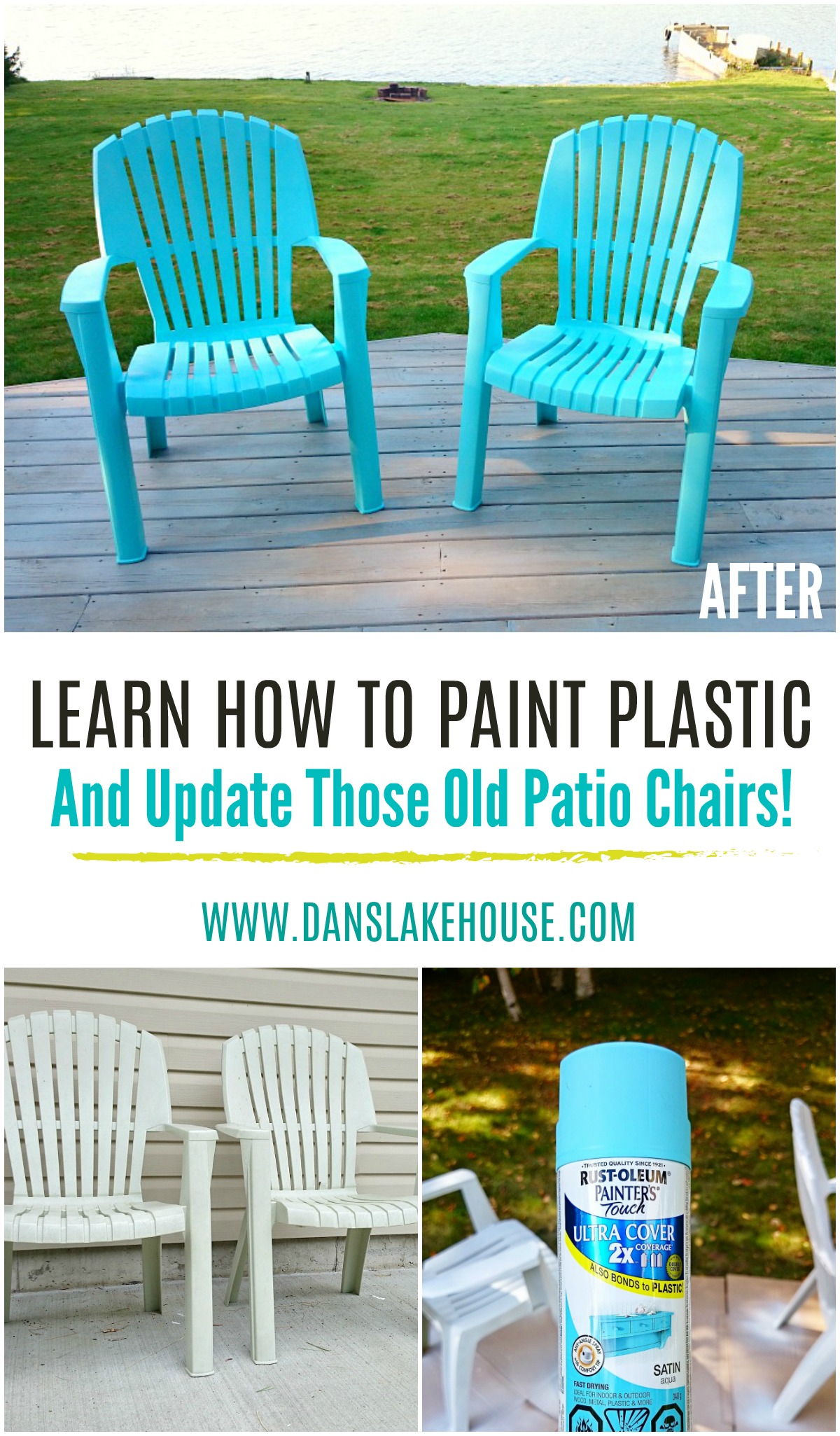 How to Spray Paint Plastic Lawn Chairs:
Scrub the chairs with Mr. Clean. I used Q-tips to really get into the corners (there was a lot of gunk on these).
Rinse with a garden hose to thoroughly remove soap and let dry.
Using multiple, thin coats apply the primer.
With one hour (or after 24) apply multiple, thin coats of paint (I chose Painter's Touch in Satin Aqua).
Tips and Tricks for Painting Plastic Lawn Chairs:
I didn't flip the chairs over to paint the undersides, because they will never be seen. Instead, I painted what could be seen underneath the seat with a few blasts of spray paint. These new-fangled spray cans that can spray in any direction are excellent for speeding up a project because instead of flipping a piece of furniture back and forth (and wasting paint on the bottom), I just crouched down and sprayed upwards to cover what's visible of the underneath area. So easy!! I did make sure, however, to spray the backs, under the arms and the insides of the legs thoroughly. It's definitely an aerobic activity making sure that the surface is evenly covered from all angles.
Although this paint dried quickly – it was dry to the touch in an hour – it takes a bit longer for paint to fully cure on plastic (about a week). So I made sure to store these so the paint could fully cure before subjecting them to wear. Unlike metals and woods, there's always a chance that not all plastics will accept paint well, but these turned out perfectly.
If you've ever wanted to know how to spray paint plastic lawn chairs, hopefully you feel emboldened because as long as you have the right product and prep – it's so easy!
For these two chairs, it took one can of primer and three cans of paint. The only reason I required so much paint was all of the nooks and crannies at the back of my chair! Plus it was a kind of windy day. Every day on the lake is a windy day, so sometimes I don't even notice. Time-wise, it took less than an hour (including scrubbing, but not including dry time).
The former owners left all kinds of goodies behind. Did you catch Szuka and Handy Hubby in the paddle boat we unearthed last week? I shared an adorable photo on Instagram but I'll admit something just to you: the whole boat ride Szuka was pretty calm as we paddled back and forth close to shore. She leaned against our backs, which was so cute. I hopped out and Hubby paddled away so I could snap a photo. She started to fuss and fuss and fuss and … SPLOOSH – found herself in the water. Seconds after she hit the water, she was already booking it to shore. The girl can paddle. I'm not even sure the top of her head got wet, thanks to her awesome doggy life jacket. Once she made it to shore, she looked at me like, "we're both safe, but what about him? Who cares about him? Let's escape while we can" and she took off toward the house, looking back to make sure I was behind her.
Looking for more easy spray paint furniture makeovers? Check these out: DIY dipped stool makeover, mcm tulip table makeover, vintage typewriter table makeover, and spray chalk paint cabinet makeover.