This DIY plywood Christmas tree is such a fun, Scandinavian-inspired alternative to a traditional Christmas tree – plus it's perfect for anyone with a small space. Or you can make a mini version of this plywood tree for a credenza or entryway and display some treasured ornaments on it (to keep the delicate glass ornaments away from cats and kids, perhaps?).
A Little Disclaimer About My DIY Plywood Tree:
Before I get into the nitty gritty of how to make this plywood tree, I should confess that there are some things I wish I could change about this particular DIY plywood Christmas tree. I originally envisioned a more simplified tree (like a cookie-cutter shape – really simple), but on a whim I decided for a little more "realism". The top was looking really good and I got over-confident. Then it started to get REALLY windy on Lake Superior (I was working outside, in the car port) and this giant sheet of plywood acted like a sail. I was flailing. I started to rush and then the tree got a bit thick in the middle and then I tried to thin it out but made it look a little wibbly-wobbly. Blah. I still think the idea is cute so that's why I wanted to share it but, if I'm being honest, I don't love my wonky little tree. If you're going to make your own DIY plywood Christmas tree, I suggest a simpler shape – and not so chunky in the middle, like mine, haha.
Painting calamities aside, it was VERY simple to make this DIY plywood Christmas tree, here's the tutorial and supply list!
Supplies:
Sheet of plywood (size is up to you, you can use scraps or a full sheet –

I recommend a 3/4″ thickness

for a leaning tree)
Wood dowels (I cut mine to 3″ long)
Hand saw or chop saw
Wood stain (optional – I used white)
Acrylic paint (or leftover latex wall paint)
How to Make a DIY Plywood Christmas Tree:
I grabbed a full sheet of plywood (any size will do), lightly sanded it smooth to the touch and then sketched out approximately where the tree silhouette would be so I could decide where I'd like the pegs. The pegs are just a length of wood dowel that Handy Hubby and I chopped into 3″ lengths. We lightly sanded the rough edges smooth and affixed them each with wood glue before doing any staining or painting.
Once the glue dried, I gave the plywood a light whitewash with a coat of white stain and then painted the tree in black acrylic paint. I painted the wood dowels too, so they blend in. When everything was dry, I just propped it against the fireplace. One tip: don't choose really thin plywood if you're going to make a larger version like mine, because the plywood can warp. You can also make a simple frame for this and hang it on the wall (here's a tutorial of mine for making a wood picture frame).
Here's a close up of the tree texture I painted – you could paint yours smooth and then easily change the color or design, year after year, if you wanted to!
When I was a kid, I think my advent calendar filled with chocolates might have been my favorite part of Christmas, so I started to think that with more pegs and numbered cloth sacks filled with goodies, this could be a sweet DIY advent calendar too. Looking for more ideas for displaying ornaments? Try hanging them inside picture frames on the wall (here's how):
This DIY plywood Christmas tree project was part of a holiday collaboration with Canadian Tire. Click the link to see more of DIY Christmas decorating ideas from this collab.
Looking for More DIY Wood Tree Projects?
Since making this DIY plywood Christmas tree, I've made more modern wood Christmas tree projects! They're so perfect for minimalist Christmas decorating and I love that these wood trees can be a great way to use up wood scraps for my fellow DIYers.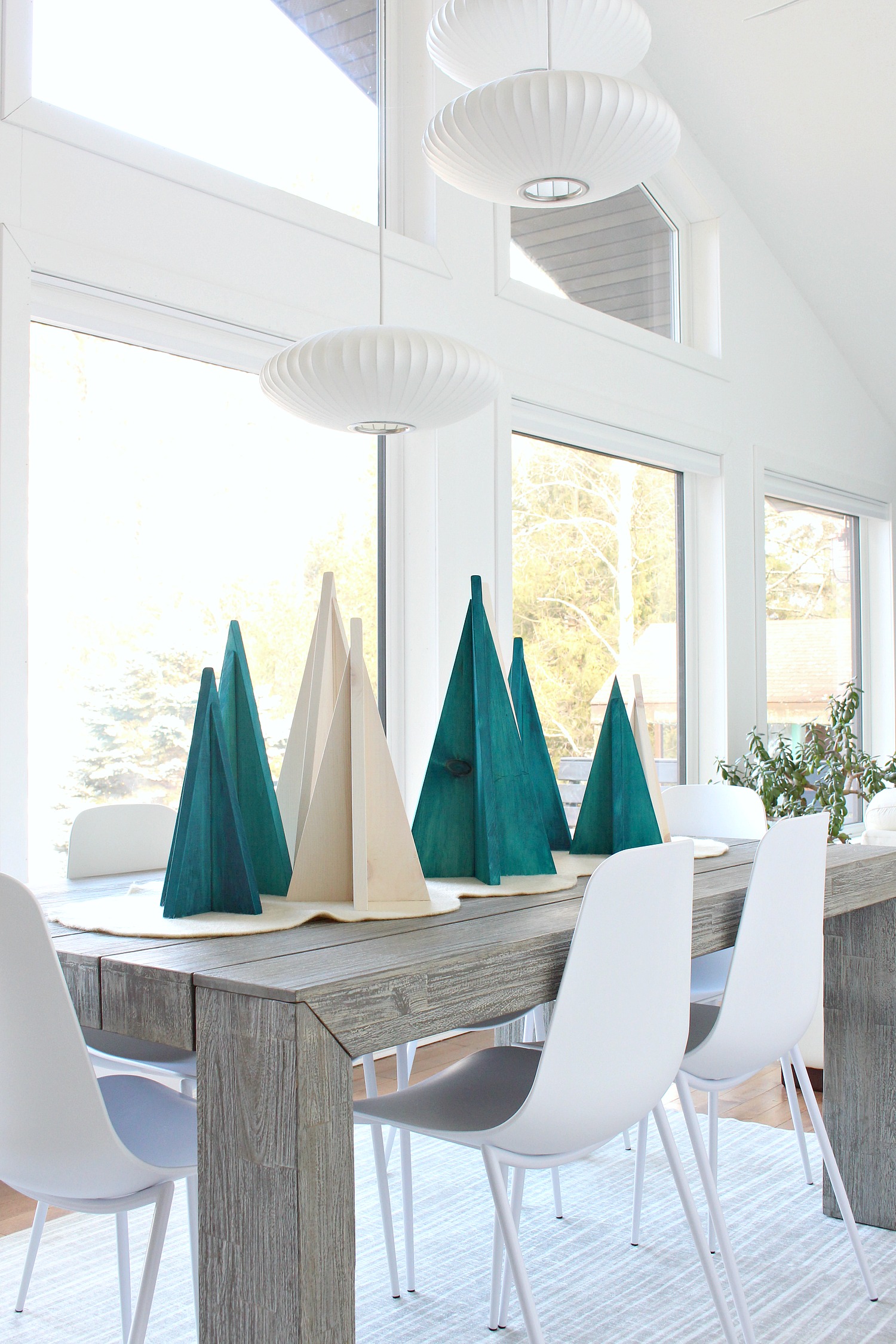 DIY A-Frame Wood Ornament Stand: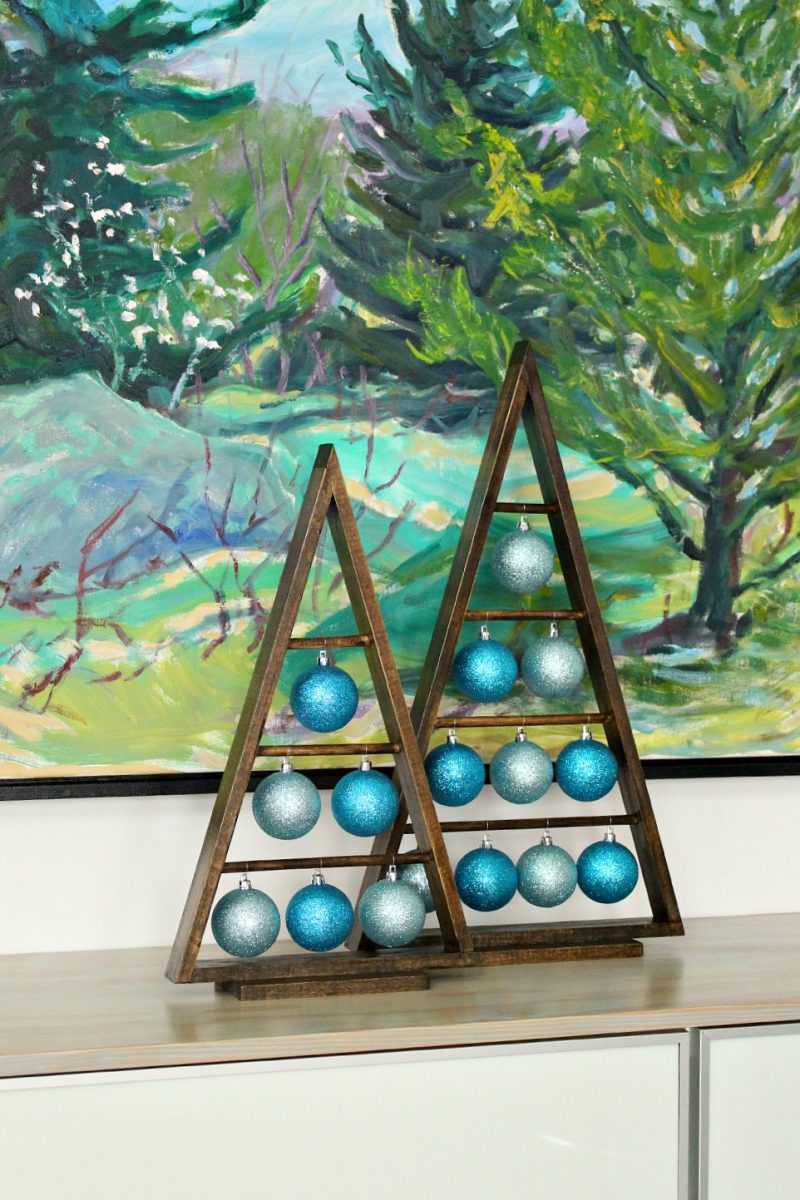 Light Up Plywood Ornament Stand: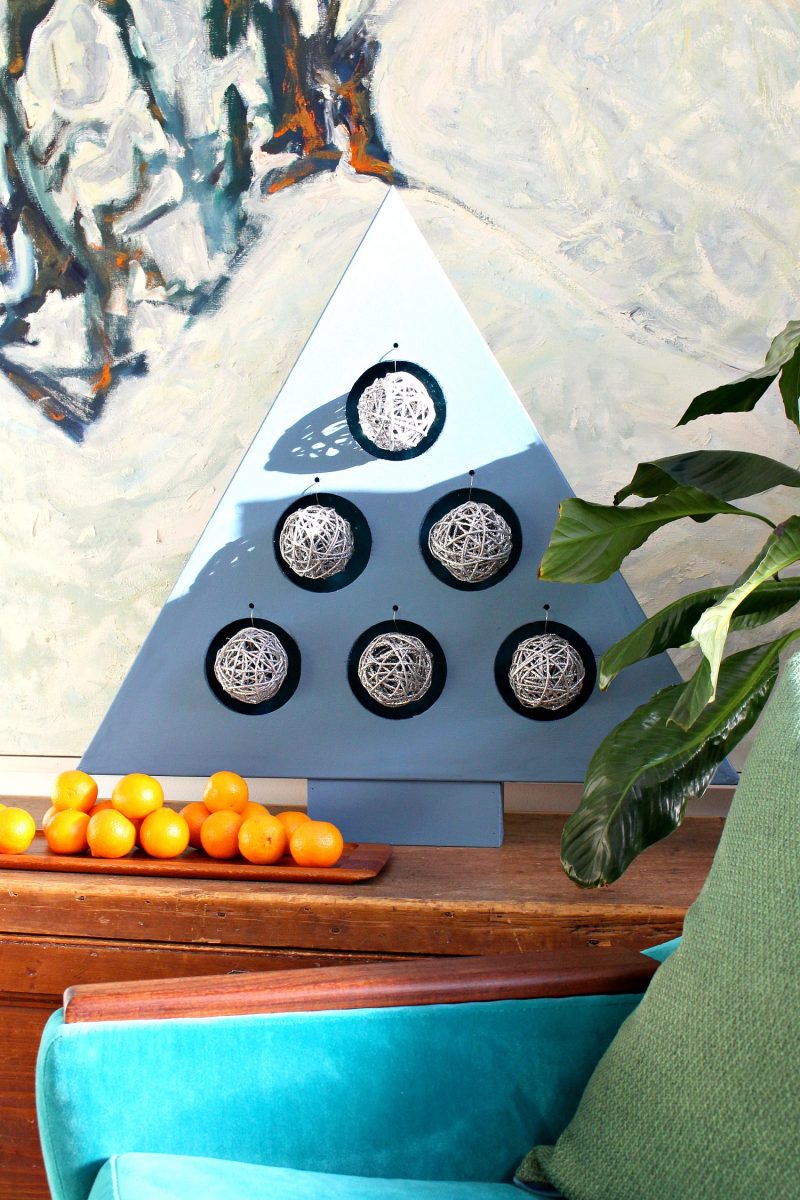 P.S. Don't Forget to Pin for Later: