This is the BEST tutorial for DIY Borax Crystals: How to Grow HUGE Borax Crystals (if I do say so myself). You might have seen DIY borax crystal tutorials around, but here's how to make really massive and dense borax crystals – they look like real glittering gems! Making DIY crystals with borax is like a magic trick for kids and adults!
How Do You Grow Crystals with Borax?
Growing crystals with borax powder (a mineral that is sold as a laundry detergent booster) and pipe cleaners is a popular kid's craft and fun science experiment. All you need is a pot, some boiling water, some powdered borax, and something for the borax crystals to stick to and grow on – that's how you grow crystals with borax! After finding a tutorial online, late one night I found myself in line at a big box supermarket with only pipe cleaners, food coloring, and powdered borax in my shopping basket. After a little trial and error, I made a few adjustments that helped produce some seriously huge, intensely glittering borax crystals. I'll show you exactly, step by step, how I made GIANT DIY borax crystals, including my trial and error process so you can learn how to consistently grow perfect borax crystals – and why the other tutorials might not work. If you've made borax crystals before and they turned out small, sparse or wimpy, read on for my borax crystal trouble shooting tips and borax crystal growing SECRET!
Safety Warning:
I learned after photographing this tutorial that a Bunsen burner is safest to use with a beaker, not a stove top. To exercise caution, please do not use a beaker (like the one I used) on your stove top. Use a pot intended for stove top use instead. A metal pot works fine (I've since made borax crystals with a big canning pot)! But with a glass pot, even one with just a glass lid, you can see the crystals forming, which is very fun for kids to see. As a final safety precaution: please wear eye protection and gloves as well.
Supplies for DIY Borax Crystals:
White pipe cleaners (or the colour of the crystal you want to make – the fuzzier the better)
Pot with lid (suitable for stove top use)
Scissors
Thread
Neon food color pack (that's what I used – any dye/food coloring works)
Pencil or food skewer
Why Didn't My Borax Crystals Work?
For my first attempt, I followed a borax crystals tutorial I found online and used the borax crystal recipe provided: 9 tablespoons of borax dissolved in 3 cups of water. As per the instructions, I put the borax into a heat safe container (a large measuring cup). I boiled water in a pot, to which I added the food colouring. Then I poured the boiling water over the powder until it dissolved. I let the pipe cleaner form soak in this solution for five hours – during which time the measuring cup was wrapped in a dish towel. I followed the steps to the letter, but ended up with somewhat spotty crystal development:
At this point, I enlisted the help of my father, who had a degree in chemistry. Embarrassed that I had failed at a kid's craft, I made sure to remind him many times that I have a Phd (lol). After some trial and error, we came up with the ULTIMATE DIY borax crystal tutorial. Let me show you how to make homemade crystals with borax that are dense and super glittery and always turn out perfectly!
How Do You Make Borax Crystals?
Make a loose coil shape with 2-3 pipe cleaners
Tie a piece of string to the pipe cleaner – long enough that the pipe cleaner will be submerged in the middle of the pot, and not resting on the bottom or suspended out of the water.
Fill a pot with approximately 2-2.5 liters of water.
Bring the water to a boil.
Once the water has boiled, turn off the element and wait for the water to stop boiling.
Then add enough borax to make a SATURATED BORAX SOLUTION – just keep adding borax until no more will dissolve.
After dissolving the borax, add food coloring or dye and stir.
Keep the pot ON the hot element and dunk in the pip cleaner form.
Plunk the pipe cleaner in and out a few times to shake off any air bubbles.
Position it so it is suspended and fully submerged, using a pencil or skewer across the top of the pot.
Cover the pot and let it cool on the element, undisturbed, for approximately 8-10 hours.
How Long Does it Take to Grow Crystals with Borax?
It can take a long time to grow crystals with borax: about 8 hours or even longer. It's fun to set this up in the evening, leave in undisturbed overnight, and wake up to a gorgeous borax crystal. You know the expression, a watched pot never boils? I don't think a watched crystal grows either, haha. So don't worry if, after 5 or 6 hours you don't see any crystal development. Leave the borax solution be and you'll suddenly see a massive growth spurt and find huge glittering borax crystals like these:
Can You Use a Microwave to Make Borax Crystals?
I tried a few more borax crystals using the Pyrex measuring cup and a kettle method I described above, and found that I could still achieve larger borax crystals with that method (as opposed to my stove top method), as long as I mixed in so much borax powder that no more would dissolve. You can even re-heat the borax in the microwave, but borax dissolves better the hotter the water is. I recommend my method, but if you have to use a microwave, at least make sure you're following the other steps and making a supersaturated liquid for optimal crystal growth.
Recipe for Borax Crystals:
The bottom line: if you want to form crystals that are massive and dense, make sure to SUPERSATURATE your borax solution. Throw those measuring spoons away – you don't need a borax crystal recipe. Just keep dissolving borax powder into the water until no more will dissolve. And make sure to let your borax crystals grow inside the pot on the element you heated the water on. Use that heat as the element cools so your solution cools slowly – and cover the pot for best results!
Don't be afraid to experiment! Once I got the hang of it, I tried experimenting with the pipe cleaner shapes. My favorite is this sort of shell-shaped form which made really cool looking DIY crystals:
Can You Made Borax Crystals without Pipe Cleaners?
Totally! You can make borax crystals without pipe cleaners. The borax just needs something to grab on to – so the more textured a surface, the better. I recently tried to grow crystals on a pine cone and it worked. I've also seen people grow crystals on books and real life animal skulls – I grew crystals on a plastic skull. I have tried light objects, like Styrofoam, and that's the only problem: if an item floats or bobs around too much, the crystals won't grow properly. You need something that will either sink or stay suspended nicely, but you can definitely get creative with what you choose to grow borax crystals on.
What Can You Do With Borax Crystals?
You can use these borax crystals for all kinds of fun! Display them, turn them into crystal ornaments (make a long, icicle shaped pipe cleaner form, repeat these steps, and make borax crystal icicles for the tree)! You can make sparkling holiday decor for any season – the possibilities are endless! See below for a cool Halloween DIY decor idea with homegrown crystals.
I made a borax crystals skull by growing borax crystals on a plastic Halloween skull!
How to Remove Borax Crystals from a Pot:
The best part about making borax crystals is that you can redissolve the crystals that form inside the pot, add a little more powdered borax, repeat the steps above, and keep making these huge borax crystals! And when you're done, if you have borax crystals in your pot, just heat up the water again to dissolve the borax and remove it from the sides.
Do Borax Crystals Dissolve?
Borax crystals can re-dissolve, so if these get wet – or maybe endure some humid weather – they could de-crystalize. My Dad suggested coating them with any kind of craft clear finish if they're going to be handled a lot. This works to your advantage also: if you don't like your borax crystal project, pop it back into some hot water to redissolve the crystals into a solution and try forming crystals again.
P.S. Don't Forget to Pin for Later: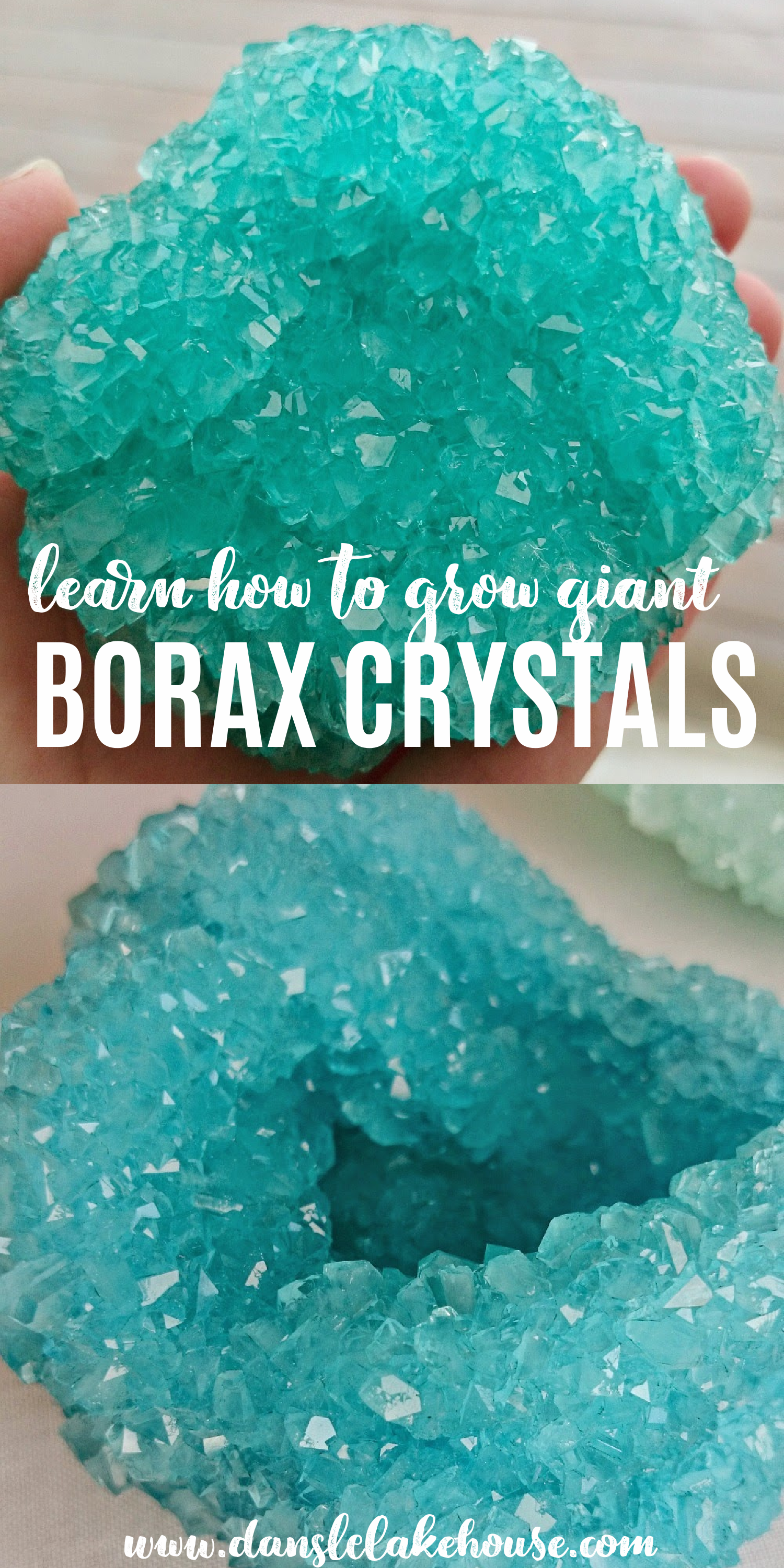 I moderate blog comments so if you have any borax crystal making questions, I'm still here to help. I'll see your comment and try my best to reply! But for faster results, please take a look at the comments below, first, because you might find your answer already there. I'd love it if you would tag me on Instagram to show me your gorgeous borax crystals!
Looking for More Easy & Cool DIY Projects?