Last year I partnered with Canadian Tire and created festive DIY projects to help launch the CANVAS line of holiday ornaments and décor. It was such a fun challenge, so I was thrilled to be invited to collaborate again!
In January I spent a whirlwind weekend with Jen, Christine, and Vanessa – and the awesome folks at Canadian Tire. The four of us got an early look at the CANVAS line of patio furniture and outdoor accessories, showed off our DIY prowess, and were totally spoiled thanks to on-set hair and makeup provisions (hello, curls!)
The CANVAS line is about expressing your personal style and making your home and outdoor spaces feel undeniably "you". Jen, Vanessa, Christine and I were invited to give the CANVAS products our own spin. We each devised a theme for a backyard party, chose pieces we liked from the new CANVAS line, and paired them with some easy DIY projects (small enough to fit in carry-on luggage!) It was such a treat to spend a weekend in a studio that felt totally springy – especially in the middle of a blustery snowstorm – but it made it that much more difficult to return to winter. I had to keep reminding myself, "it's still winter, this isn't real, you'll have to put your boots back on".
Here's a closer look at my table setting:
Because Hubby and I are spending money on renovations this year and travel is likely out of the question, I wanted to create a backyard oasis. I was really inspired by our 2008 honeymoon to Greece (specifically, Athens, Santorini, and Crete). It was December, so we didn't have the typical beachy holiday, but Greece was no less beautiful. Two of my degrees are in
philosophy, and I took many Greek philosophy and mythology courses, so I was just excited to set foot in the places I'd read about – no bikini required. Our trip was full of the nutty, can't-believe-we-didn't-end-up-on-the-news kind of adventures that make the best stories. And our photo albums are packed with beautiful photos showcasing saturated colours and rich history.
The CANVAS line has great pieces, like a blue and white outdoor rug, a turquoise solar lantern (swoon), and bright white melamine plates that made it easy to recreate the feeling of my honeymoon. I also created dipped dyed napkins in rich cobalt hues and made napkin rings out of shimmering turquoise shell beads. I was adamant about getting some sliced lemons or oranges to line clear glass flower vases because citrus fruit was everywhere in Greece:
My CANVAS table setting transports me back to that holiday. The mix of saturated blues and yellows, bright white plates, and rustic modern furniture make me want to reminisce.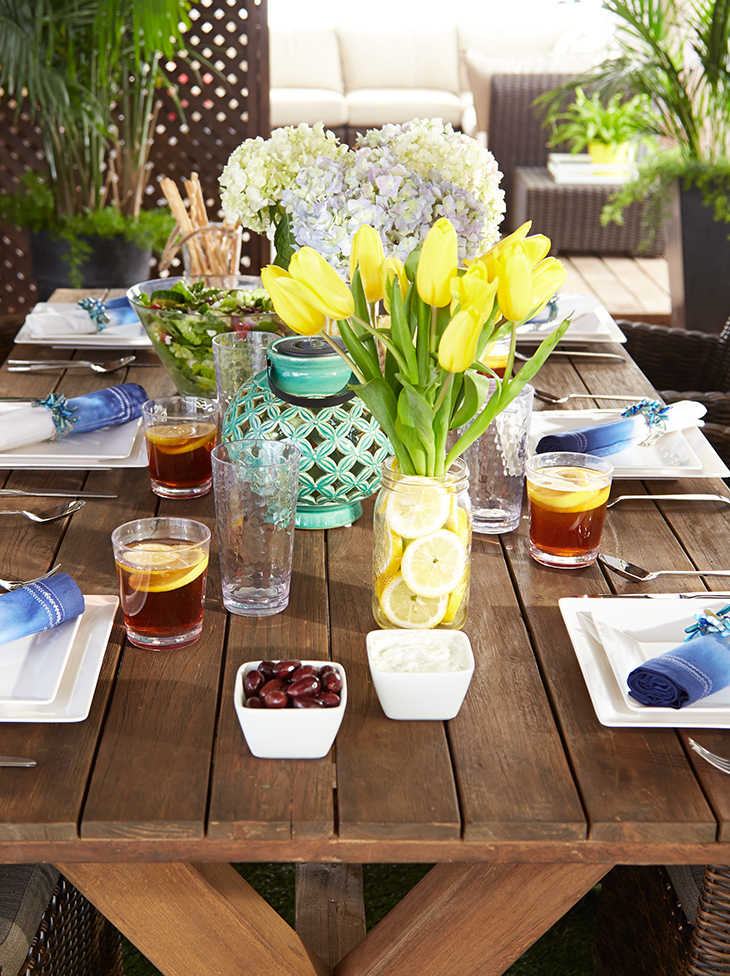 It was so much fun getting to work with Vanessa, Jen, and Christine.

Here's my tutorial for dip dyed napkins (along with some useful Do's and Don't, learned the hard way as always) and here's the tutorial for the DIY beaded napkin ring.