If you've ever wanted to buy a really nice cashmere sweater but hated the idea of spending money on dry cleaning bills, I'm going to show you how to wash dry clean only cashmere at home – plus my trick for how to remove pills from any sweater. I'm going to ignore the fact that, in the last couple of weeks, we've seen snow flurries. There have been gloriously warm, sunny days too, so I'm going to focus on those. There could be a blizzard tomorrow, but I'm still going to go through the motions of spring, which includes laundering, de-fuzzing, mending, and then gleefully shoving my winter wool and cashmere to the back of my closet.
Most of my winter sweaters are cashmere and I blame Winner's (the Canadian equivalent of T.J. Maxx). Once they started introducing cashmere at affordable price points, I was hooked. Now anything else, even the softest merino wool – heck, even cheap cashmere – feels itchy. Even at discounted prices cashmere sweaters (and scarves!) are expensive enough to make me want to care for them. But I refuse to dry clean – what a hassle and so expensive! Instead, I launder all of my dry clean only wool and cashmere garments at home, using Eucalan no rinse delicate wash (which you can also use for lingerie, down jackets, baby clothes – any delicates).
Here's how to wash dry clean only cashmere at home – whether you have a top loader washing machine or not!
How to Wash Dry Clean Only Cashmere at Home in a Top Loader Washing Machine:
I have a top loader washing machine, so I just fill it with tepid water, add a cap or two of Eucalan, let it agitate for a minute to mix up the soap, add my wool items, and turn off the machine to let everything soak for a couple of hours. I squeeze the items a bit, mid-soak, to work the soap through. Although a 15 minute soak is the minimum, I find a couple of hours does a better, more thorough job. (It might be psychological.) Then I set the machine to spin (no rinse needed) and let the garments dry on a collapsible dry rack (which Szuka promptly investigates, so she can deposit fuzzies from her disemboweled toys onto my freshly washed cashmere sweater).
How to Wash Dry Clean Only Cashmere at Home by Hand:
If you have a front loader which prohibits soaking an item, you can also just soak a sweater in a basin and then gently squeeze (not wring) it out by hand, which is what I did as an apartment-dweller. I actually used to wash a batch of cashmere in a (freshly clean) bath tub!
I actually despise my clothes drying rack because it broke the first week we bought it (in 2007), but I can't find a good replacement so I've been using and repairing it ever since. Dry racks either just have bars, like this, which are good for socks and undies but not sweaters, or they are this mesh style (which my Mom has), but it takes awhile to set up/put away those – although they're really good for drying delicate items flat. So I'm stuck with this broken one because it has the magic combo of collapsing easily like a regular rack but it has three little mesh "shelves". I am considering ordering this hanging style to give it a whirl (but this one teases me with its one measly mesh shelf). Honestly, I'm also thinking of just DIYing the best darn dry rack the world has ever seen.
Of course, you can also just lay a sweater on a towel to dry and avoid this agony, but be sure to flip it around and maybe even change the towel to avoid that weird wet smell – you want your wool to dry with lots of air.
How to Customize the Scent of your Eucalan:
So now you know how to how to wash your dry clean only cashmere at home and you can even customize the scent! I always find Eucalan in shops that sell knitting supplies and yarn. I did some sleuthing, though, and found a big unscented jug online for just over $50 (right here) and a 16.9 oz bottle for $8 (right here) – which is a lot less than what I paid. It comes in different scents, like grapefruit lavender, jasmine, and eucalyptus (you can even try a sample pack), but I chose unscented this time, so I can customize it. I decanted some of my colossal jug into a smaller bottle, added a few drops of vanilla essential oil, and now my cashmere sweaters smell like cake. Heavenly.
How to Remove Pills from Any Sweater:
A downside to soft woolens is how many pills and fuzzies develop, which makes even the prettiest sweater look shabby, so I use a sweater shaver to remove pills and balls. You just turn it on and gently move it across the surface. I put my hand under the sweater so the shaver is working across a smooth, flat surface. I work little by little, starting at the most pilly areas and working outward.
Even though there are literally hundreds of styles of sweater shavers on the market, I don't think a lot of people I know use one, because I'm constantly affronted by pilly sweaters. A few relatives are terrible offenders and I'm tempted to accost them with a shaver one day – but it's a fairly distinct buzzing noise, so I'd have to work quickly.
A Warning About Sweater Shavers:
One tip, though: I bought a sweater shaver from The Superstore a few years back that totally chopped holes in my favorite sweater! A little weary now, I use sweaters shavers manufactured in the 80s and 90s. I think that one year every single person who celebrates Christmas in North America got one as a stocking stuffer, so you can find them pretty easily in thrift stores – normally in the little section of bagged up things. I'm currently hoarding three different models, and all of them work perfectly. If you do buy one, read some Amazon reviews before committing, and then test it on a few crummy articles of clothing first – keep the packaging in case you need to return it.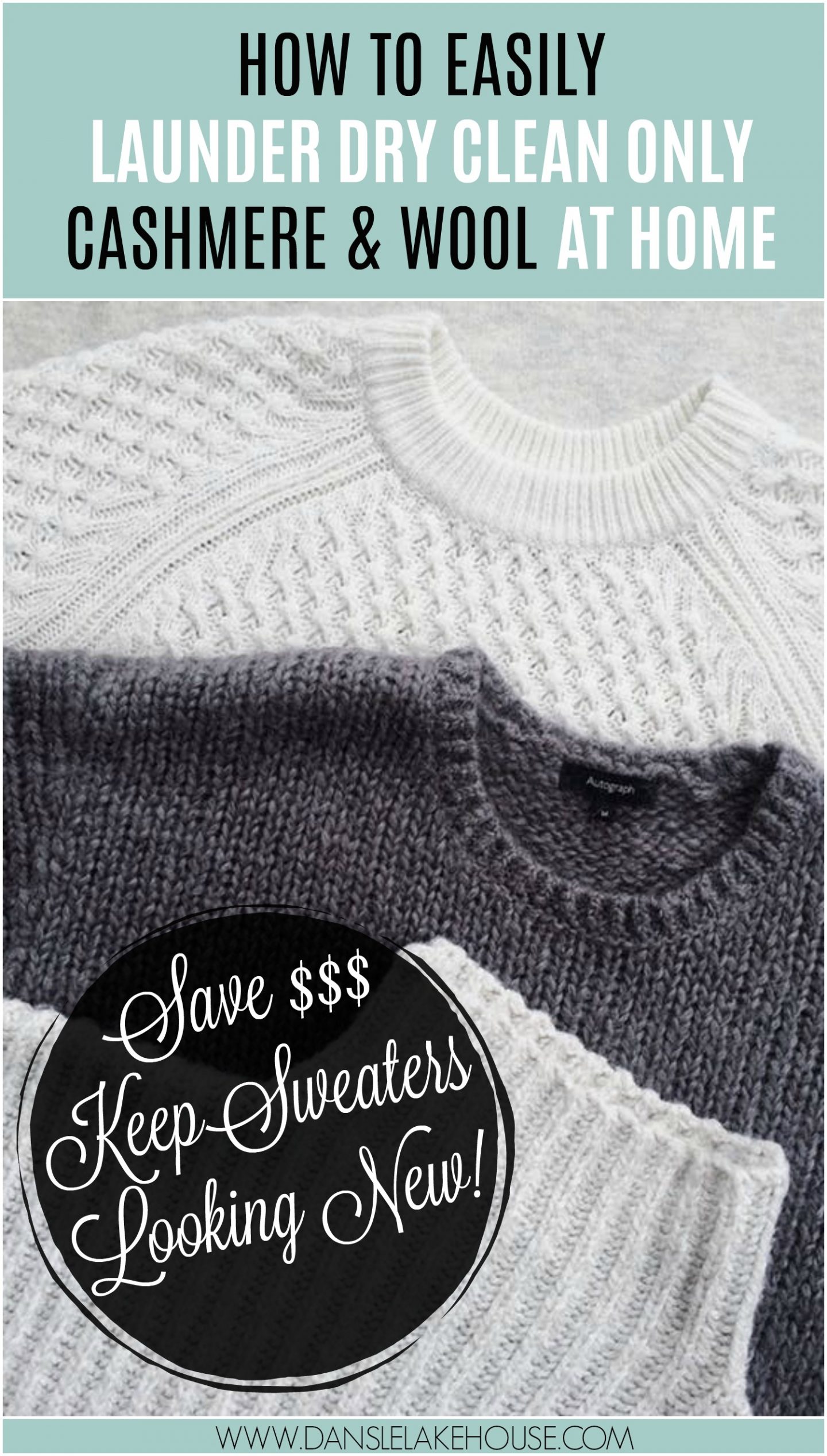 Eucalan is Made in Canada and you know how I feel about things made in Canada!! Yaaaaaay! Plus it's biodegradable. Now that you know how to wash dry clean only cashmere at home, it's time to pack away the sweaters and find out swim stuff, yes?