I'm so excited to show you how to sew your own DIY catnip stuffed cat toy, not only because this was a fun sewing project, but also because there's a cute kitty involved and a couple of funny DIY fails! When Handy Hubby was in high school, a teeny, scraggly stray kitten found her way to his childhood home. He and his Dad welcomed her into their lives and some 15 years later, Wido Piddy continues to melt hearts.
Her small stature leads many to believe that she's still a kitten; an ever-kitten. She now lives in my father-in-law's woodworking shop, along with another kitty and some canine companions. In the spring she started excessively grooming and essentially pulling out her beautiful fur in tufts. In an effort to help soothe her, I decided to make her a DIY catnip stuffed cat toy. After an afternoon of our own hair pulling, my Mom and I finally made this adorable, DIY catnip stuffed cat toy in the shape of a fish:
But first, there was some trial and error (you can skip to Version Three if you just want to know how we made the little DIY catnip stuffed cat toy that was a success).
DIY Cat Toy Version One

Supplies:
Scrap Fabric
Thread
Catnip (10-20 grams)
Sewing Machine
Needle
Scissors
We originally made a catnip-stuffed toy out of my favorite cowboy fabric 😉
Steps:
I cut out one of the lone cowboys, leaving enough fabric for a half inch seam allowance. Then I cut out a corresponding shape from a plain, colour-coordinating cotton (for the back), and two pieces of fusible interfacing to match the shapes. (My Mom thought that interfacing would help give this toy some strength against sharp kitty claws). I ironed on the interfacing, as per the instructions, and the two shapes were ready for sewing.
After pinning the right sides facing each other, we sewed along the edge, leaving a half inch seam allowance and a small opening under the horse's belly. When the edges were sewn, we tied off the thread and snipped the edges to make the curves easier to shape once they're right side out:
Then, as I spent a good twenty minutes struggling to turn this tiny cowboy right side out, I wondered why I didn't just buy a $5 cat toy. The complicated, small shape, and the stiffness from the interfacing made it a struggle but eventually I got it. Using a small spoon to help poke and prod everything into place helped. Triumphantly, I stuffed it with loose catnip, stopping periodically to make sure the catnip was worked into the legs, head, and tail. Once it was packed full of the good stuff, the bottom was sewn shut by hand. Ta da! A DIY catnip stuffed cat toy.
DIY Cat Toy Version Two

Supplies:
Scrap Fabric
Thread
Catnip (10-20 grams)
Sewing Machine
Needle
Scissors
When we were done with the cowboy, I wanted to experiment with a simpler shape – and no interfacing – in the hopes that it would be easier to make. I cut out a little "mouse" shape from scrap cotton and we sewed the edges again. After we snipped the edges, I turned it right side out with more ease. I stuffed it full of catnip and things were progressing fairly smoothly, although it was still piddly work.
Then my Mom and I had an argument about whether it was a mouse, rat, or parsnip. She wanted to sew a bunch of leaves on the top and call it a day, but I fought hard. We ended up adding a braided string tail, some whiskers and beady eyes.
It's a mouse, dammit. Ta da! DIY catnip stuffed cat toy.
DIY Cat Toy Version Three – THE WINNER!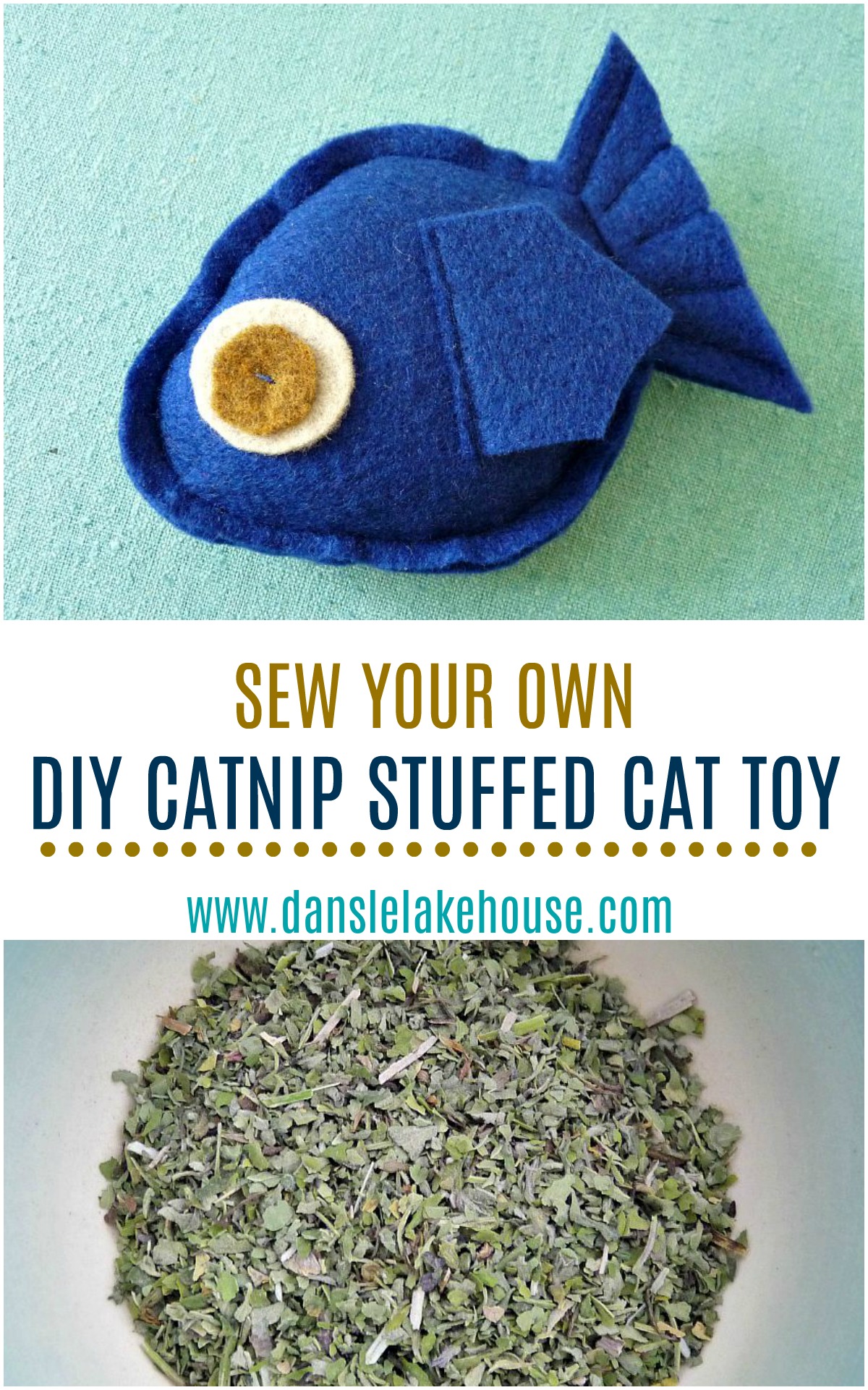 Supplies for a DIY Catnip Stuffed Cat Toy

Totally dejected by our weird little DIY cat toys, but figuring Piddy wouldn't care what they looked like because she'd loose her mind for the drug inside, I started fiddling with some felt earmarked for another project. That's when it dawned on me that felt would be much easier to use for a cat toy too, because we wouldn't need to flip it right side out. Because it doesn't fray, we could just sew the shape on the right side.
I cut out a simple little fish shape from two pieces of felt. I cut out pairs of smaller and larger circles for eyes and then cut out little fins. I hand sewed on the eyes with a few stitches and then we attached the fin at the base with the sewing machine while the fish body was still in two pieces. We pinned the two fish sides together and sewed around the edges, leaving the tail open. I tied off the threads and stuffed the fish body with catnip, leaving the tail empty. Once it was stuffed, we sewed the bum shut and did some decorative stitching on the tail. Ta da! DIY catnip stuffed cat toy.
SUCCESS! This final DIY catnip stuffed cat toy turned out to be so stinkin' adorable.
This version was faster (think minutes, not hours) and so, so easy. Plus, it looks infinitely cuter than the rat/turnip and cowboy. If you don't have a machine, you could even do a simple blanket stitch around the edges – felt is so forgiving. If you use felted wool – and not a synthetic felt – you could even needle felt some designs or details onto a simple shape.
A note on catnip: I found catnip locally, in a shop that sells loose leaf teas. But you can also track it down on Amazon: this listing seems like a good deal. I used 50 grams for all three toys, but the amount you need will depend on the size and quantity of toys you make. You can also mix in some catnip with some batting, if you only want to purchase a small amount of catnip. I looked at store-bought toys and some boast 100% catnip filling while others have a mix of batting and catnip – you might have to test it out and decide what amount you can give your kitty with her going totally batty.