I didn't realize there were so many innovative and modern ideas for decorating with rope! I always thought rope decor looked dated and like it belonged on a boat – but I was so wrong. When I was tasked with the challenge of using rope in a DIY project, I came up with a very nautical inspired idea for this table:
But really, rope design details can also look very modern and even mid-century.
Before I show you some examples, I have to share something funny. While working on my rope side table, I had a line from Horrible Bosses 2 stuck in my head: "otherwise we're going to string him up by his pretty little neck with the roughest, coarsest piece of rope we've got in our rope inventory". Here's a terrible quality clip of the scene:
I can't look at a piece of rope without thinking about this clip! Isn't it funny how certain words suddenly become associated with something and you cannot shake that associations?
Anyway, here's a short-list of some of my favorite modern ideas for decorating with rope – innovative ideas to buy, borrow, or make!
DIY Ideas for Decorating with Rope:
BIY (Buy-it-Yourself) Ideas for Decorating with Rope:
This stunning, large woven bench from CB2 has a mid-century modern shape I love. It would be perfect in an entryway or at the end of a bed. Hungry for a DIY version? I know there's a sad, broken bench languishing in a thrift store somewhere, just begging for a DIY rope seat.
These colorblocked rope hanging planters from West Elm are so modern – I love the light, natural rope and pastel accents paired with the bold black planters:
This Shades of Light rope and wood table has major DIY potential and at first I was considering a similar design for my table, but the boat cleats were a bit pricey. While cleat shopping, though, I spotted some white metal boat cleats that I keep thinking would make great wall hooks…
I fell in lover with the Palecek Strings Attached Lounge Chair when I spotted it recovered in a bold blue starburst print, in an issue of HGVT magazine. Now I've been casually keeping my eye out for some kind of rattan chair to modify for this same look – how pretty would it be on the deck?
The rope handles on this modern, chunky lanters from West Elm add the perfect, summery touch:
This rope handle on this concrete table from Anthropology is another example of, sometimes, less is more with this textural detail. I really love the striking simplicity and the natural rope paired with pastel colors.
Add a simple rope detail to any piece of furniture – or cabinetry – with these cute robe knobs.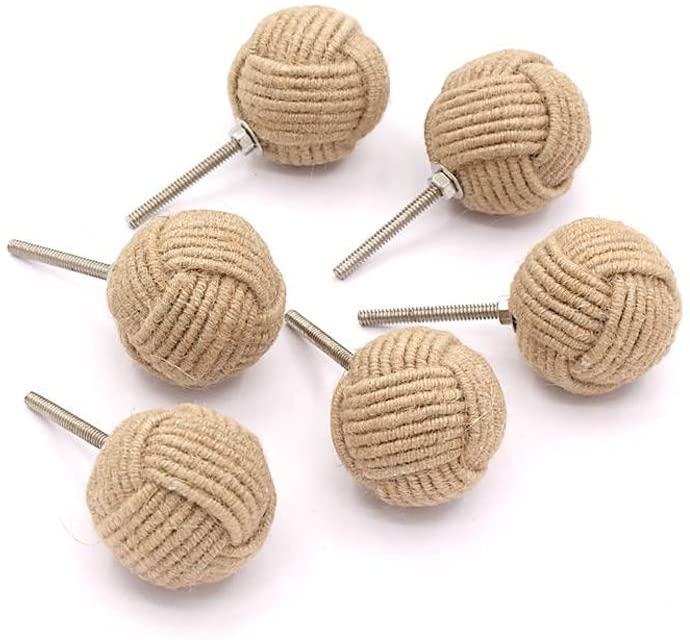 Here's another rope decor staple with DIY potential: boho rope curtain tie backs from Anthropology:
I also love these modern rope outdoor chairs from West Elm. The rope detail is so practical for wet climates because it's comfortable and stylish, but water won't pool in the seats.
This rope side table from Anthropology packs a lot of texture and visual interest.
So what do you think of these modern ideas for decorating with rope? Are you sold?