Today I'm showing you how to paint terracotta planters so they don't look painted – and don't chip or peel!
Did you know that you can spray paint terracotta planters to give them a modern finish that looks like ceramic? I've inherited quite a few plants and they can't all go in $200 planters so I purchased a few terracotta planters in various sizes and gave them a makeover! Read on for my tips and tricks for painting terracotta, and also why my first attempt looked terrible…
After updating a plant stand my papa made by refreshing it with paint and adding DIY walnut shelves, I also spruced up the plant stand that came with my Whoville plant (I keep forgetting his actual name, but to me he looks like he belongs in Whoville):
You'll probably think I'm bizarre, but that janky terracotta planter was all I could see when I sat at the dining room table.
I replaced it with a new terracotta pot, but didn't love the look of them au naturel. A lot of DIY tutorials for painting planters suggest just brushing on the paint but I don't love that look. Instead, I gave mine a few coats of Rust-Oleum Tremclad Oil Based spray paint in Harbour Blue.
And I hated it. The colour is gorgeous and so glossy, but in the living room it stuck out like a sore thumb, making every colour look dull by comparison (and that is no small feat in my colourful world). I gave it a light sand and repainted the terracotta planter in Rust-Oleum Universal Enamel Paint + Primer in One – Gloss White, the same colour as the stand. Now it looks fresh and modern – I love the crisp white with the green.
Emboldened, I decided to paint a larger terracotta pot for the enormous Jade plant I also inherited. Worried about leaking, I crammed him and his terracotta pot into this slightly larger pot (without drainage) for the 1600km journey:
Unable to salvage his old pot, I picked up a really large terracotta pot at Canadian Tire – did you know the terracotta pots sold there are made in Germany? For my US friends, check out this mod terracotta planter with its own MCM inspired stand or these sleek contemporary terracotta planters (I love the straight sides).
Here it is with a brand new paint job:
I was amazed at how well the terracotta planters took the paint! Unfamiliar with most anything related to plants, I assumed the terracotta would be super porous, but the paint went on like a dream.
The trick is that the terracotta planters were new and totally dry when I painted them. Using a primer & paint combo helps a lot, but using a new planter and ensuring it is DRY is the key. I have painted older planters, which had been sopping up water, and even with a good scrub they don't take the paint as nicely. It can work as long as the used planters are clean and dry, but not as well. For best results, start with an unused planter, make sure it's dry, and use a primer & paint spray paint combination – and you will have a finish that looks factory painted and stays perfect forever!
UPDATE: in 2019 – many years later – these painted pots still look awesome – no peeling or chipping.
Because I used spray paint, they look factory finished – my Mom was actually convinced they were ceramic (which would have cost me a lot more for this size). Plus, because the paint finish is glossy, both planters can be washed and wiped down easily!
And that's how how to paint terracotta planters – it's easy!
With almost all of my new plants re-homed, the lakehouse is feeling a lot greener. I'm so nervous about keeping all of these plants healthy (especially the orchids and the Jade – the last plant that bid farewell to the world in my care was a Jade)…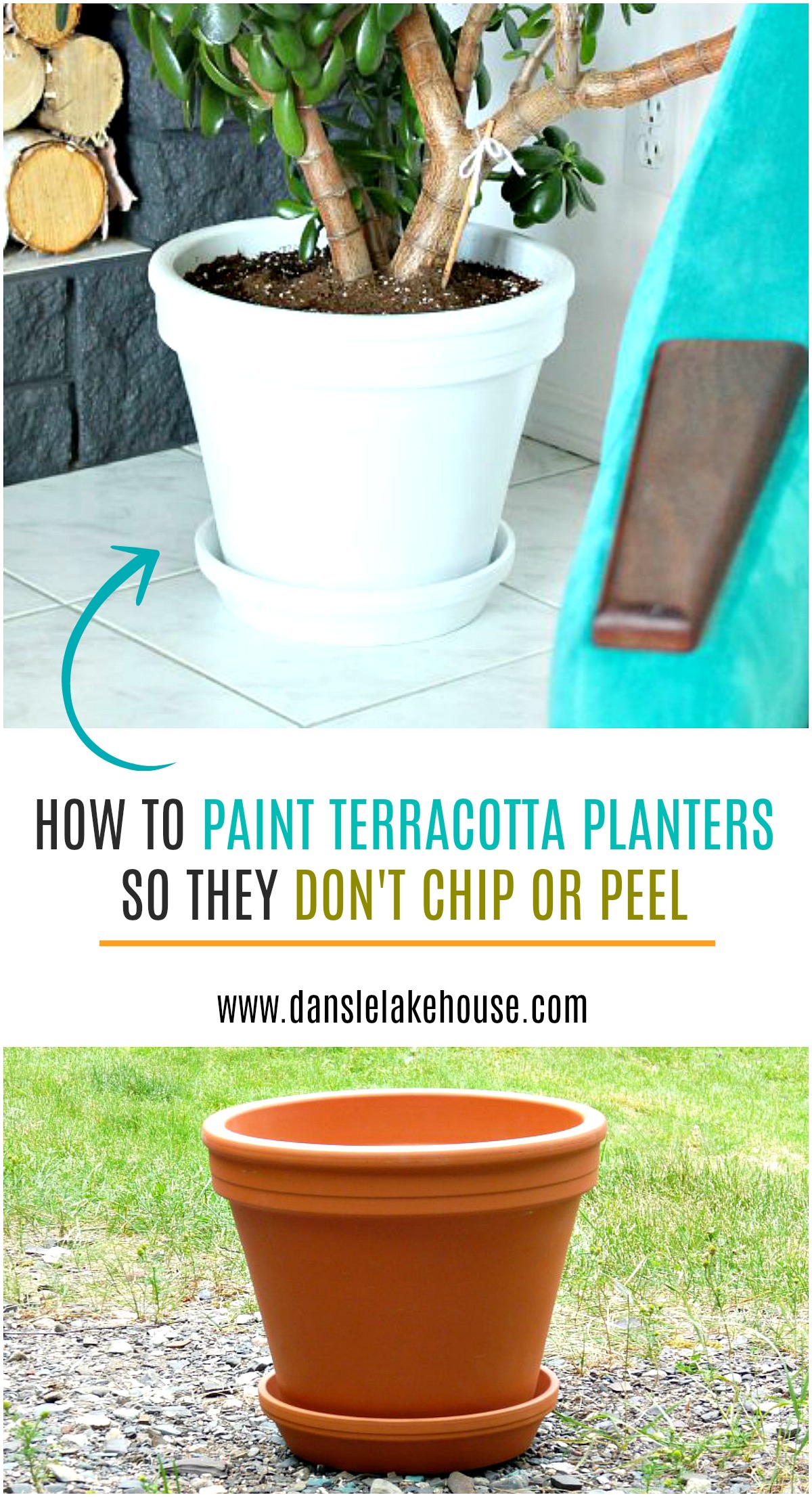 Huge thanks to Rust-Oleum for collaborating with me on this tutorial for how to paint terracotta planters and many other DIY projects!