Today's project – this DIY earl grey tea cup candle – is just the cutest!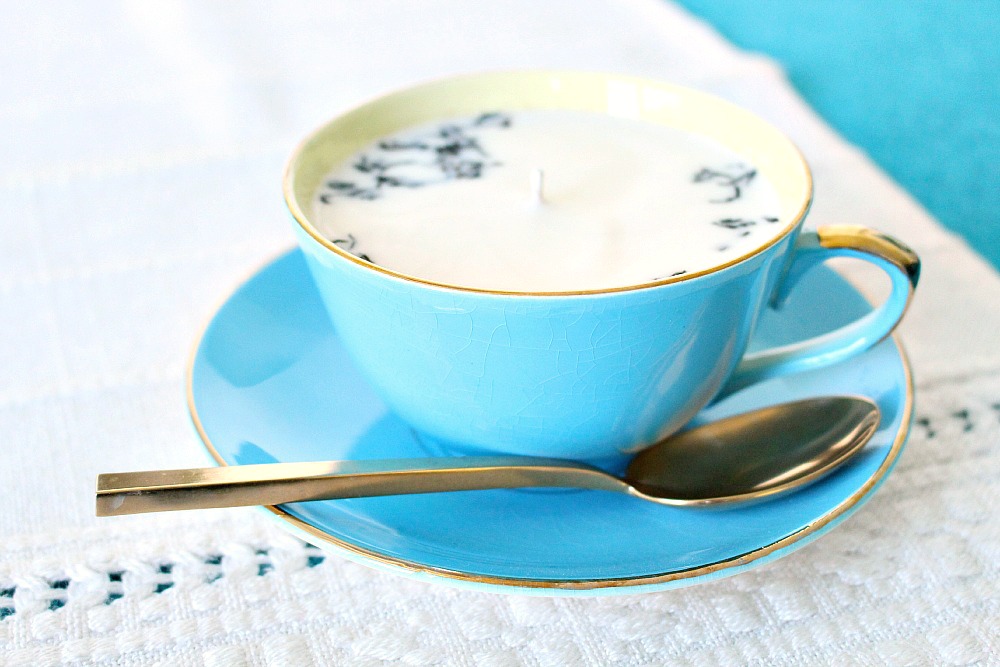 I have been wanting to try my hand at candle making for years, which totally cracks my Mom up. Have you seen Our Idiot Brother?
There's no such thing as an ugly homemade candle.
I recently contributed a whole bushel of fun, holiday-themed crafts for a fabulous holiday gift guide that I can't wait to spill the beans about. For one project, I used some lovely vintage vessels to make some really festive poured soy candles and they turned out so beautifully.
I had scooped a solid blue tea cup from the Good Neighbour Shed awhile back, but didn't want to use it for the holiday guide because tea cup candles have been done to death. But I couldn't resist making myself a DIY tea cup candle and I thought I'd share how I did it. My Mom had some bergamot essential oil and it dawned on me that I could make a candle that smells like Earl Grey – my absolute favorite tea! At the last minute I sprinkled in some real, loose leaf Earl Grey, just for show (it doesn't contribute to the scent), and the DIY earl grey tea cup candle turned out so adorably.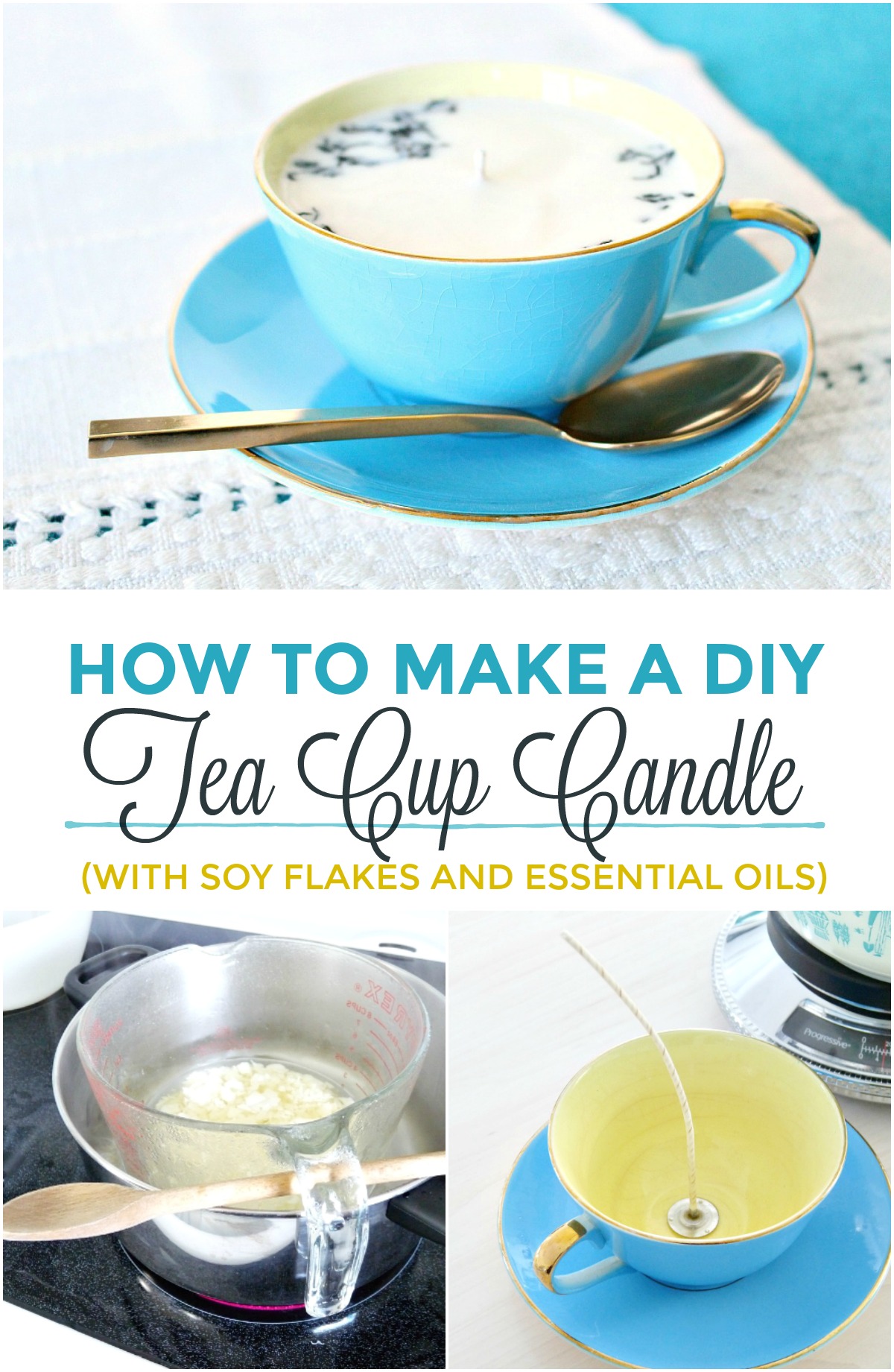 Candle making is quite the science and everything – from the temperature of the wax to the temperature of the room – can impact the success of a poured candle. I'd love to keep practicing to perfect my technique, but even my first few tries resulted in successful candles. Although they lack the smooth as glass surface of commercial candles, they burn really nicely!
Supplies for a DIY earl grey tea cup candle:
Soy wax flakes (I bought a 10 lb bag)
Wicks (I bought these ones, which were easy to affix with a dab of glue)
Hot glue gun (or wick stickers)
Double boiler or candle making pitcher (I used an old Pyrex measuring cup in a pot of boiling water)
Candy or candle thermometer (I used a meat thermometer)
Stir stick (an old wooden spoon or paint stir stick will do the trick)
Tea cup!
Pinch of loose leaf tea (optional)
Oven mitts
Newspapers or drop cloth
Steps for a DIY early grey tea cup candle:
The first step is to measure out the wax. According to Candle Science, you can divide the volume of your container in ounces by 16 to figure out how many ounces of wax flakes you need to use for one container. For this candle I used about 200g of wax flakes. It shrinks quite a bit once melted down and while I was making a whole bunch of them, I would just melt as much as I could in my Pyrex cup. Then, once it melts a bit and there's more room, I would add more flakes and keep melting.
With the wax measured, I started heating it up in my "double boiler". I filled the pot with a few inches of water, which I brought to a boil and kept simmering the whole time. The wax needs to reach 185F and that took about 30 minutes in my experience. I stirred it occasionally and although some lingering chunks took awhile to melt, eventually it all melted and resembled olive oil.
While I waited, I used a hot glue gun to affix the wick. You can also buy "wick stickers" but I wanted to keep costs low and I had a glue gun on hand already!
Once the wax heated to 185F I let it cool to about 135F before adding the essential oil. Add it too early and it will just evaporate! You can also purchase specialty candle fragrances. Generally folks tend to use approximately half an ounce of oil per pound of wax. If you're buying a fragrance designed for candle making, there will be a usage guide on the label. I've read a little bit online about essential oils and candles and there is a lot of disagreement about the amount required for a good scent throw. Some essential oils are stronger than others, so you might need to experiment a little (and let me know how it goes!).
Once it cooled to about 125F, I poured the wax into my cup, added a pinch of tea to the top (it sunk in a little bit) and then let the candle sit overnight. I poured mine somewhere where it could be left, undisturbed, until it hardened. The wax starts to harden really quickly, turning from a yellow oil to a solid white substance, before your eyes (if you're patient). To keep the wick upright I created a grid with tape across the top, which trapped the wick upright but didn't keep it as taught as I would have liked. A better solution is to use a clothespin to clamp the wick end, and then place that across the top – but I didn't have long enough clothespins (mine aren't the wood kind). Some candle making guides say to warm up the vessel beforehand, but I skipped that step. Once the soy hardened completely, I trimmed the wick to 1/4″.
I didn't add any dyes to my DIY earl grey tea cup candle so it looks like a really milky cup of tea, but you could easily tint it tea-coloured with dyes made for candles. Add any dyes while the wax is at 185F so it can melt and mix completely.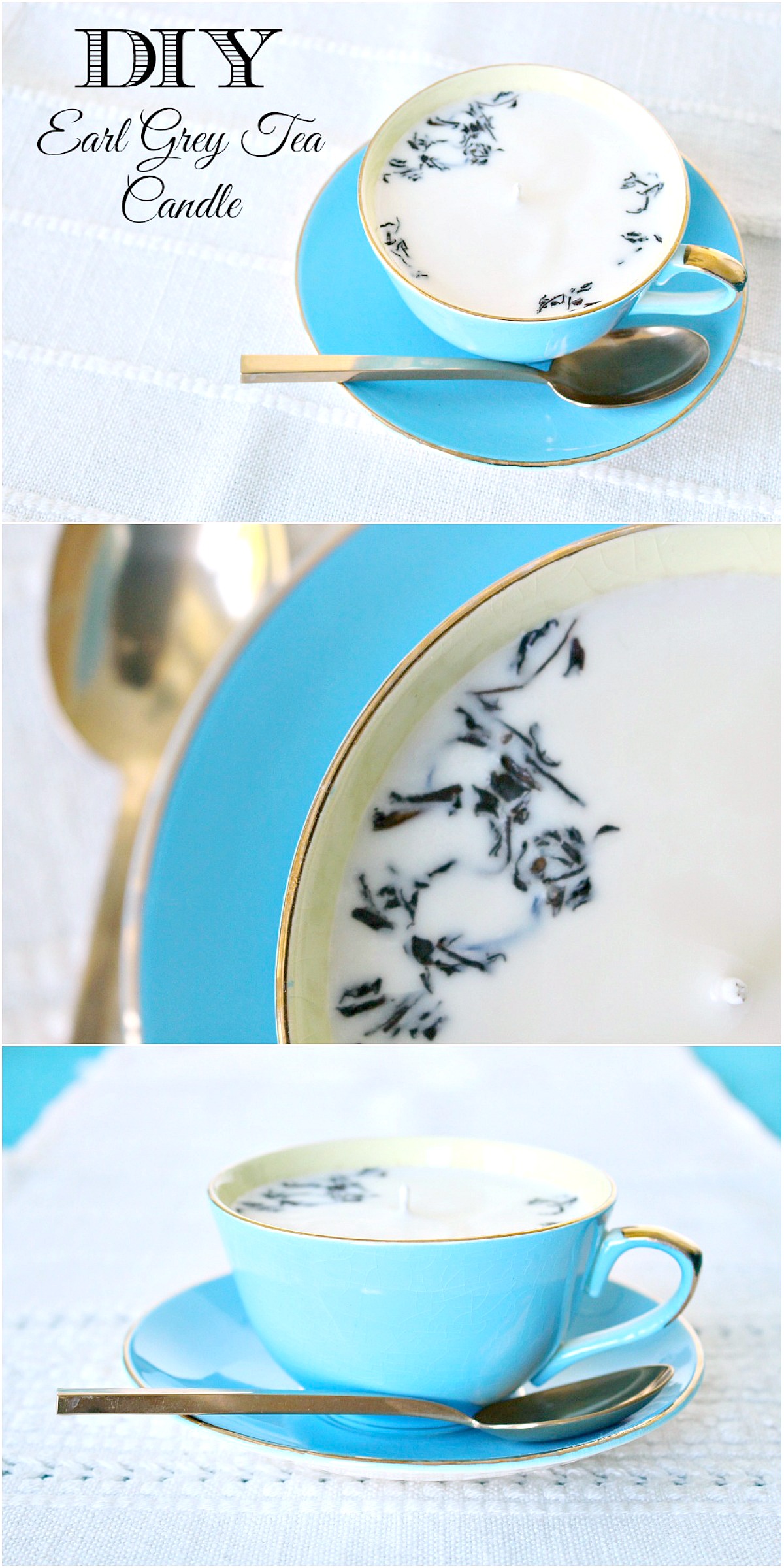 This DIY earl grey tea cup candle is adorable, right?
I can now check "candle making" off the bucket list!