While I was visiting my friend Ashley, in Ottawa, we got a little crafty and made some easy DIY wood burned birch slice ornaments. We had both seen these and these wood burned birch slice ornaments on Pinterest, and wanted to try making some ourselves!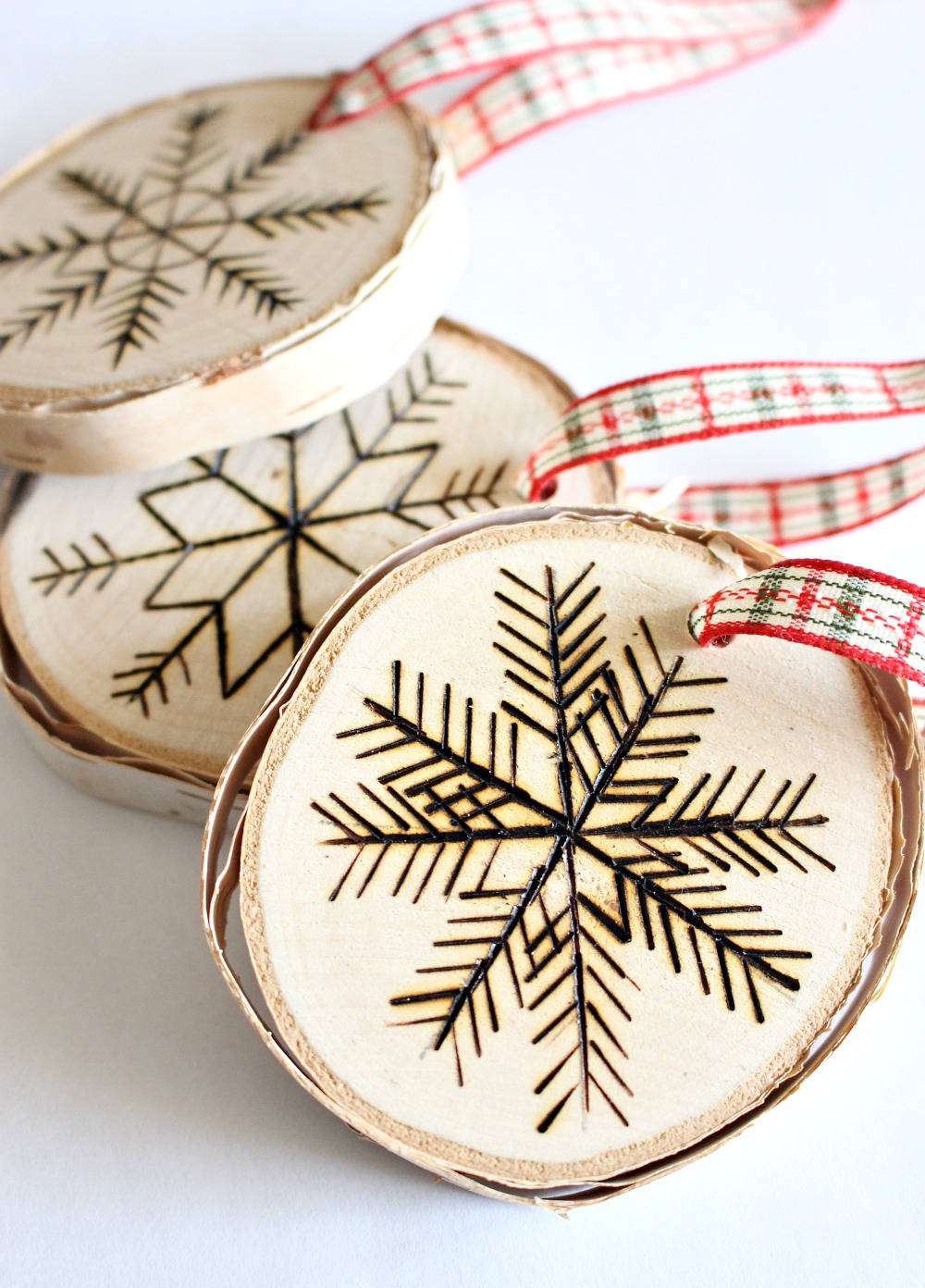 Supplies for DIY Wood Burned Ornaments:
Birch branch or pre-cut and drilled wood slices
Wood burner (we bought this exact one)
Drill (if you're making your own slices)
Chop saw or hand saw (if you're making your own slices)
Pencil
Pliers (to change wood burner tips)
Old chopping block or cookie sheet (to protect work surface from wood burner)
How to Make DIY Wood Burned Birch Slice Ornaments:
Here is the quick tutorial for how to make wood burned birch slice ornaments.
Cut birch slices with a saw – or purchase wood slices on Etsy
Drill a small hole for hanging
Lightly sand the surface
Optional – peel off bark and sand the edges
Draw or trace a design with pencil
Follow the design, using the wood burner like a marker or pen
Ashley's Handy Hubby cut birch slices for us and even drilled the holes so they were ready for hanging. If you're tackling this project, you can also buy wood slices sanded and ready for use. We left the bark on, instead of peeling it off and sanding smooth, because Ashley preferred the rustic, natural look.
Wine in hand (not recommended), we spent an evening taking turns with the wood burner, creating a series of snowflake designs – no two alike! First we roughly sketched out a design using a pencil (using these as our inspiration), and then simply tried our best to trace that design using the wood burner. You can also transfer a design on to the wood slices if you'd prefer to use some clip art – the wood burner I linked to even includes a transfer point so you can transfer laser printed images onto a surface with ease.
Neither of us had used a wood burner before, so we really experimented with different designs and all of the wood burning tips. We created some duds during our experimentation, but we had a lot of fun making these DIY wood burned birch slice ornaments – actually, this project is kind of meditative because it's so repetitive and simple. Plus the burning wood smells soooo good.
When we were done the wood burning, we let the designs cool and then threaded a narrow plaid ribbon through the drilled holes, finished with a knot, and used a dab of clear nail polish to keep the ends of the ribbon from fraying. These DIY wood burned birch slice ornaments would also make adorable gift tags! You could burn initials, names, or meaningful dates on the other side.
Tips for Using a Wood Burning Tool:
Protect your table with an old chopping block or cookie sheet so if you drop the tool, or switch out the tips, your work surface is protected.
Start with a simple design while you get the feel for the tool – snowflakes were easy!
The hotter the wood burner, the smoother and more fluidly it will move across the wood, so experiment with the heat a little (the instructions recommend only a range of temperatures).
"Drawing" with the wood burner is not what you might expect: we ended up making lots of short strokes – kind of like sketching.
Work slowly and build up the intensity of the wood burned areas – you can go over areas as many times as you like to smooth out the design.
Practice is key! Have some scrap wood on hand to experiment with techniques, tips and heat – especially if you bought pre-cut wood slices and have a finite number of them.
Take breaks so you don't overheat the tool.
Use a pair of pliers to change the tips and allow a new tip to heat up before using.
Here's a look at the DIY wood burned birch slice ornaments on Ashley's tree. She has such a cute assortment of rustic ornaments, with a smattering of glittering balls for some sparkle. I helped her trim the tree before I left and we spent a long time weaving that plaid ribbon garland just so, so if you want to take a moment to admire our handiwork, we definitely won't mind…
That's how easy it is to make DIY wood burned birch slice ornaments!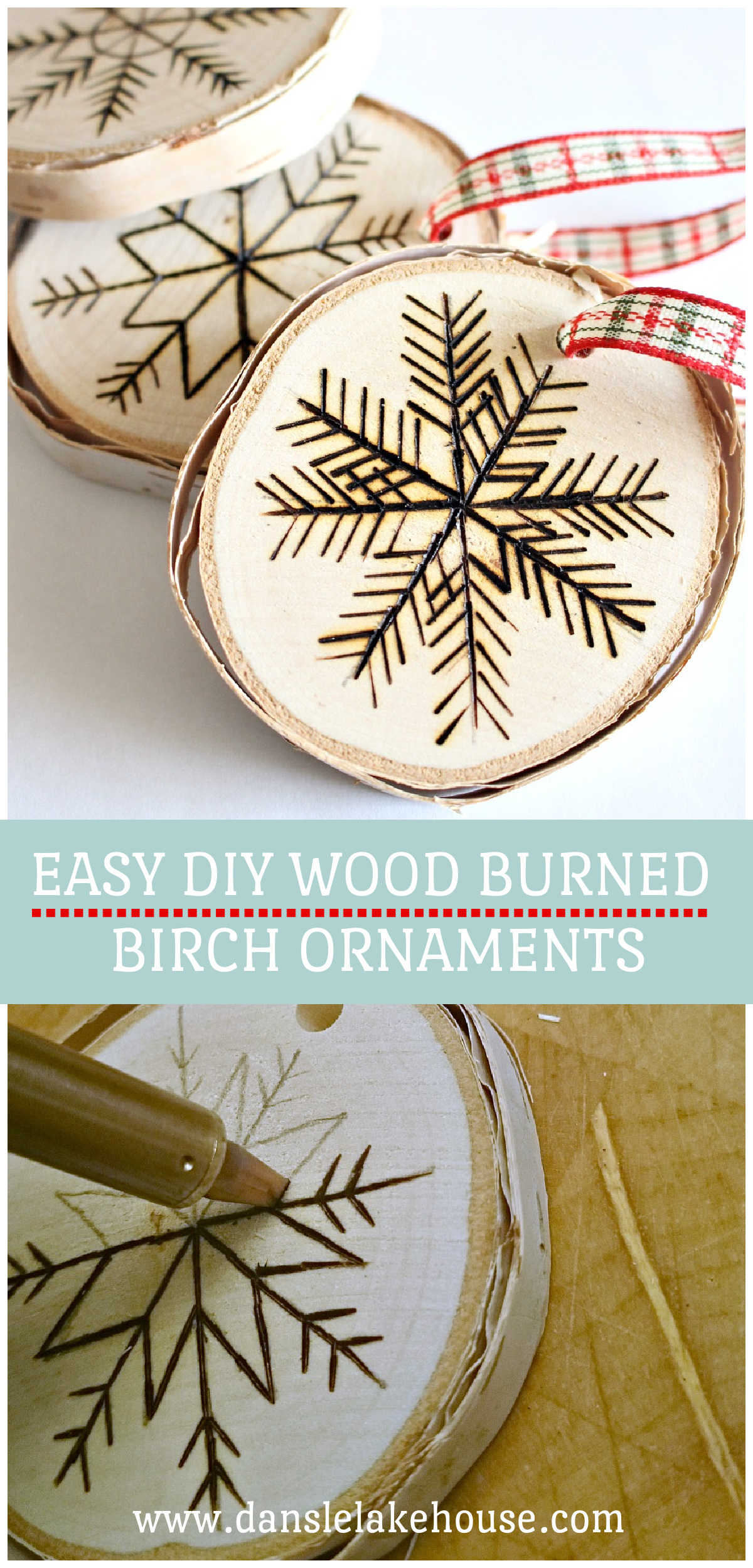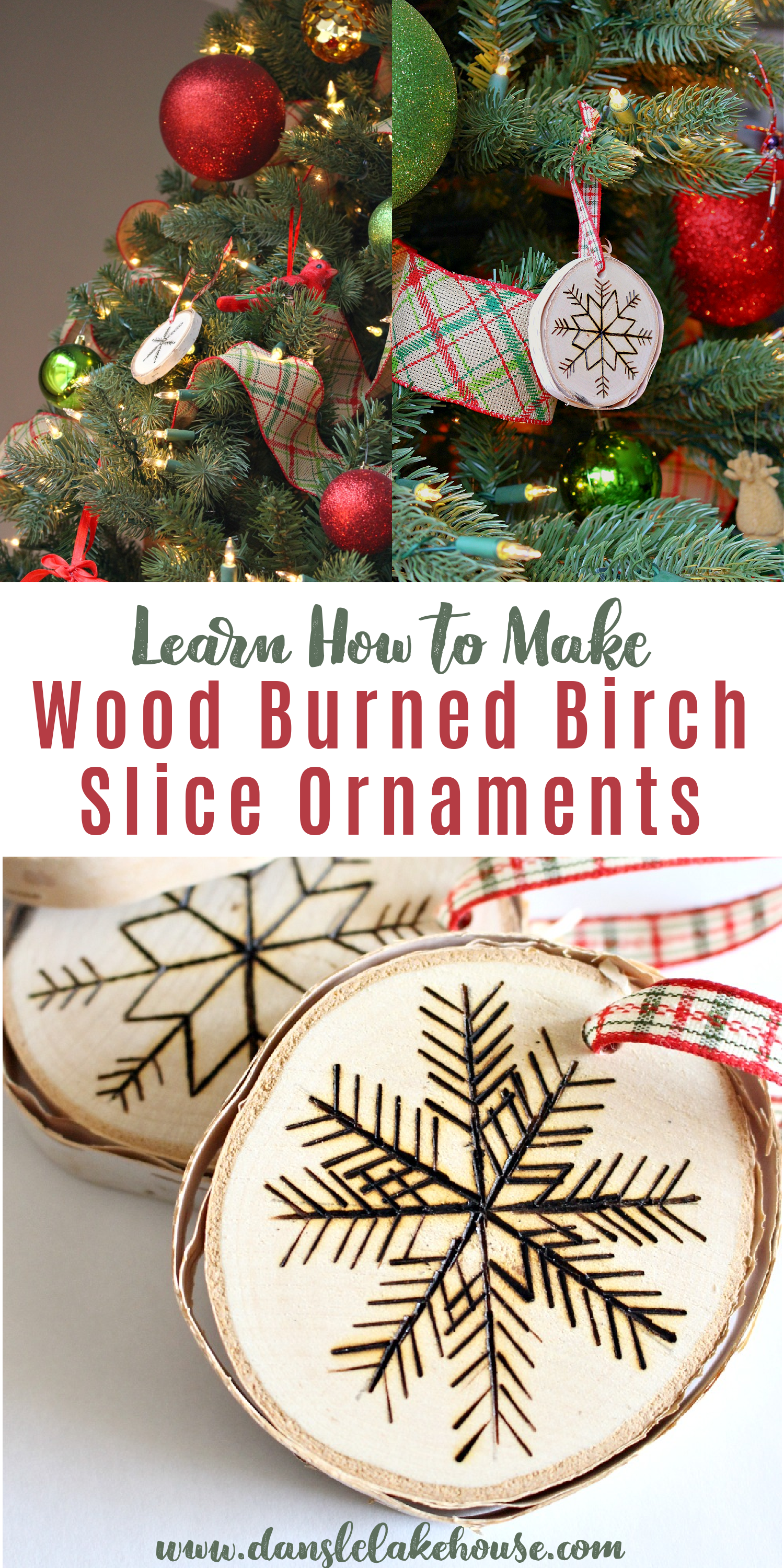 Looking for more birch slice craft ideas?
Check out these other DIY birch slice crafts and project ideas:
DIY Painted Birch Slice Ornaments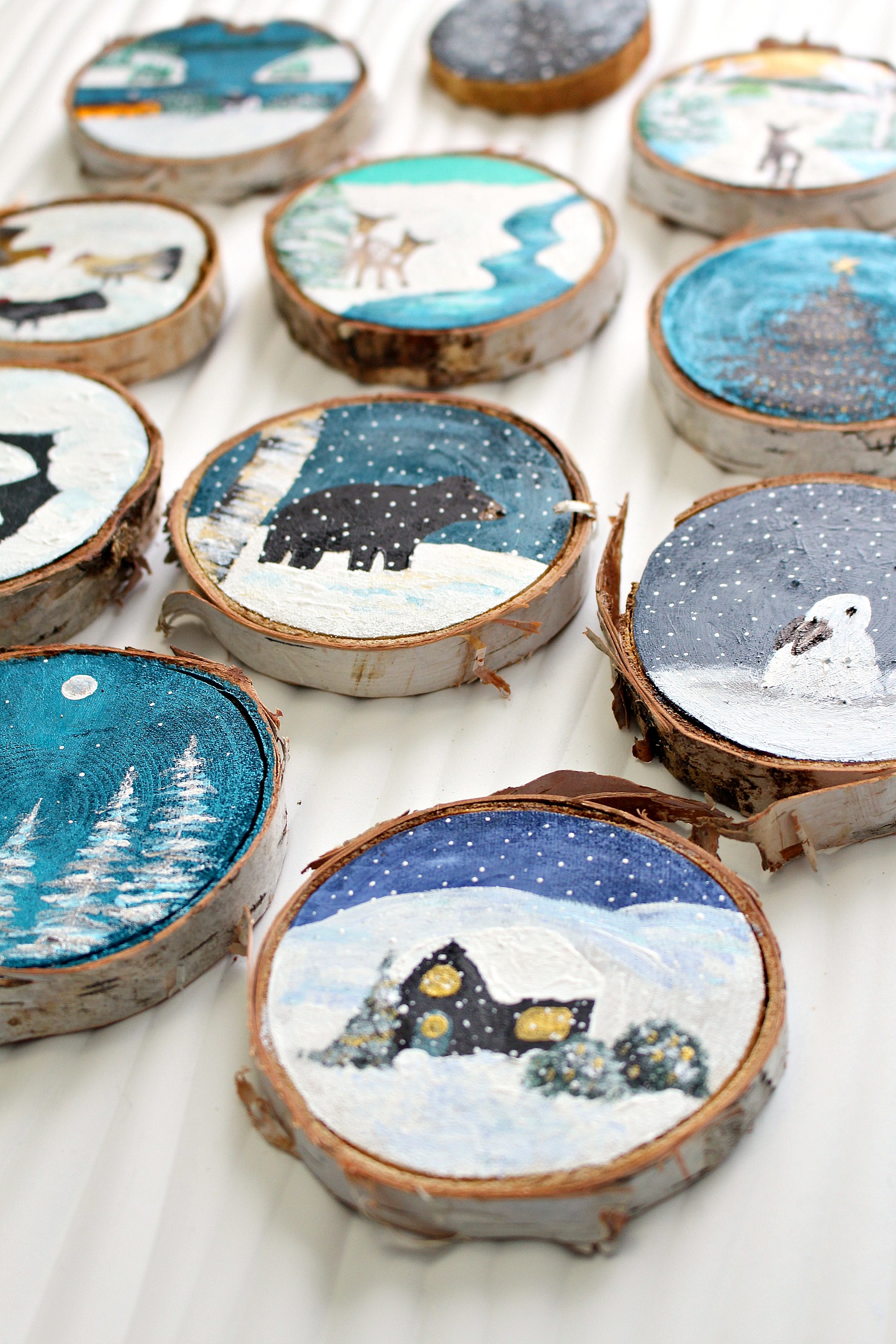 Painted Dipped DIY Birch Slice Coasters