Check out this easy cranberry and "snow" mason jar centrepiece! While I was in Ottawa, my friend Ashley plied me with spiked eggnog and mulled wine and that's why I very willingly helped her decorate her whole house for the holidays. You already saw the the birch slice ornaments we made one night – that was a lot of fun! She also whipped up some gorgeous outdoor decorations and put together really simple and festive evergreen sprays for her stairwell. Then we tackled her Christmas tree, decorated her mantle, and also set up the wood A-frame ornament stands I made for her as a hostess gift. Finally, we put together a simple, all natural, cranberry centrepiece for her dining room table:
When we were done, Ashley's friend Amy admiringly commented that, "it looks like Pinterest in here". Lol! That comment made me laugh and it's a compliment in my books. Ashley is a huge fan of Pinterest and that's where she spotted these cranberry, cedar and Epsom salt centerpieces by Madigan Made (with the mason jar twist by Yellow Bliss Road). Ashley happened to have a basement full of glass mason jars (don't we all?) and we stumbled across a huge jug of Epsom salt – and a giant bag of fresh cranberries – at Costco one night, so this super easy DIY cranberry and "snow" mason jar centrepiece had to happen. It's a lovely, natural way to decorate for the holidays – everything can be composted or reused, there's nothing plastic here.
This cranberry centerpiece creates such a nice ambience when the votive candles are lit (plus it smells amazing):
Supplies:
Fresh cranberries (we found a giant bag at Costco)*
Mason jars (we used two sizes but you can use whatever you have)
Fresh cedar boughs (we pruned her brother-in-law's cedar hedges – aren't we kind?)
Funnel (optional)
*Can you use cranberries in centerpieces? Absolutely! They last a really long time and then can be composted.
How Do You Make a Cranberry Centerpiece?
Let me show you how easy it is to make this cranberry and "snow" centerpiece!
For half of the jars, fill the jars with Epsom salt halfway
Insert fresh cedar sprigs into the center
Fill up the rest of the jar with fresh cranberries – they will keep the cedar upright
Fill the remaining jars, about two thirds full, with only Epsom salt
Top the Epsom salt-only jars with a votive candle
It took us all of five minutes to assemble this pretty mason jar centerpiece for Ashley's dining room table. I helped pick out her runner too – it's it cute? It has a little bit of a mid-century vibe thanks to the pattern, but the simple grey and white colorway is versatile enough for any holiday.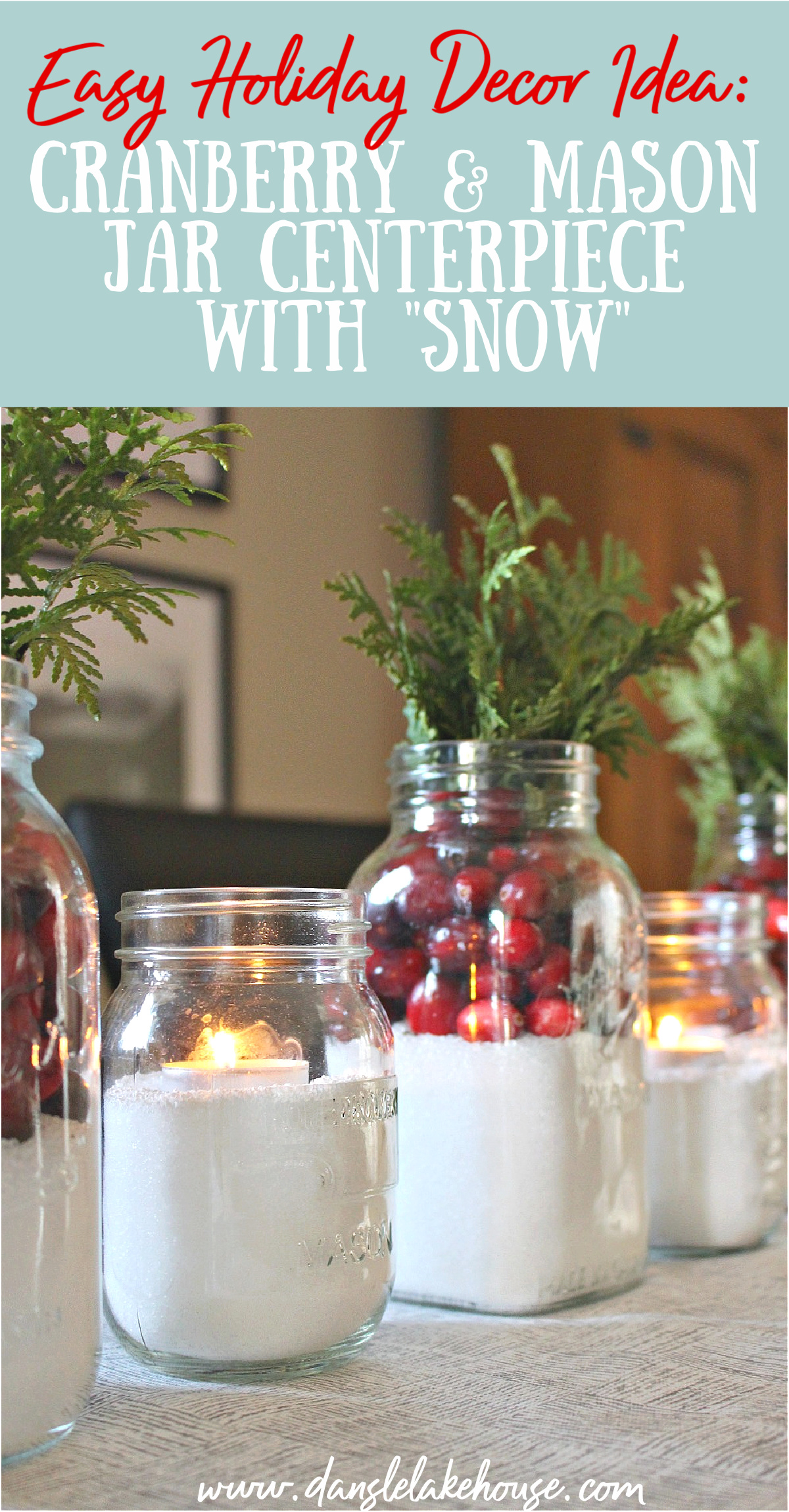 There's just one thing to note: once the tea lights had burned, we noticed that the texture of the salt changed from the heat. It started off looking like salt crystals:
But in the shorter mason jars, the heat from the candle turned the salt a different texture – kind of like clumpy icing sugar. The "glitter" was lost, but it still looked like snow. Actually, it looked even more like snow, thanks to the powdery texture.
This cranberry and "snow" mason jar centerpiece still looked gorgeous, even with this little change in the texture, but I just wanted to make mention of it!
I love this idea for an easy, last minute holiday centerpiece. And it was inexpensive too! You could also substitute the cranberries for something scavenged, like small pine cones, or even something like wood beads painted red that you can reuse next year. You can customize this basic idea to suit what you have to make this as budget-friendly as possible.
P.S. Don't Forget to Pin for Later!