Do you want to learn how to dye jeans darker? Have you found yourself staring at a pair of jeans that fit well, but aren't your favorite denim wash, wondering, "how can I change the color of my jeans?" and "can you dye jeans darker?" YES! I can show you how to make jeans darker! I dyed my jeans darker a year ago and was so impressed by the results – they still stayed dark, even after a year of regular laundering! I recently dyed another pair of jeans and took photos to share my denim dyeing "before and after". I will teach you step by step how to darken denim and, if you keep reading until the end, I will also answer all of your FAQ about dyeing jeans in the washing machine.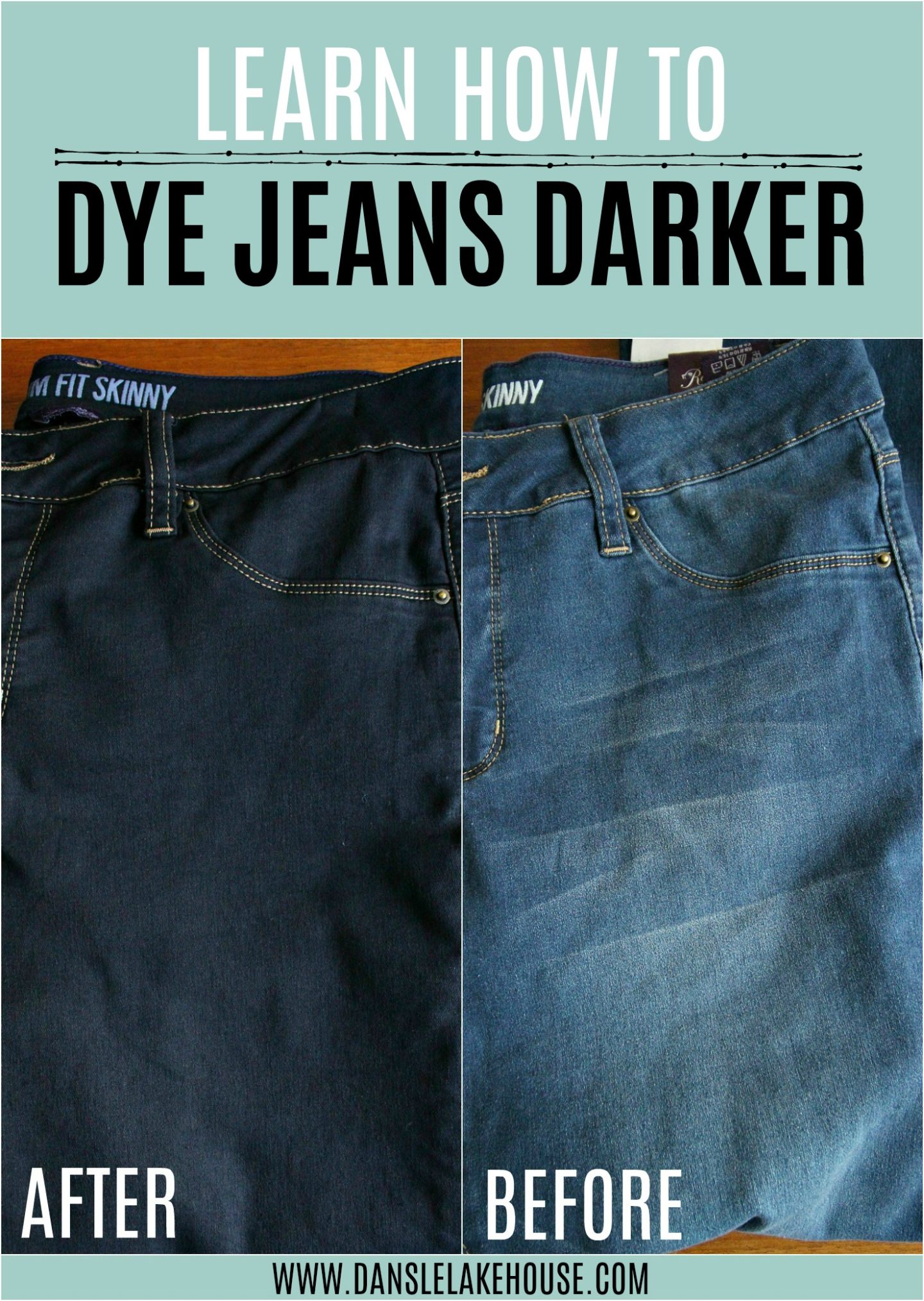 I have been on a weight loss journey for many months (25 pounds down, 25 to go!). I didn't want to spend a lot of money on new jeans because I still plan to lose more weight. Pant shopping isn't easy though, because I don't like when jeans have any whiskering or fading on the front/back of the thighs. I prefer a simple dark wash but jeans that fit me aren't the wash I like – and the jeans with the wash I like are usually uncooperative and won't zip up. So I found inexpensive and comfy jeans for only $25 and started dyeing jeans darker at home to turn them into a perfect dark wash.
Can You Dye Jeans to Make Them Darker?
Yes! You can easily dye jeans to make them darker. My newly DIY dyed jeans are perfectly uniform and a lovely dark wash now – even the whiskering was covered up (see below and after photos below)! I want to teach you how to darken denim yourself, so keep reading for my easy tutorial on how to dye jeans darker in the washing machine or just a plastic tub. If you've read any of my DIY dye posts, you know that the dyeing clothes is really easy.
Here are my jeans before:
Here's after dyeing jeans darker:
Supplies for Rit Dye Jeans:
How to Dye Jeans Darker:
Wash brand new jeans to remove any sizing
Completely soak the jeans with water immediately before dyeing
Fill the washing machine (or a large bucket) with hot water – enough water to cover the jeans completely (I set to "small" load)
Add a cup of salt (a dye fixative) and make sure it fully dissolves
Pour in 1 bottle of Rit Dye Black and 1 bottle of Rit Dye Navy Blue
Put on a pair of rubber gloves for handling the dye bath and freshly dyed jeans
Agitate the dye bath for 30-40 minutes (either stir by hand with a stick if using a basin, or agitate in the washing machine by re-setting to prevent it from moving on to the rinse/spin cycle)
Rinse the jeans thoroughly in cool water until the water runs clear, to remove excess dye
Air dry denim to preserve the color
Once dry, enjoy your new pair of jeans!
Immediately after dyeing, run the washer with bleach, or rinse out basin with bleach, to remove dye residue
Read on for my dyeing jeans darker FAQ:
What's the dye formula to dye jeans darker?
The first time I dyed jeans, I used two bottles of black and one bottle of navy. The result was very inky, like an indigo dye. I loved it, but it did add to the cost because three bottles of dye was about $12. This time I used only two bottles and did a 1:1 ratio of navy and black, which resulted in a dark denim blue. I love the shade and it looks great. Because these jeans are temporary, I wanted to keep the cost low so I didn't want to purchase three bottles. If I'm being honest, I preferred the 2:1 (black to navy) ratio because the jeans were really dark – almost black, but with some inky blue depth. I'd call the result a midnight blue and it looked really expensive.
How much dye do I need to dye jeans darker?
I used two bottles for one pair of pants and was happy with the results. The Rit dye instructions indicate that one bottle covers 1 pound of clothing, but suggests using more for darker/brighter colours. I could definitely have added another pair of jeans or t-shirt to my dye bath.
What is the best dye for jeans?
I have only used Rit dye on jeans because it's cheap and easy to find and use. I also opt for the liquid dye that Rit makes, sold in bottles, as opposed to the dye powder, because it saves the step of having to dissolve the dye. For jeans you can only wash in cold water, I recommend using Procion dyes instead – I used them for ice dyeing because they work well in cold water. To use those dyes, you'll need to soak the denim in a soda ash solution first (that brand requires soda ash as dye fixative) and then make a dye bath.
Does Rit dye work on jeans?
Yes! I used Rit dye to dye both of my jeans. But you can, of course, use different fabric dyes if there is a brand you prefer. It helps to consider the fibers in the jeans – even with a bit of synthetic stretch, I was able to use regular Rit dye. But very synthetic jeans may required a dye designs for synthetics, like Rit's DyeMore Liquid dye.
Did the dye cover the denim evenly?
Yes! All of the whiskering and fading was covered on both pairs I've dyed, and the result was a uniform hue.
Did the dye cover the denim stitching as well?
No, the dye didn't cover the stiching. The stitching remained light, so they don't look like they were given at at-home dye bath. This happened with the dress I dyed as well: the thread wasn't dyed. Cotton threads will take the dye but usually garments are sewn with polyester or other synthetic thread, which doesn't take the dye unless it's dye made for synthetics.
Did the dye wash out of the jeans quickly?
Did the dye wash out of the jeans quickly?
No! The dye did not wash out of the jeans quickly – I was pleasantly surprised. I never had to re-dye the first pair of jeans I dyed and I washed them once or twice a week (no dryer, though) for a year. They faded a bit, like dark jeans normally do, but the whiskering didn't come back and they were still a dark wash – they just looked like broken in jeans. I was really impressed – my dyed dress has barely faded, if at all (although I don't wear that nearly as often as the DIY dyed jeans).
How to dye jeans different colors, for example: how to dye jeans brown?
You can dye denim with any colour but I find that the black/navy combo looks most like a commercial "dark wash" denim. But you could turn white jeans into bright teal or red – or dye jeans brown. White jeans will take any dye color perfectly. In terms of dyeing already blue jeans a different color, other than a darker blue or black, it's a bit of a gamble how dye will look when applied over an already dyed fabric. Layering new dye over old dye can create a new color – for example, dyeing red jeans blue might end up creating a purple color.
How to dye jeans black?
It's easy to dye jeans black. I'd recommend doubling up the amount that Rit recommends: so try 2 bottles of black dye for 1 pound of fabric. I do think the Rit dye is the best black dye for jeans because it's so easy to find and use.
How do you keep dark wash jeans from fading?
I find that washing my jeans inside out, using cold water (preferably using a mild detergent or a detergent designed for dark colours), and skipping the dryer helps preserve the colour of dark clothing, whether I've dyed it or bought it that way. Air drying/line drying dark items (out of the sun) really helps keep their colour longer than simply tossing them in the dryer – that's probably the best colour-saving tip I have up my sleeves.
Did the colour rub off on furniture?
No! The dye stays put once the jeans were dry. After the initial dye, while they were wet and drying in my laundry room, they deposited dye on anything they touched while wet (like the wall and the lid to the washing machine – oops). This contact stained, although with scrubbing I got 95% of it off. But once the denim was dried, and especially after the first wash, there was absolutely no transfer, which was interesting because I've experienced colour transfer with commercially dyed indigo jeans. When you wash these jeans, make sure to launder with like colors.
Did the jeans feel stiff after being dyed?
Briefly. Any time I dye something, I notice that it feels a bit stiffer when it's first dyed. But after it's ironed or worn, it immediately softens and the fabric feels completely normal again.
Will dyeing clothes in my washing machine ruin it?
Nope! BUT – you have to run the machine empty, with bleach, immediately after dyeing to remove any dye from the machine (otherwise it can stain the drum and plastic pieces). I usually use this bleach load to wash my floor rags and other scungies, because I hate wasting water.
Can you dye old jeans darker?
I've also used this process to re-dye very old jeans once they've become faded from wear. However, I find that dye always "sticks" best to clothing that hasn't been worn. So, while my brand new jeans took the dye very well and stayed dark, my old and faded pants were only temporarily revived by dye as it seemed to fade more quickly from the beat up pants. It still worked! It's just that they faded a bit faster than the new jeans I dyed, which stayed dark even with a year of laundering.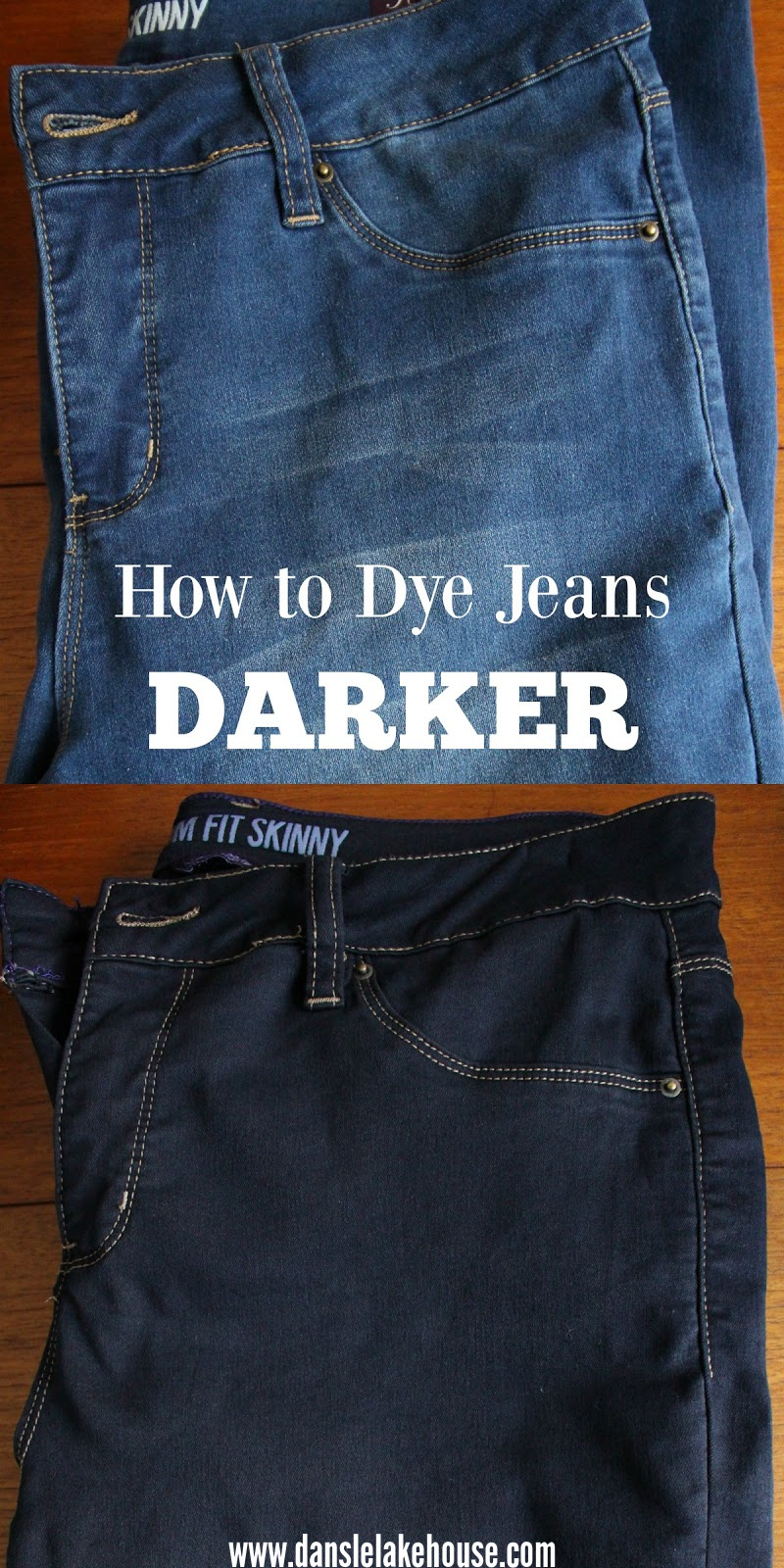 Please Feel Free to Ask More Questions About Dyeing Jeans Darker!
Overall, learning how to dark wash jeans myself has been a HUGE success – I will definitely keep dyeing jeans darker because it makes it so much easier to find the perfect fit when I no longer have to be concerned about the wash. Plus it's a great way to revive old, faded jeans – even if the results aren't quite are good as dyeing brand new jeans, dyeing old jeans still works and helps extend the life of clothes.
Am I missing any questions about how to dye jeans darker? Feel free to drop them in the comments. I moderate comments, so I'll always answer your question. If you have a chance, read through the comments too, because other readers have shared their jean dyeing success stories, dyeing jeans dark blue. I am so thrilled to know so many people have successfully dyed their jeans darker after using my tutorial.
Like I mentioned, you can use this tutorial to dye other clothes as well. I dyed a dress darker in the washing machine because it fit well but only came in beige, which wasn't very flattering on me. It took a bit of trial and error to get the right color, but it's always easy to just re-dye something with a darker color so don't stress too much!