The white leather sectional sofa we ordered back in March was delivered and the living room looks completely different now! I rambled on in this post about how we wanted to start capitalizing on our view of Lake Superior. Our furniture placement wasn't designed for the space because we just moved everything from the townhouse living room and plonked it down. The sofa faced away from the window and although the setup was nice for watching movies with the fireplace roaring, it wasn't inviting for just sitting around, chatting or reading – and you couldn't see the lake very well from the living room. One day we'll renovate the fireplace and put the television above it (maybe hidden behind art?), but for now we disassembled our old Besta unit, bought prettier "greyed walnut" Ikea legs, and shoved it in the corner to make room for the combined 20 feet of lounge space our new, modern white leather sectional sofa offers.
Ta Da!
Even though we added way more seating, somehow the room feels airier and more spacious to me because the windows are now largely unobstructed. As well, instead of a hodgepodge of furniture (the velvet chair, the mint chair, three teak tables, mismatched sofa and dark ottoman, wall unit, plant stand), we have a more streamlined furniture arrangement: big cream sofa with matching ottoman, one accent chair, a pair of matching vintage teak end tables with matching lamps, and the TV stand. It's simpler! We had to move the teal velvet chair to my office, but I kept the Mingo chair and positioned it with one of the teak tables beside the television. Once again I'm blocking windows with furniture, but you can still see the lake around the delicate frame of the mint chair and it just feels a little more balanced – but my biggest motivator is that I have literally nowhere else to put my favorite chair in this small home. It has to live there – or someone else's living room (cue the sad trombone).
I'm sure I'll continue to tweak things, but right now I'm too busy loading up the massive sofa with an abundance of throw pillows, wheeeeeeeeee.
Living Room Before and Afters:
Here's a reminder of the living room when we bought the lakehouse:
Here's a comparison of our old arrangement with how the room looks now:
Before
Now
Before
Now
Before
Now
Choosing the colour for our white leather sectional sofa was tricky. I considered many different leather samples, including a beautiful caramel (not pictured), a metallic silver (so expensive), a really worn, bitter chocolate (too rustic), a forest green (what was I thinking?), and a blindingly bright white (not pictured).
In the end, I really waffled between a couple of grey leather swatches (one matched the fireplace perfectly, the other was a medium grey) and a creamy white. I kept thinking grey would be practical, but everyone I polled voted white. My friend Ashley said it best: "in a lakehouse, with no kids, go with the white – it's perfect".
I'm really glad I listened because I am so thrilled with the white leather sectional sofa and my light color choice. It's what we'd grown accustomed to with our old sofa (although this sofa is a much lighter/brighter shade) and I think that with a sofa this ginormous, a grey or caramel leather would have looked too heavy.
From the sample though, I couldn't tell how creamy the leather would be and I was shocked when it arrived – certain we'd been sold the wrong colour. It felt too yellow when it was unwrapped on the deck, with the sun beating down on it. But once we hung the artwork and added the throw pillows, I immediately appreciated its softness. A cool, bright white leather as bright as our walls might have looked too stark and cold, especially with my cool color palette. The creamy white has a natural feel and plays well with Hubby's Grandpa's paintings (I moved the creamy diptych from my office, although it used to hang in the townhouse living room).
This white leather sectional sofa is manufactured in Canada, which makes me happy. I love the chunky arms (there was an option for narrower arms, but I think these look more modern, plus I sit on the edge when I'm on the phone because it's a peaceful place to perch and take in the view). The sofa is too comfy for things like that, because I tend to fall asleep, curled up in the corner ("my" spot), within minutes. Another thing I liked was that I had the choice of "walnut," "espresso," or "chrome" legs and we chose the walnut:
As an added bonus, we finally replaced our disintegrating ottoman! We bought the matching storage ottoman, and it's every bit as awesome as I hoped. I've wanted a new ottoman forever and I'm so happy we kept putting it off. I know "sets" aren't trendy right now but I love a sofa with matching ottoman because it's less visual clutter.
Unfortunately, we think the sofa was dropped during shipping because the arm by the fireplace is really pushed out and wonky. We're still waiting to hear back on a replacement/repair, but hopefully that doesn't create a headache.
I lowered the exposure a lot so you could see the view outside the living room window. Having the sofa against the window was a real shame, because this is the view we were obscuring:
I've been watching the sunset from our new white leather sectional sofa every night and it's a beautiful way to end the day.
Once I've done a little more tinkering with the room, I'll share a tour of the whole living/dining/kitchen space. You can see I'm still working, because in some photos the McCoy planter on the hearth is empty, but in others it has my new eucalyptus planted. I'm sure I'll be fussing with things all week.
In between naps.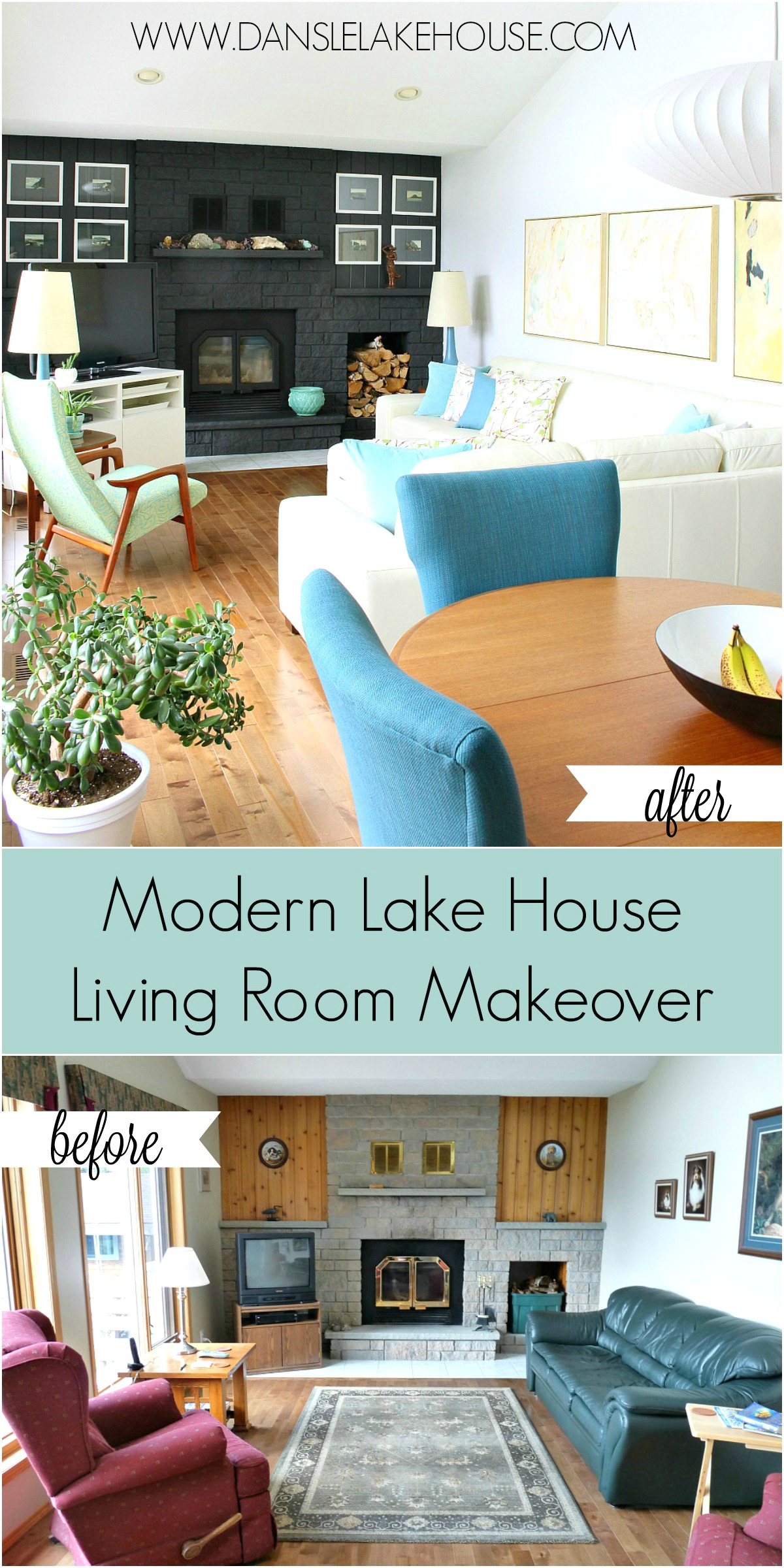 I've been asked by many readers to create a page where I list everything in the lakehouse – a "shop the look" kind of idea, but that's so tricky because a lot of what I buy is vintage, on clearance, or custom-made. I am slowly putting together a list, going room by room, searching for alternatives that closely resemble my best finds. In the meantime, here are some links for the living room, with similar items if I couldn't track down links for the exact pieces.
GET THE LOOK:

SOURCES:
Triple Bubble Light Fixture with Three Saucer Pendants – Modernica
Teak Dining Table – Vintage (this round West Elm table is similar but this rectangular walnut table from West Elm is more spacious)
Blue Tweed Dining Chairs – HomeSense (the "Sabrina," the "Tufted Hourglass," and the "Savafieh" are similar)
TV Stand – Ikea (Besta Cabinet with Grey Walnut Legs)
Case Study Planter – Modernica
Turquoise Velvet Pillows – Ikea (here's a similar aqua velvet pillow, Made in USA)
Blue Tweed Pillows – Sears
Patterned Throw Pillows – Marimekko
Turquoise Planters – Vintage, McCoy (I'm swooning for this turquoise bullet planter, and this aqua ceramic planter on solid wood legs from West Elm is just as stunning!)
Blue Lamps – Vintage Lotte, still produced today (see here for a really affordable aqua lamp with a similar vibe and here for really cool, coastal modern lamp)
Mint Chair – Vintage (see here for a cute MCM-style mint accent chair and here for a gorgeous turquoise MCM arm chair)
Leather Sofa and Ottoman – Barewood Furniture (local furniture store)
Krenit Bowl – Vintage (see here for modern reproduction in turquoise!)
Modern White Ceiling Fan – Kichler Ferron (can't find it in white anymore, but there is a polished nickel)