I have an easy Ikea Besta hack for you today! When we rearranged our living room to capitalize on the lake view, we gave up our Besta wall unit. We had very carefully chosen the modular Besta pieces to fit the townhouse exactly, but when we moved to the lakehouse it worked well here too! I loved the glass panels behind the TV because they looked like beach glass, and the tower of Besta cabinets (we splurged on glass shelves and doors) showcased my turquoise McCoy pottery collection beautifully.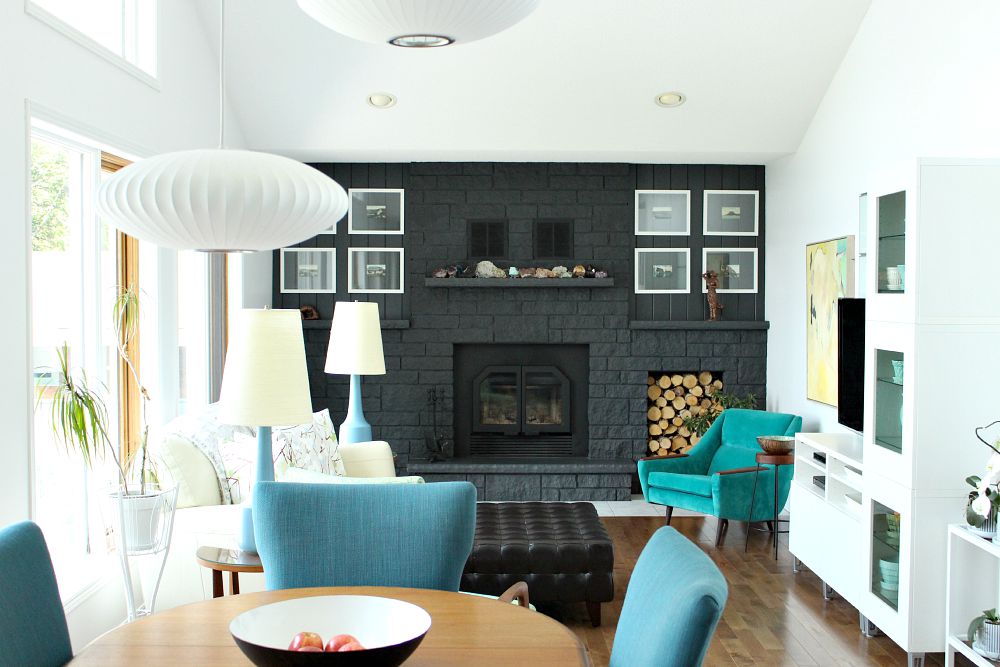 I was a little sad to see it go. We sold almost all of it except for one section with two doors and the perfect surface to act as a TV stand. You might already be able to tell from photos what our little Ikea Besta hack entailed!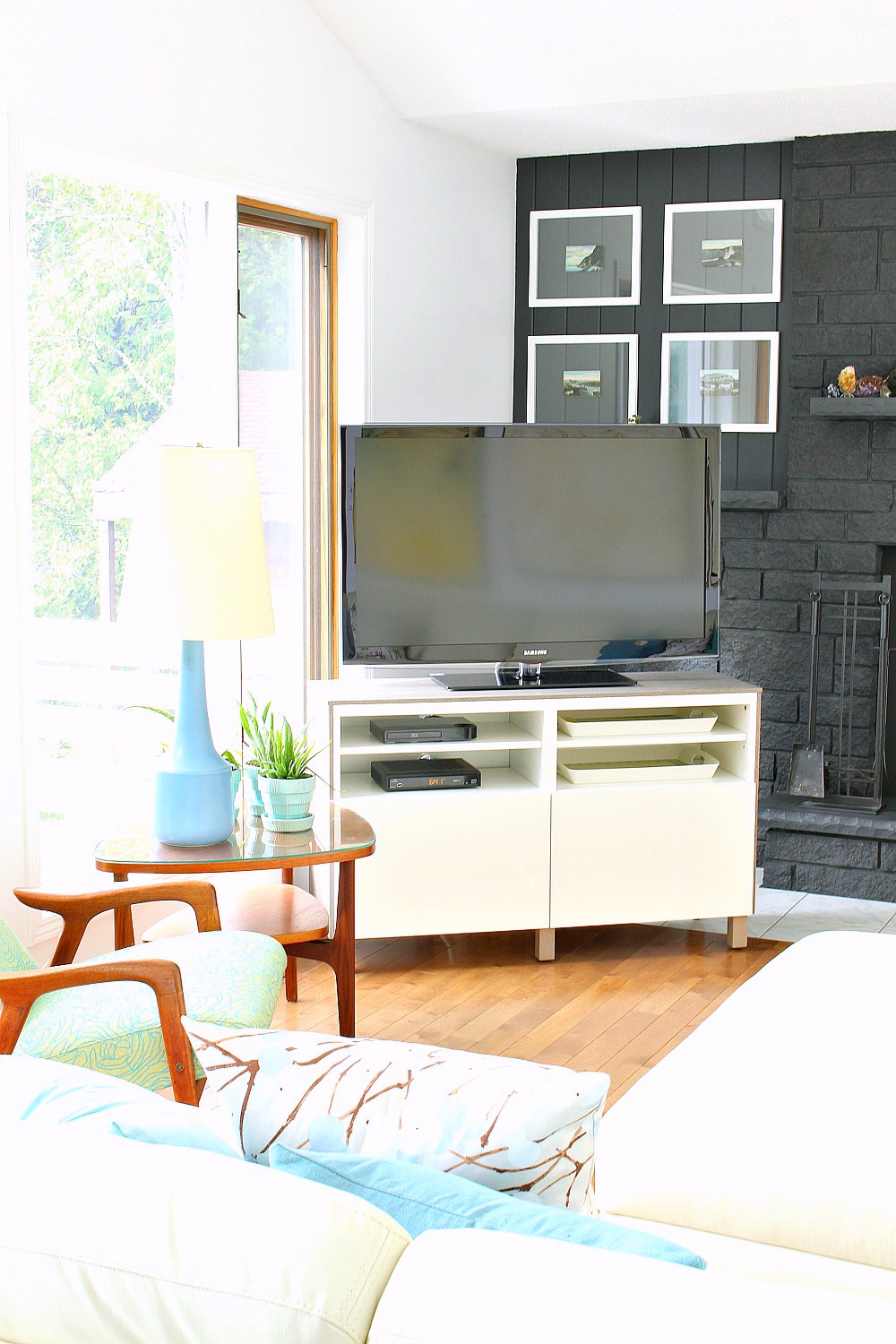 One day our hulking TV will get mounted above our fireplace (UPDATE: we did it – check out how to build a fireplace bump out to hang a TV right here), but for now we put baby in the corner. A TV in the corner of the living room is not as weird as I thought! Really, I barely notice it because the charcoal grey painted fireplace really disguises it. First, however, the Ikea Besta TV stand needed a little love. You can see in the photo it was looking very plain, which was fine, but the previous arrangement had also left holes in the top where the glass panels had attached.
It was time for an easy Ikea Besta hack!
Supplies:
The first step of my Ikea Besta hack was easy: I swapped out the legs for a newer version. When we first bought the cabinets, there weren't many options for adjustable legs so we picked a ho-hum silver set. Now Ikea sells a greyed out "walnut" which looked much less cheap. Here's a look at them (they're actually solid oak with a "walnut effect" and grey stain).
Next, on to the real hack part of this Ukea Besta hack: we needed to address the holes on the top and side of the Besta cabinet, left over from when the other pieces were assembled together. As you can see above, we decided to do exactly what we did to our DIY Ikea Fauxdenza Hack – slap on some plywood!
We couldn't find the same Carribean Pine I chose for the credenza top, so we bought some oak instead. I really wanted walnut veneer (like what we used for our DIY Walnut Storage Bins) but a 1/2″ thick walnut veneered plywood was really expensive. I want to say around $150? That's too good for an Ikea Besta hack! We chose the least expensive option (without dropping down to the construction-grade plywood you find at home building place, like Home Depot): basic oak. But I spent a good 40 minutes picking out the sheet with the best grain, and I'm really happy with my choice!
For the floating credenza, I had a grey stain custom-mixed at a local paint shop. I've had folks ask me about the color, but I have no way to help readers replicate it, so for this project I decided to try a ready-made grey stain. I turned to my friends at Rust-Oleum, who sent me Varathane Premium Wood Stain in weathered grey, which is a really nice grey.
With stain, you can really control the intensity. One coat of weathered grey still looks warm with beige undertones (like my credenza), but after two and three coats, it becomes a lot cooler and richer. It's a beautiful shade of grey, with blue undertones. On my stir stick, you can just how different one coat vs. seven coats looks:
Of course stain will look different on different species of wood, but on my oak veneer plywood, it looks SO similar to the sample on the can (pictured on red oak).
After the stain was dry, I applied four coats of Watco Spray Lacquer – which is SO easy to use! I lightly sanded between coats two and three. Other than that, I just sprayed it on lightly in a well ventilated area – no brushing, no streaks. It even smells good. This might be my new favorite product.
Installation went exactly like the credenza hack: after cutting, edge banding and staining the plywood, we applied construction adhesive to the Besta unit, applying the sides first and then the top. I held the panels in place while Hubby affixed some screws from the inside to help grab the panels while the adhesive dried. A few clamps helped keep things flat and – voila!
A freshened up Ikea Besta hack for our corner TV: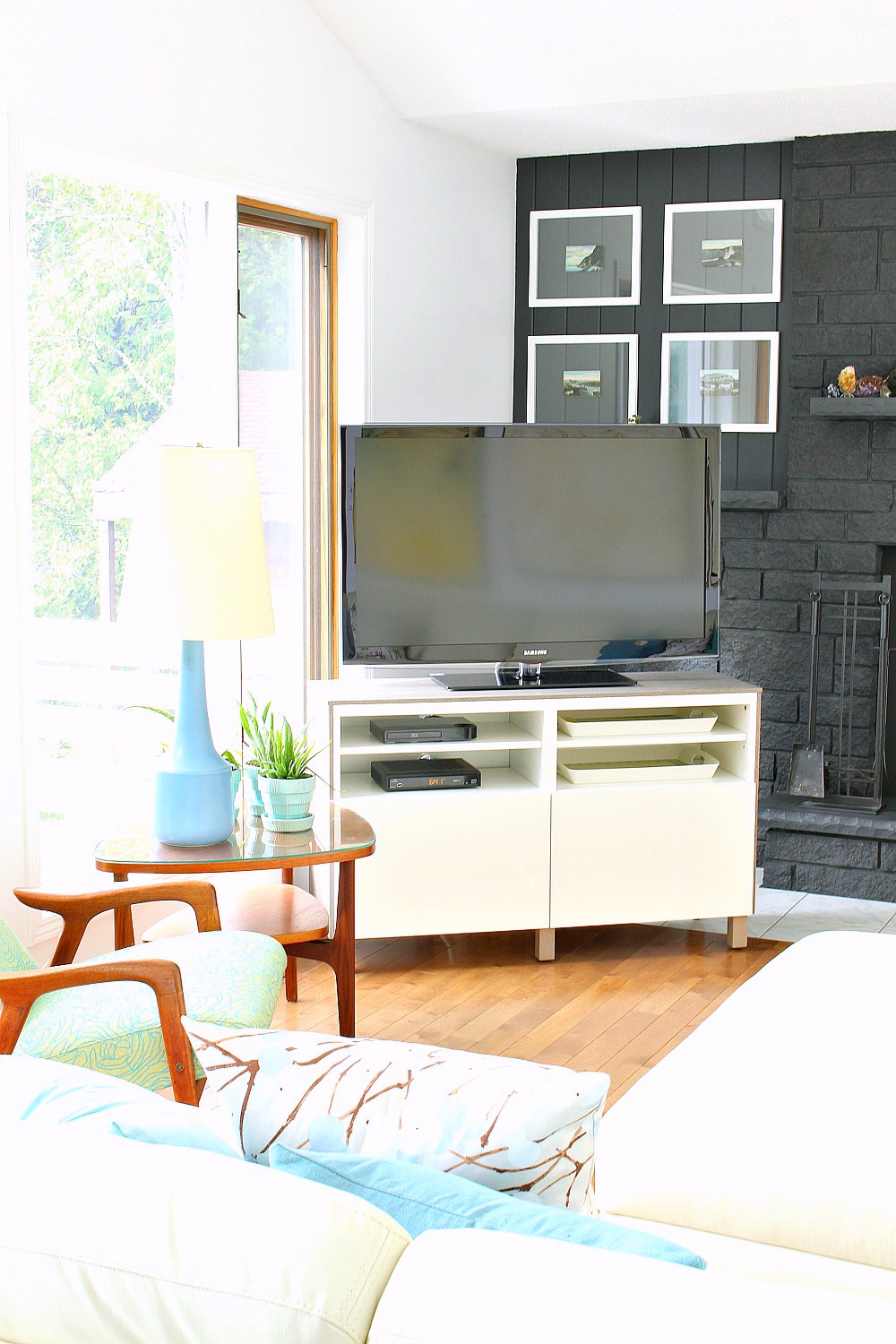 It's a subtle change, but it makes the Ikea Besta unit look a little more finished – plus it hides those screw holes, allowing us to re-purpose this piece and save some $$$ while we drain our bank accounts on sailing stuff.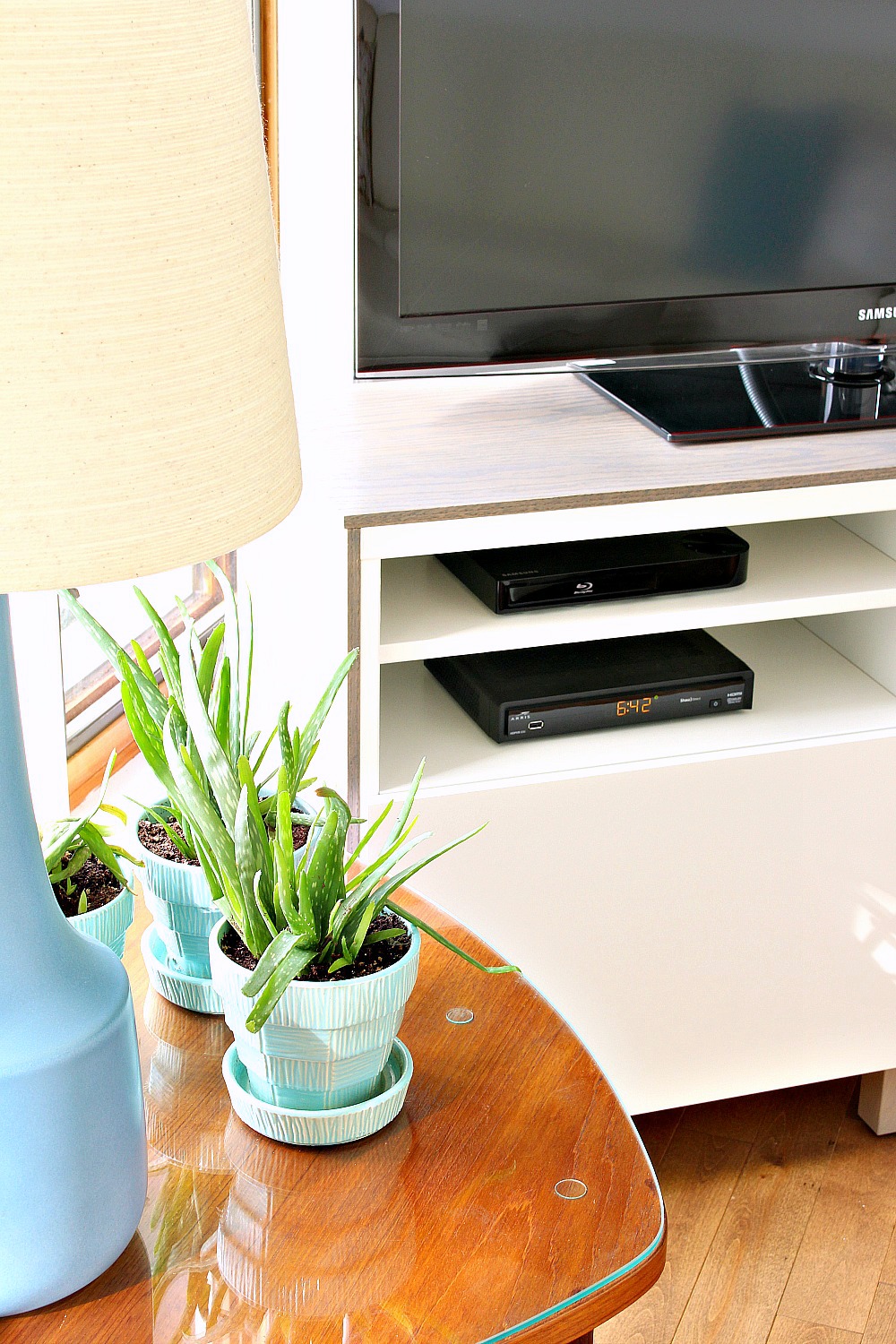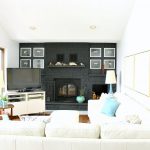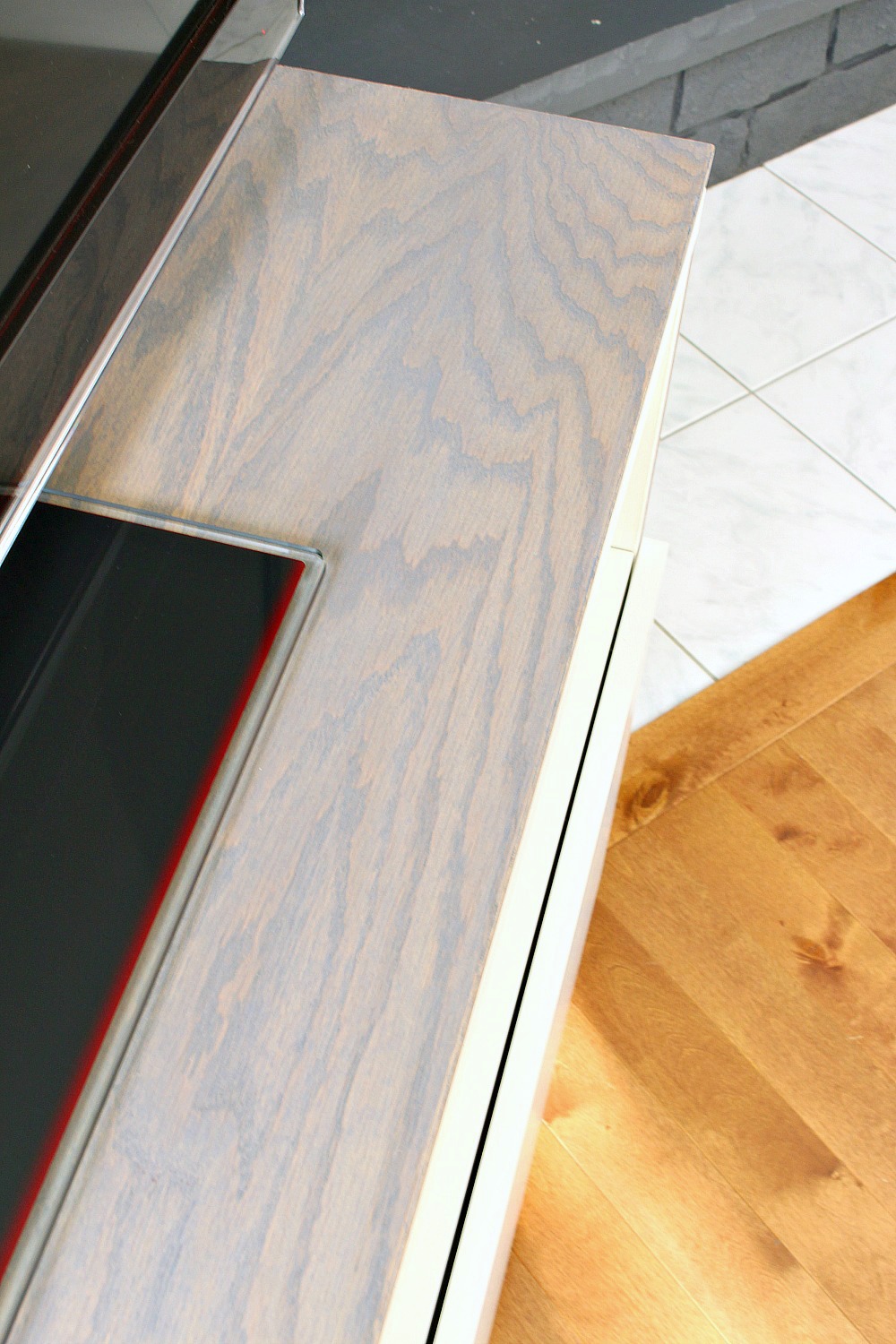 There was only one snag with this project (which makes me SO happy we didn't splurge on the walnut): because we have yet to buy a table saw, we often make do with a skill saw and a straight edge but, for projects like this, we either use someone else's table saw or get the guys at Windsor Plywood to cut it for us (that's where we buy a lot of our supplies). They cut the Ikea credenza perfectly, but we were less than impressed this time. A dull blade created some tear out and it wasn't until we'd applied the construction adhesive (at midnight) and were about to affix the top that we noticed the top was cut too long. Oops. We double checked the measurements and we didn't make the mistake, but it IS our fault for not dry-fitting first. We were over confident – and over tired – but we decided to keep going. We would have had to scrape off the construction adhesive, drive to Hubby's Dad, trim the tiniest bit off, re-glue the edge band and touch up the stain. Did I mention it was midnight? We were kind of in a "just get it done" mood and, you know what? It is barely noticeable. If this was a permanent, love-it-forever kind of furniture, I would have taken the time to make it right. But eventually (sooner, rather than later, I hope) we're going to jettison the corner cabinet altogether. This little mistake isn't really noticeable and I'm just happy the big ugly holes are covered up.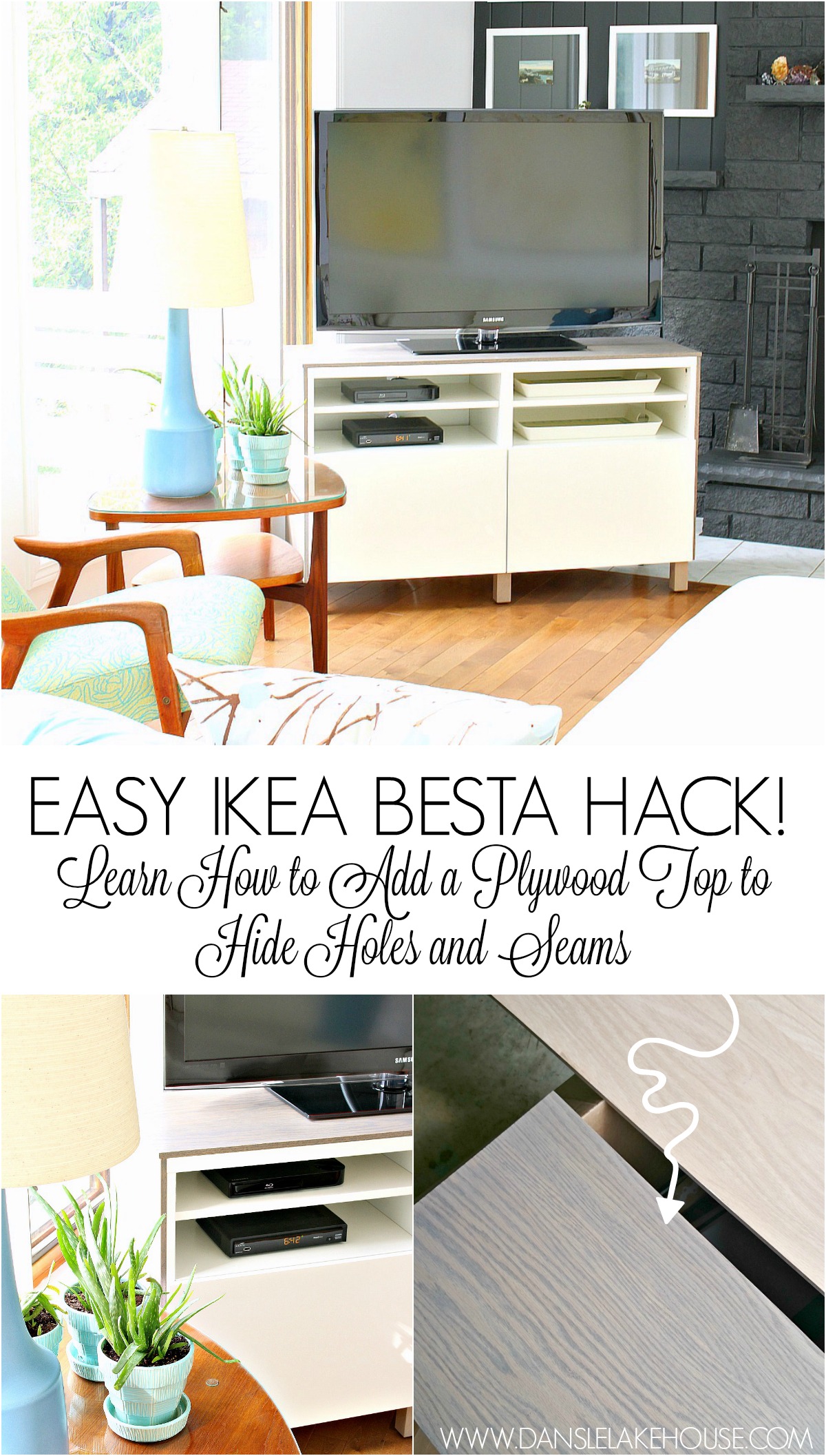 But there's a lesson in there: always double check and dry fit first! I hope you liked this easy Ikea Besta hack – it was a money-saving project for us because we're really in a "rock what ya got" place with out budget.