In the budget-friendly kitchen makeover my Mom and I are working on at her place, we're trying not to replace too many things and work with what's there as much as we can. Cabinets, counters, appliances – they're all staying. But the white acrylic sink (that Mom had to regularly bleach, thanks to years of use and the resulting cracks where coffee would settle and stain) and old faucet (with a dint from a knife – long story) were just in really rough shape.
Because the old sink was really bumming her out, she "splurged" on a basic – but new! – stainless steel sink and Pfister stepped in with an offer to review a faucet. Here's a peek at her new Tamera Pulldown Kitchen Faucet:
Thoughts on How to Choose a Kitchen Faucet:
There were many reasons my Mom chose the Tamera faucet.
Size:
My Mom loved the modest size of the Tamera. So many faucets today are designed for much grander kitchens than the one in my Mom's tiny, post-war home. She looked online at the specs, and some of the faucets would have reached really high on the window – or had a really substantial, chunky look – so Mom looked for a faucet that still had a graceful arc spout but wasn't so incredibly tall or heavy looking.
Style:
This postwar home has a lot of original details (almost all of the wood interior doors, thick wood trim, original hardwood floors, brass door hardware) but my Mom's decorating style is fairly modern, with some vintage and mid-century touches. We're going for a look collected over time. The Tamera doesn't look too traditional, nor does it scream modern loft condo – it's the perfect blend of old and new, a great option for a transitional decor.
Finish:
Although we're dabbling with some brushed gold, I'm encouraging my Mom to mix metals in her house. We liked the stainless finish on this faucet because it matches her new sink perfectly, so the overall look, even though we're mixing metals, won't look too busy or disjointed.
Features:
Having seen how wonderful a pulldown kitchen faucet is at my place (I have the gorgeous Lita in the stainless finish), my Mom wanted that same feature. It makes cleaning out the sink or filling a nearby pot so easy. I can't imagine my kitchen without this option! The dual-mode spray head is super handy too, so my Mom had that feature on her checklist. The optional deckplate was perfect, because the sink came with three holes. Beyond that, she wanted a single lever for ease of use, but no other bells or whistles.
Here's a peek at the "before":
You'll have to excuse the mess, but when I went into town to start the kitchen project, the clouds were forming and the whole house looked dark. I wouldn't let Mom putter or tidy because I needed to take "before" shots ASAP before I lost the light completely. But you get the idea: 1980s white acrylic sink with a standard issue 1980s faucet.
Already it looks fresher and newer!
Mom is THRILLED with her new sink and faucet – and kitchen progress in general. It's actually so sweet to see her beam with every new detail, even though in the beginning I really felt like we were just putting lipstick on a pig over there. Sometimes it's just nice to freshen things up a little, even if it's temporary and not perfect.
The faucet, however, Mom can take with her when she renovates for real.
I know I'm such a tease, doling out these tiny morsels of my Mom's kitchen makeover! The kitchen to-do list is progressing nicely, though, and this is what we've already checked off:
Paint cabinets
Paint walls
Paint kitchen/porch door
Repair and refinish laminate counters
Hide fluorescent light
Install new sink and faucet
Paint tulip table base
Still to do:
Reupholster vintage teak chairs
Find and stain solid wood round top for tulip table
Make art
Window treatment
Repair the floor and put down peel and stick flooring
Install new baseboard trim
Peel and stick backsplash tile (so excited to try that!)
Hang up new light fixture
Install under cabinet lighting
Accessorize!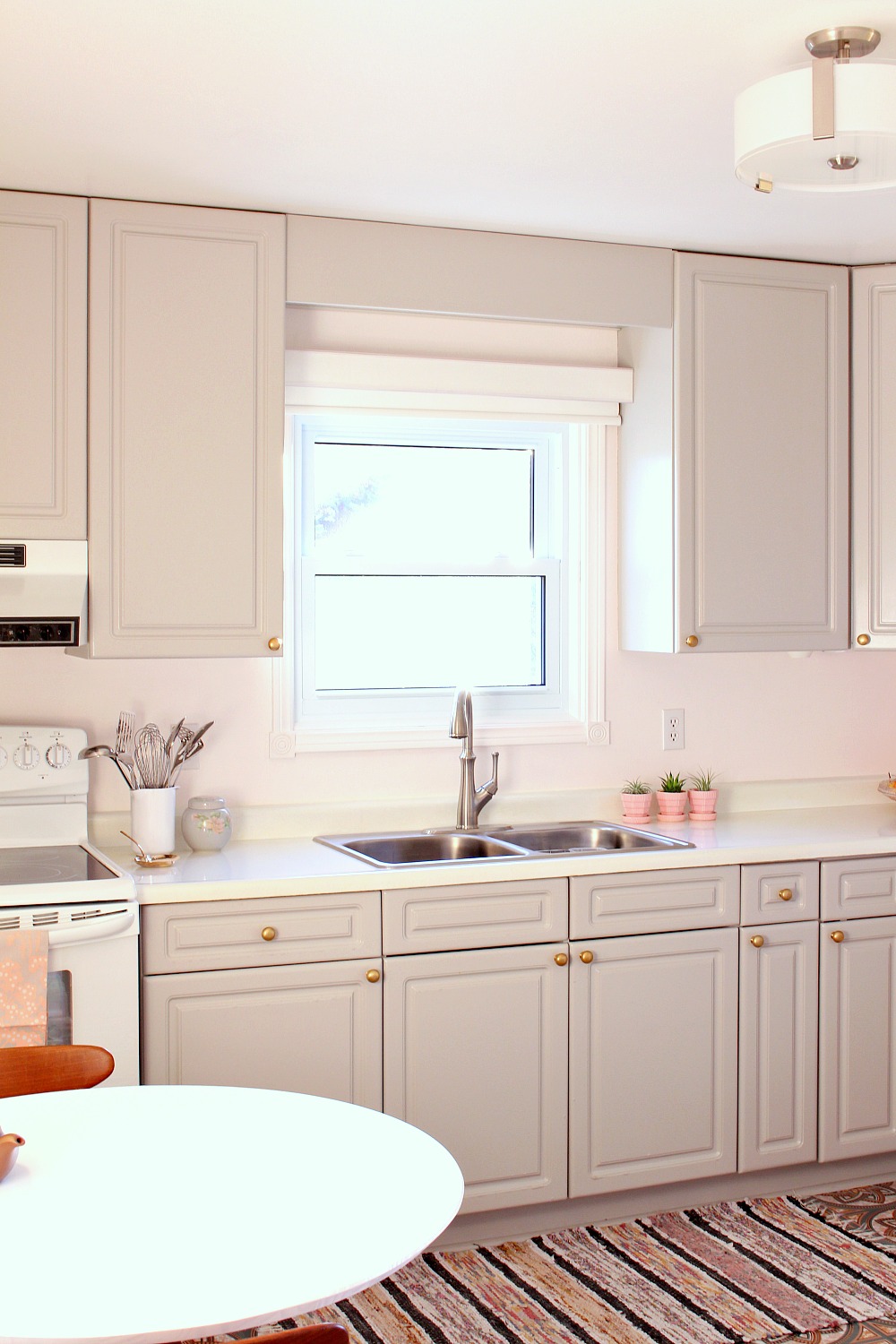 UPDATE: Check out the whole budget-friendly, pink gold & grey kitchen makeover right here!