Today I'm talking about my ceiling mounted shower curtain rod and DIY fabric shower curtain with removable liner – but the really exciting news is that the lakehouse bath reno is done! After all of our setbacks, do you want to know what held us up the most? This shower curtain! Oh well, it was worth it because this floor to ceiling turquoise shower curtain is so gorgeous. I love the chic ceiling mounted shower curtain rod and everything about this functions perfectly, so that's a win in my books – even if it took a lot of trial and error!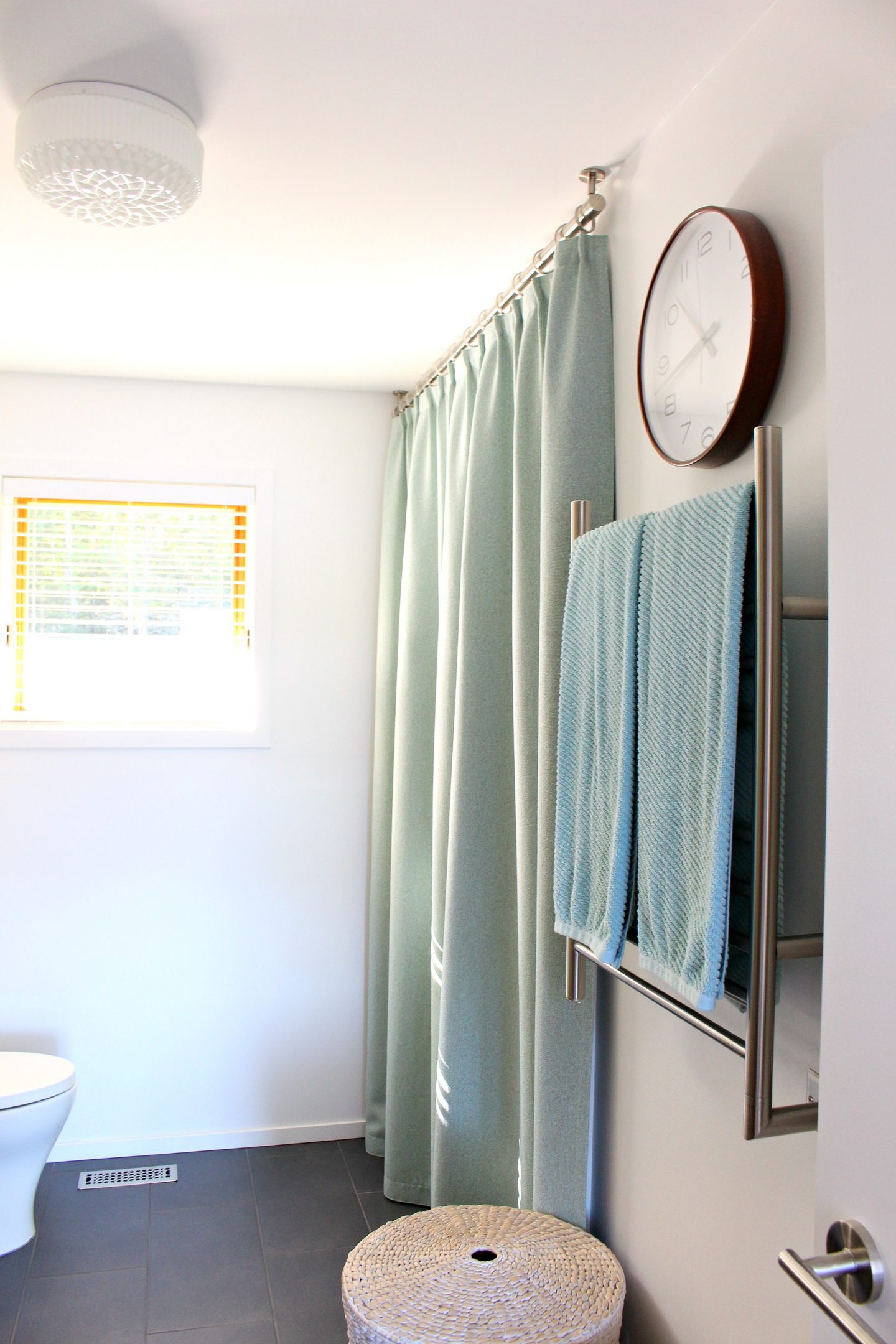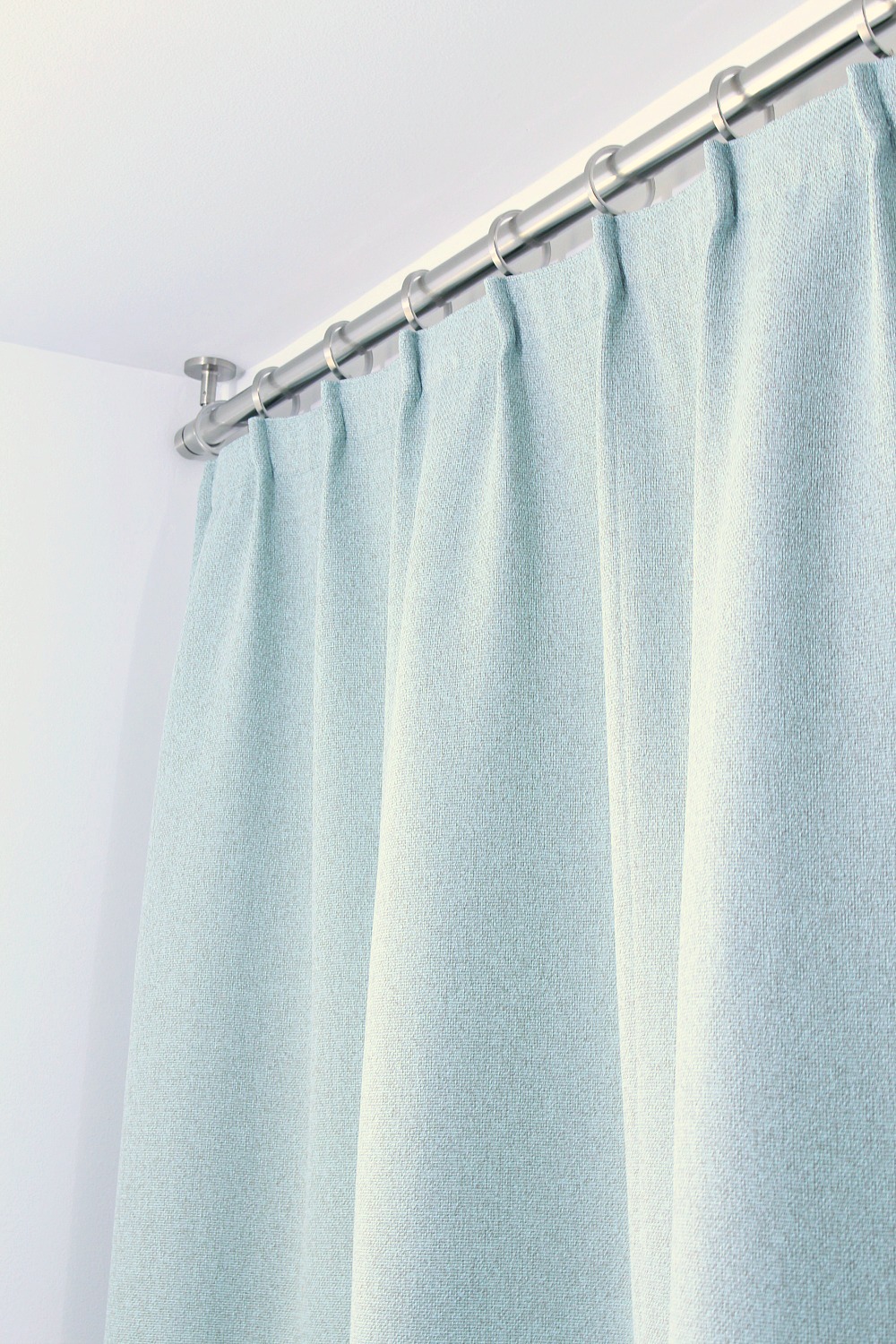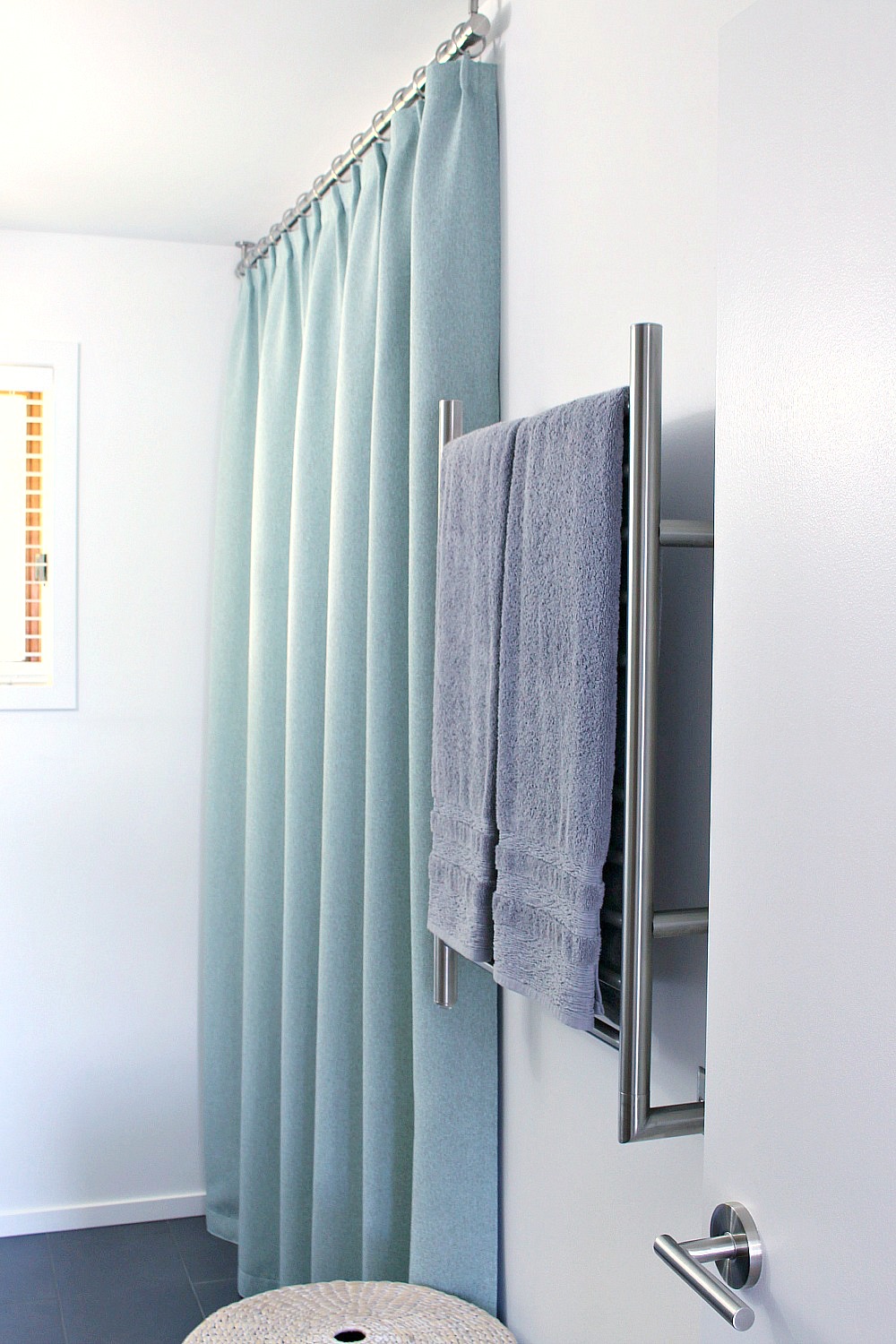 Here's a run down of the hilariously drawn out process, with DIY fails galore, plus I'll share how we made this DIY shower curtain and why we love our ceiling mounted shower curtain rod, with the fabric + liner shower curtain combo, so much.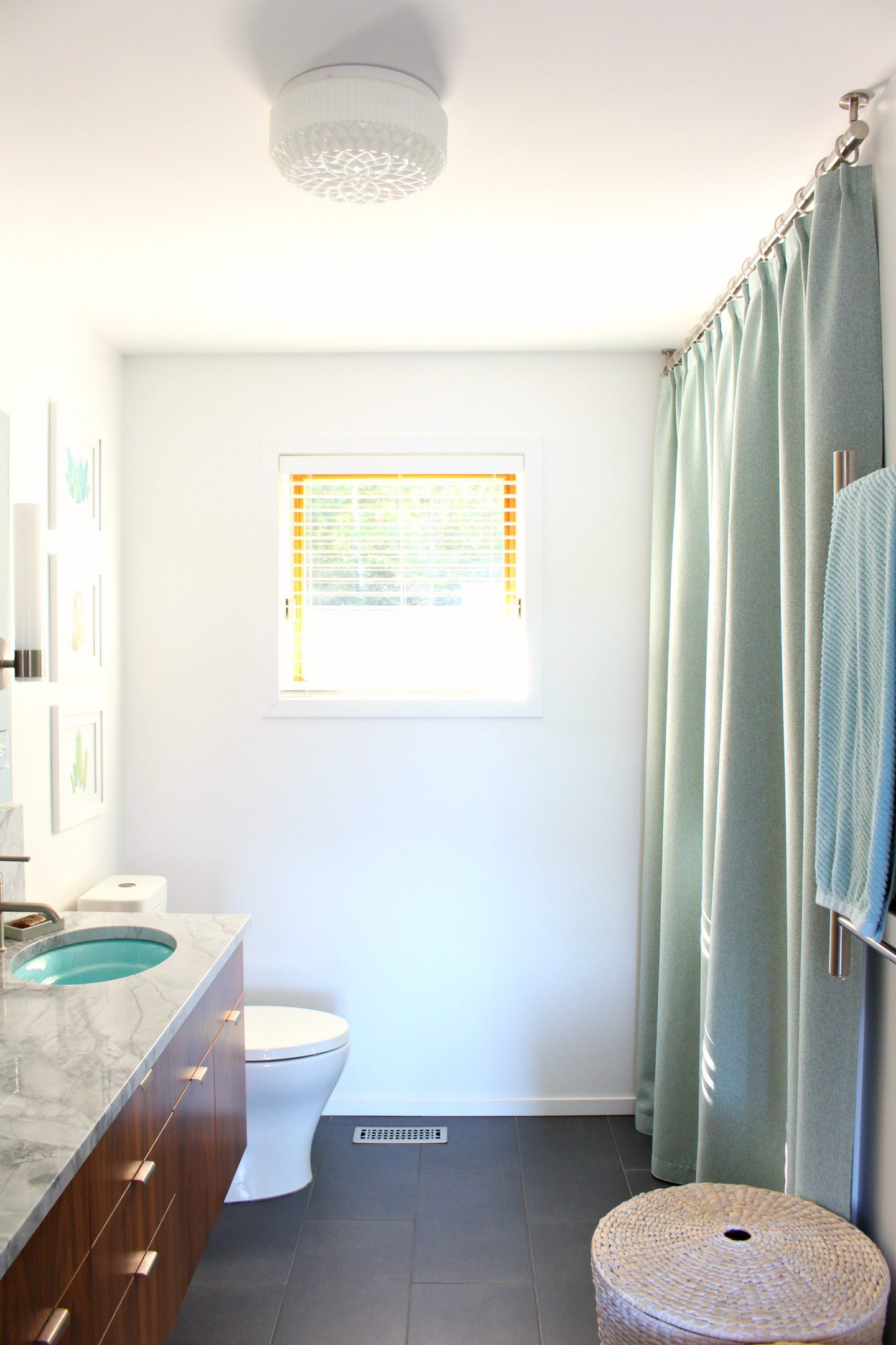 Plan #1 – Tension Shower Curtain Rod:
Before I got the ceiling mounted shower curtain rod, the plan was to slap up a tension rod and hang a pretty linen shower curtain. I wanted to try a fabric curtain + waterproof liner combo because it seemed like just the right amount of fancy for our new bathroom – something different than the polyester Marimekko Tuuli shower curtain we had in the townhouse bathroom (here's a similar birch tree shower curtain). The first tension rod we ordered arrived broken and we tried to fix it, but it still came crashing down one night. For the second attempt we searched high and low in our city, hoping we could examine it carefully for any defects before purchasing. We finally found one, but it didn't have enough of a surface area to grip our textured tile, so it came crashing down too. We decided we'd have to get a curtain rod that was affixed more firmly but, having realized how much work it is to drill into tile, neither of us wanted to tackle that – or tempt fate and risk cracking our freshly tile shower surround. More importantly, by this point I realized that I really didn't love the look of a shower curtain rod inside the shower nook because the height made the room seem stumpy. It was time to think outside the box.
Plan #2 – Ceiling Mounted Shower Curtain Rod: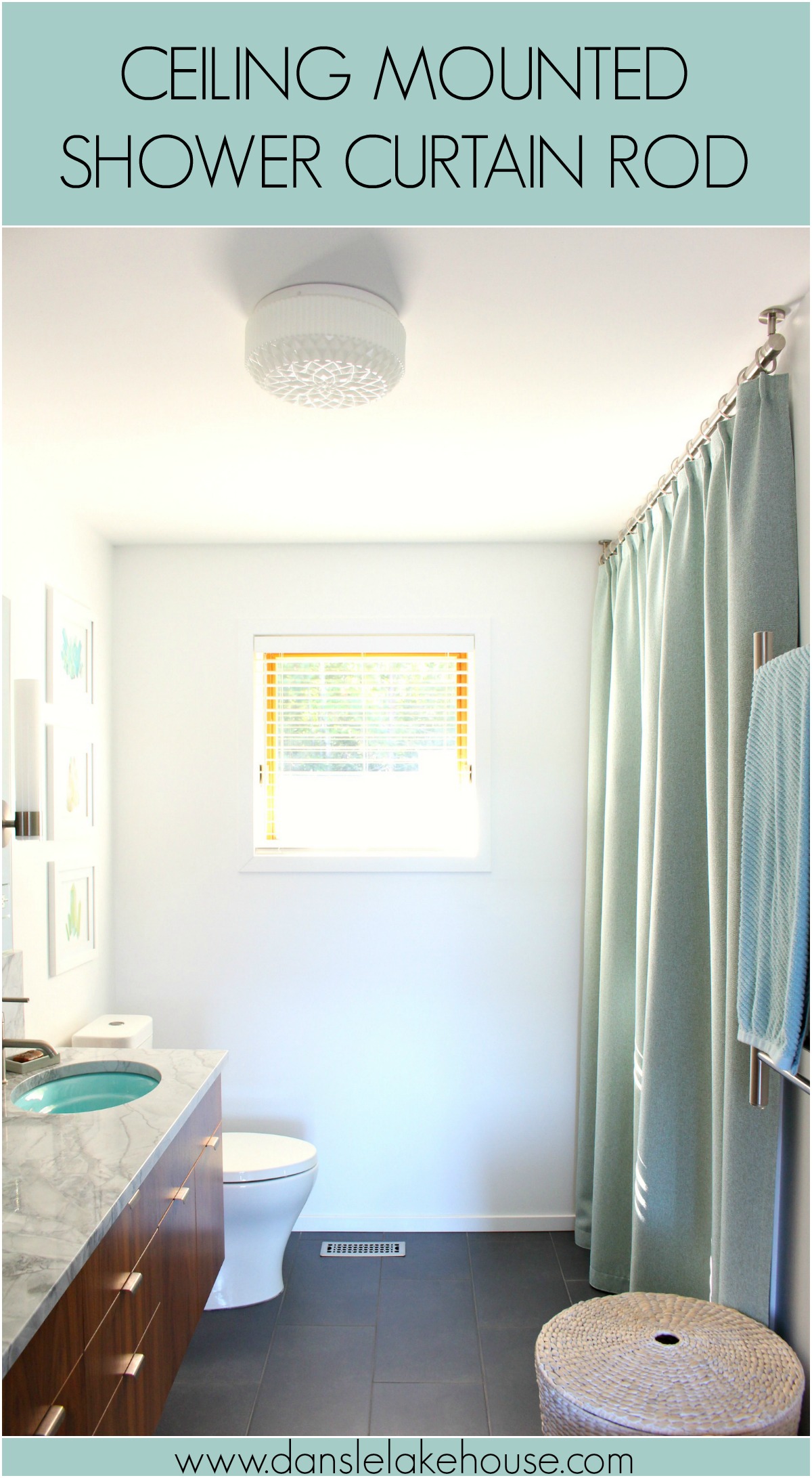 My Mom brought over one of the brushed nickel West Elm curtain rods from her bedroom and we played with some options: mounted right above the shower? Maybe placed a little higher, near the ceiling? It was the craziest option of all of them – a ceiling mounted shower curtain rod – that had Hubby, Mom and I oooo'ing and ahhhh'ing. A ceiling mounted shower rod made such a statement! The floor to ceiling height felt grand. Was it weird, though? I immediately took to Pinterest and found some inspiration in my Bathroom Design Inspiration board. This bathroom had a gorgeous ceiling mounted rod and it sealed the deal for me – but this one and this one made me realize it's really not that unheard of to go for a ceiling mounted shower curtain rod, even if I don't see it done that often. I was sold on the idea!
But we couldn't steal Mom's curtain rod (which West Elm discontinued), so we needed to find a simple, modern rod with small, ceiling mounted brackets and a brushed nickel finish. That is not an easy thing to track down! I looked online for weeks to no avail and drove to all of the home reno and curtain shops in town – finally tracking down the perfect rod (since finding one, I did spot a somewhat similar rod online, if you're looking for one). Mine was a custom order from Budget Blinds (which, at $200 for a curtain rod, wasn't as budget-friendly as I had hoped!). It took a couple of weeks to arrive, and then we still had to cut the rod to length ourselves and install it – you could see a sneak peek of the new curtain rod in my last bathroom update. The ceiling mounted shower curtain rod is excellent quality and it matches the Kohler fixtures exactly, which is important because brushed nickel finishes can really vary and some of them look very, very cheap.
Plan #2A – Gathered Shower Curtain:
I had decided against curtain rings, for some bizarre reason, hoping to create a similar curtain ring-less look as my DIY back tab curtains. I hatched a plan to add a channel to a store-bought shower curtain and my plan went horribly, horribly wrong. It looked so 80s! How did it end up so ruffly? Another week, and lots of thread, wasted.
Plan #2B – Curtain Rings:
Live and learn! I headed back into town to Budget Blinds to order rings, but the owner is the only one who can order things and she was busy so a week went by and I texted every day but she still didn't/couldn't get around to it. I gave up and was actually at Fabricland, buying curtain rings, when she called to say that the order had been placed. Curtain rings ultimately added a couple of weeks to my timeline, but I have to admit that these do slide reeealllly nicely and they look really sharp.
Plan #2C – Fancy Metallic Linen Fabric:
In the meantime, I realized the linen shower curtain I had bought, although it was supposed to be long enough, wasn't actually going to reach the floor everywhere. It hovered in a couple of spots because the hem wasn't sewn evenly. My Mom and I headed to Fabricland for fabric ideas but I also ordered some samples of a metallic linen. Those samples got lost by Canada Post and took three weeks to get here!
Plan #2D – Clearance Fabric Score:
The wait was good (bad for the fabric company, good for me) because I came to my senses and decided that it would cost way too much for this shower curtain (now it's $25-30 USD per yard, but when I was first looking is was around $45 and I would have needed six yards!). I just thought it would look so chic and upscale but, at the end of the day, this is a shower curtain and that fabric isn't even washable! In hindsight, the dark grey might have also really made the bathroom feel dark and dreary. At Fabricland I found a clearance fabric that was double the regular width (it's meant for draperies). I bought all of the yardage I needed for around $30! The light grey and pale aqua tie together my colors scheme and brighten up the room which, although blindingly sunny in the winter, is quite a bit darker in the summer thanks to heavy tree coverage behind our house (you can see the trees on this side of our house actually peeking over the roof in my DIY fire pit post). The best part about this fabric choice: I tossed it in the washer and dryer with no problems.
After my fabric finding victory, my Mom and I still need to sew the darn thing! We decided to add a soft, very minimal pleat so the curtain would drape evenly when closed. We used drapery hooks to easily affix the curtain to the rings, but they remove in snap for laundering. My biggest concern was that I wanted the shower curtain to wrap around and cover the shower opening at the edges, so you can't see a sliver of it walking by the bathroom. Success (and look at that gorgeous ceiling mounted shower curtain rod):
But here's where the real genius is: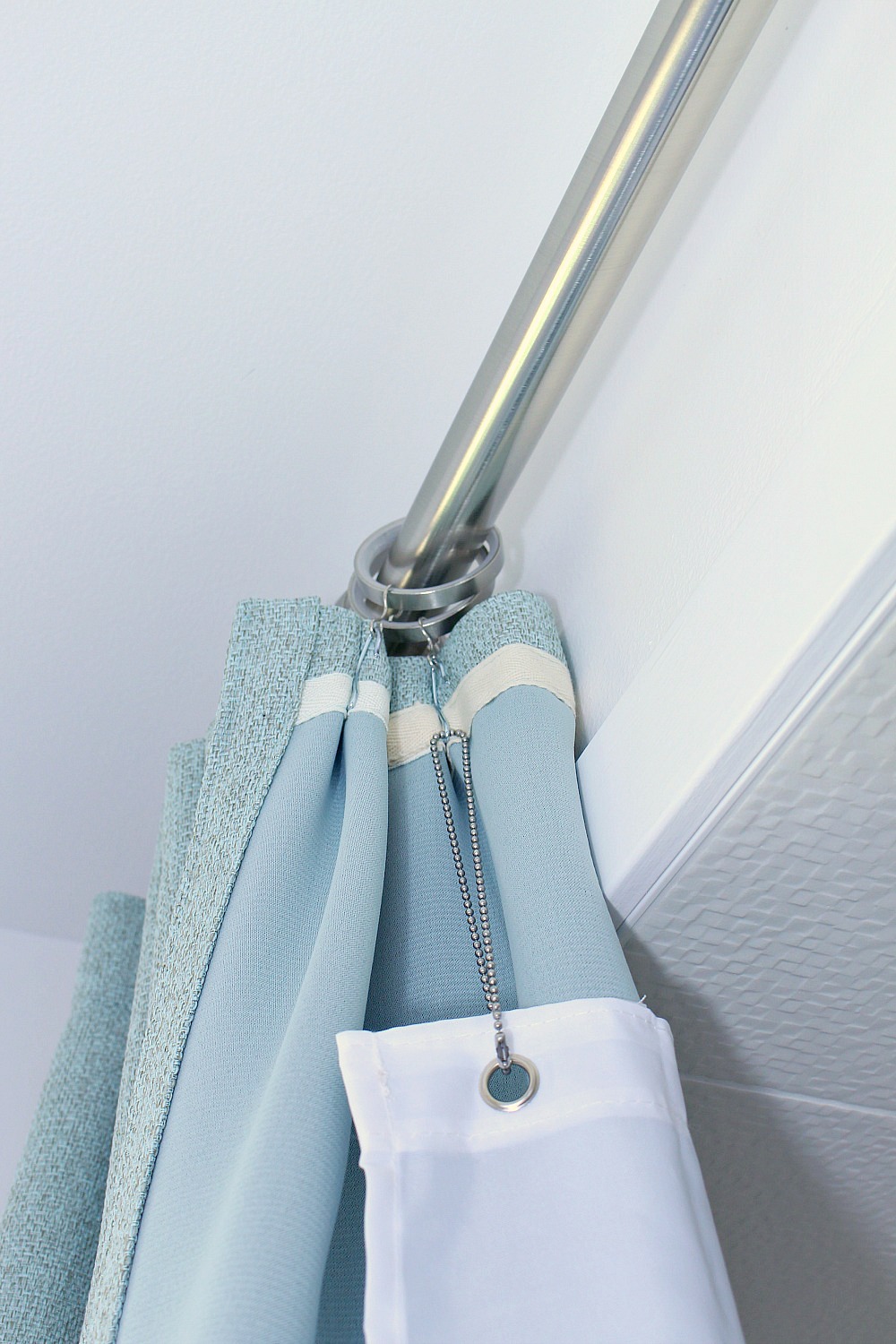 I wanted a separate curtain liner so I ordered the Hotel Fabric Shower Curtain Liner from Bed Bath & Beyond. It's excellent quality, with grommets and bonus little suction cups on either side to hold it in place (so clever). I wanted it hidden though, so we sewed the shower curtain with two more rings than the shower curtain has, so the liner starts one ring in on both ends, ensuring that it stays hidden when the shower curtain is closed. To affix it to the shower curtain, I used ball chain ordered from Amazon. I ordered 25 feet with connectors and just cut my own chain curtain rings. The ball chain links hold the shower liner to the curtain, but are easily removed for laundering the liner.
It took me a week to order the ball chain and another two weeks to finally cut it to length and get up on a step ladder to add the liner. By this point, I had grown a little weary of the whole shower curtain business because, frankly, I prefer a soothing bath these days anyway.
BUT this DIY shower curtain and ceiling mounted showed curtain rod turned out so beautifully, and it's so, so practical, so it was worth the fussing and fiddling and re-working our plans. Whew – hard to believe this shower curtain took longer to choose and make than anything else in the bathroom!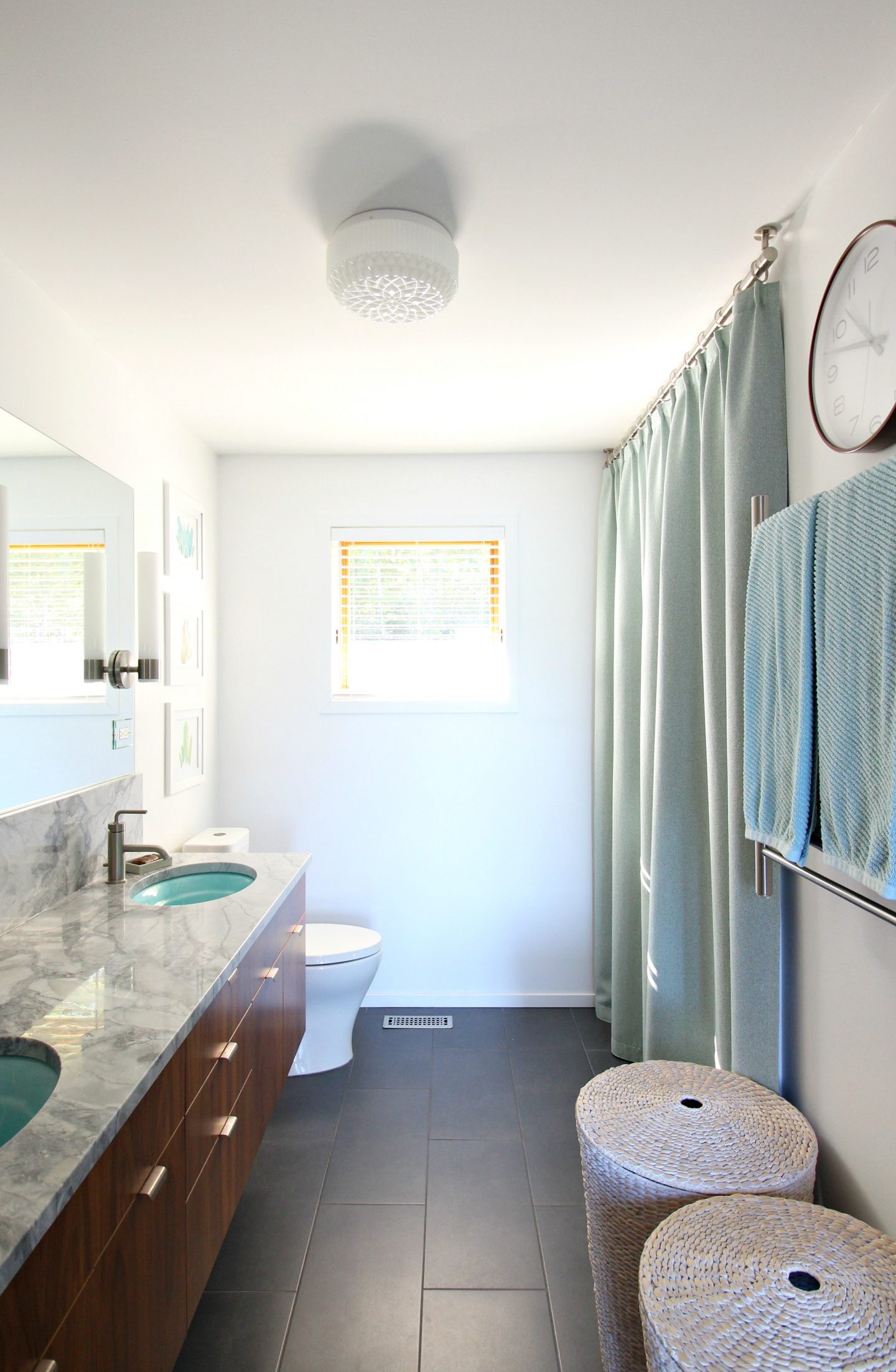 See More of the Bathroom Renovation Here:
Check out my mid-century modern inspired bathroom renovation reveal and if you're in the mood for more bathroom renovation magic – and another ceiling mounted shower curtain – check out my Scandinavian inspired bunkie bathroom renovation too! I have a way easier DIY shower curtain tutorial – with liner – right here, you just need to sew button holes.
P.S. Don't Forget to Pin for Later!