Today I'm showing you how Handy Hubby and I built a DIY waterfall desk using solid walnut countertops, which made this modern, streamlined DIY desk so simple to make!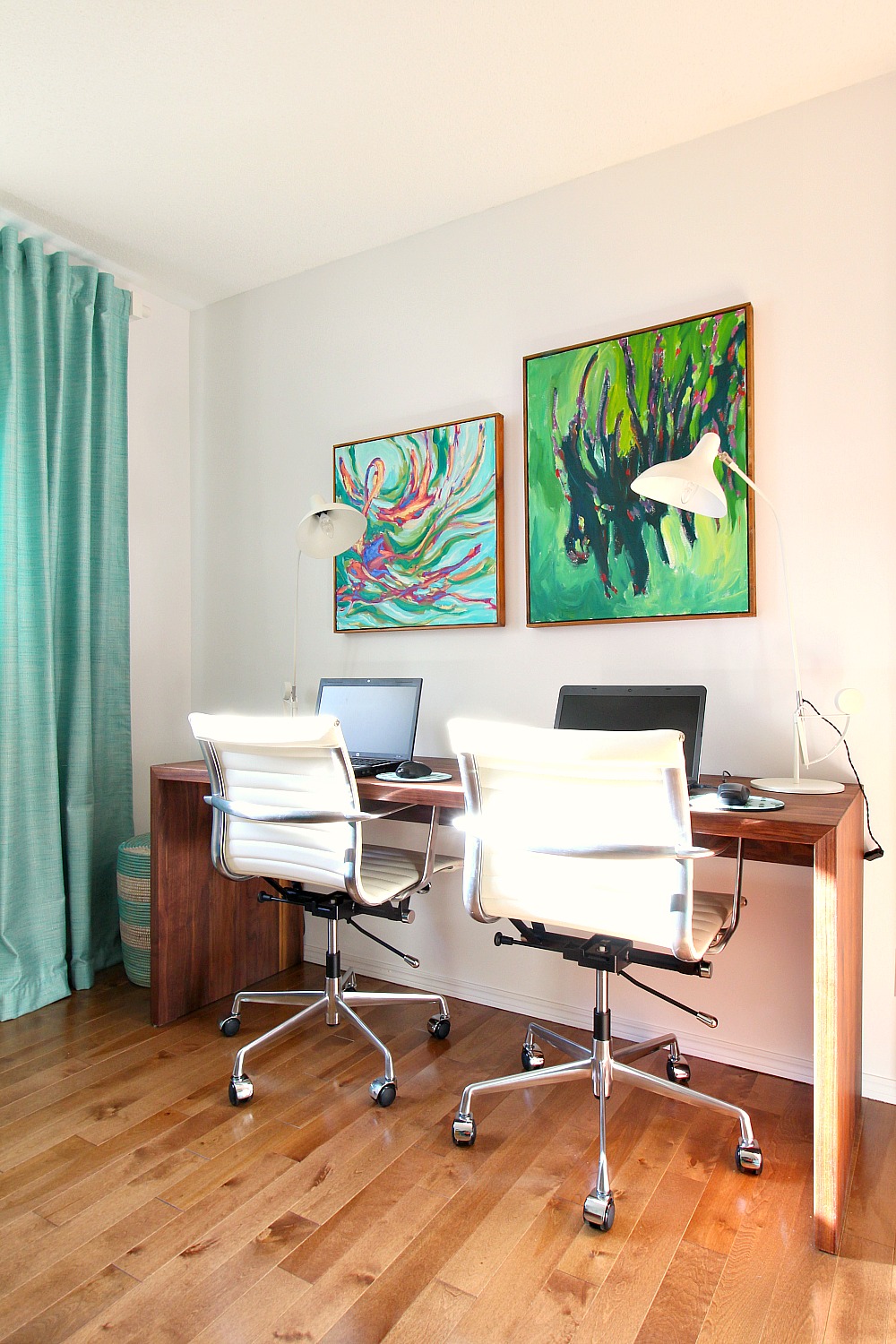 Yep, that's right: we are finally tackling our home office! I'm so excited to add more style and function to this workspace. To carve out a second workspace and reading nook, I had to say goodbye to my beloved, DIY sewing machine treadle desk. Hubby made the top for me way back in 2007. I was a graduate student and teaching assistant and I liked being able to spread out my marking and research. These days my work is way more contained, so I can definitely get by with smaller work surface. That meant we could create a desk for two, which would provide Hubby a space to use his laptop too (we sold his DIY welded wood top desk when we moved from the townhouse).
We spent over a year sketching out and pondering DIY desk designs – I devoted a whole Pinterest board to workspace inspiration and desk ideas! We were coming up with more and more complicated designs until one day we decided that we just wanted something simple: no drawers, no fancy welded legs, nothing motion activated, lol – just a modern surface that would help hide cords at the back. A mid-century modern look was on my wish list, too. The desk design we loved most? A simple solid walnut, waterfall desk:
In order to get a desk to fit our wall perfectly (and not impede access to the room by jutting out into the doorway), we decided to to tackle a DIY waterfall desk so that we could customize the height, length, and depth.
Let's chat about that DIY waterfall desk!
Full disclosure: Hubby and I fully intended to build this DIY desk ourselves at my father-in-law's woodworking studio, but once Hubby's Dad saw our plans – and the gorgeous slab of walnut we brought with us – he cleared his schedule and pretty much built this for us! Isn't he the best? Hubby helped him of course, but I mostly sat around the shop and played with the dogs all day, only stepping in for sanding (on the stroke sander!), some routing (which was fun!), and then hand sanding and finishing once we got the desk home. I'm the finisher, haha.
Want to make your own DIY waterfall desk? Here's what you'll need, plus the step-by-step tutorial – in case a bottle of Scotch won't entice any woodworkers you know to make it for you.
Supplies:
Solid wood plank (we ordered Black Walnut, 1.5″ plank counters from a company that no longer exists)
Table saw
Epoxy
Plate joiner (also known as a biscuit cutter)
Wood biscuits (as large as practical for strength)
Belt sander (we used a stroke sander)
Large selection of bar clamps
Four framing squares
Although Hubby and his Dad did a beautiful job building our solid maple kitchen counters from scratch, for this desk I wanted the tutorial to be a little simpler – and more doable – for blog readers, so I reached out to a now-defunct company that creates beautiful solid wood surfaces from different wood species. But you could use any solid wood countertop options from local lumber yards and DIY home improvement stores. The company sent me three pieces of solid black walnut (one 24″x72″ length and two 24″x31″ lengths):
How to Make a DIY Waterfall Desk:
The first step of this DIY waterfall desk was to fill the knots with epoxy. Hubby's Dad explained that this adds strength to the knot and fills the holes. Because the epoxy will sink a little into a hole before it sets, fill them in so the top is a bit higher than the wood surface. Larger holes might require multiple applications. You can also use wood filler, but epoxy dries in five minutes. Once the epoxy dried, we just sanded it smooth and now there's no hole, although the beauty of the knot hasn't been obscured.
Next, Hubby and his Dad cut the mitred edges on the table saw, at 45 degrees. It was tricky to keep the longest length of walnut level, so as to not distort the mitered edge, but they did an amazing job – it turned out perfectly.
Here's what the finished cut for the mitred corner looked like:
To add strength to the joint Hubby and his Dad used wood biscuits in the joint. Here is the bottom of the biscuit cutter when cutting the grooves. Hubby and his Dad worked carefully to ensure that the holes matched up with the corresponding piece in the finished mitered corner.
After that it was time to put the pieces on the stroke sander and make them nice and smooth. Hubby's Dad tackled this because it was very important that the edges were not rounded because we needed a nice straight, sharp corner for the assembly so the joint would be tight.
Before gluing, Hubby and his Dad spent a long time carefully dry fitting everything together to make sure it all fit and that they had all the proper clamps in place. It took awhile to figure out what clamp would go where and how to keep such a huge piece clamped tightly. Once the wood glue is applied you pretty much have one shot because the biscuits start swelling and will not want to be removed.
The framing squares were clamped in place and used as reference to make sure the legs were square to the top, which was placed upside down in the photo below. We put painters tape all around the glue joints to keep most of the glue that squishes out from going on the wood. Once we were ready it was simply a case of gluing the biscuits, putting it together and clamping it.
Even though Hubby and his Dad worked quickly, they still needed to persuade the joints together.
Whew! Everything was clamped together with a million clamps and then we went inside to have dinner. Later in the evening, once the glue was dried, we routed the edges of our DIY waterfall desk.
It was my first time using a router – I'm always stuck with hand sanding edges instead. I love a sharp, squared off edge but rounding it the tiniest bit not only strengthens the edge and prevents chipping, but it also makes it less sharp. The edges now are comfortable and smooth – great for when I'm tap-tap-tapping away on my computer…like right now!
Adding a Plank of Wood to Hide Cords:
The final step of construction for our DIY waterfall desk was to add the support piece at the back, which may be optional but we all decided that a little bit of extra hold is never a bad idea – plus this piece helps hide cords. We picked up a solid black walnut plank at the lumber yard and planed and sanded it before cutting it to length. It too was installed using biscuits and wood glue, and held with clamps.

In the photo below you can see the bracing piece we added for support more clearly. It's inset, so we affix our surge arrest power bar there and contain all of the cords between this channel we've created and the wall – completely unseen, but easily accessible from below.
Here's a better look at the how the plank of wood hides those cords – it's a simple idea you could borrow to hack many desk styles for cable management: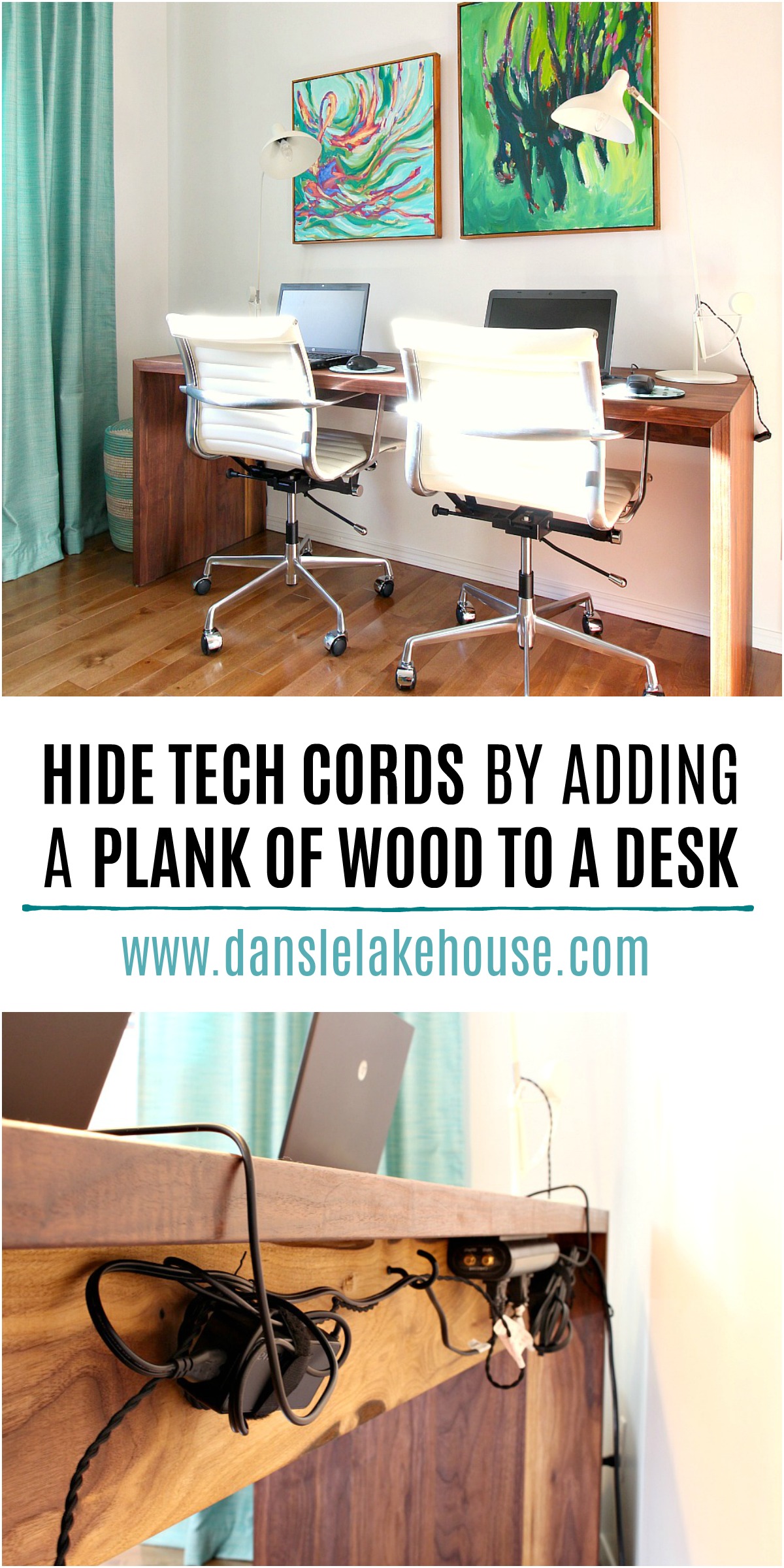 Finishing the DIY Walnut Desk:
Here's a look a the completed desk, before it was finished with Danish Oil:
Now came my part of the DIY waterfall desk project: a morning of hand sanding (moving from a 100 grit to a finer 220 grit) and then giving the walnut a coat of oil.
I've used different Danish/teak oils before, but this time I tried the Watco brand Danish Oil – in natural (although I'm curious about the different color finishes). It's an oil and varnish in one, so it was a quick process with no laborious burnishing or hand-rubbing required – although it gives the look of a hand-rubbed surface. The application was so simple: apply generously (watch for any areas that soak it up and apply more there right away), wait half an hour, apply another coat, wait fifteen minutes and wipe off. That's all! It penetrated into the walnut wood and created a rich finish from within. I will keep you posted on how durable it is, but so far the wood has been protected and looks great (it's been a few weeks). I love the velvety feel – it's SO smooth.
There are few things in life more satisfying than oiling walnut…
Look at the beautiful walnut grain! The finish really brought out the lustrous beauty of natural walnut. You can see my epoxy filled knots, too:
After the Danish Oil had cured, we added some felt feet underneath to protect our floors and that was it! Our DIY waterfall desk was done! All told, this took about a day and a half to build, sand, and finish. We love our new walnut waterfall desk!
UPDATE: check out the finished home office space right here!
From the doorway, the look is clean and simple – thanks to the waterfall style. I prefer this to legs for the location of our desk because everything is hidden and when you walk past, the room doesn't feel "office-y," which is nice because you can pretty much see in here from the front door (small house problems).
In these photos you're getting a peek at our new aqua tweed curtains (I talked about the fabric choice soooo long ago) and the art placement. But if you want to check out the completed mid-century modern inspired office makeover, check out this post right here! I love how my colorful home office turned out.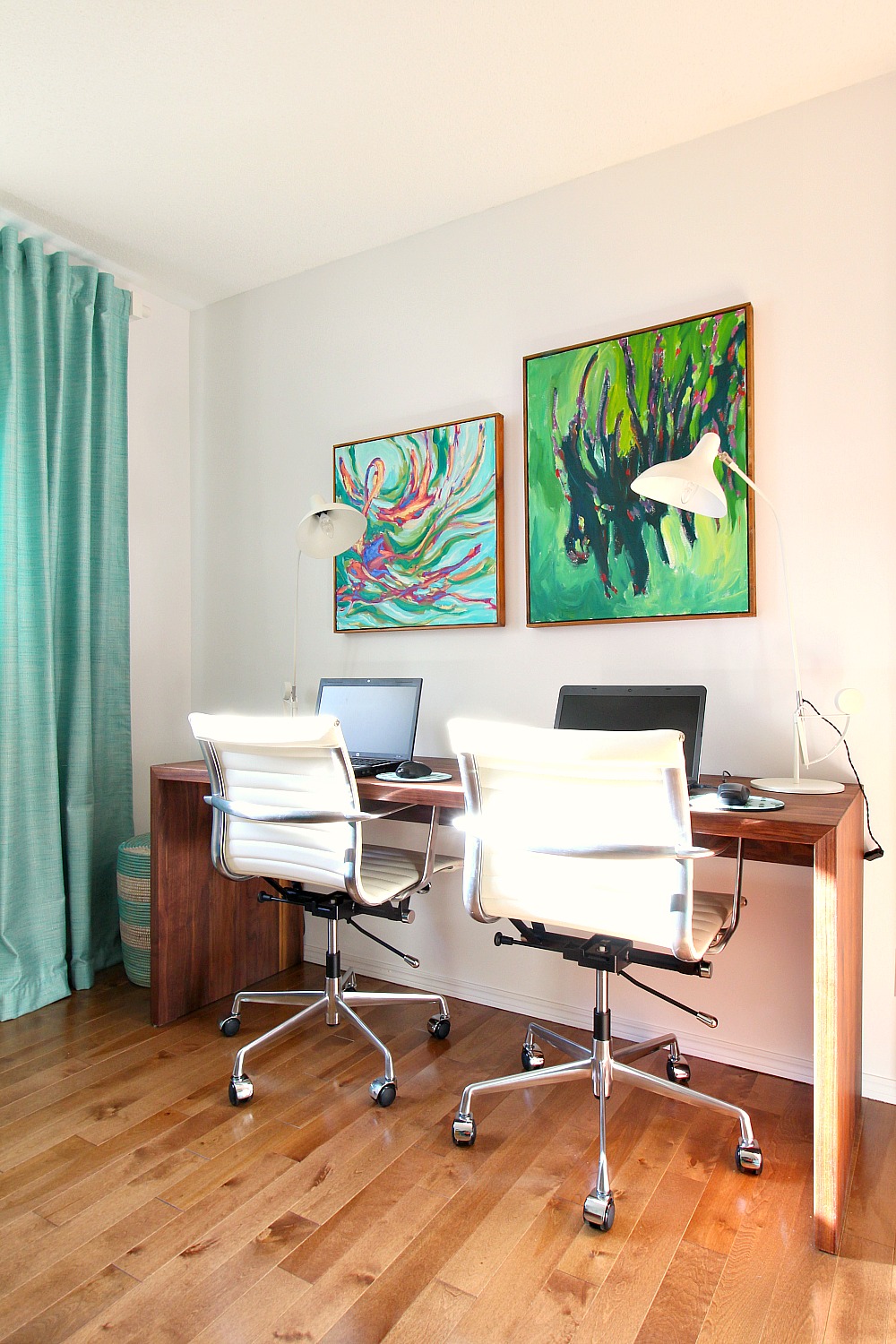 P.S. Don't Forget to Pin for Later!