Decorating a sailboat can be a little tricky because there are not a lot of opportunities for accessorizing – much to my disappointment. For one, there's no room – this is kind of like tiny house living, so minimalism is key. More importantly, things can go flying when Lake Superior pummels us, so pottery, potpourri, and anything else we can't shove in a latched drawer is a firm "no," it turns out.
But there are still many ways to update a 1980s boat interior because upholstery and other textiles can go a long way. When I shared the first tour of our Ticon 30 sailboat, you got a glimpse of the all-beige interior: beige headliner, beige fiberglass, accented with beige upholstery! I really find myself warming up to beige, cream, and off-white these days though, so I decided to embrace the beige and find inspiration in a moodier palette, with lots of rich blues. The cushions were shot – in such terrible shape, that the seller actually knocked a bunch of money off the asking price so we could get them replaced. I had a lot of fun choosing upholstery fabric and, after much deliberation, Hubby and I decided on a deep blue upholstery (Sunbrella Loft Indigo). Most colors made the beige headliner look dirty, but this rich blue made it look lighter and we figured it would hide dirt and muck well too. I turned down teal – TEAL – but I like the classic, nautical feel of this blue. It's such a gorgeous, rich shade and it really changes color when you look at it from different angles, which I love!
Here's quick trip down memory lane – for more photos of the "before," check out this post. The "before" photos were snapped with Hubby's phone when the boat was still tarped, so the quality is different but it's also shinier and gleamier now because I went through a bottle and a half of teak oil and removed about 16 garbage bags of stuff.
BEFORE
BEFORE
When you first clamber down the companionway into our boat, this is the view now:
We were both surprised by how much stuff was left behind by the former owner – some of it useful, some of it not. We spent weeks just sorting, emptying, cleaning; I vacuumed the headliner, scrubbed surfaces, sorted through drawers, oiled teak. Meanwhile, Hubby worked on the engine and tackled various repairs. The unexpected de-cluttering set us back a little and it's part of the reason we launched so late in the season, but it was necessary – and oddly satisfying!
On the port side (I've gotta learn this!), is a settee with fold down table and also a neat bed extender – plus the galley (kitchen). I changed the design of the settees a little, asking the upholsterers to remove the tufting and square off the corners for a cleaner, more modern look. I didn't show you the teak table when it's open in the first tour – it folds down and another section slides out to reach the other settee. Such a clever design! I like that it can fold completely out of the way.
The little galley is adorably tiny and I absolutely cannot picture whipping up anything more than a sandwich in there right now, but I'm sure I'll get used to it. I'd love to find a cute vintage stove at some point. But for now, a good clean and some irresistible (clearance) melamine bowls from HomeSense do the trick!
On the starboard side, there's another longer settee, the navigation station, and quarter berth:
Beyond the little door is a bank of tiny drawers, hanging storage, a teeny tiny bathroom (the "head") and the v-berth with more drawers. Fun fact: if I need to, I can scramble up the hatch in the v-berth onto the deck surprisingly nimbly.
This is the view looking toward the stern (back):
I love the new upholstery fabric and fresh new mattress-grade foam (so comfy!). My DIY ice dyed pillows look perfect in here and really brighten up the space! Now that it's clean and we're using the boat, I'm assessing what else we can do to spruce it up. I have a Pinterest board just brimming with nautical crafts and projects…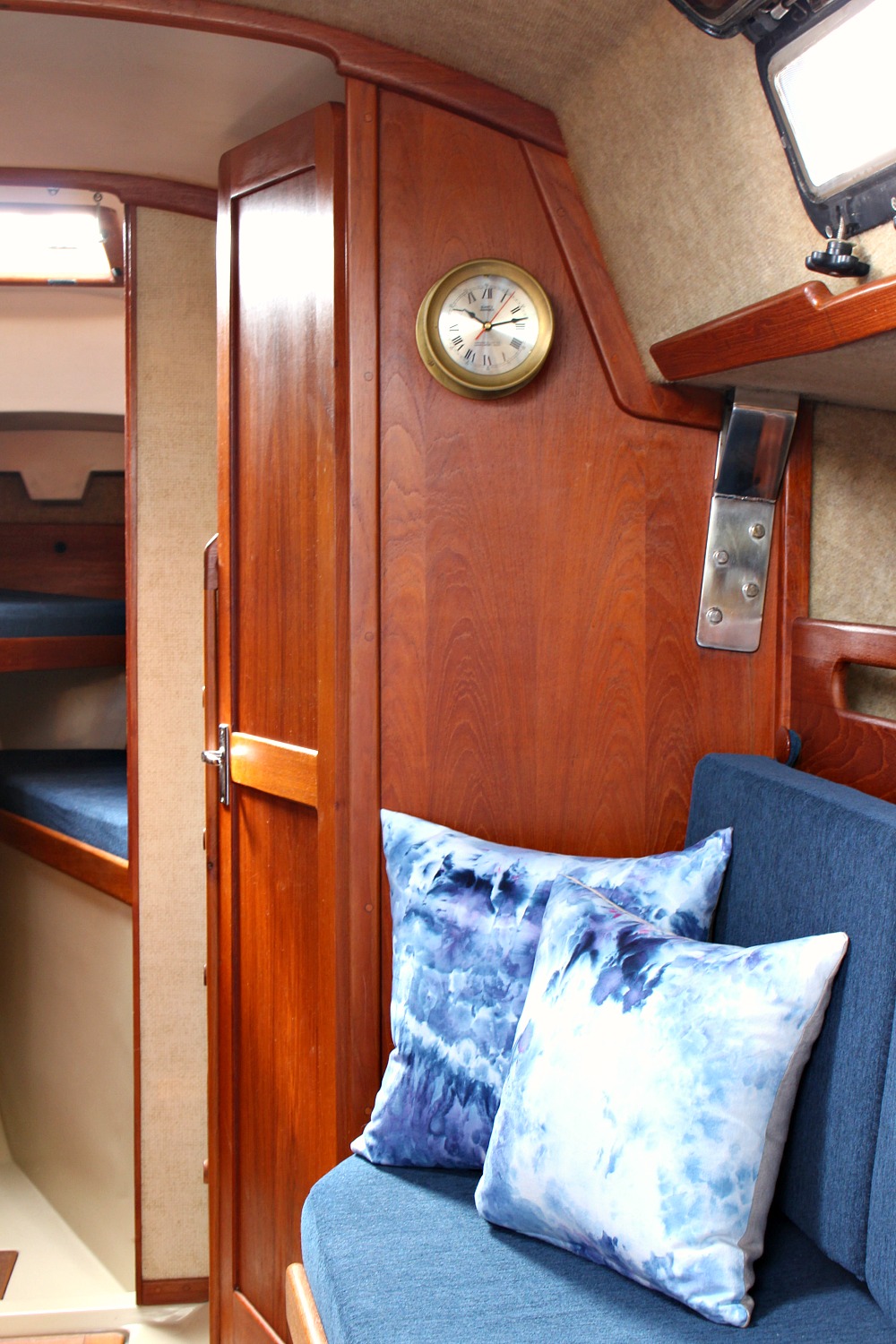 There is some terrible wall covering in the head and little storage area that I'd love to cover up, but I need to figure out what can withstand the moisture. We're eyeing a cute nautical wall sconce for more light – plus we'd like to upgrade the existing interior lights. I'd love to make some DIY fitted sheets and some sturdy, washable, cozy blankets – maybe a quilt? Lots more to do, but I couldn't wait to show you the update sailboat interior makeover!
P.S. Don't Forget to Pin for Later!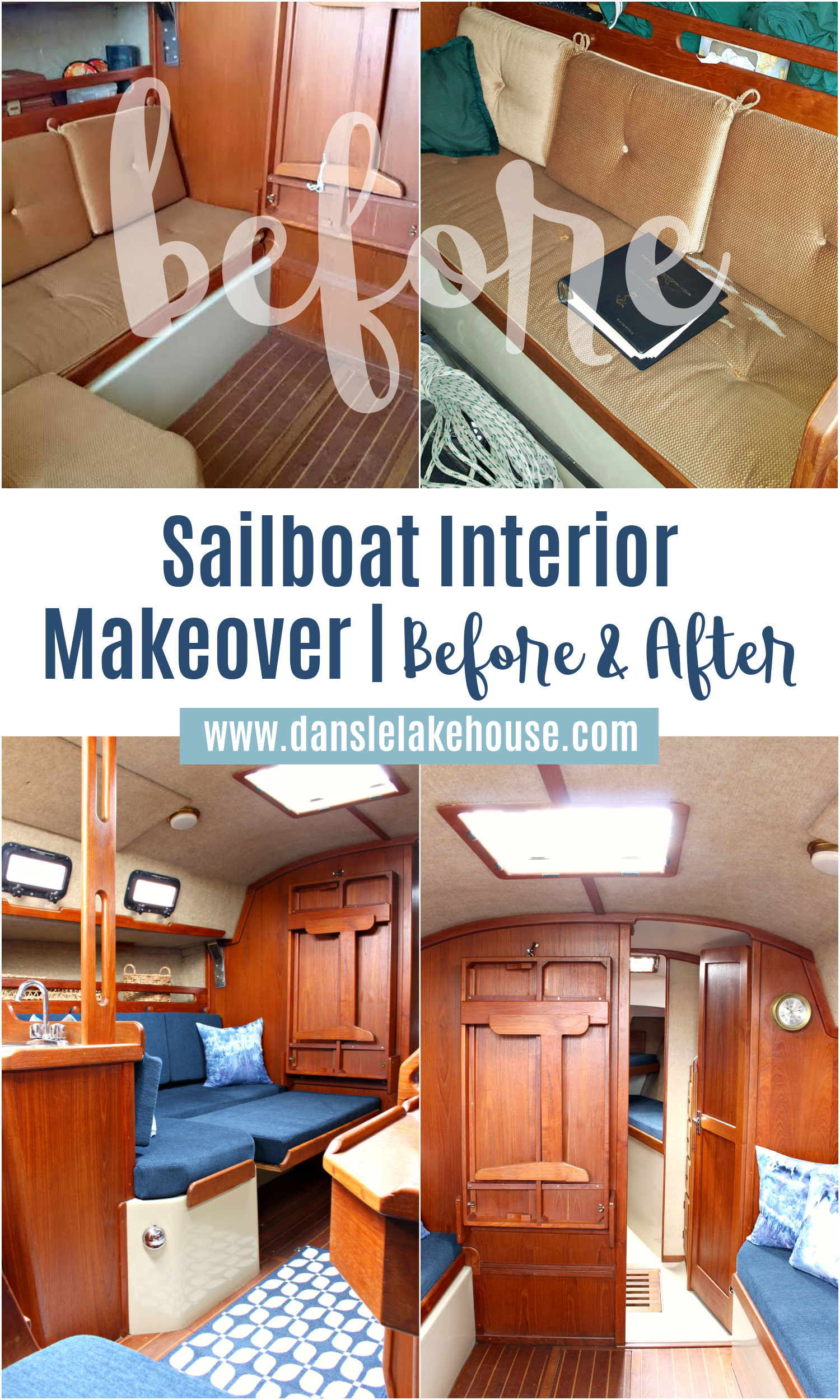 A huge thanks to Sunbrella for providing the Loft Indigo fabric. I am absolutely thrilled with the quality of the fabric and the gorgeous, deep shade of blue. I'm already eyeing up some other nautical fabrics to have our forest green bimini re-done…