Learn how to paint a vinyl floor and update your floors inexpensively with this thorough tutorial for DIY painted floors! Painted vinyl floors really hold up, I promise.
I'm sooooo excited to show you how to paint vinyl floors, because this cheap flooring DIY totally changed the look of our kitchen (and entry/laundry/powder room). When Hubby and I gave our oak kitchen a spunky turquoise makeover – painting the cabinets turquoise, ripping down the tiny awkward cabinetry for more storage in the form of open shelving, and building solid white washed maple counters from scratch – we left the vinyl flooring untouched. I often cropped it out of photos (like these), but you can spot it in a post about my case study planter: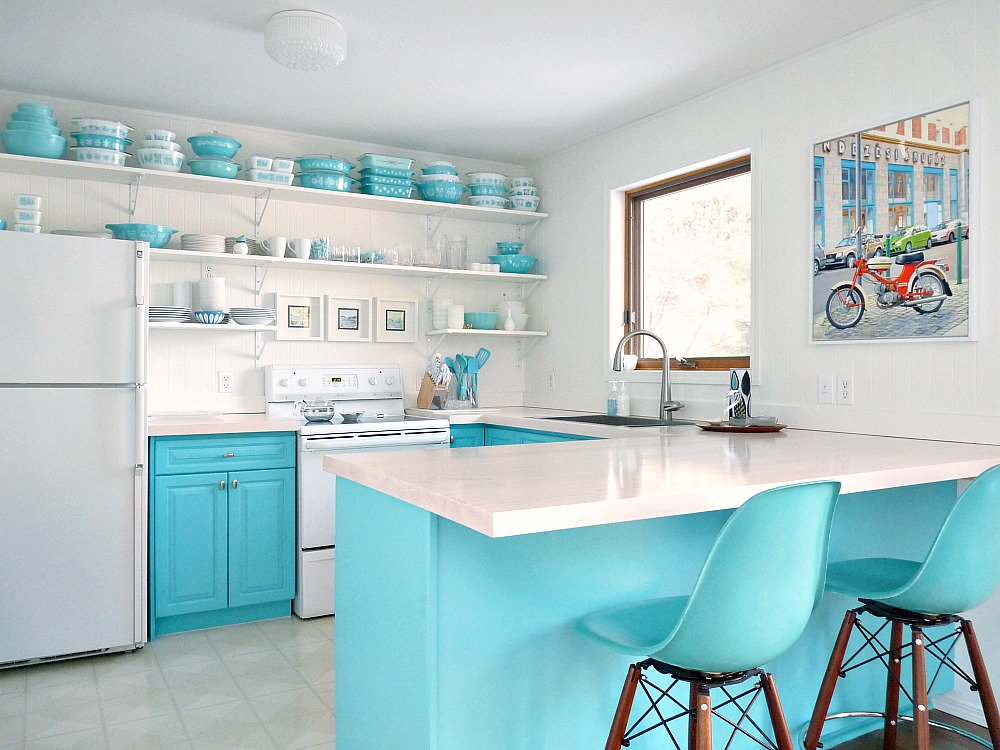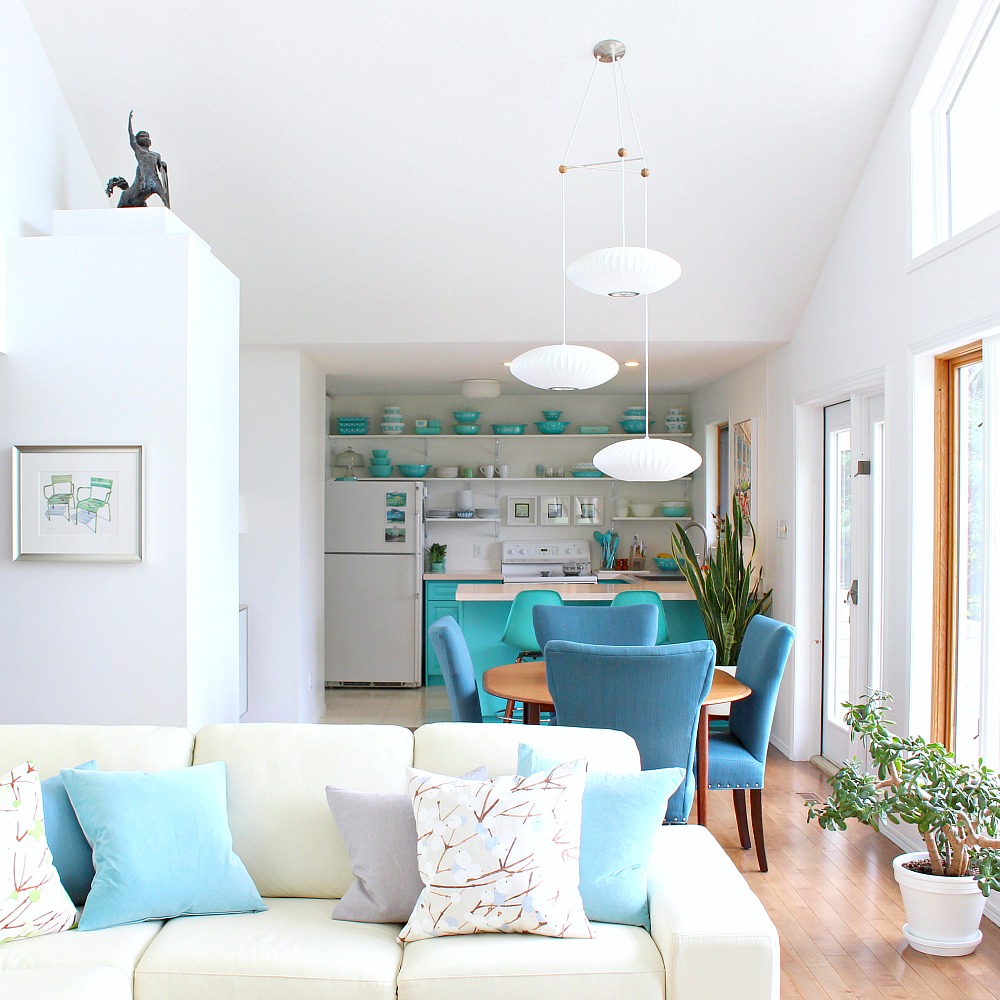 It was a cute enough pattern in a neutral, creamy hue with flecks of teal. It looked okay and because it extends into the adjacent entryway, shoe closet, laundry room and powder room, we were just too lazy to replace it! It would have been one of those mushroom jobs, where you end up just gutting everything. So we left the floors. They were, however, a little grungy and dirt loved to settle in deep gauges the former owners had made.
After the turquoise kitchen makeover was complete, I scrubbed the floors on my hands and knees, with a stiff bristled brush and caustic cleaner, and eventually made them look shiny and new. Fast forward exactly three days and the dirt and grime had settled in the deep scratches again. I had seen tutorials about how to paint a vinyl floor, but none of the rooms with painted floors seemed to be as high traffic as my space. I waffled between painting and doing peel and stick – until we finished the bathroom reno. I just loved how the matte charcoal grey tiles looked and decided I wanted to test out the same look in the kitchen and adjoining rooms. Unable to find the exact peel and stick tile, I decided to take the plunge and figure out how to paint a vinyl floor, figuring that if all else fails I could still do peel and stick. I had nothing to lose!
This was my orinial plan: paint the vinyl floors a charcoal grey, then add a clear coat with fine flecks of black glitter. I was hoping the floor would look less "painted" with the flecks of glitter. I was also banking on the subtle sheen and speckles disguising crumbs and dirt. Although the painted vinyl floor turned out so beautifully, I ran into a little trouble with the glitter, thanks to the clear coat not cooperating with the paint. Luckily, I like the plain look of the painted vinyl floor anyway! If you've been eyeing up an ugly vinyl floor in your house, here's how to paint a vinyl floor – along with some tips to make painting a floor in a high traffic area (like a kitchen or entryway) a little easier.
Supplies:
Cleaner (check for compatibility with primer/paint; TSP, for example, is not recommended by Zinsser – a TSP substitute like Krud Kutter would be better)
Sandpaper and Sanding Block (we used 120 – you can also use a circular sander)
Zinsser 123 Primer, Tinted
Porch and Floor Enamel (I used PPG's "Knight's Armor" – Behr's "Graphic Charcoal" is nearly identical)
Paint Tray + Liner
Rollers
How to Prepare to Paint a Vinyl Floor:
Like most DIY projects, the prep work is the most important. This will sound silly, but I spent an entire day getting the kitchen ready before we even touched the floor. I batch cooked a week's worth of meals and stockpiled easy to re-heat grub. I washed a bunch of laundry, washed all of the dishes, emptied the dishwasher, grabbed some paper plates and the microwave from our basement and thought about how we'd live without access to the kitchen, laundry room, and front door.
How to Prep a Vinyl Floor for Paint:
On the advice of the folks at the paint store, Hubby and I thoroughly scrubbed the floors with a stiff bristle brush and TSP, which we realized after isn't recommended by Zinsser, but we rinsed it well and so we had no problems – but I recommend a TSP substitute. Then we scuff sanded, which didn't really take that long. A circular sander (which we don't have) would make light work of this task. Finally, we washed the floors once again and rinsed really, really well so no residue remained. Then we moved the appliances out of the way. Taking the time to prep the floor is the most important step in the process for how to paint a vinyl floor. Without properly cleaning and sanding the floor, the primer and paint my not adhere well.
How to Prime a Vinyl Floor for Paint:
We waited for the floors to dry overnight and then applied a coat of Zinsser 123 primer the next morning, which I had the store tint a dark grey.
When it came time to figure out exactly how to paint a vinyl floor, we treated painting the floor a lot like painting a wall: we edged with a paint brush around the perimeter and then rolled the primer on to the rest. I free-handed the edging because I knew if I taped it off, I'd surely miss places and leave a sliver of beige vinyl tile.
Here's an important tip: I kept a swiffer cloth handy and quickly wiped each area before painting, just to catch any rogue fuzzies (I caught a lot!). Any place where we primer or painted over a crumb (it happened a few times), when the crumb was finally knocked loose, we were left with a bare spot to touch up, so making sure the floor was spotless was essential to good adhesion and a nice looking paint job. Again, the prep is really the key part of how to paint vinyl floor.
What Kind of Paint to Use on Vinyl Floor?
When painting a vinyl floor, it's important to use a high quality primer and a Porch and Floor enamel designed to take foot traffic. The Porch and Floor enamel we used was the same brand of Porch and Floor enamel I used for the DIY painted particle board floor I tackled (I used a different brand, but the same kind of product, for the DIY painted concrete floor in the townhouse laundry room).
How to Paint a Vinyl Floor:
Once the primer had dried for 24 hours, we pushed the appliances back. The primer and paint were really similar and I was really worried the appliances would scratch up the finished paint job. After pushing everything back, we started applying the paint. With the tinted primer dry, painting the vinyl floor went smoothly. Just like with applying the primer, we edged around the perimeter with a paint brush and then rolled the rest of the paint on, being careful not to paint ourselves into a corner. I used a tiny brush to get in between the wall and the side of the appliances – you cannot see back there at all, anyway.
One problem to watch out for: the floor enamel did not like being applied to drier areas, so we had to work quickly and keep a wet edge.
We applied two coats, waiting 24 hours in between coats. We lit a fire in the fireplace on one damp evening so the house wasn't too humid, to help the paint dry. 24 hours after the second coat, it was fine to walk on, although we were careful to only wear socks and not drop anything sharp. Szuka (our 120lb pup) was banned! If you came here looking for info on how to paint a vinyl floor, that's it! This floor has held up for years (from 2016-2022, when we finally renovated) and I'm so, so happy we tried this idea because I love the look. Neighbors who came by were even convinced we got new floors – no one guessed it was painted vinyl.
How to Mess up the Glitter Top Coat (lol):

After letting the second coat dry for 36 hours, we started with the glitter top coat. I had bought a clear coat recommended by the paint store employees and I purchased a pound of glitter. They were dubious about my painting a vinyl floor plan, so I knew I was taking a risk.
I poured a third to one half of the bag into the clear coat (which I poured into a clean pail, first) and mixed really well. I brushed it onto my paint stick to get a feel for how glittery it would be, and it looked perfect! Just a hint of sparkly, not a full on glitter floor. The clear coat was milky but was supposed to dry clear.
We got our supplies ready and started to apply the clear coat to the floor when we both noticed it was sort of seizing up. We quickly washed it off and ran to the garage to do some testing. Was it the glitter? The vinyl? The paint? I applied the glitter top coat to various surfaces: painted trim scraps, a stained piece of wood, the stir stick with floor paint on it. Every surface was fine (and SO pretty) except for the stir stick – the paint and clear coat were reacting.
The Results of My Painted Vinyl Floor DIY:
We decided to forgo the glitter top coat. The folks at the paint store did some testing, and in the end it was a problem with the paint and clear coat. They provided another gallon of clear coat free of charge, but I never did tackle the glitter floor because, in the meantime, the solid grey really grew on me. The matte look does really mimic the painted fireplace and the bathroom floor tile, so the cohesion and flow in the house is looking pretty darn awesome (time for an updated house tour!). And I'm just loving that the floors no longer sport streaks of perma-dirt:
A couple of my photos have some lighter spots in them – I think my camera lens needs a cleaning, because those do not exist in real life – the floors look evenly colored.
How Does a Painted Vinyl Floor Hold Up?
UPDATE July 2022: the painted vinyl floor held up so well! Primer takes a full seven days to harden – and the paint thirty – so I kept Szuka and her claws away for awhile but she hasn't caused any major damage since. Even with two dogs and lots of sand and gravel and rough material that gets tracked in, the floors looked amazing over the last 6 years. There eventually were a few light scuffs to the paint but no scratches and NO beige vinyl peeking through – until we renovated the kitchen. At that point, it got a little beat up and some flecks of beige appeared but that's because we beat it up during the renovation. For 6 years of normal, "hard" wear with shoes and dogs, it held up amazingly well.
My Tips for Painting a Vinyl Floor:
If you don't use the EXACT products I used, chat with the pros about what products to use – not all primers can withstand foot traffic.
Spend a few days making a list about what you'll need from the room(s) you're painting because it will be off limits while the paint dries.
Read the can labels and don't defer to paint store staff – do your own research too!
Don't skip the prep work: clean, sand and prime properly for maximum adhesion.
Keep a dry swiffer cloth handy to wipe each spot before applying primer and paint because little dust bunnies and flecks of stuff prevent paint from adhering properly.
Edge and roll just like you would a wall, making sure to keep a wet edge
Keep dust, pets, and people out of the area to avoid any pesky dust bunnies or hairs getting stuck in the fresh paint