This mid-century tulip table makeover has taken me since 2010 to accomplish. That's when I scored a tulip table base at a yard sale for $5.00. I know that at least a few of my wonderful readers have been with me since the beginning – did you ever think I'd finally get around to giving this tulip table a makeover? No, me neither… But here it is! And I've been so excited to show you this mid-century tulip table makeover – I hope it was worth the wait 😉
I really love tulip tables, but in the townhouse we already had a really gorgeous mid-century teak table in the kitchen and another one in the dining room. My Mom ended up stealing the base from me, but because the apple didn't fall far from the tree, she didn't do anything with it for many years either. So it sad, unloved, like this:
Poor little tulip table.
In the process of tackling her budget-friendly kitchen makeover, Mom jettisoned the dining table that was in there. My parents live in a small, post-war home with no dining room and a small eat in kitchen, which drove my Mom nuts because when there were people sitting at the rather large, square dining table, she couldn't open the stove, the fridge, or even leave the kitchen very easily. Finally following my advice, she moved the dining room table from the eat in kitchen to the rather spacious living room. Even though Mom had decided by this point that she wanted the kitchen 100% table-free, I thought that a smaller table with smaller scale chairs would afford us a nice spot to have a cup of tea when I visit, without using as much floor space and disrupting the flow, so I rooted around in her garage until I found the old tulip table base and forcibly made her use it in the kitchen.
First I gave it a new look – and found a new top! Here's how my mid-century tulip table makeover unfolded.
Painting the Tulip Table Base:
The first step in my mid-century tulip table makeover was to revive the metal base (the existing white finish was scratched and chipped and just really worn). I scrubbed it clean, gave it a light sand, removed any dust with a tack cloth and then applied many light coats of Rust-Oleum's Universal Metallic in Pure Gold – the same paint I used for the typewriter table makeover awhile back. (This table is most definitely a knock-off tulip table – vintage, but still not a real Saarinen – so I didn't feel guilty about re-painting it.)
I LOVE the tulip base now because Mom's kitchen cabinet hardware is brushed gold (thanks to our little DIY) and so are the hairpin legs on the new pink dog bowl stand we made.
Finding a Replacement Tulip Table Top:
Finding a replacement tulip table top was trickier – but it was a key part of this mid-century tulip table makeover. We could have made something from scratch (walnut!) but Mom's not 100% committed to the table being there so, instead of spending the time and money, I just ordered a cheap pine table top online. I didn't love the profile, though:
I wanted the profile to look more like this. Not to worry! When Hubs and I went to my father-in-law's for some wood chopping, I lugged along the table top and my father-in-law routed the edge with a 45-degree chamfer router bit.
It was a bit tricky to do and my father-in-law said it's easier to just cut the edge with that angle in the first place, as opposed to shaving off a small amount after the fact, but he managed to change the profile:
Looking for an Inexpensive Tulip Table Replacement Top?
This kind of round top can be bought in a lot of home improvement stores for really cheap and you could just use it as-is. But if you want to change the profile, this doesn't take very long so a woodworker in your area might do it for a small fee. As well, if the local high school or college has a woodworking class, a Starbucks gift card might be all you need to get an edge routed. You might also want to check out some shops on Etsy that make and sell this kind of wood top and see if they can route the edge during manufacturing. There are other options as well: this table top on Amazon is more money, but it already has a more delicate profile. This solid reclaimed wood top is kind of neat too. If you're not a mid-century purist, it's fairly easy to track down an affordable solution for your own mid-century tulip table makeover.
Painting the Tulip Table Top:
With the edge routed, I gave the table top a light sand before applying light coats of Rust-Oleum Gloss White spray paint. My Mom loathes pine (and it doesn't take stain well anyway) so I opted for paint instead of stain. I also wanted to add some lightness into the kitchen because although we kept the counters white, the white cabinets were painted light grey and her once white vinyl floor was replaced with a darker, busier patterned floor – which you can catch a sneak peek of in these photos. A white table top was was a welcome addition.
To pair with the table, I loaned her (who am I kidding? I'm never getting those back) my teak dining chairs from the townhouse kitchen. Remember how I lovingly upholstered them in black and white houndstooth? I laughed at the person who would have to remove all 1,000,001 staples. That person was me. But it was worth it because the new fabric – a gorgeous, luminous gold tweed ($5.00 on clearance from Fabricland – this is similar) is the perfect fit for Mom's style because she has pops of this hue elsewhere in the house, so the whole place is starting to look really pulled together – plus it pairs beautiful with the gold tulip base and teak chairs. As much as I love blues, it's so much fun to experiment with a much warmer palette at her house!
And so, after a little budget-friendly mid-century tulip table makeover, here is what that poor little abandoned tulip table looks like now:
Such a change!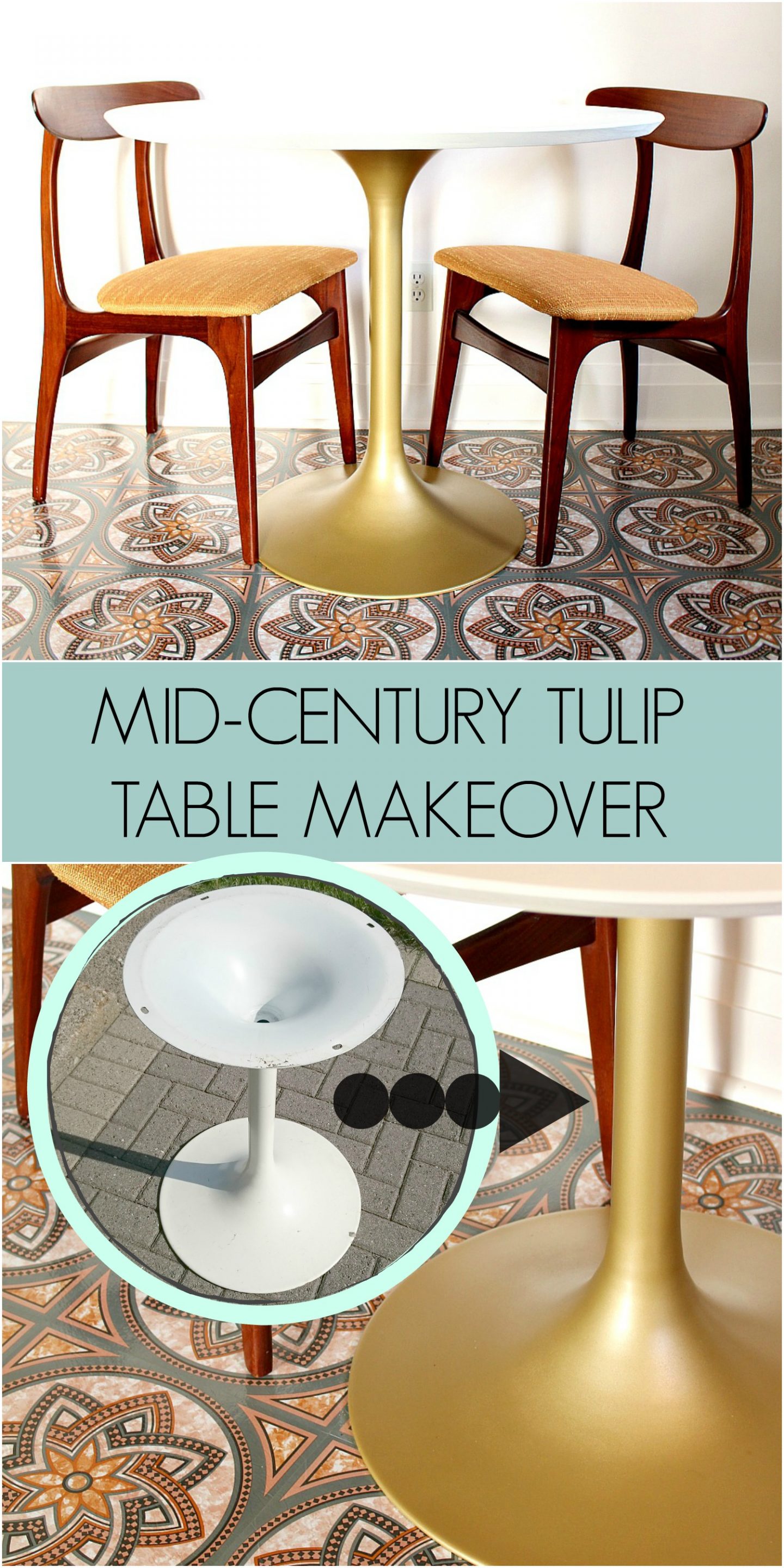 P.S. My Mom's vintage pink, grey and gold budget-friendly kitchen makeover is done! Click this link to see the before and after – there's tons of DIY projects and inexpensive quick fixes mixed in.