Look at these turquoise DIY no carve pumpkins with their cheery aqua hue and black and white rhinestone sparkles!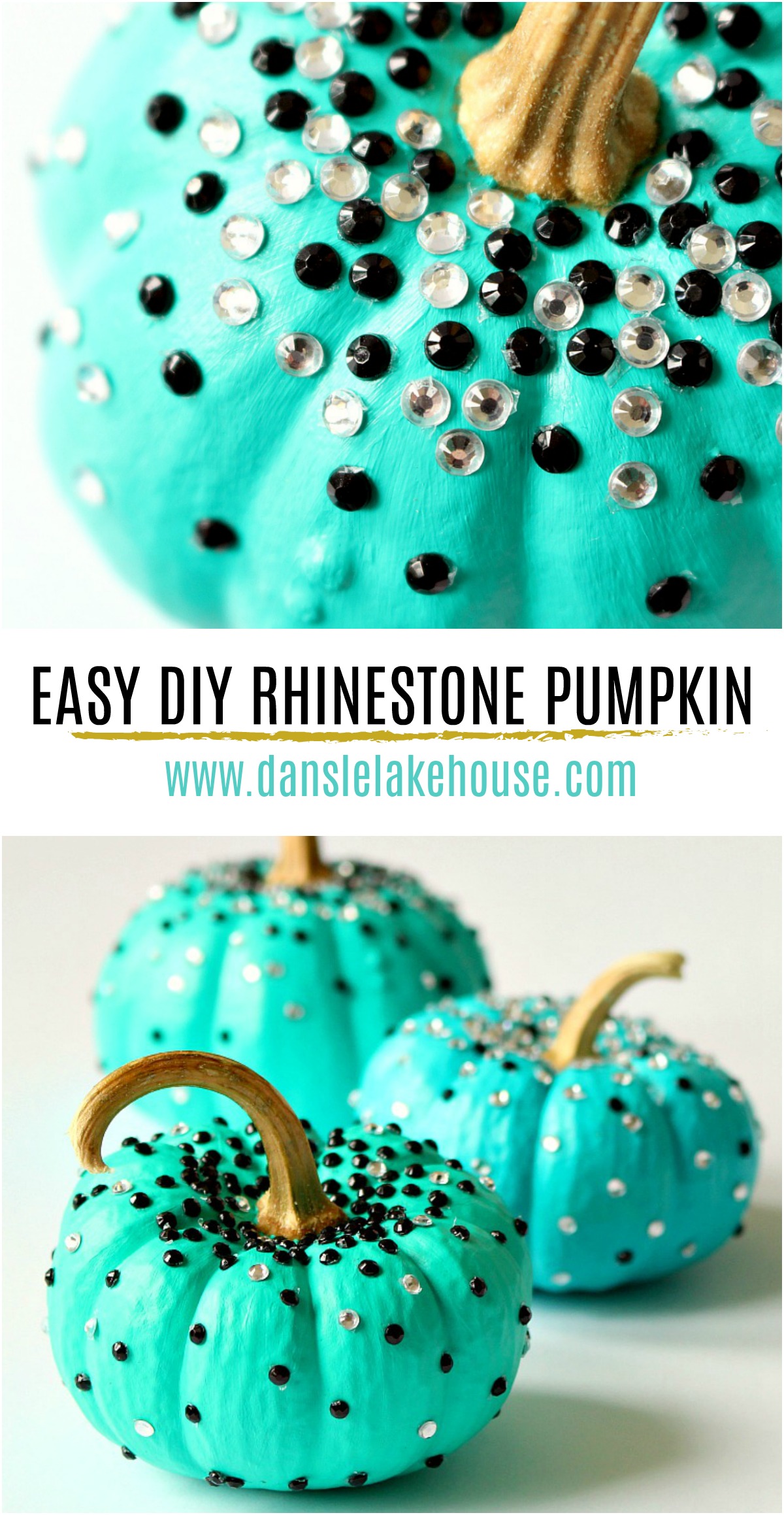 I have to admit that Halloween is not really my jam. I don't love orange and black as a color combo, cheap Halloween costumes have a weird smell that makes me nauseous, and, as a child-free woman, an evening when children are invited to scream at my door and demand my candy is, quite frankly, more terrifying than A Nightmare on Elm Street… This year though, my mission is to really embrace Fall, so when I spotted a bag of miniature pumpkins at the grocery store I decided that maybe a little no carve pumpkin decorating might help me feel more festive.
It worked! Basically, you can convince me to like anything if you paint it turquoise. I can't get over how cute these turquoise DIY no carve pumpkins are.
Here's how you can make your own turquoise DIY no carve pumpkins with rhinestone sparkle. It's so easy, kids could totally help with these!
Supplies for DIY Rhinestone Pumpkins:
Mini pumpkins (real or fake!)
Small paint brushes
A package of dollar store stick-on gems (here's a similar pack on Amazon) in spoooookkkkyy black and silver added a little bit of sparkle – although I think these pumpkins look adorable in every state: plain, turquoise, be-sparkled. They're mini pumpkins and they're aqua! Yeah, I can get on board with this.
I also made this little "evening sky" pumpkin with a deep blue paint and a smattering of silver stick-on rhinestones:
Because these rhinestones actually come in strips, I also whipped up this pale blue mini pumpkin with black and white stripes:
Once I started bedazzling my pumpkins, it was difficult to stop. I really got into the spirit of things and almost bedazzled the gourds I bought for dinner (I sneak them into a chili recipe). But I stuck to the turquoise DIY no carve pumpkins.
Looking for more pumpkin decorating ideas or fall DIYs?
P.S. Don't Forget to Pin for Later!