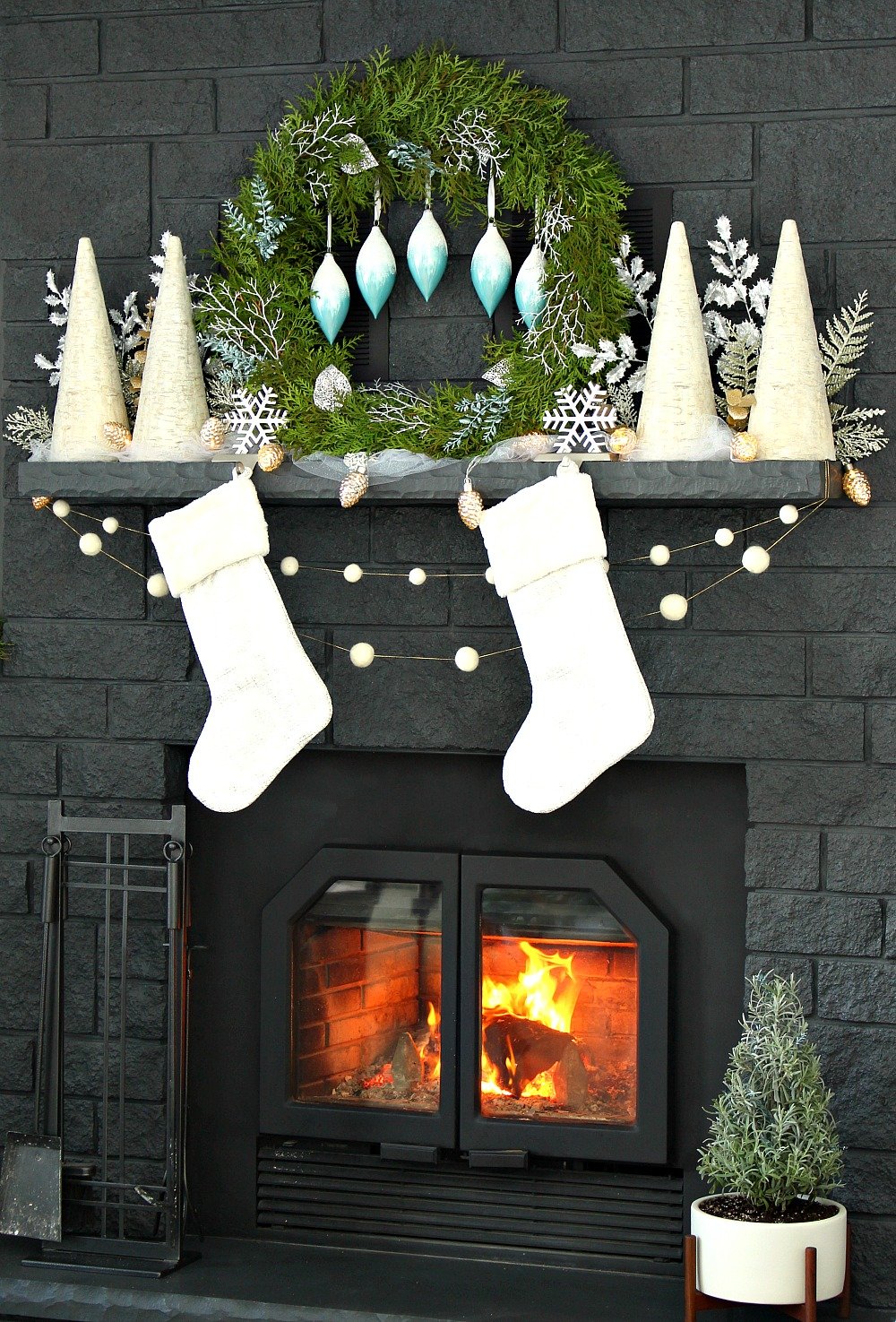 Today's post is a lot of fun, and I'm thrilled to be collaborating with Lowe's Canada to add some wintry, but cozy, touches to the lakehouse for the holiday season.  Not only did the first Lowe's just recently open in my small city (who doesn't love perusing the aisles of a shiny new home improvement store?), the Lowe's Cold Spell holiday collection looks like it was made for the lakehouse!  The colour palette consists of icy blues, creamy whites and tons of silver (check).  Plus so many of the pieces that caught my eye have a vintage-meets-Scandinavian vibe (check).  Even better, although the line includes a stuffed Santa and a gorgeous collection of gleaming Christmas tree ornaments, what I love about the products is that many of them just feel wintry so even if you don't celebrate a traditional Christmas, you can still add some festive seasonal decor pieces to your home and keep many of the decorations up long past the end of December (check).  Finally, with so many gorgeous tabletop trees in the collection, even if you have absolutely no room for a tree in your small home (I hear ya), there are plenty of items to bring holiday cheer to a pint-sized space.  Yes, there's a lot to love about the Cold Spell collection, so I was really excited about bringing home my favorite pieces, and mixing them with my existing decor, to show you how to add a festive, wintry vibe to a small space.
Let's take a tour!
My narrow mantle is tricky to decorate but, even with the limited space, I created a really sparkly, layered mantlescape this year.  I started with glittery tulle from the fabric shop (I bought a metre, which I cut in half lengthwise).  I scrunched that up on the mantle and then placed a fresh cedar wreath I made in the centre, casually leaning it against the brick.  I made it using the same wreath form (and the same steps) as last year's fresh greenery wreath, but the cedar really lasts much longer.  Once again, I added some faux foliage in shades of blue and white, along with some silver leaves.  Using ornament hooks, I attached a row of my absolutely favorite ornaments from the Cold Spell collection to complete the wreath.  Something about the shape, the vintage shade of the blue, and that glittering "snow capped" top really remind me of vintage Christmas ornaments (they come in a pretty shade of mint and a soft champagne gold, too).  Using my easy DIY felted ball tutorial, I quickly whipped up a felted ball garland that looks like snowballs – perfect for my wintry theme!
I flanked the wreath on either side with two faux birch bark cone-shaped trees – they have such a pretty shimmer to them and a minimalist, Scandinavian-inspired vibe.  I wove a string of battery operated pine cone shaped lights around everything to add some glow.  I found these adorable lights in the lighting section, but the mercury glass finish matches other pieces in the Cold Spell theme.  I also tucked in some sparkly faux foliage to add a little more sparkle and interest – the light faux stems and trees really pop against my dark fireplace.  My Mummu is an avid crafter, so I raided her collection, but Lowe's also carries this type of glittering pick (which they tuck into their display Christmas trees – such a pretty idea).
Look at these faux birch bark trees shimmer!  When they're placed beside string lights or candles, they just gleam like freshly fallen snow.  I'm really tempted to find a place to display a grouping of these all year round.
One of the fabrics used in the Cold Spell theme (for stockings, throw pillows, and a tree skirt) has such a mid-century modern vibe that I just had to bring home some pieces.  You know my obsession with tweed; the stockings and throw pillows look like a creamy tweed shot with silver.  To me, this fabric just feels wintry – it doesn't scream "Christmas," which I like because you could totally put these out in November and keep them until the snow melts (I plan to)!
Each of the four holiday collections at Lowe's this year have an assortment of stocking hooks and this simple, silver snowflake-shaped one caught my eye – but there's a pair of brass reindeer from a different theme that I definitely kept putting in my cart.
As I was leaving Lowe's, I spotted a rack of tree-shaped lavender plants (along with more classic choices, like poinsettias and Christmas cacti).  These smell amazing, and are so different, so I brought one home and planted it in a mid-century modern-inspired tabletop planter from Modernica.  It looks so cute on my hearth, but I'll move it to the dining room table for everyday use.  You have to keep pruning it to maintain the tree shape, so after the holidays I can let it grow out.  To make it a little more festive, I just tucked in some glittering, faux foliage stems.
With our 20-ft sectional sofa, we don't have much room for other furniture – or display space – but I made the most of our accent tables and swapped my usual plants for a vase with fresh blue spruce boughs, a tabletop ball tree from Lowe's, and some other cozier accents like a light-up owl and assortment of candles – some from Lowe's (they have some pretty white tree-shaped and pine cone shaped ones) and some I made last year.
That glass owl is battery operated and lights up, creating this gorgeous glow at night.  The mercury finish matches other pieces from the collection, plus it's too darn cute!
Moving over to the dining room, I mixed some new pieces from Lowe's with some of my existing holiday decor.  Last year I dyed some vintage crochet doilies teal, along with some matching linen napkins, and I loved how that looked.  The lacy doilies complement a wintry tablescape so well, so I used this makeshift runner idea again, this time with some wintry glass plates and glasses.
The mercury glass vases from Lowe's come in two sizes.  For a centrepiece, I recommend the shorter size.  I chose this larger size because I knew it would photograph better, but for real life, the taller size is perfect for a mantle, end table, or sideboard, while the lower size is great for a centrepiece that allows you to still see your guests over dinner!  To create a budget-friendly arrangement, I used natural cedar greenery from my backyard along with some more faux foliage picks pilfered from my Mummu.  Once you invest in some glittering picks, they can be used every year to add sparkle to a green (and free!) arrangement, helping to keep a holiday decorating budget in check by saving money on flowers.
To create more ambiance, I added a small plate to each place setting and nestled a pretty blue glass votive holder into a bed of cedar.  I also added a pretty glittering stem to each napkin for some more sparkle.
This pine cone shaped candle, also from Lowe's, makes an even brighter, cozier statement:
We had our first snowstorm recently and it was so bizarre to go from unseasonably warm fall days to WINTER overnight.  The temperature plummeted, cars drove off the highway into the ditch, and we had to pull out our deep freeze parkas.  I immediately started craving cozy comforts: the fireplace, candles, blankets, (and pie!).  Adding new touches, like those battery-operated pine cone lights and that adorable owl really added another layer of coziness.  Look how lovely the living room looks at night!
This is just a small sampling from the Lowe's Cold Spell collection, which I'm so thrilled to showcase because it just feels so right in the lakehouse!  Lowe's has three other collections – including one which has a really colorful, retro vibe and a bold color palette of turquoise, red, green and white – and I was definitely excited about pieces from each of the other collections.  Think: adorable fox figurines, bright turquoise mid-century mod inspired ornaments, beautiful shades of indigo blue glass, and modern brass accessories.  I could have definitely picked about a dozen items from each collection, and they can definitely be mixed and matched, but choosing from one collection, with its colour-coordinated palette and matching finishes, makes decorating for the holidays a snap.
Well, I'm officially ready for evenings in, huddled under a blanket watching movies.  How about you?
This post was sponsored by Lowe's, but all thoughts, opinions and styling choices – including the decision to highlight products from the Cold Spell collection – are my own.  The case study planter was provided by Modernica.  Happy holiday decorating, everyone!
 
Follow Lowe's on social media / Facebook / Instagram / Twitter / Pinterest