I'm so excited to share this DIY felt tomte tutorial (or DIY felt gnome) with you today!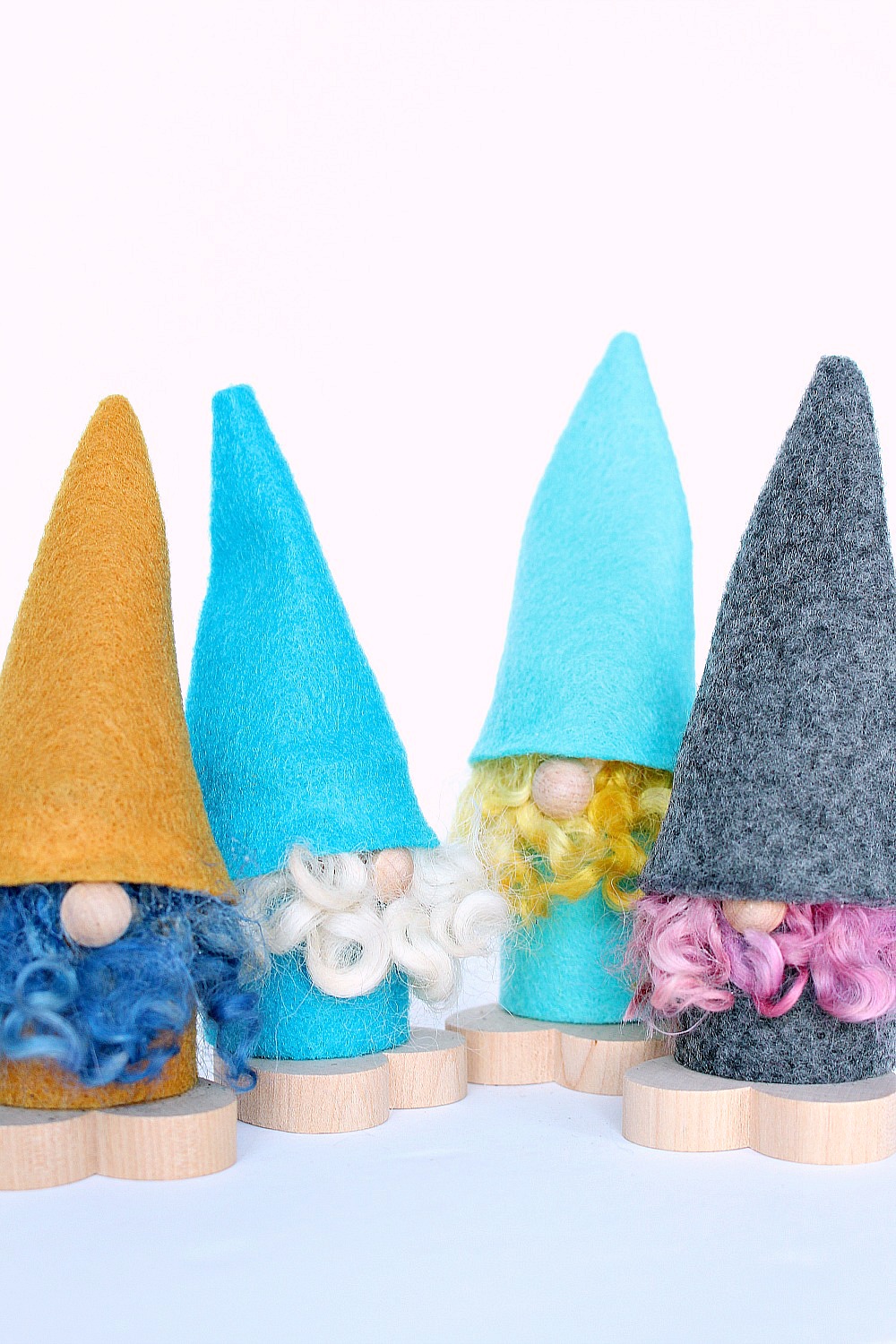 My little red felted tomte (a mythical creature from Scandinavian folklore, called a tontuu in Finland and a nisse in Denmark and Norway) have been a holiday staple in my home for the last decade. Every year I'm asked for the DIY felt tomte tutorial, but they were actually a gift from my Mom. (I originally, mistakenly, referred to them as Joulupukki.) She said the one with the dark grey hair is me, and the one with the light grey hair is Hubby, lol. They're made in Sweden and something about their small stature and hidden faces makes them irresistible. For the first few years we had them, Hubby would always move them to a different spot when I wasn't looking. Even he was smitten with them…
(I may or may not have a matching tomte table runner).
This year I decided to try making my own DIY felt tomte to start a colorful collection. I definitely don't think mine are as cute as the originals, but they are pretty darn adorable!
Quarter for scale (real tomte are never more than three feet tall):
Making these little felt gnomes was pretty straightforward and with a few simple and inexpensive supplies, you can easily whip up a batch of these for gift toppers or a fun holiday crafternoon with friends. I found my supplies at Windsor Plywood (where they had tons of small wood hearts and little do-dads), Lowe's (they have a huge dowel selection) and Michael's (where they also had wood bits and bobs, plus a great assortment of inexpensive sheets of felt made from recycled plastic bottles).
Below you'll find a full list of what you'll need to make DIY felt tomte – or DIY felt gnomes.
Supplies for DIY Felt Tomte:
Small wood hearts (for the feet)
Small wood balls (for the nose)
Wood dowel (I used 1 1/4″)
Felt (not too thin, something with a little more substance works best)
Wood glue
Sewing needle and thread
Chop saw or hand saw
How to Make DIY Felt Tomte or DIY Felt Gnome:
First, cut the wood dowel to length. I chopped various lengths, anywhere between 2″ and 3″. Gently sand the cut edges to avoid splinters while working with the wood.
Glue one end of a dowel piece to the heart using wood glue. Then attach the wood ball somewhere between one third and one half of the way from the opposite end of the dowel. Let dry and set aside.
Measure the circumference of the dowel and the height between the top of the feet and the bottom of the nose. Use those measurements to cut a piece of felt and affix with craft glue, placing the seam at the back. Let dry.
Cut the wool rovings to the same length and line up with the cut ends lined up, these will be hidden under the cap.
Apply a bead of craft glue along the top of the wood dowel and affix the rovings to act as a hair and bear. Place a small dab of glue under the nose as well. Really press down on the rovings to ensure they are glued securely and as snug to the dowel as possible. Let dry.
To make the hat, I didn't employ my hard earned high school math – I just cut out roughly one quarter of a circle from paper, tested it on the tomte for fit, trimmed a little and kept that as my template. A little looser is better, because it will fit over the hair more comfortably. With my template in hand, I traced it onto my felt and cut out the pieces.
For each hat, I held the right sides facing together and quickly stitched a blanket stitch along the edge, turned it right side out, and applied it with craft glue.
Here's what the back looked like when I was done:
And that's it!
My original tomtes are made with what looks like a leather band with "hair" already attached, making the original much tidier than my wilder gnomes. But I do love the wacky hair and colorful garb, and I had the rovings in my craft supply stash already. If you're making these, feel free to paint the feet, choose smaller or larger hearts, change the dowel size, chose different felt (wool would be sturdier and easier to work with), or look into doll making supplies for the hair.
There's only one stipulation: you have to let me see if you make some of your own DIY felt tomte! Tag me on Instagram or share a link in the comments.
P.S. Don't Forget to Pin for Later!
Happy holidays to all my gnomies 😉