This DIY felt ball garland might just be the cutest holiday project I've ever made.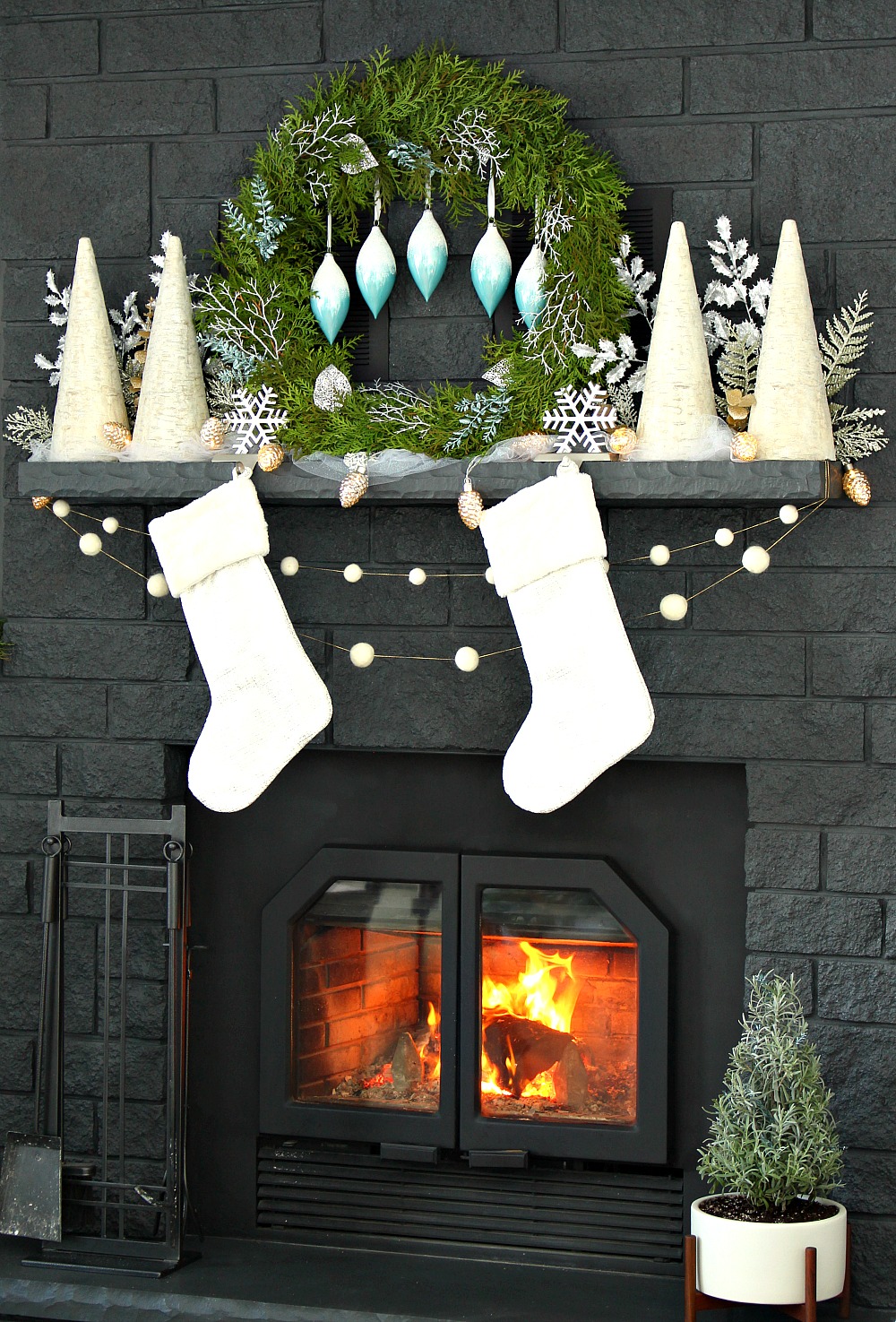 Did you happen to spot the DIY felted ball garland in Monday's post about my wintry blue and white holiday decor? My mantle is so narrow that decorating it is a real challenge. It's difficult to create a layered look but I wanted it to look really full and interesting so I came up with some tricks, like tucking glittering picks behind my cone trees for extra oomph and making a huge, natural cedar wreath to add some height.
I also whipped up that cute white, DIY felt ball garland at the last minute. I love how it really popped against my dark grey fireplace and, because the felted balls looks like snowballs, complemented my wintry theme so perfectly:
Making felted wool ball garland is really, really easy, which makes it the perfect last minute holiday craft or decor idea. Hang it from a mantle, like I did, or use it as garland around a tree. Mix up the size and color of the balls and use colorful, metallic thread for some sparkle and shine. You could even mix in some beads or needle felt designs onto the felt balls.
Supplies:
Wool roving (your choice of color, I linked to white but these blues are pretty)
Dish soap or hand soap
One bowl of really, really hot water
One bowl of really, really cold water
Large needle
How to Make Felted Balls
My original felted ball tutorial – when I made my cute felted wool billy buttons – is really thorough and even though I've since shared felted ball tutorials (like when I made my felted wool rings), it's still my favorite so I've included it below. But if it seems like too much work, you can track down pre-made felted wool balls on Etsy or Amazon and skip these steps. Here's a lot of 100 mixed colors for $14.48 or try this 200 lot listing for under $30. If you're after a more traditional holiday palette, these felted balls might fit the bill. It seems that single color lots are a little bit pricier, but I tracked down this teal green listing – the color is so gorgeous – and this multi-colored bundle is limited to greens, which is very seasonal. But I have to say that these these sky blue felted wool balls or this mixed lots of different blues have that wintry look I'm into this year.
Yup, you can definitely find a ton of these felted balls online, in different colorways and price points. But they're so much fun to make!
The whole process for one felted wool ball should only take a couple minutes. First, tear off a piece of your wool roving, like you would tear off a piece of cotton candy; you want ragged ends. Remember that your wool ball will shrink during the felting process. The size you choose is up to you and if you find that your first ball is smaller than you hoped, just layer on some more wool and keep felting to enhance the diameter. I recommend starting with a dry ball the size of a marshmallow.
Next, place a small drop of soap (I have used both hand soap and dish soap successfully) in your dry hands and also rub a tiny bit onto the piece of wool roving.
Then, roughly shape the wool into a ball before dipping it gently in the hot water – you want it a tad wet, not completely drenched.
Very, very gently roll the wool roving between your palms – like you would a clay ball, but with much less pressure. At this stage, don't squish the wool any harder than you would a baby chick. Then dunk the roughly shaped ball into the cold water (this time you can soak it) and keep rolling. Then dunk the ball into the hot again, then the cold, rolling between dunks. The change in temperature helps "shock" the wool fibres and is part of the felting process. Plus, you want to rinse out the soap.
As your ball becomes firmer (and thus smaller), you can apply more pressure. Your ball is finished when it is firmer to the touch and feels dense. You can see in the next photo how much smaller my wool ball has become.
Leave the felted wool ball(s) to dry, for about 24 hours – or at least overnight. The dry felted wool ball should have a slight bounce to it when dropped on a counter top. I recommend making a few as a "test" before diving into mass production. I've created a second post, with tips for felted wool ball troubleshooting, and I'm happy to answer any questions you might have in the comments below.
Once you get the hang of it, making these felted balls is so easy. When the balls have dried, it's time to turn them into DIY felt ball garland!
How to Make Felted Ball Garland:
I just grabbed a pretty metallic gold thread from my stash and, using a larger needle, threaded each ball onto the thread. Because mine are so densely felted, the friction causes them to stay put in the thread so once I spaced them evenly, they didn't budge. But you could definitely add a knot before and after each ball to secure them in place. Use a thicker thread or embroidery floss for strength, so your DIY felt ball garland can last.
If you're looking at the calendar, nervously counting down the days and staring a looming to-do list, you can also buy felted ball garland, ready to hang! Here's a six foot long multi-color felted ball garland.
But if you have the time, making this DIY felt ball garland is so easy and it looks so cute. I also made a mini pom pom garland for my lavender plant – Help! I've gone nutty for DIY garlands.
Here are some great links to finished felted wool balls, ready-to-go garland, and wool roving – for whatever level of commitment you've pledged. Happy crafting!