This shop has been compensated by Collective Bias, Inc. and its advertiser.  All opinions are mine alone. #EmergencCRecipes #CollectiveBias
After such a beautiful, unseasonably warm fall, it was such a shock to be plunged into -20 weather!  Overnight our bay of Lake Superior began to freeze and suddenly it felt very wintry.  I don't typically relish these winter months – actually, I dread winter – but this year I'm trying to embrace and enjoy all of the seasons, instead of hibernating and waiting for spring like usual.  I'm trying to look on the bright side: sure, our well might freeze (again) and I'll probably break another dozen shear pins on the snowblower, but at least I don't have to contend with the geese or mosquitoes.  Oh, and no lawn cutting!  And the best part: I'm a sucker for citrus, which is abundant this time of year.
Although I usually consider winter a cordial invitation to stay indoors and keep cozy for six months, this year I'm also vowing to get out there and enjoy the snow more.  I've been thinking about taking up snowshoeing!  I've been really focused on my health this year and getting enough sleep, eating well (but treating myself occasionally), and finding new activities to help me relax and unwind have been high on my list of priorities.  It has felt really amazing to finally make my health a priority; I don't know why it was always something that got put on the back burner in lieu of tackling an endless to-do list.  I have to admit, though, that it was easier to keep the momentum going in the spring, summer and even the fall, when I was naturally more active and wasn't craving so much cozy comfort food!  Sometimes it's a challenge to keep my motivation high when the mercury drops.  To help keep my energy levels up, I've added Emergen-C to my cupboard because it's an easy way to take the vitamins that help me feel refreshed and replenished.  It's chock full of more Vitamin C than 10 oranges, plus antioxidants (like zinc and manganese), Vitamin B (which helps enhance energy naturally*), and electrolytes (to replenish the body after a winter workout).     
Even the cheery packaging is uplifting and it inspired me to put together a casual brunch party, decorated with an abundance of sunny orange, pops of aqua (naturally), plus healthier brunch fare mixed in with decadent treats.  It was such a beautiful, relaxing (and delicious!) way to spend a blustery winter morning.   
Is it just me, or does putting a little effort into setting the table make food tastier?
For this brunch, I let my vintage teak table shine by skipping my usual tablecloth and opting for a pretty polka dot runner in my favorite shade of turquoise (recognize the fabric remnant?).  Then I added some fresh cedar boughs and nestled in my DIY dyed bottle brush trees, favorite ornaments, and a handful of cute clementines.
The pretty orange napkins, teak candle stick holders, white vase, and brass cutlery were all thrifted finds.  The set of three teak bowls is my most recent find.  I had been wanting one of those for ages and after a day of running errands with my Grandmother, we hit up the thrifts and – lo and behold – this set was waiting for me, 50% off that day!
I stumbled across the prettiest orange roses at Wal-Mart and bought myself a bouquet.  Why don't I buy myself flowers more?  I always vow to, but it gets pushed to the bottom of my budget.  But I really can't look at these beautiful blooms without smiling – they're an instant mood-booster.
Because I have a small dining table, I used the foods served as part of my decor too!  A carrot cake (recipe coming soon) was topped with a gorgeous fresh "wreath" and sliced oranges.
The matcha madeleines I shared earlier in the week looked really cute – and complemented my bottle brush trees!  I live for little details like this.
I also made sugar-free, grain-free muffins (with almond and coconut flours, plus homemade applesauce as the sweetener) and protein-packed, cottage cheese pancakes.  Healthy food can be delicious too – and cute, with the help of polka dot muffin liners and a sprinkling of shredded coconut.
To complete my brunch decor, I dried slices of orange in the oven on low heat for an afternoon and hung them in the window from a tension rod – they looked like stained glass, so pretty!  As an added bonus, the house smelled delicious for days.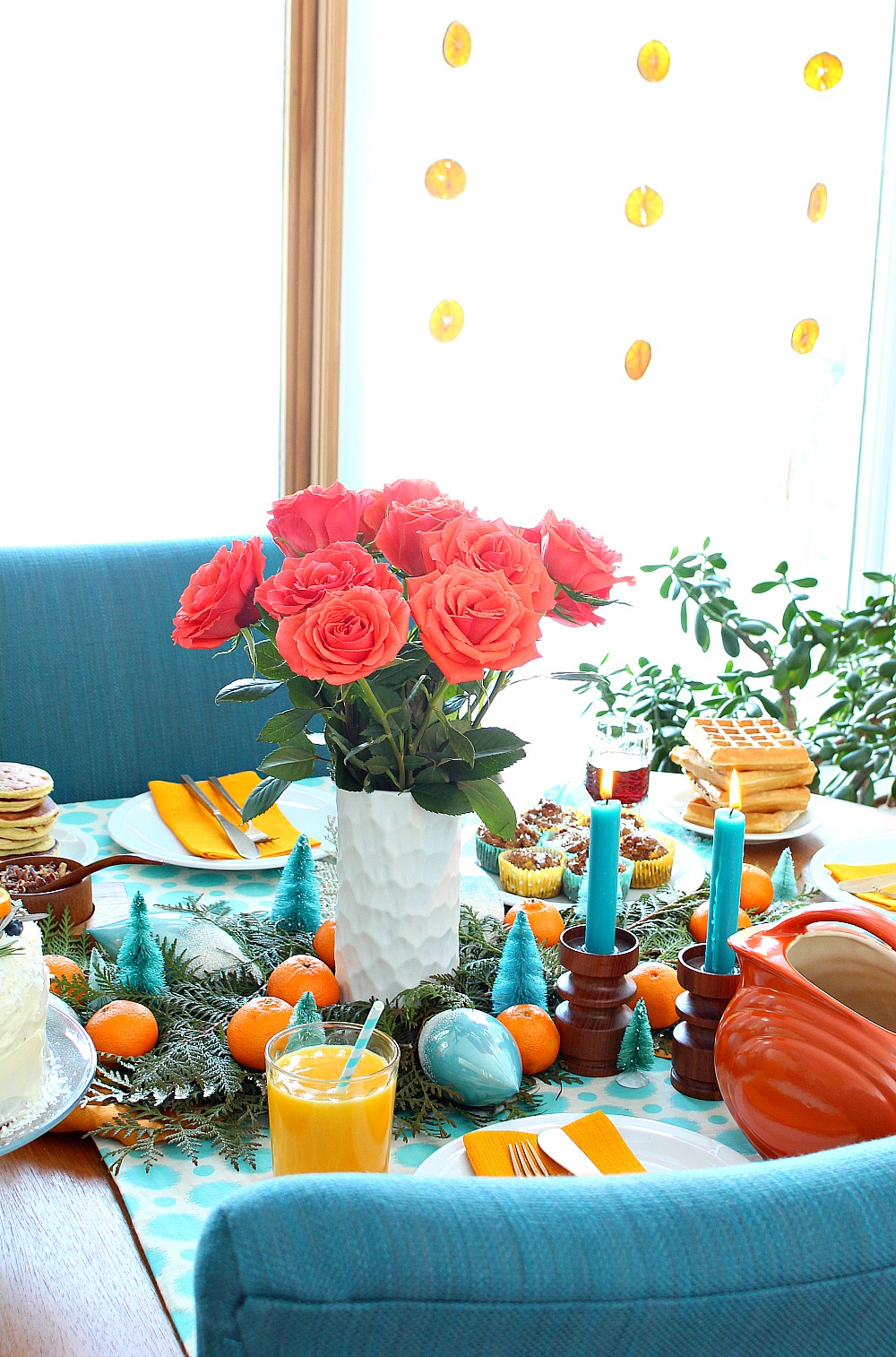 With the decor and menu completed, I mixed up an easy drink recipe featuring Emergen-C, to help sneak in some vitamins during the busy holiday season.  Frankly, it is delicious on its own (and I love the effervescence), but I added a few fresh ingredients for fun!
Mango Orange Pick-Me-Up Drink (serves four):
4 packets of Emergen-C (Tangerine or Super Orange)*
1 cup fresh mango juice (1 mango, 1/2 cup water, 1 ice cube)
1 cup fresh squeezed orange juice (2 medium sized oranges)
2 cups carbonated water
*1 packet is best when mixed with approximately 4-8 oz. of fluid.
Pour the Emergen-C packs in a pitcher and add 2 cups of carbonated water – I bought an orange flavored sparkling water for an even more intense flavor.  The Emergen-C already has a delightful fizziness, but adding the carbonated water just intensifies the bubbles.
Make the Fresh Mango Juice
If you have a juicer, this step will be easy!  If not, wash, peel and cube the mango, then drop the cubes into a blender with an ice cube and 1/2 cup of water, and blend until smooth.
If you prefer, strain the juice through a sieve to remove pulp but it's got a really nice, full body to it as-is so I highly recommend skipping the straining.
Make the Fresh Orange Juice
Wash and slice two medium sized oranges in half – then get juicin'.  Fresh squeezed is so much tastier than from a bottle, but I don't often make the time for it.  Somehow laboring over my teeny tiny retro juicer makes fresh orange juice feel like a triumph.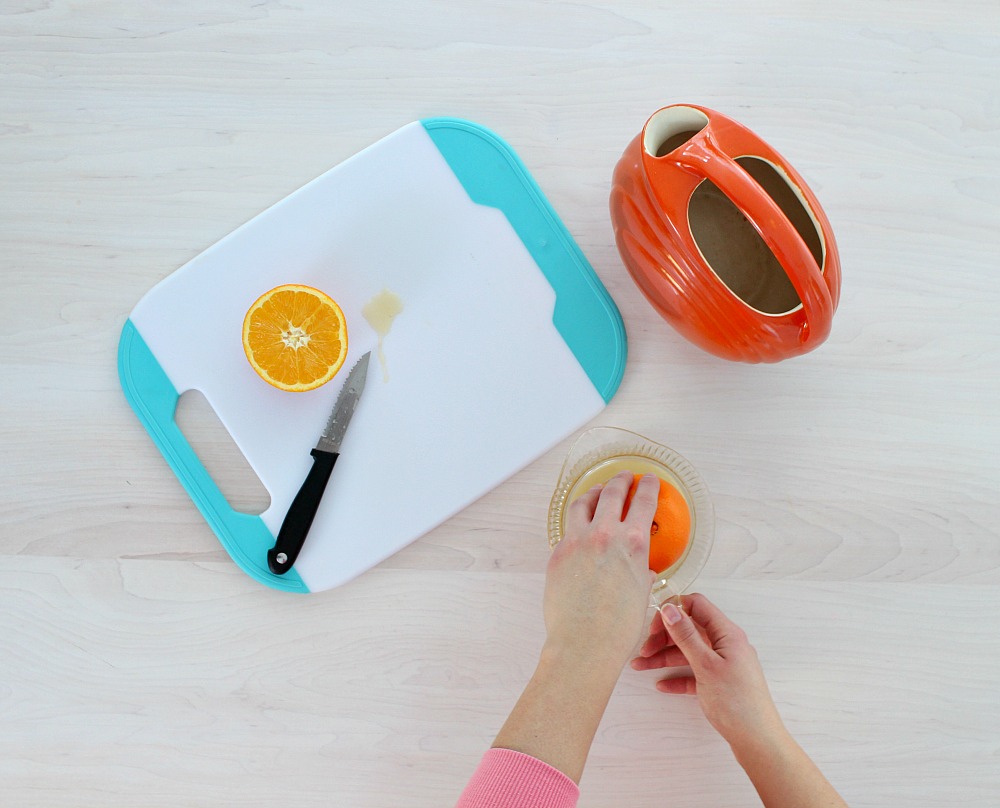 Add the juices to the pitcher and mix well.
Serve with ice or a slice of orange – or just a pretty paper straw!  I recently went to a party supply store in town for the first time, and have decided that every drink, from now until summer, needs a turquoise paper straw.  Maybe even a paper umbrella to hold onto those summery vibes – just a little – while I'm busy embracing winter.
What a delicious way to take vitamins!  I found Emergen-C in the Health & Wellness aisle of my local Wal-Mart (you can't miss that cheery packaging) but you can also find it online.  Did I mention it's manufactured in the USA?  I love finding products made in North America.
I had so much fun putting together this brunch fête and we all felt really refreshed and relaxed afterward.  I think I might have to add "brunch more" to my list of health objectives for 2017!
*These statements have not been evaluated by the Food and Drug Administration. These products are not intended to diagnose, treat, cure or prevent any disease.