Want to learn how to make layered smoothie look? There's a little trick to keeping the layers from blending all together!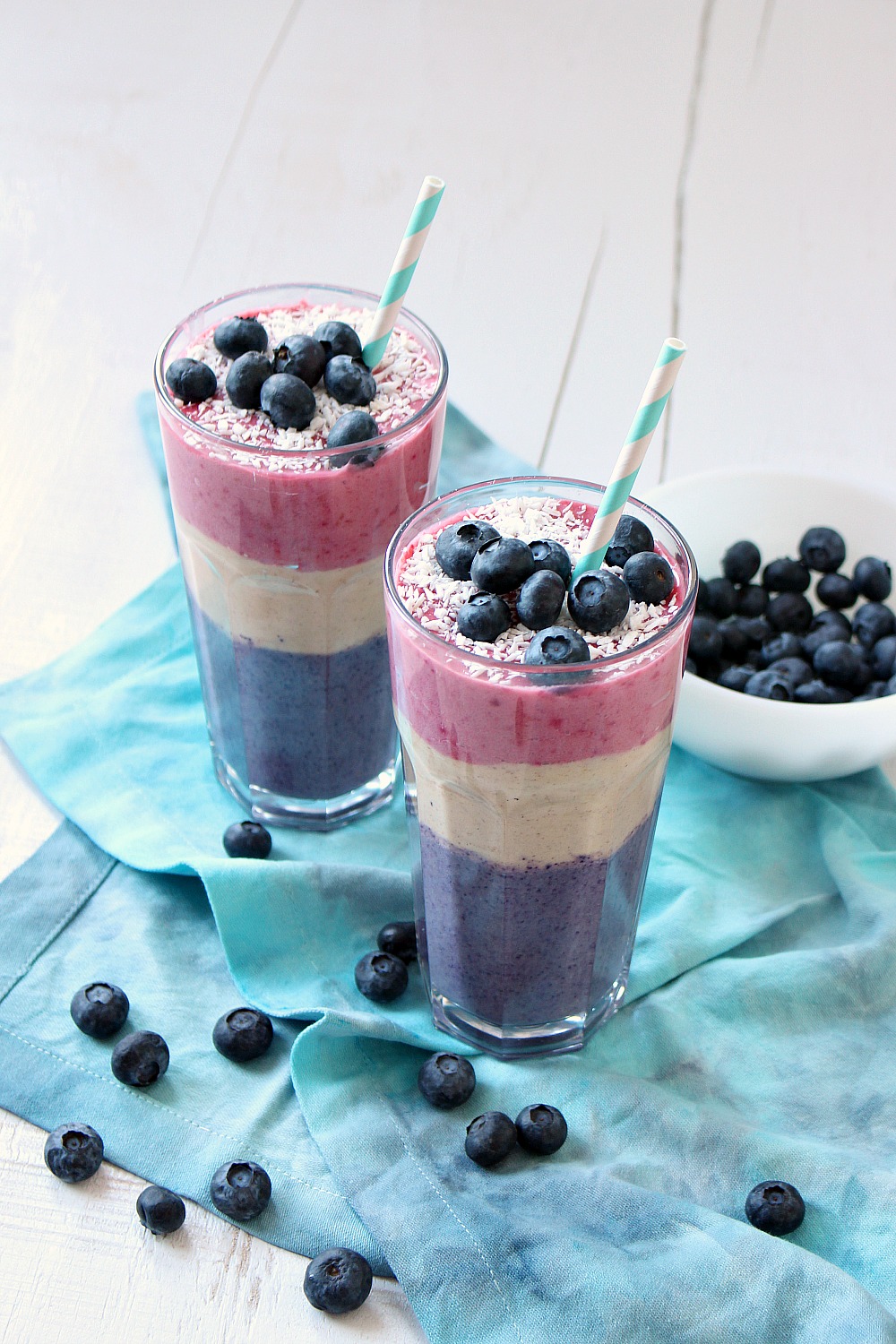 Handy Hubby and I are smoothie OBSESSED. In the summer months, it's an unwritten rule that we carry our smoothies out to the deck. They're deck drinks. In the winter, we still love a good smoothie but they're best enjoyed fireside, wearing thick socks and cozy sweaters. Preferably under a blanket.
To facilitate the smoothie obsession, we own three different blenders (because sometimes we want another smoothie while the first blender is still in the dishwasher – I kid you not). I've tried SO many different smoothie combinations, but I'm always on the look out for new smoothie ideas (pinned to both my "Breakfast + Brunch" and "Drinks" boards), although I rarely follow a recipe. I like to make it up as I go and I mix it up a lot, depending on what's in the fridge and freezer – and how adventurous I'm feeling. I've learned that smoothies are a great carrying agent for healthier fare like greens, whey protein powder, and flax seed. I've also been getting pretty festive with my concoctions – I still salivate, just thinking about a pumpkin pie smoothie I made to help me get into the spirit of fall.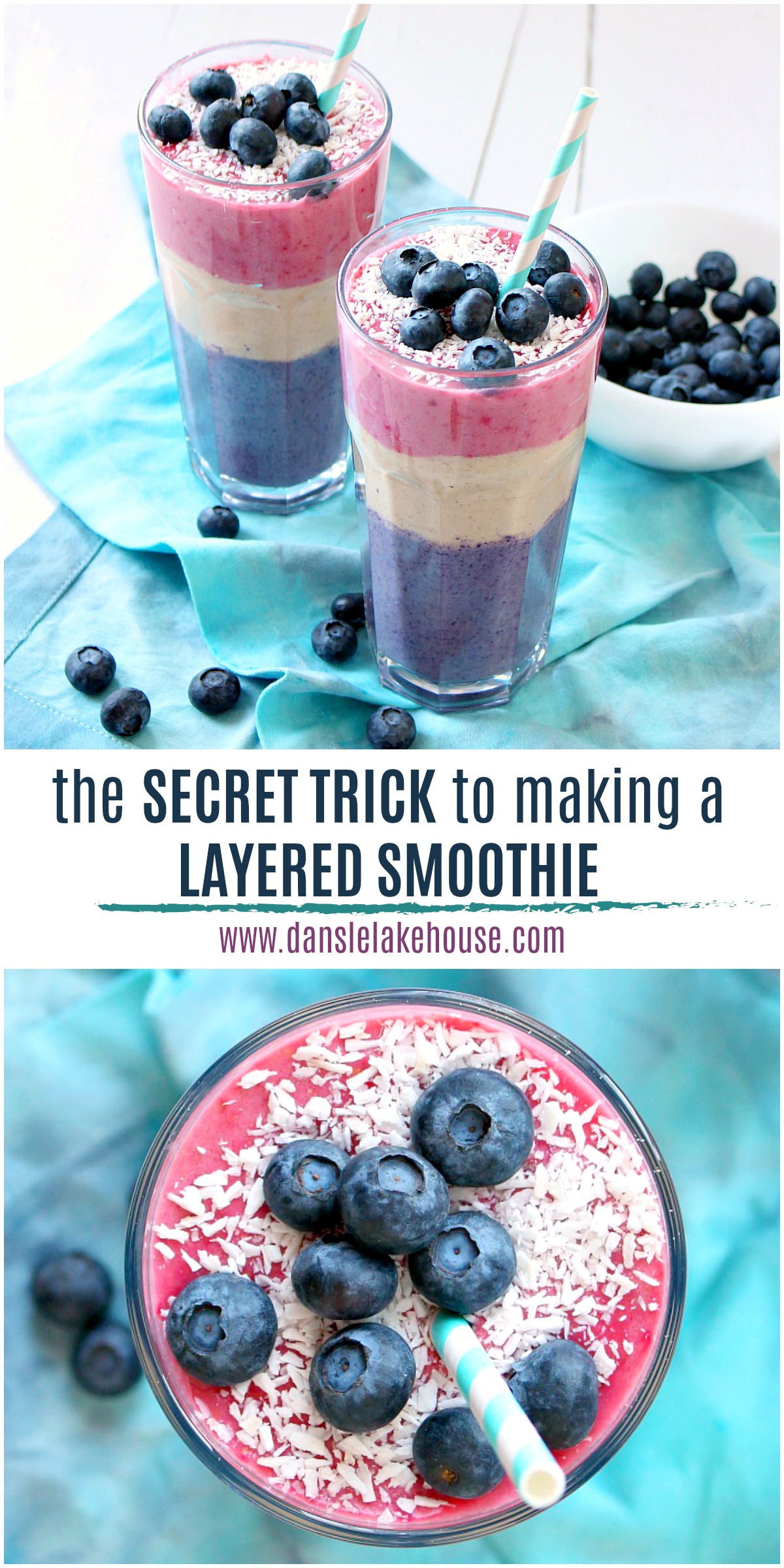 Lately, though, I've been wanting to up my smoothie game. After seeing some gorgeous layered smoothies on Pinterest, I wanted to give it a try! There's a little trick to making a good layered smoothie, but otherwise it's actually really easy to make.
The Secret: How to Make a Layered Smoothie:
Pop the glasses in the freezer for about 15 minutes after pouring each layer. You don't want the layers to be frozen solid, you just want them to morph into a slushier consistency to prevent the different colors from just bleeding together. Here's how I knew they were ready for the next layer: I shook the glasses a bit and if the smoothie sloshed around in the glass, it wasn't ready. If it only jiggled a little, it was firm enough.
Because of this extra step, layered smoothies are a tad more time consuming so they're not practical for a speedy workday morning, but for a lazy afternoon snack or Sunday brunch they're perfect! Hubby and I loved how each layer had a subtle but distinct flavor, but you could definitely create wildly different layers for a unique taste experience. The best part is how pretty they are, which I swear makes food even tastier.
Here are the three smoothie variations I layered together – I kept it very simple. These measurements made two 16 oz. glasses, with a tiny bit left over for the chef. Because I was making three mini-smoothies, I used my Nutri Bullet Blender, which was perfect for the job.
Layer One:
1/2 cup almond milk
1 cup frozen raspberries
1/4 cup yogurt
1 tbsp peanut butter
1/2 scoop protein powder
Layer Two:
1/2 cup almond milk
1 cup frozen peaches
1/4 cup yogurt
1 tbsp peanut butter
1/2 banana
1/2 scoop protein powder
Layer Three:
1/2 cup almond milk
1 cup frozen blueberries
1/4 cup yogurt
1 tbsp peanut butter
1/2 scoop protein powder
1 tbsp flax seed
Sixteen other bloggers are sharing their smoothie recipes too, check them out: Simple Green Smoothies, Orange Carrot Smoothie, Strawberry Lemonade Smoothie, Peach Cobbler Smoothie, Tropical Smoothie, Simple Strawberry Smoothie, Orange Carrot Ginger Smoothie, Chamomile Blueberry and Peach Smoothie, Pineapple Spinach Smoothie, Lavender Smoothie, Green Detox Smoothie, Winter Citrus Smoothie, Chocolate Pea Protein Smoothie, and Tricks for a Healthier Smoothie.

This post, about how to make a layered smoothie, was sponsored by Wayfair, but all thoughts and opinions are my own.