Today I'm sharing a little snippet of lake life – and something that has been such a source of embarrassment for me!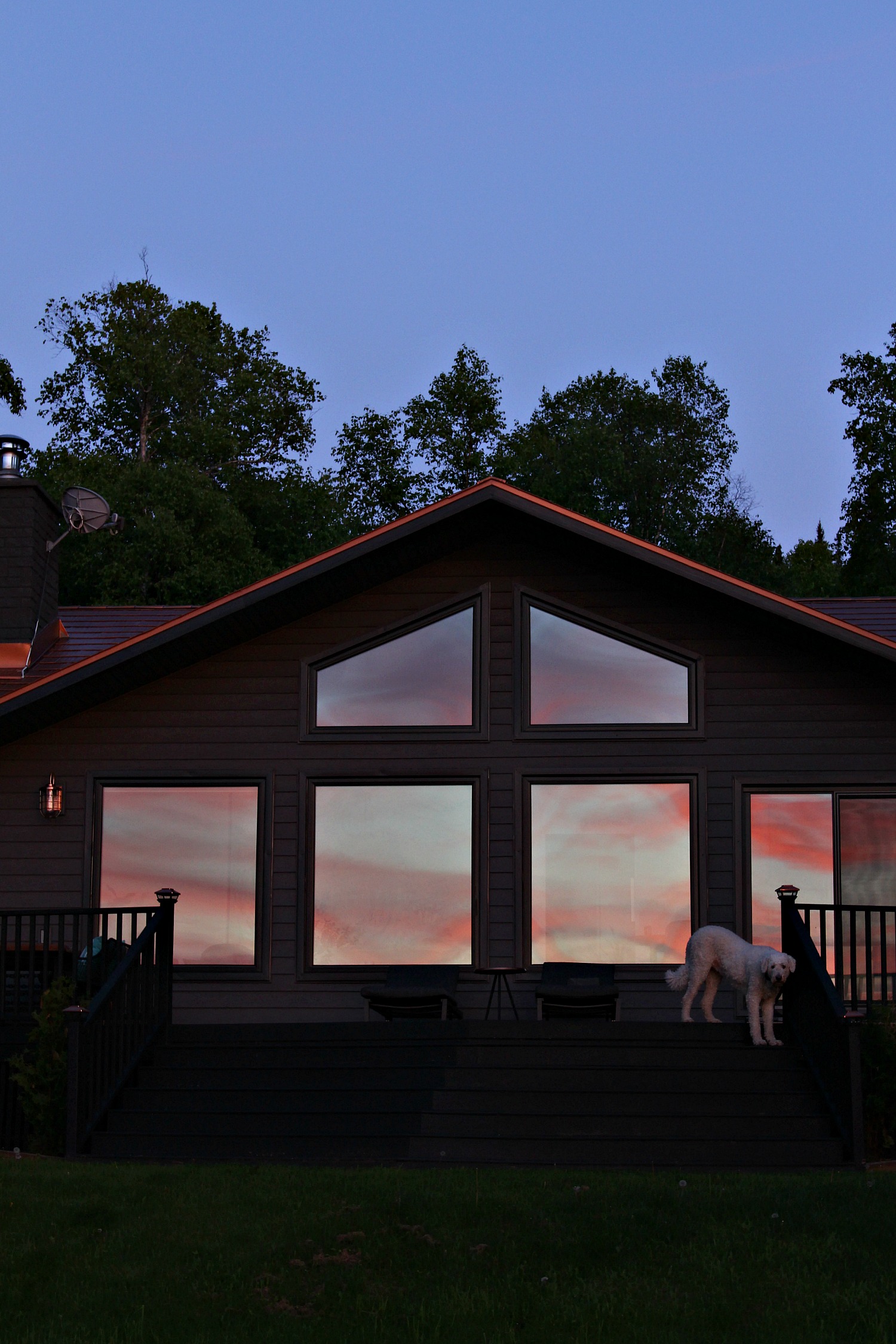 Being alone in the woods at night has always ranked high on my list of irrational fears – right up there with a Zombie apocalypse and shark attacks in swimming pools.
I never planned to move to the country. I longed for a lake house, but I always imagined living close to a city. Lakefront properties, however, do not often come up for sale around here and, if you remember my Sliding Door series, they are often out of our reach. When this lakehouse came up for sale, we fell in love immediately. It had some flaws to overlook (why would someone build a basement five feet tall?!?), but my biggest concern was its rural location.
We were actually cautioned against moving so far out to the sticks, largely because of the 45-60 minute drive to town. But because we had been living in Ottawa, where rush hour can turn a 10
minute drive into a 45 minute ordeal, we weren't concerned about the commute. Hubby had grown up in the country, on 80 acres deep in the woods, so the distance worried him even
less. He was more concerned about our measly little acre of land. To him, our new home wasn't rural enough.
I'll admit, I was mostly worried about zombies (in the woods – two fears in one!), so I didn't heed anyone's advice because their concerns (winter driving conditions/convenience) seemed pedestrian when there were much larger concerns to consider (seriously, why was no one else worried about the zombies?).
Shortly before we moved, we started watching The Walking Dead – which was such a mistake because it scared me senseless. For months after moving here, I wouldn't set foot outside in the dark alone. If I was in town for the day, I'd tear down the highway after dinner, trying to get inside before the sun went down. If Hubby was out of town for work and I missed that sunset cutoff, I'd crash at my parents' place in my childhood bedroom. I bought underwear and socks to keep there because this happened so often.
But it turns out that there are scarier things than zombies! Since moving here, I've dealt with black bears, getting my truck stuck (and unstuck) in the snow more than once, a frozen well, and some really close calls with moose and deer on the highway. Like, "is that deer fur caught in my grill?" close. Lake life has been an adventure!
Surprisingly, I took to country life like a duck to water. The drive, the distance from everything, the well, the propane tank, the wood chopping, the garbage hauling – all of it feels routine now. Eventually my fears melted away too. I started driving home alone in the dark (although I'd sprint to my door at Olympic speeds). But then I relaxed about that too, and now I putter around at night, taking out the garbage and admiring the stars.
One night Szuka ran away during her evening pee and I took off after her in my nightgown. When I reached the road, I remembered that without street lights and our home's motion lights, it's really dark at night! Then I remembered I was in the woods. At night. Alone. At night. Undeterred, I started jogging down the road until I found Szuka, who looked startled, like "oh sh*t, I thought you don't come out at night".
Being able to be outside, in the dark and alone, seems ridiculous but that was a huge accomplishment for me. Everything else about lake life was easy to adapt to, so when I finally felt comfortable in the woods at night, the country finally felt like home.
We even started watching The Walking Dead again (we're all caught up!)