I came up with an idea for DIY plywood flooring featuring DIY marbled wood stain that's difficult to describe. I'm not even sure what to call it (marbled? water color? watery?), but "wood aquarelle" is where I drew my inspiration for this bold idea!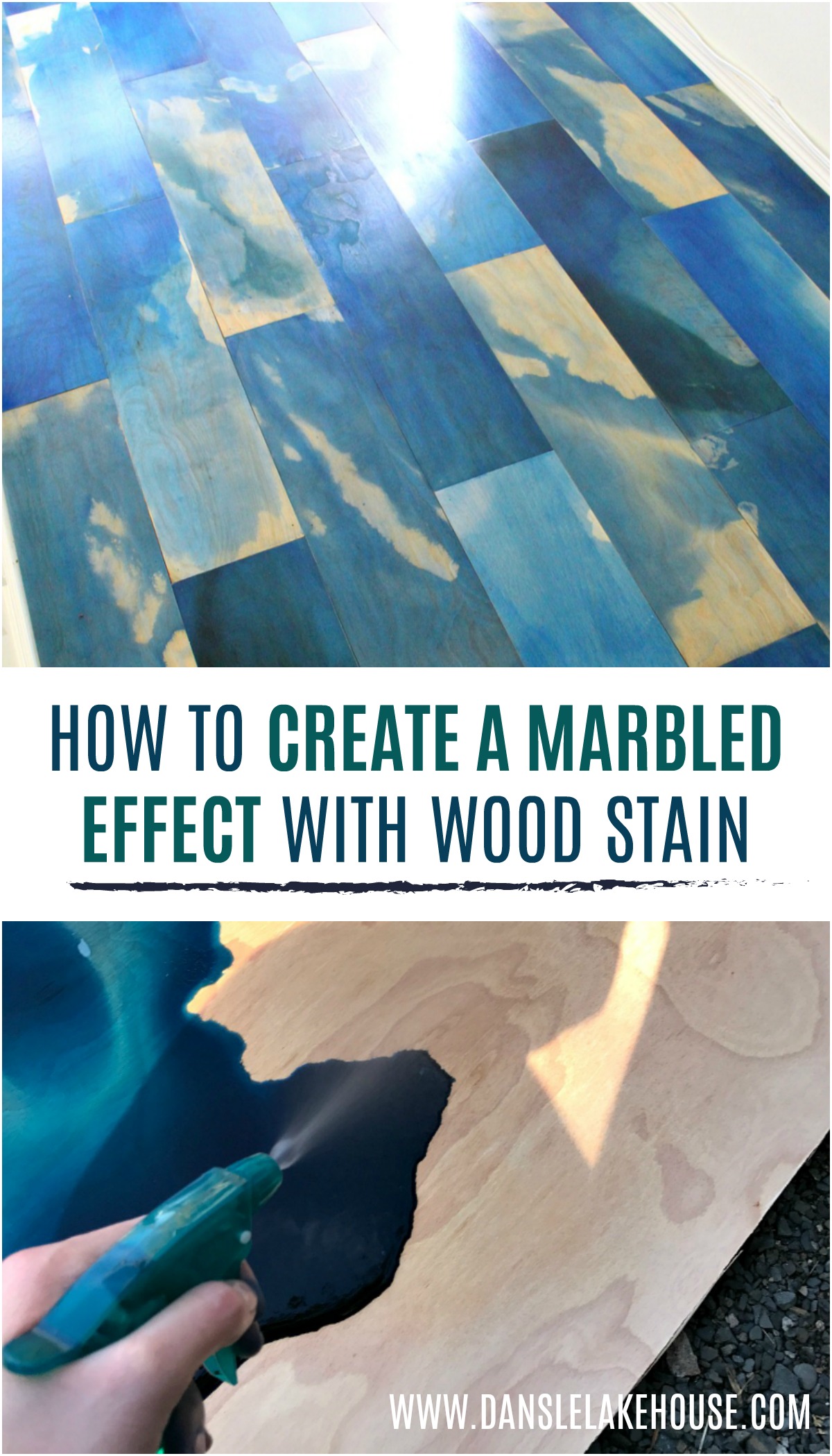 If you follow me on Instagram you probably noticed that I've finally started using Instagram Stories! I used it to share some photos of how I made my plywood floor, but now I'm finally sharing the process on the blog too. I've broken the how-to into two parts: today I'm chatting about how I created this watery look with a DIY marbled wood stain method, plus the inspiration behind this crazy idea, and some troubles I ran into. Click this post for the tutorial on our DIY plywood floor. Spoiler alert: Hubby and I ripped these plywood boards into floor planks and laid a super awesome marbled DIY plywood floor. I also share my honest thoughts on what a plywood floor feels like – you might be surprised (I was!).
Here's a little teaser of the finished floor, if you missed it:
In a very rare moment for a DIYer, my DIY plywood floor idea with DIY marbled wood stain actually turned out how I envisioned it. Mostly.
But let's backtrack a little and talk about why I decided on a plywood floor – something I had been very dubious about in the past. My plans for the fish room floor had three requirements: cheap, easy, and cute.
I wanted to cover up the disgusting old vinyl floor and considered a few options: paint the vinyl (easy and cheap, but wouldn't disguise the gaps and bumps), slap on some peel and stick tile (cheap and easy but I had a bad experience with a peel and stick tile that wouldn't stick), install some kind of floating floor (easy and quick, but probably too thick), or do a crazy DIY plywood floor. I couldn't think of a down side: it's fairly inexpensive, pretty easy to install, and would cover the old floor nicely. Plus, because we could get super thin ply, we didn't need to worry about it not fitting under doors, etc.
Sold.
But I wanted to have fun. There's often that little voice in my head that encourages me to make a simple project decidedly less easy. I had seen some painted/stained hardwood floors I loved and contemplated a solid teal stain or maybe a fun pattern. I was tempted by the idea of mimicking an expensive floor tile I loved with paint and I even considered marbling individual planks (but that looked like SO much work – even for me).
I really wanted something with a similar, organic feel but a little easier to produce. Right now I'm just loving any kind of design that's irregular and inspired by water – ice dye, marbling…
So dreamy.
I had kept this dip dyed clay tile on file in my mind for a long time, tucked away in the recesses of my brain for DIY inspiration, and I started to wonder if I could make something like it for my DIY floor (this Home Depot tile is really different, but has a similar watery boho vibe).
After seeing this "wooden aquarelle" method of dyeing wood vibrant hues with blurry swirls of color, I had pinned it to every board for "someday" and decided to try something similar for my plywood.
The artist, Meike Harde, uses liquid pigment that is trapped on the plywood with a waterproof frame and as it evaporates, it creates this ethereal, organic design. I struggled trying to recreate this technique Harde clearly perfected. I tried different pigments and sometimes they just sank in, leaving a richly, and solidly, dyed surface, but eventually I came up with something easy that created a really different look than her beautifully stained plywood – but created what everyone says looks like topographical maps or aerial shots of the lake. Perfect!
Here's What You Need for DIY Marbled Wood Stain:
Plastic Container (5 packs of stain make 5 quarts)
Stir Sticks / Wood Scraps
Good One Side Plywood (I used 1/4″ Maple)
Gloves (but I totally didn't use them and had smurf hands for a job interview!)
How to Create a Watercolor, Marbled Effect with Wood Stain:
Keda wood stains are super interesting because they come in super saturated, vibrant colors and can be shipped in a powdered form (genius!). You mix the powder with water, so you can create a lighter or dark stain (I mixed it pretty much according to the instructions). You can also mix colors to create a custom hue. I bought five packs of blue and five packs of yellow but when I even added the tiniest bit of yellow to my stain, it started to look very forest green – not the look I wanted – so I ended up mixing only half a pack of yellow to five packs of blue and after the stain dried, I realized I really could have added more yellow because it dried more teal than green.
Each plywood sheet ended up taking the stain differently and in some cases the blue did look more teal on the blond wood. It was an interesting (sometimes nerve-wracking) experiment to create this DIY marbled wood stain, but it was a heck of a lot of fun.
Here's my jug-o-stain:
My plan to create DIY marbled wood stain was to pour on the stain and move it around the plywood but first my application was a little ugly. I was too splashy and got this effect, which looked more like I spilled my stain by accident!
I learned to crouch down lower to the plywood and gently pour the stain on, as opposed to hurling it on from a standing position, and then it started to look more organic and swirly.
I used a spray bottle with water to create some areas with a thinner stain and I also moved the plywood sheets around, coaxing the stain into settling into certain areas. I used scraps of wood to prop up corners and help control the stain to keep it from just pouring off the edges (mostly). With such thin plywood, I could curve it gently to help keep the stain pooling in areas.
Here's a look at one pooled spot:
I tried to create a mix of some pooled stain and some thinned out stain. I tried to vary it but I also just let the stain travel where it wanted. Areas where it pooled, I let it evaporate overnight and that method left behind inkier areas. This DIY marbled wood stain effect was fairly easy to do, but it did take me an afternoon of coaxing stain around. It was a beautiful fall day though, so I can't complain. After I was convinced I would ruin it by touching it more, I let it sit until evening, then Hubby and I carefully dragged the sheets into the garage to dry overnight, safe from the looming rain.
Here are the finished plywood sheets with the DIY marbled wood stain:
Each one turned out so differently and I was even able to re-stain the first splattery one (which ended up creating the gorgeous teal/emerald pieces in my floor, which are everyone's favorite!):Problems I Encountered with This DIY Marbled Wood Stain Method:
Now, with this DIY marbled wood stain method, the stain isn't removed as it's designed to be (brush on, wipe off excess), so I tried to really "burnish" the wood once it dried by rubbing it briskly with a tack cloth. However, I was too ambitious with the minimal amount of time I let it dry and so when we cut it the next day, it did turn out fingers blue from handling it with sweaty palms.
The biggest problem I encountered – which I knew would happen – was that the water-based poly finish I used kind of re-activated the overdyed wood planks and muddied the bare wood areas. I did some tests with a scrap of wood because I suspected this would be a problem, but hoped for the best anyway! To circumvent this problem, I called my Mandlebaum Mom the night I was clear coating and she drove all the way out to help me finish the floor. We used a few different brushes and different plastic containers of poly to separately brush on finish to light/dark
areas separately to minimize the blurring but some still happened. It meant that I had to brush on the entire first coat as opposed to just rolling it on (which took three hours of back breaking work!), so I was grateful for my Mom's help! Even with our careful work, some muddying occurred because as it touched overdyed areas, the the poly turned pale blue and tinted many of the natural wood areas but it actually works with the watery vibe. Luckily, after the first coat the color was sealed in perfectly and then I easily applied the second and third coats with no issues – and way more quickly. I'll talk more about the clear coating process in my post about the installation.
If I did this again, I would definitely do it in the summer, when it's warmer, and let the sheets dry a good week. I immediately started working with them and the cooler, damp days didn't help my drying time. Alternatively, I could have sprayed a first coat of finish onto each board individually, even before install, to prevent the blurring and seal in the color.
Other than this little issue, I love how my watery plywood panels turned out. The DIY marbled wood stain experiment was a success! Don't forget to pop over to this post to see these planks transformed into a really eye-catching DIY plywood floor. I share our tips and tricks – and what we learned the hard way – for creating a plywood floor, handy for anyone thinking about doing it (whether or not you're tempted by this marbled, watercolor stained wood). I am just putting the finishing touches on the fish room and I am so excited to show you! I don't even recognize this formerly ugly little room and it feels so much more like an actual part of our house now.