Looking for last minute Halloween decorating ideas – more specifically: a cute and easy Halloween wreath DIY? Check out this ghostly rat wreath I made for my Halloween front door decor and read through to see how you can make your own DIY Halloween wreath with spooky ghost rats!
I originally bought and spray painted 30 plastic rats for a last minute Halloween costume idea but as soon as I lined them all up for that project, I suddenly envisioned a Halloween wreath DIY and became so much more excited about this idea instead!
Yep, it's a little last minute – but that's how I roll.
I spend so long hanging on to summer every year that Thanksgiving and Halloween always sneak up on me – I only just decorated my pumpkins! (Check out my quick and easy marbled pumpkins here if you missed them). Because Halloween is looming, I'm thrilled that my new Halloween wreath DIY only took about 10 minutes to whip up. I'm not a huge fan of the classic Halloween palette of orange + black (although I do enjoy Orange is the New Black, lol), so I love this DIY Halloween wreath idea because it's minimal and all-white – perfect with my blue and turquoise decor! – but it still has a ghostly, creepy, (kinda cute), Halloweeny vibe.
If you're doing this Halloween thing at the last minute like me (or, as Hubby put it, getting ready for Halloween next year already), you'll love this quick and easy Halloween wreath idea. 10 minutes to make – tops!
Supplies for This Easy Halloween Wreath DIY:
How to Make This Halloween Wreath DIY – Ghostly Rat Wreath:
The first step takes two seconds: lay the mice on their backs and the grapevine wreath face down and blast with a quick drying spray paint. Let dry, flip everything over and blast with paint again. The whole process, minus dry time, took me five minutes.
However, you could also save time and skip this step entirely! Use a natural grapevine wreath and the rats au naturel for an even quicker craft. Or spray paint to match your decor. As I'm typing, I'm picturing a mischief of rats sprayed increasingly lighter shades of my favorite hue for a pretty ombre effect. Hmmmm…
Hello little cuties! You complement my decor so much better now…
With the rats painted a ghostly white, I quickly affixed them to my grapevine wreath.
Time for a little confession: as a DIY blogger, it's my job to come up with a steady steam of crafts and DIY projects and that's such a sweet gig, but one thing that bothers me is how wasteful the industry can be. So many bloggers have admitted to disposing of their crafts immediately after pressing "publish" (never mind the perfectly lovely, beautiful rooms scrapped and decorated again and again for content). I understand that more content is the name of the game, but I try to be mindful of promoting an unreasonable preoccupation with the consumption of goods. Sometimes the sheer volume of STUFF in this world is really distressing. When I can, I reduce, re-use and recycle in my home and decorating pursuits – and that applies to my DIY supplies, too.
So while I recommend you take a dab of E-3000 glue (or any other tough, multi-purpose adhesive designed for plastic) and strongly bond these little rats to their new home, I opted to use string and secure them by their feet and tails for a secure, but not permanent, rat wreath. This way I can happily hang my wreath for the precious few hours before Halloween, and then re-use the rats and the wreath for another blog project down the road.
Either method works, but gluing will take two seconds, the thread will take about 5 minutes. I used a large needle to help me navigate the thread around a suitable piece of grapevine, secured the tail and a foot or two with one loop and tied off the thread and snipped the end before moving on to the next one. Because the thread is the same color, you really cannot see where the thread has been tied.
I overlapped my rats a bit to create a more spooky vibe of these ghostly cuties crawling all over each other. Spooooookkyyyy.
Easy peasy! I love this easy Halloween wreath DIY.
P.S. Don't Forget to Pin for Later!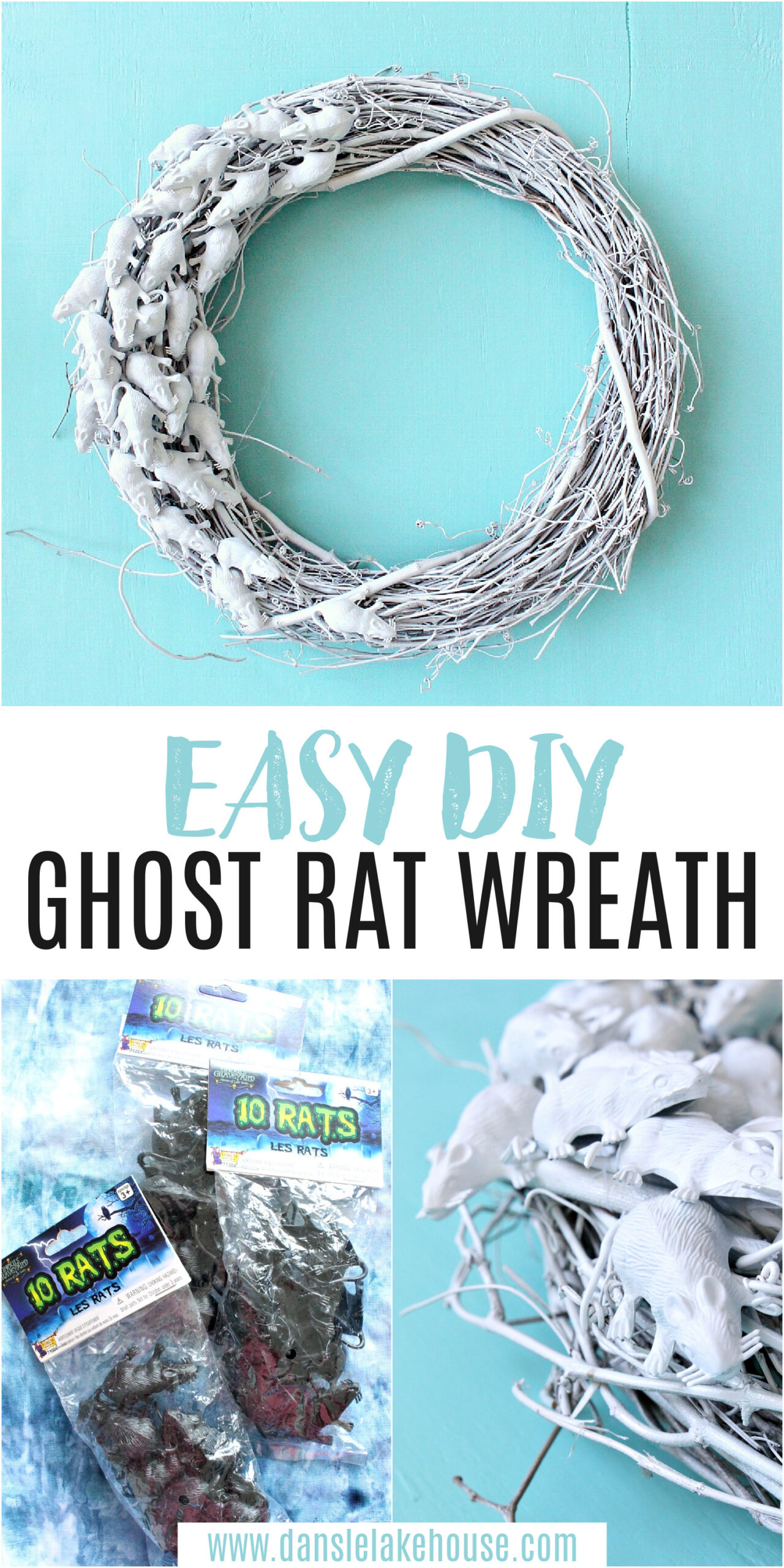 Please tell me there's someone else out there who has left their Halloween decorating to the last possible minute too??? I should probably get started on that cute costume idea for next year now, shouldn't I…