Today I'm showing off my most recent swirling whirling creation: DIY marbled pumpkins! It must be the lake's influence on me, because since moving to the shores of Superior I have really been gravitating toward designs with an organic vibe. Ice dyeing, watercolor, dip dyeing – give me anything that calls to mind swirling water and waves.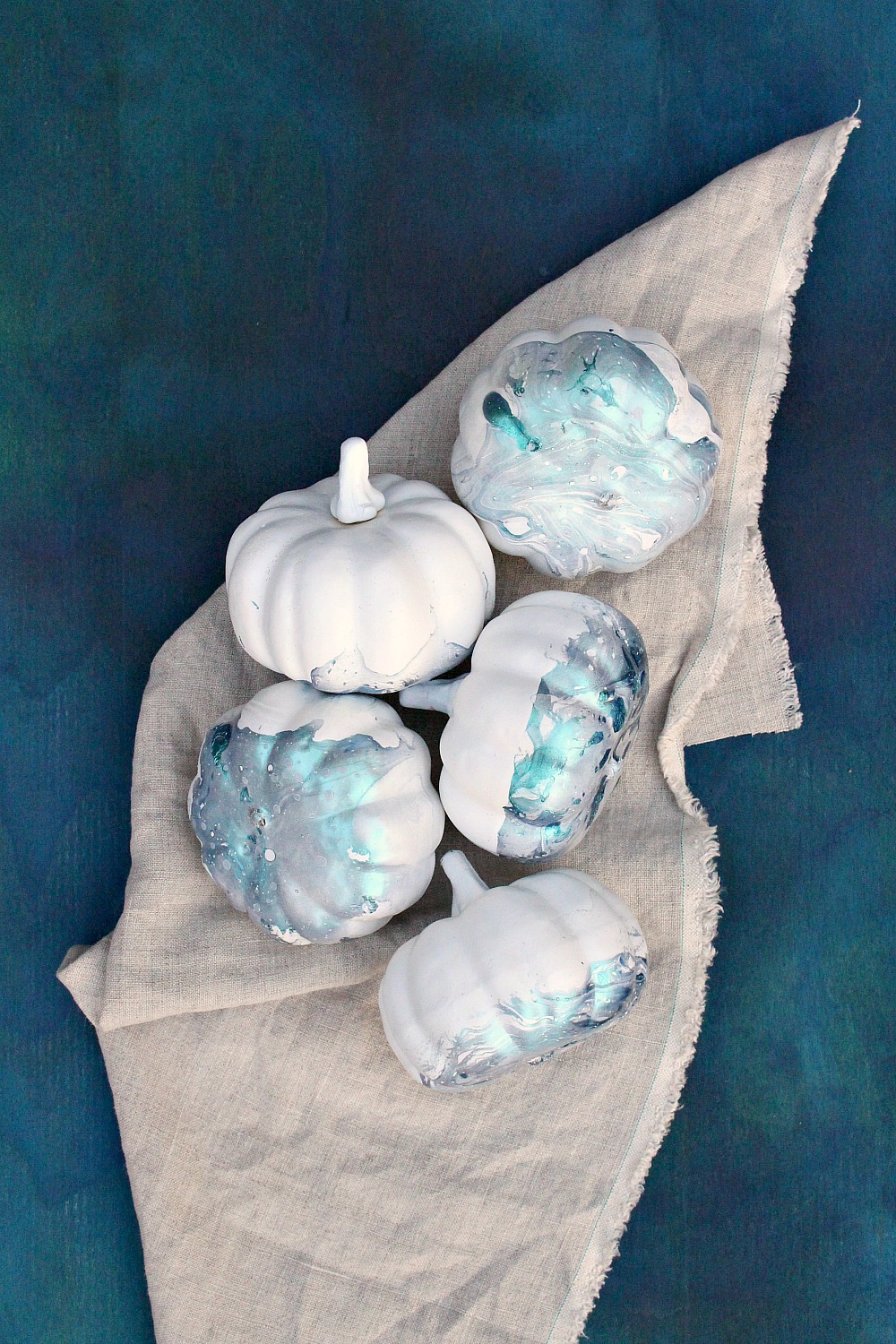 I had pinned a couple of marbled fabric ideas and was promptly inundated with DIY marbled pumpkins in my Pinterest feed – like these indigo ones, these pretty pastel ones, these densely marbled ones, these brightly colored ones, these blue/green preppy ones, and these super saturated ones (from way back in 2013)! I couldn't get DIY marbled pumpkins off my mind, so I decided to make some marbled pumpkins of my own this year.
I loved the sparkly turquoise pumpkins I made last year – especially my last minute Pyrex-inspired pumpkin – but I have to admit that I also really loved the look of plain white mini pumpkins. I actually hesitated before painting them turquoise, because they're just so cute. This year I wanted to try something that was really subtle and celebrate the natural look of those cuties. But of I couldn't find nice mini pumpkins of the fresh variety this year, so I took a chance on some faux ones from Amazon. When they arrived, the green stems looked a little too faux and the beige color was a bit off so I just sprayed them all a crisp white and I love how they look. It turns out that I don't really discriminate between real or faux pumpkins, I just love the look of a mini white pumpkin. Plus the white helps my marbling really pop, while still keeping the overall look pretty minimal. And I don't have to watch these beauties slowly rot!
Supplies for DIY Marbled Pumpkins:
How to Marble a Pumpkin:
The first thing I did was spray paint my pumpkins white and then I let them dry overnight.
Before marbling, I attached little twist ties to the stems so I could hang them to dry without touching them. Actually doing the marbling was so easy, and only took a few minutes!
I grabbed my plastic dish and filled it with lukewarm water. Then I just added a few drops of nail polish (I found my OPI Emerald Empowered bottle at the buck store!), swirled it with my toothpick and dunked the pumpkin quickly! In and out, in one swift motion. Then I hung my pumpkins to dry, but the nail polish dried in minutes. I gently wiped off any excess water with a paper towel.
So easy! These DIY marbled pumpkins are such a perfect last minute, no carve pumpkin decorating idea because if you skip painting the pumpkin, these can literally be ready in five minutes.
I liked the look of a half-dipped, marbled pumpkin but I did experiment with dipping from both ends – and also painting the stem the same color as the marbling.
But in the end, simple won out and I favored my five little DIY marbled pumpkins with their minimal vibe. I love that little pop of swirly blue – they look perfect lined up on my kitchen window sill.
Have you tried marbling anything? Have you decorated any pumpkins yet?
I always wait until fall, if I can, because it just doesn't feel right until the leaves change color. As a DIY blogger, I'm supposed to be doing this in the summer, but as someone who lives for summer, I can't bring myself to think about fall (or winter!) until well into October….
P.S. Don't Forget to Pin for Later!