The mini DIY potted plant ornament I'm sharing today might just be the cutest DIY Christmas tree ornament – and what an adorable gift for plant lovers!
Even though I don't put up a Christmas tree, I am smitten with Anthropologie's ornaments this year – like this one that looks like my puppers and this very beachy jellyfish ornament. One in particular caught my eye and even inspired my own Anthropologie knock-off DIY: this little potted plant ornament.
Years ago I thrifted four mini terracotta planters for an abandoned dollhouse project, so I already had the main ingredient for this cute DIY potted plant ornament.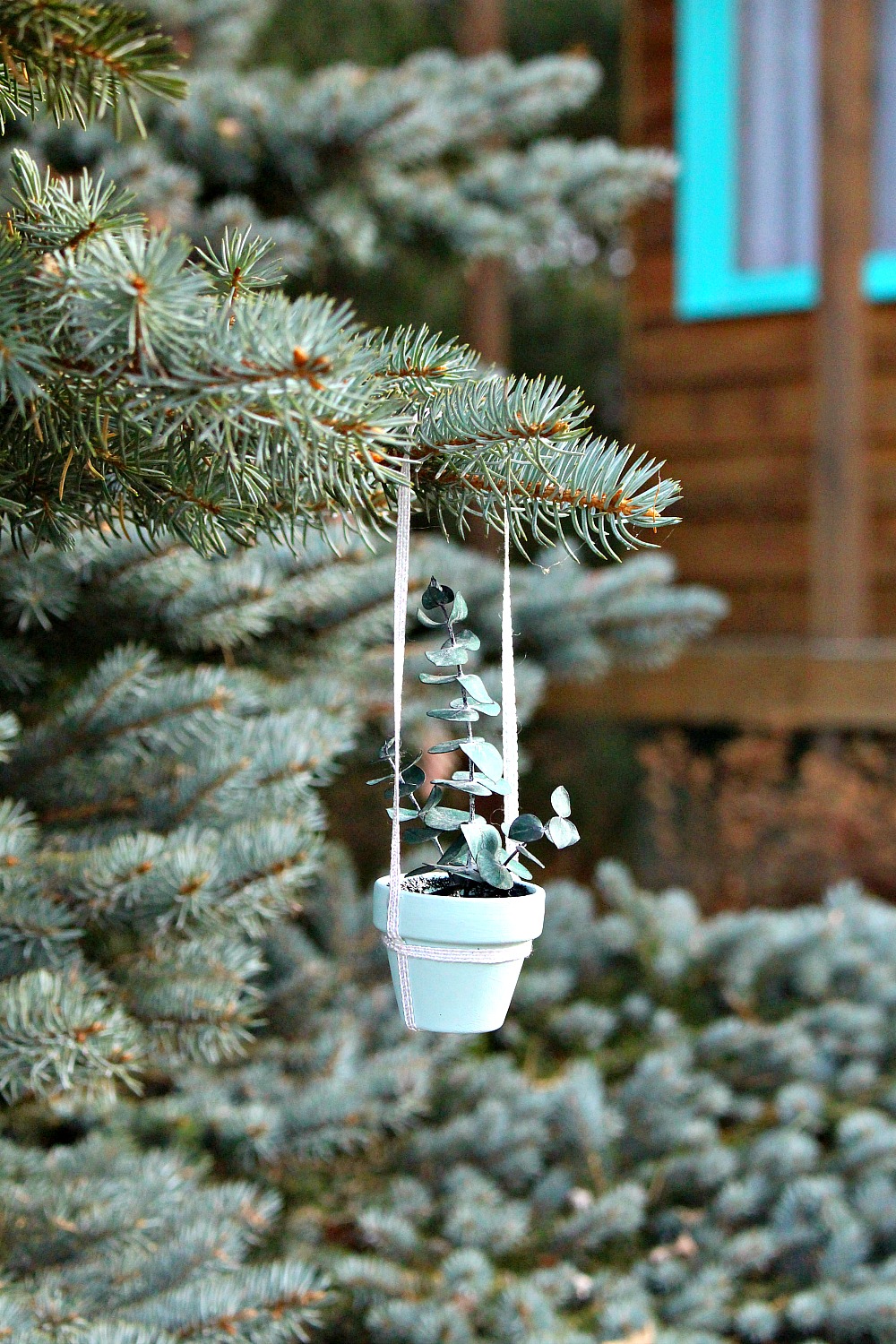 It took a little bit of trial and error – and in the process I accidentally smashed my fourth potted plant (another leafy one, in an unpainted terracotta planter). But they turned out so cute – it was definitely worth the effort! Let me save you some time and give you the scoop on how to make this DIY potted plant ornament because now I have this down to a science and you could easily make dozens in an afternoon, to give as stocking stuffers or gift toppers.
Here's What I Needed to Make These DIY Potted Plant Ornaments:
How to Make a Faux Mini Potted Plant:
The first step was easy: I decided to paint two of my terracotta pots with some pale blue chalk paint.
The next step was to try and replicate the look of soil. I made a lot of failed attempts here, but I'll tell you what worked. I had a massive bag of black glitter from when I painted my vinyl flooring because I ended up skipping the glittery topcoat I had schemed, so I was looking for an excuse to make a dent in my epic glitter stash and glitter really replicated soil so well. To contain the glitter, I glued a small circle of cardboard inside my planter to block the hole and keep glitter from escaping. For the painted planters, I added a dab of paint to hide the cardboard, but that's optional because no one will see the bottom.
Next, I filled the pot with black glitter.
I would have liked to have used resin to secure the glitter and "plants," but it is so expensive! Instead, I found a two-part epoxy at the dollar store. It works and smells like the brand name epoxy we often use for projects, but a lot less expensive. With my pots filled with glitter, I poured the epoxy on top and stirred it around using a toothpick. While the epoxy was setting, I inserted some small stems clipped from some faux plants my Mummu had in her craft supply. It required some patience to hold the stems upright while the epoxy dried but eventually the epoxy had thickened enough to keep the plants upright. With the epoxy still tacky, I sprinkled on another layer of glitter and set it aside to cure overnight. In the morning, I poured off the excess glitter and was thrilled with the result!
Another idea could be to stuff the planter with a cork, or really anything you can firmly glue in there, and then just brush on some mod podge or exoxy and dust with black or brown glitter – or maybe stuff it with some air dry clay and paint it black. There are lots of options, but I used what I had on hand to save some $$$. Plus I love the glitter, especially the way it settled just a bit with the epoxy the way soil does after you water a plant the first time after potting it.
How to Make a Mini Potted Plant Ornament:
To hang the DIY potted pant ornaments, I used a hot glue gun to secure some thin ribbon and make little slings. If I was more patient, I might have made mini knotted macrame plant hangers – that would be really, really adorable.
This DIY potted plant ornament looks so realistic! I love a good miniature and these look adorable hanging from a tree. Imagine a mini orchid plant or cactus.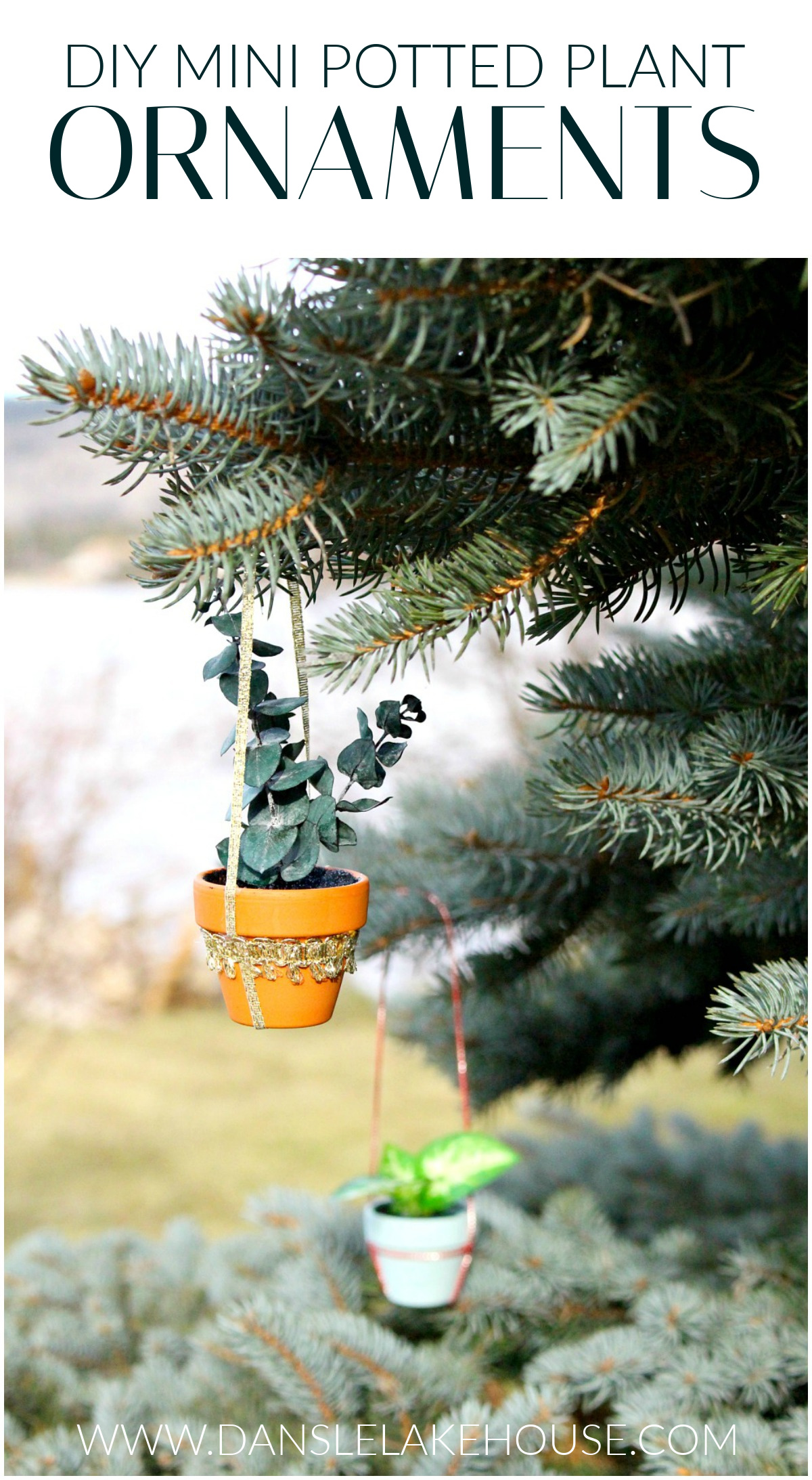 There are lots of ways to personalize this DIY potted plant ornament, from painting a design on the pots, to making pots out of found objects. It's the perfect project for using up craft scraps!
P.S. If you're looking for another easy DIY Christmas Tree ornament idea, take a look at my glittery spider ornaments and read the legend to find out why every tree needs a spider…