The manufactured stone facade we have on the lake side of the house is finally painted, so we are looking at a gorgeous charcoal grey painted stone exterior and matching chimney these days! Although the house exterior is a looonng way from being completed and we're still looking at a massive exterior renovation looming in our future, I am so happy with this tiny bit of progress. Today I'm sharing the before and after, plus our tips and tricks for painting the chimney (safely!), and also talking about why we decided to keep the stone after all.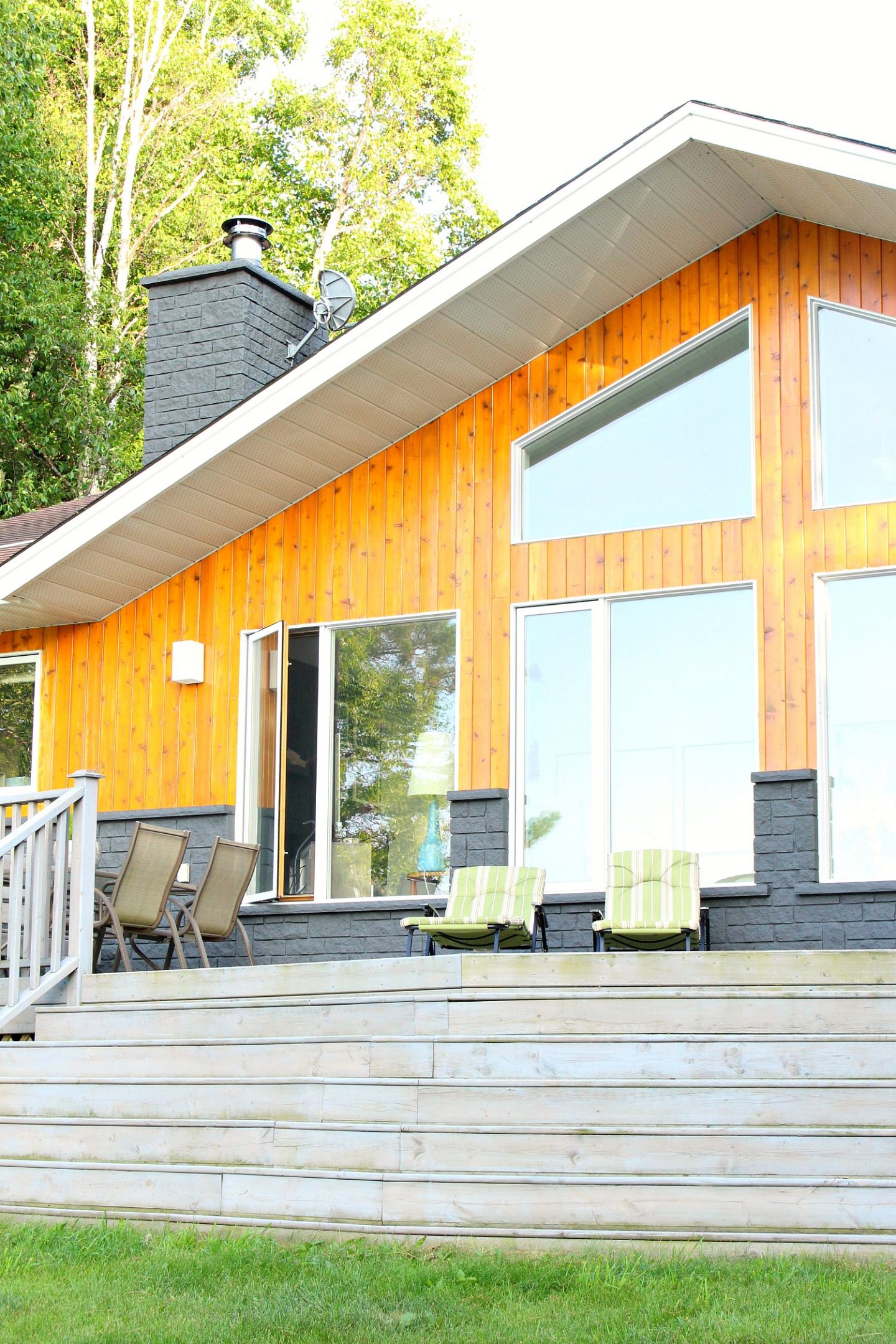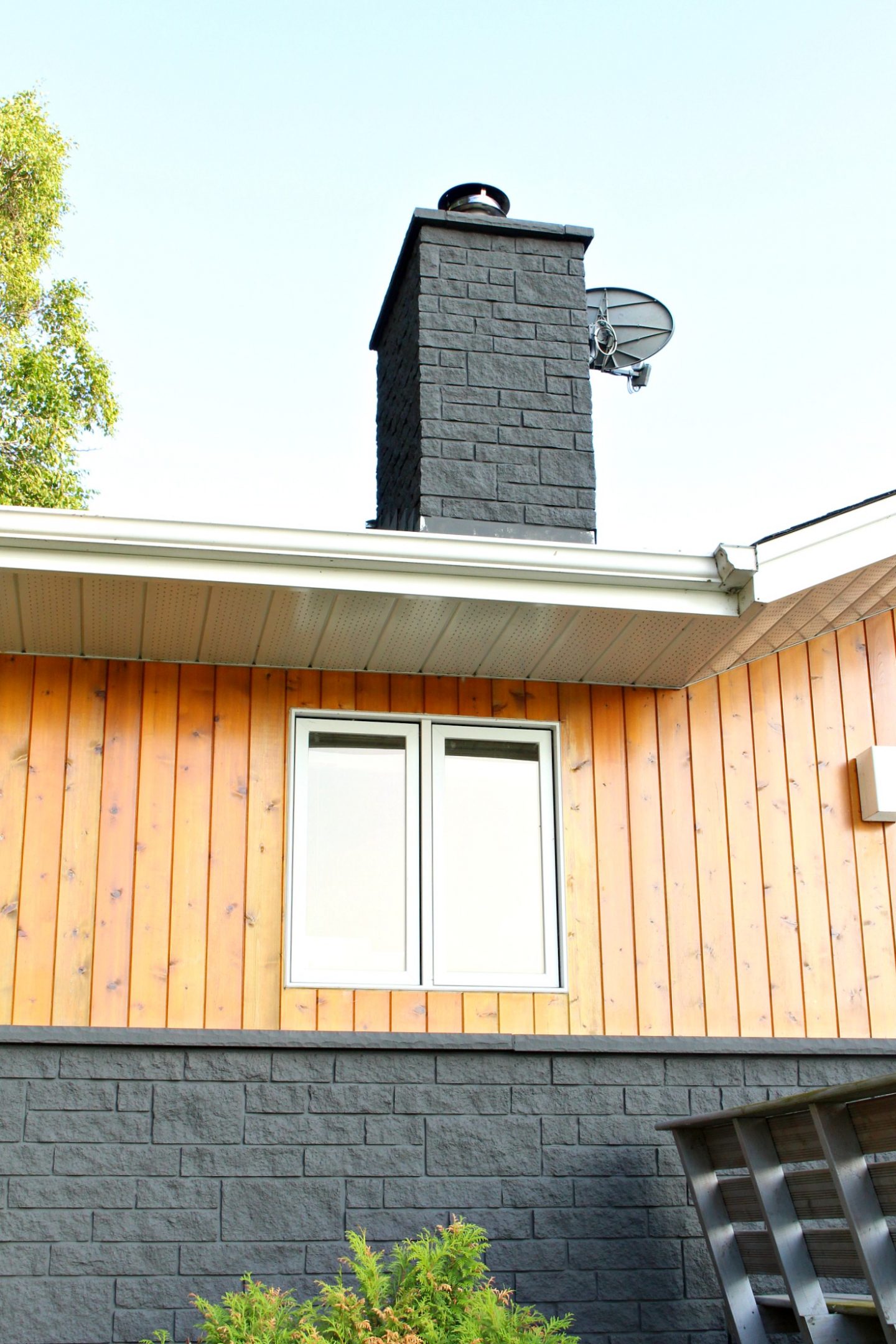 I want to talk about painting the chimney first because, as a volunteer firefighter and emergency first responder, I think it's my responsibility to show safe DIYing – especially with heights. After a crushing defeat in a game of 1-2-3-not it, Hubby got the task of shimmying up on our roof to paint the chimney – which we totally forgot about and actually had to run out and buy more paint for. At the same time, we hit up a local industrial safety supply store and picked up a roofer's safety kit, which is a bucket that contained an adjustable harness, reusable anchor, rope grab and lanyard, and vertical lifeline: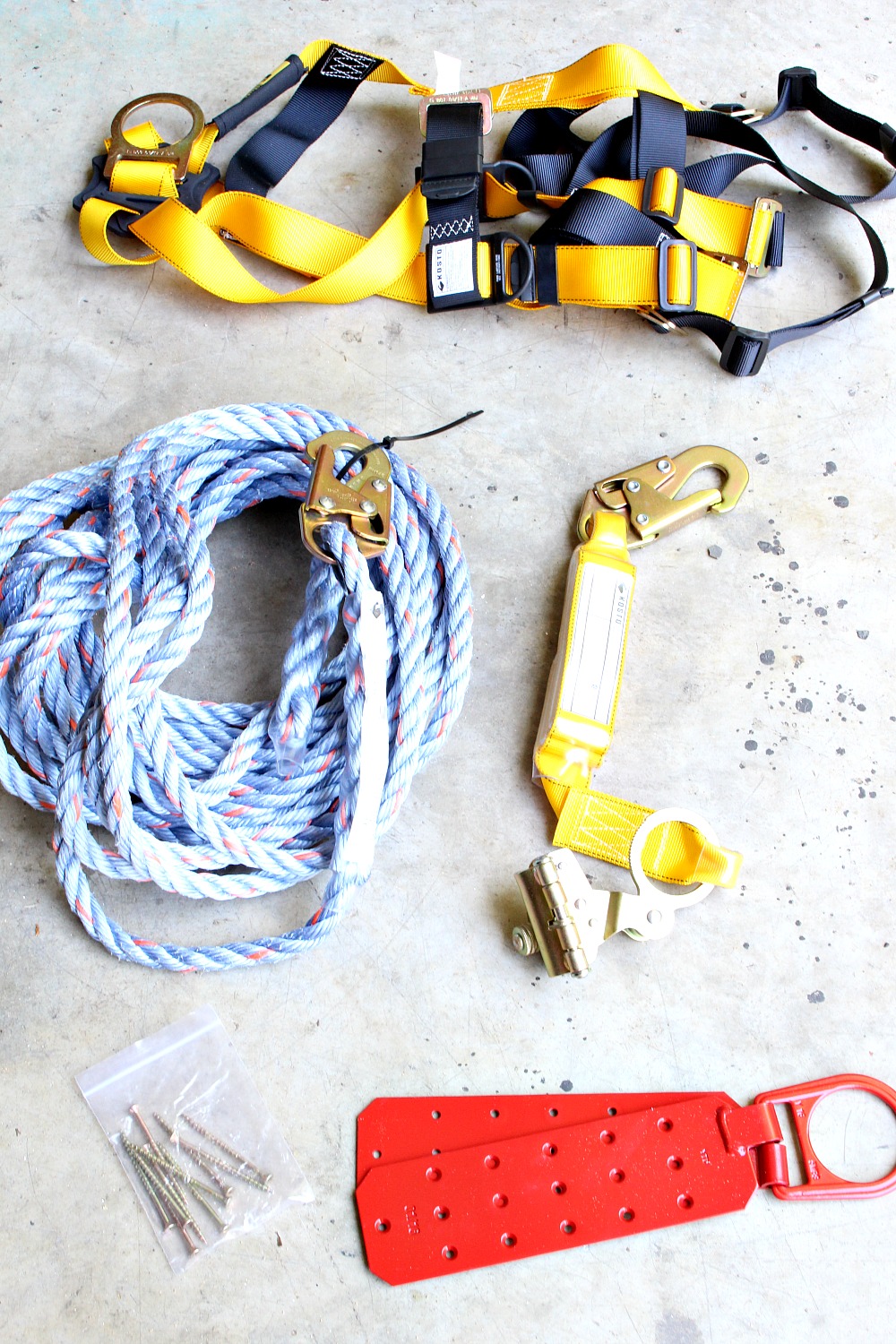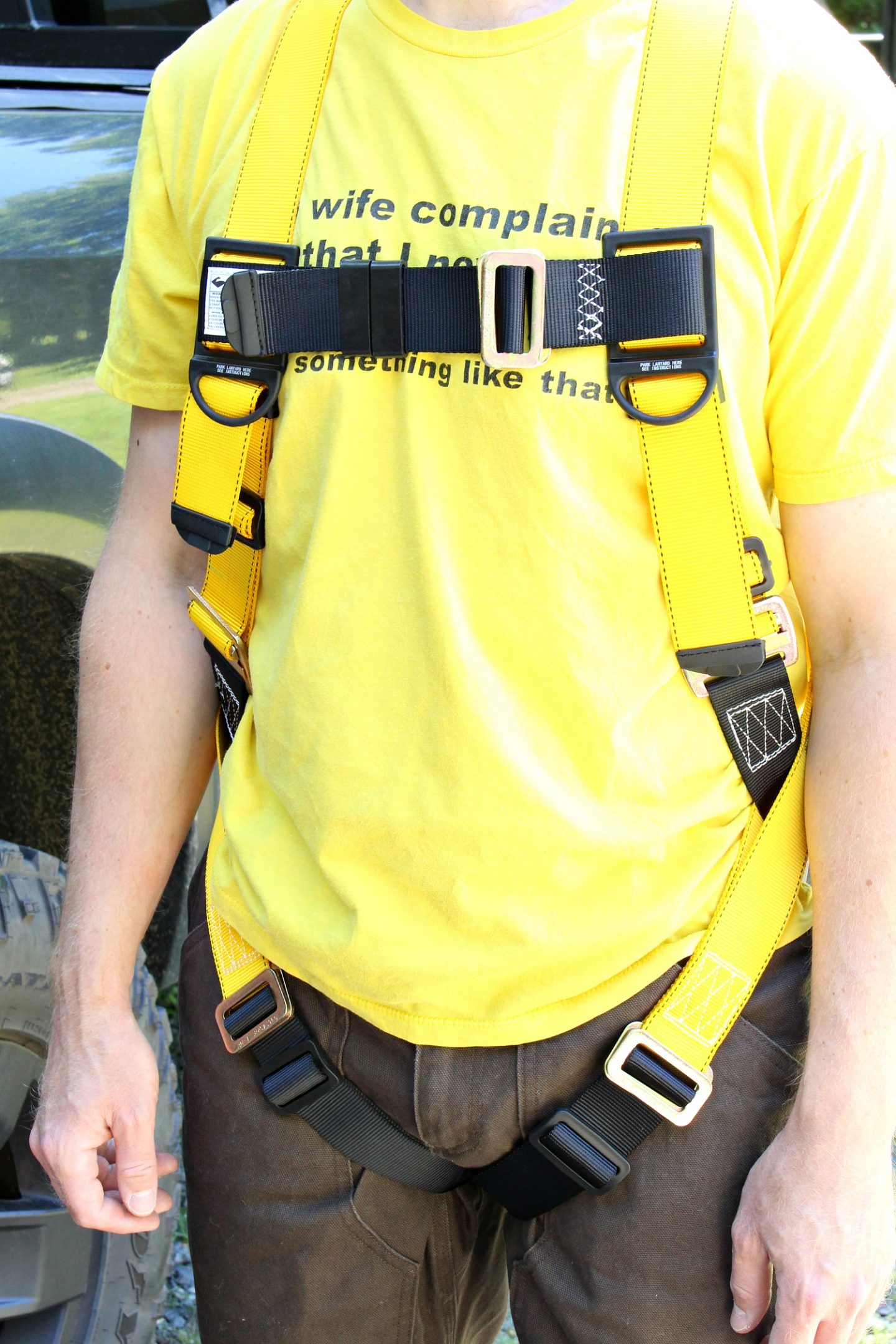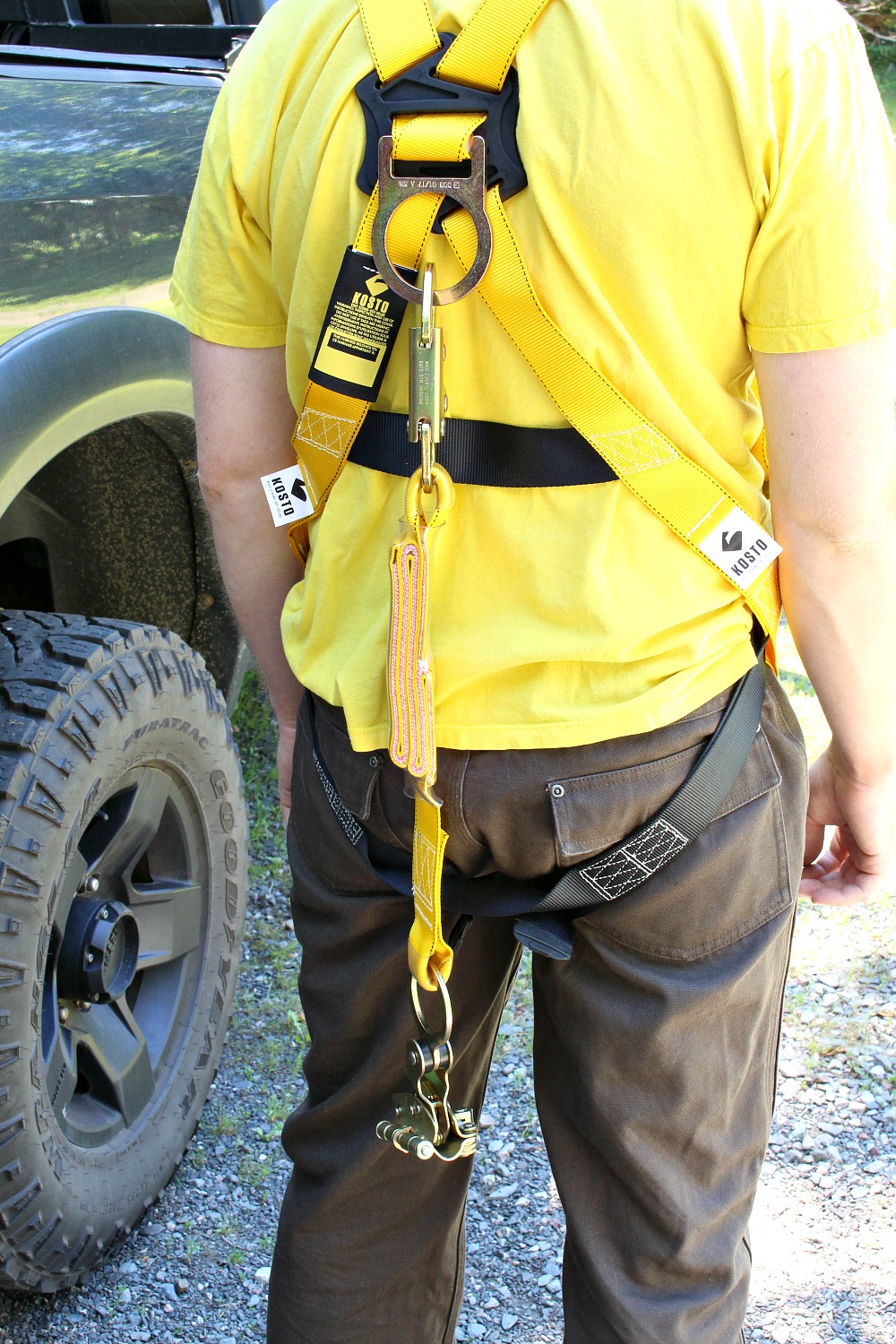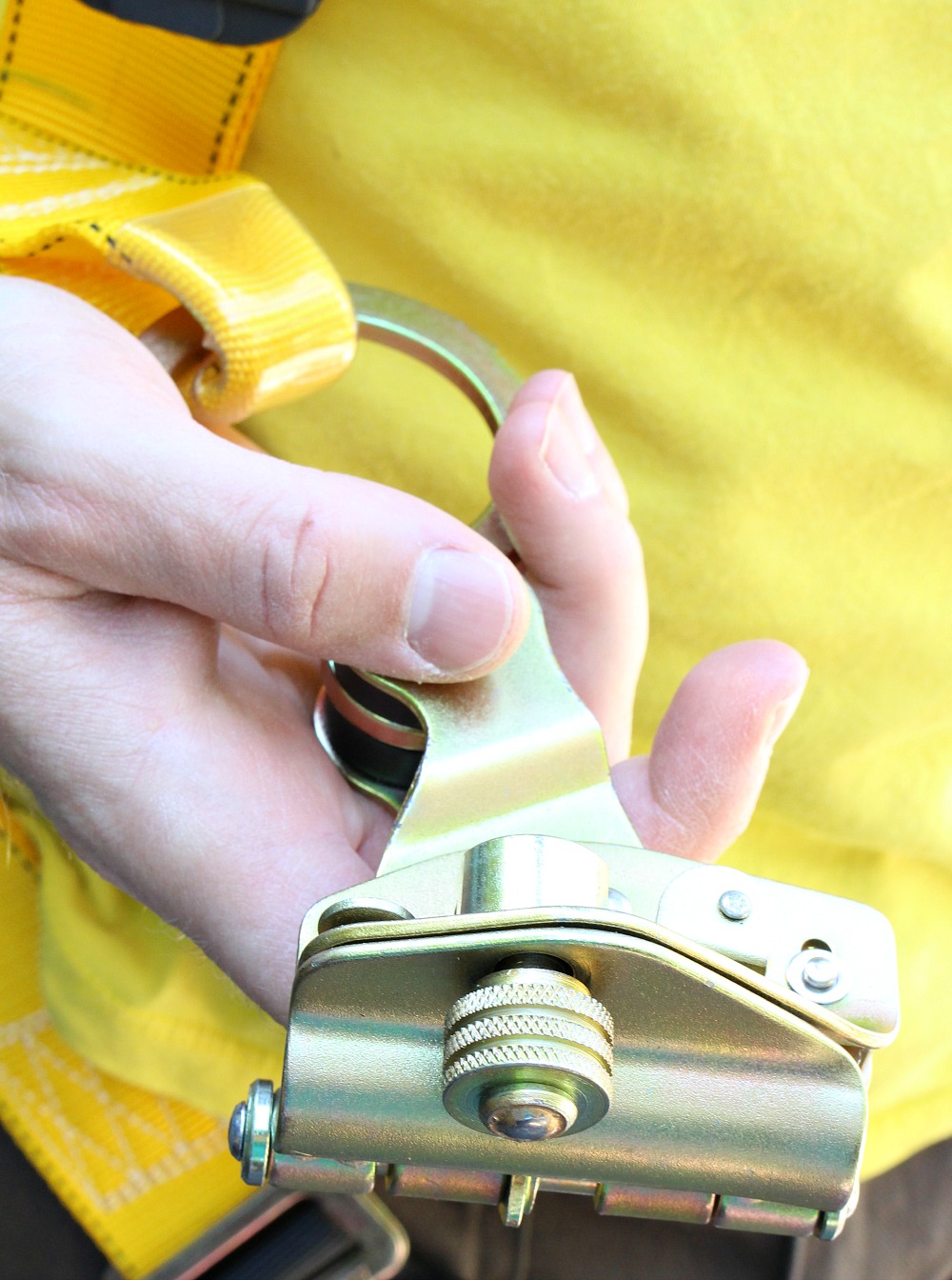 Here's How the Roofer's Safety Kit Works:
There are instructions included with each roofer safety kit, but I thought I would just explain the jist of it for anyone pondering some roof work this summer. Hubby has had fall arrest training for his work and he's happy to share his expertise with anyone who needs it, but for anyone else who reads this blog the way I watch How it's Made, here's what you need to know: screw the roof anchor (the red thing in the photos above) into the roof and attach the vertical life line (the pretty pale blue rope) to the anchor using the clip on the rope end. Put on the harness, make sure it's snug and all pockets have been emptied of tools (they can hurt if you fall and the harness presses against them). Attach the shock absorbing lanyard (the yellow strap) to the D ring on the back of the harness – the other end has a rope grab which attaches to the vertical life line. There's an arrow on the side of the rope grab that indicates which way should be up. Hubby used this as fall restraint and not fall arrest gear, so it would have kept him from falling off the roof completely. He always made sure the line was taught enough so he wouldn't fall too far if it did happen – which it did not (whew)! This roofer's kit cost about $150 but it just gave us both a lot of peace of mind. Hubby said it was much easier to paint the chimney with the safety equipment on, because he could focus on the task (our gorgeous charcoal grey painted stone exterior) and not stress about tripping and falling.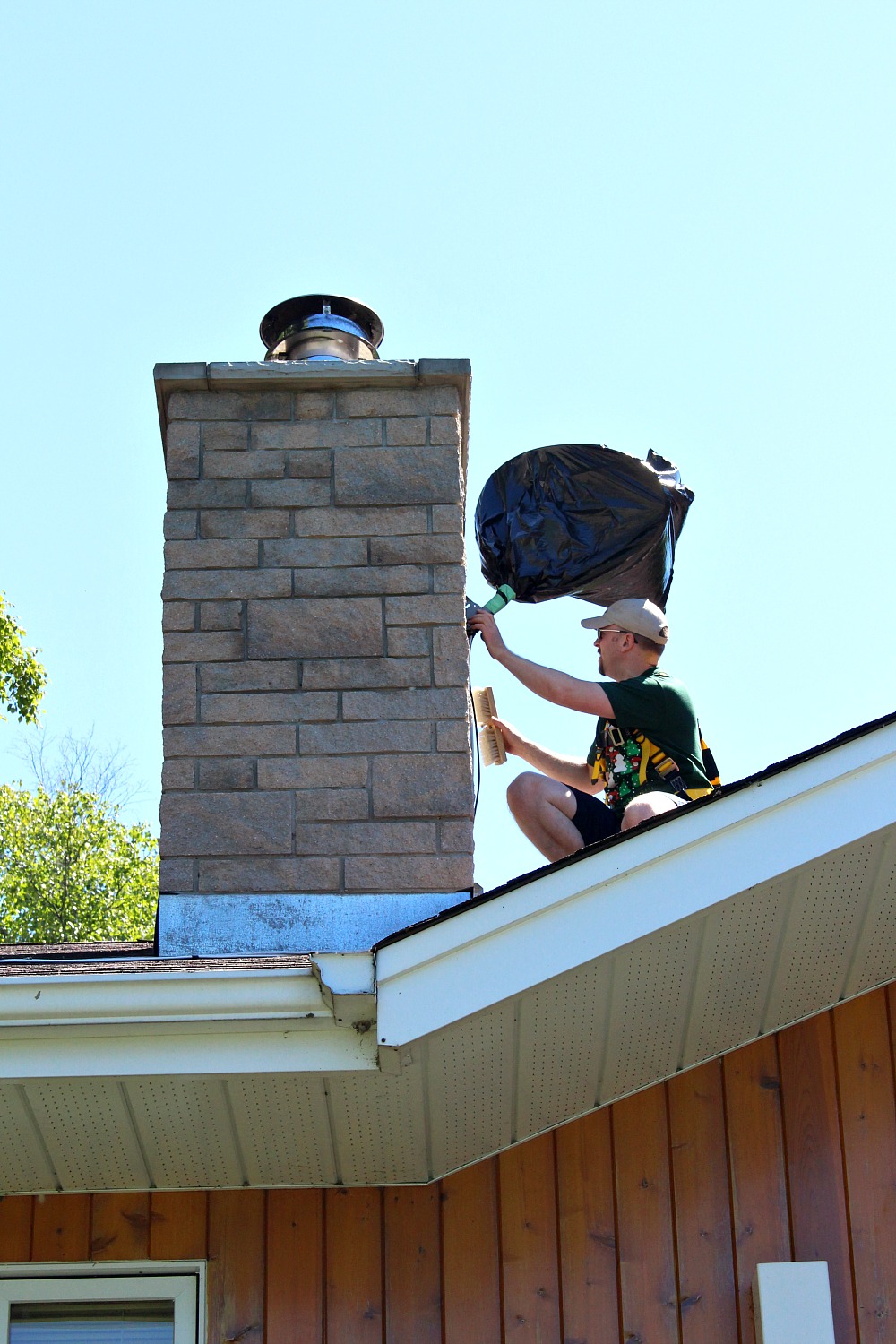 How to Paint a Stone Chimney:
Although I scrubbed and pressure washed the stone facade prior to painting, Hubby just used a stiff brush to clean the chimney and then applied Behr Masonry, Concrete & Brick paint (color matched to our siding), using an angled brush for the mortar seams and then a thick pile roller (meant for popcorn ceilings) for the surface. It's an imperfect application because the concrete is so ridiculously textured, but you can only see small specks of light if you are zoomed in with a camera – from the ground, with human eyes, the chimney is a perfect charcoal grey!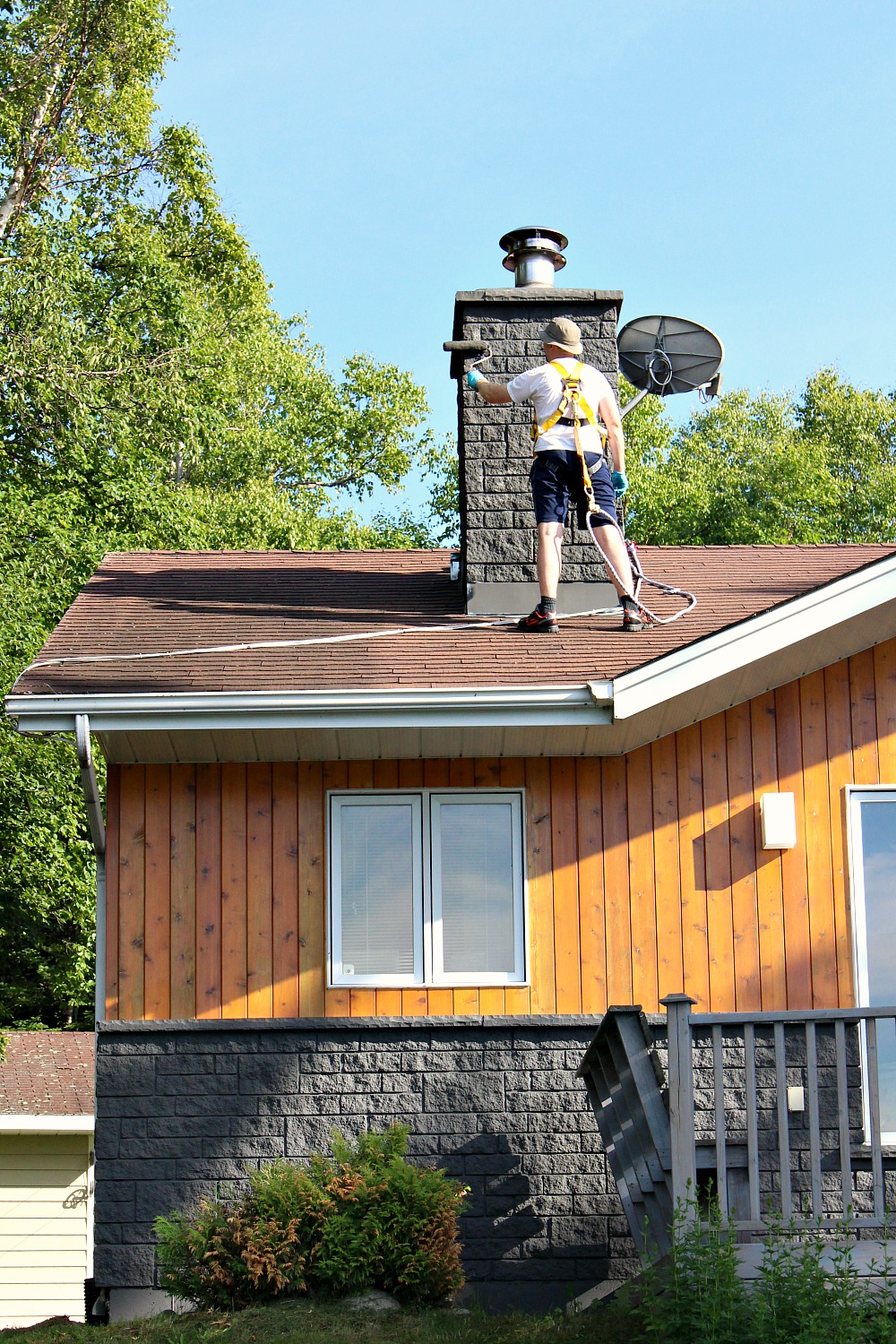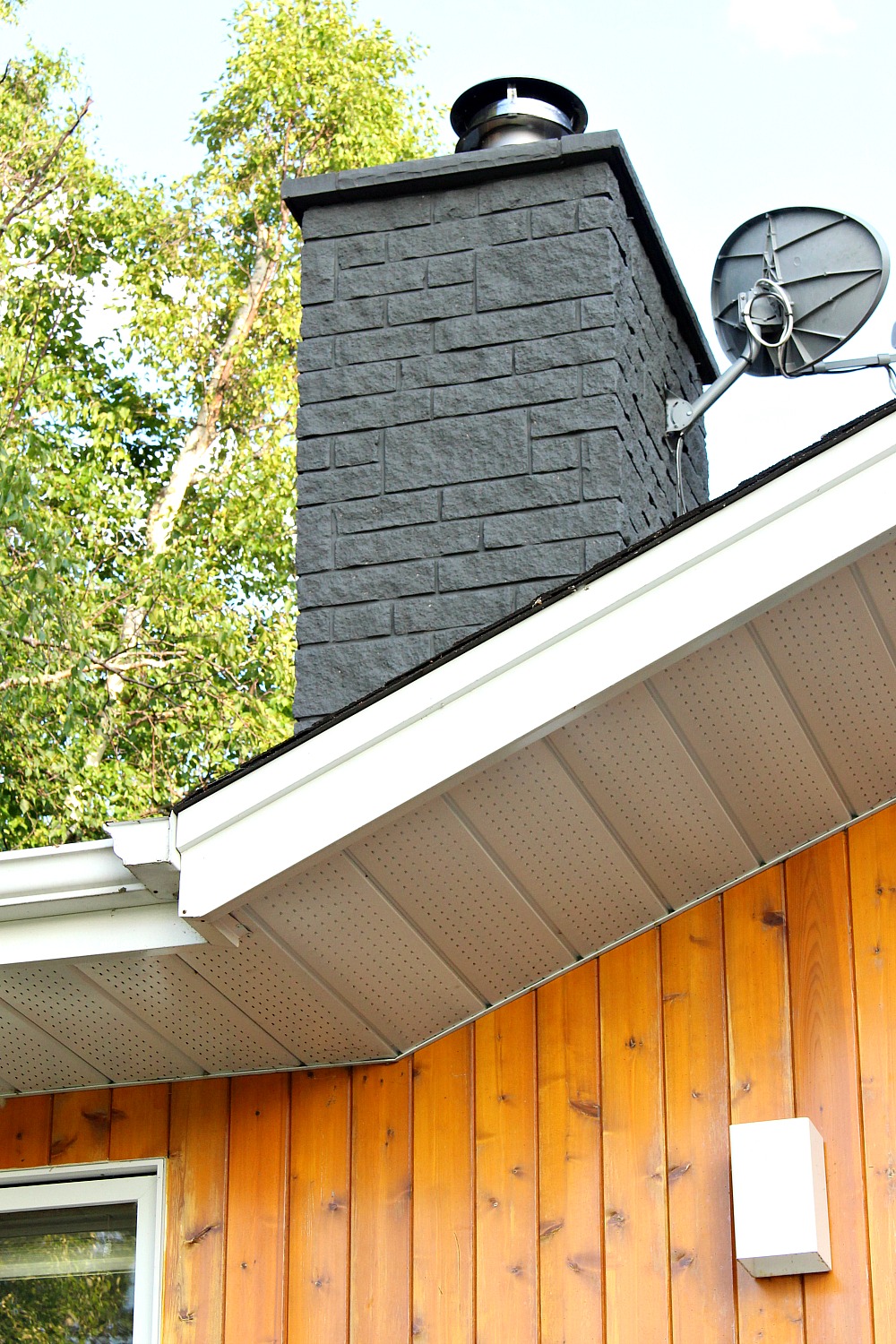 The second best tip we can provide when it comes to safely painting a chimney is this little shelf Hubby whipped up. He measured the pitch of the roof and added little triangle legs to a piece of plywood to create a flat surface to place his paint can – how clever is that?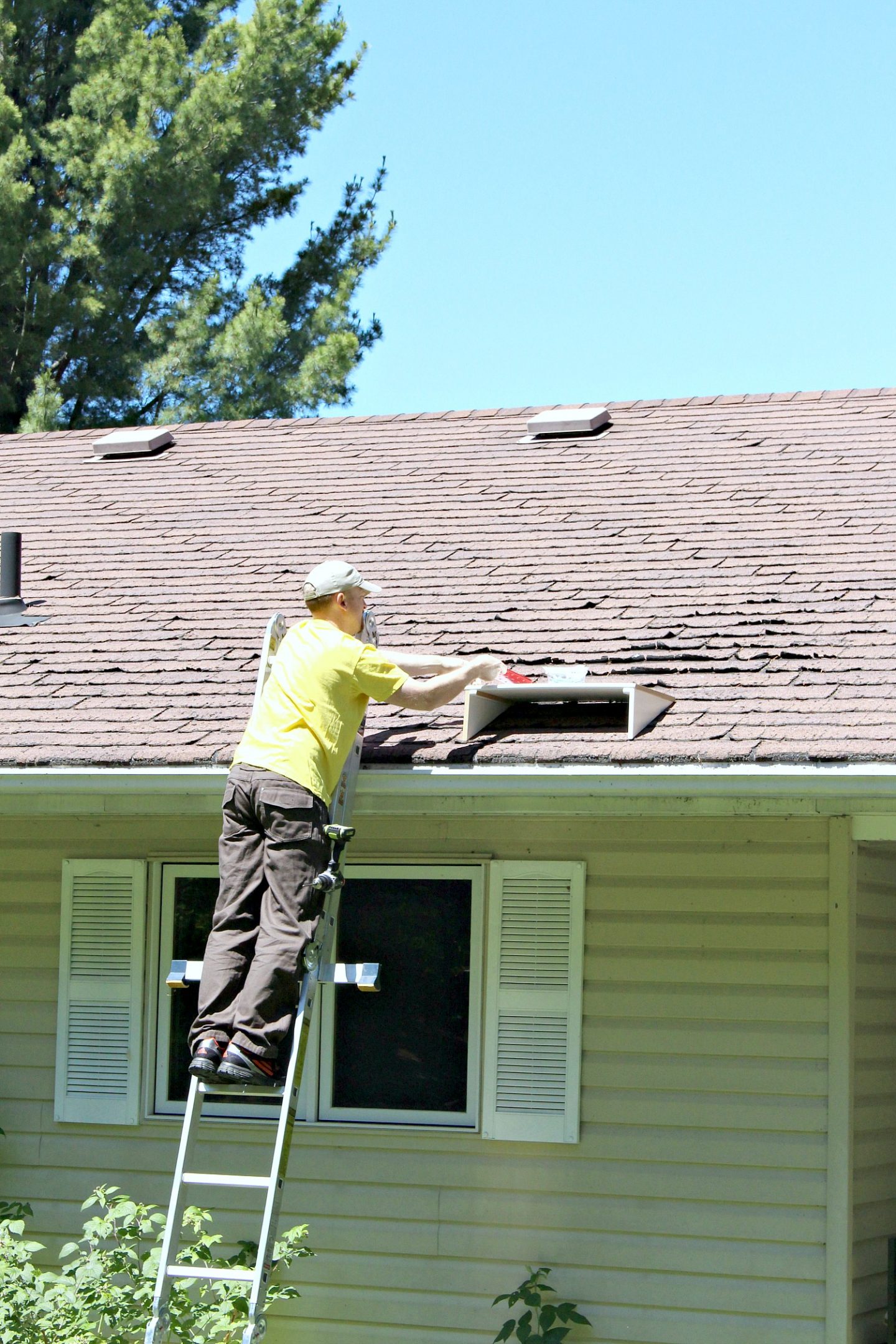 Transforming Our House with a Charcoal Grey Painted Stone Exterior:
While he was baking in the sun on the roof, I finished painting the house exterior because when I showed you the turquoise garden door makeover and the cool, wood burned and welded step we finally built, I had actually run out of time (and sunny days) so only half the facade was painted! I had cropped out where I stopped. Luckily my Mom was here to help and she and I tackled the entire facade together – with a pair of 2″ angled brushes! It sounds nutty, but it's how I painted the the fireplace inside (which is made of the same manufactured stone). I like this method because it helps me finish the task in one coat (with some touch ups here and there) and I get every little nook and cranny – which are deep and irregular with this kind of composite stone. Somehow the wild texture of this faux stone is flattened by photos, but in real life we have to really push the paint in, aggressively, with a paint brush. Even spraying the paint didn't reach into the deepest crevices. Just like the fireplace makeover, I also spray painted the exterior vents matte black first so it blends it nicely with our charcoal grey painted stone exterior.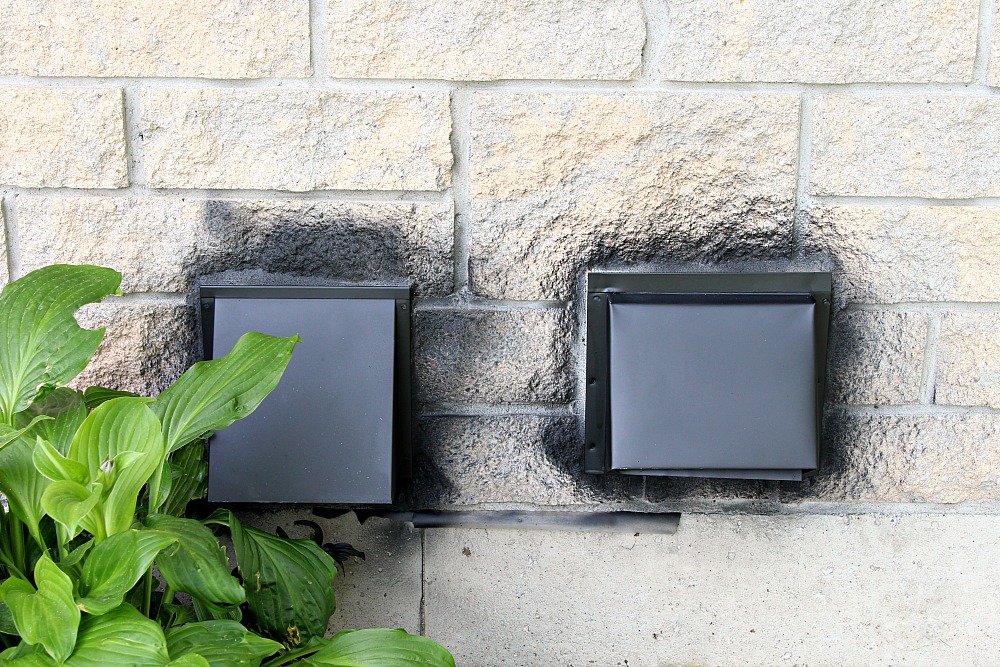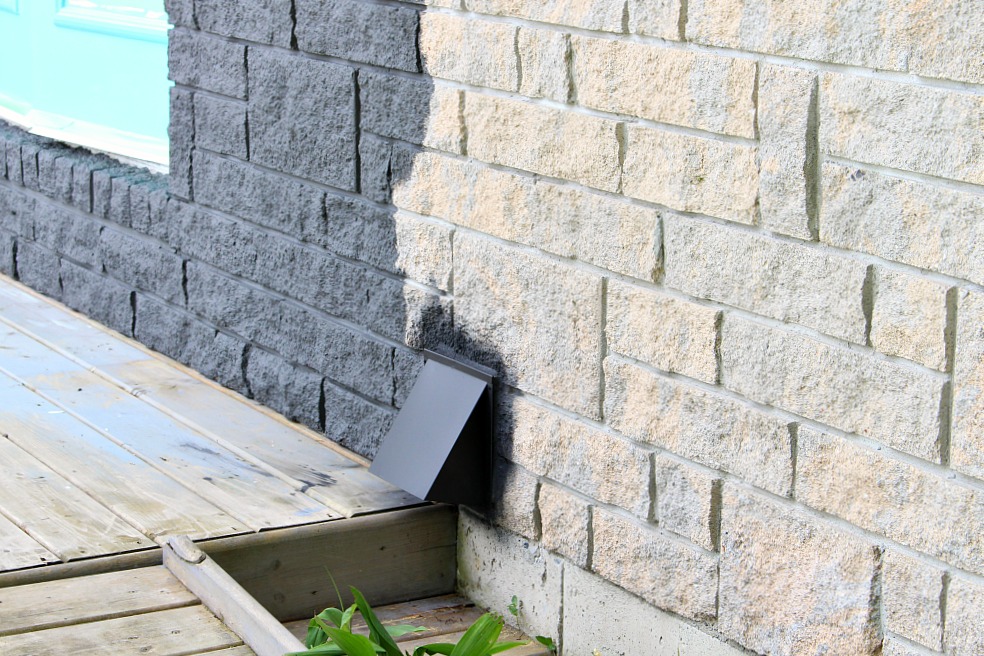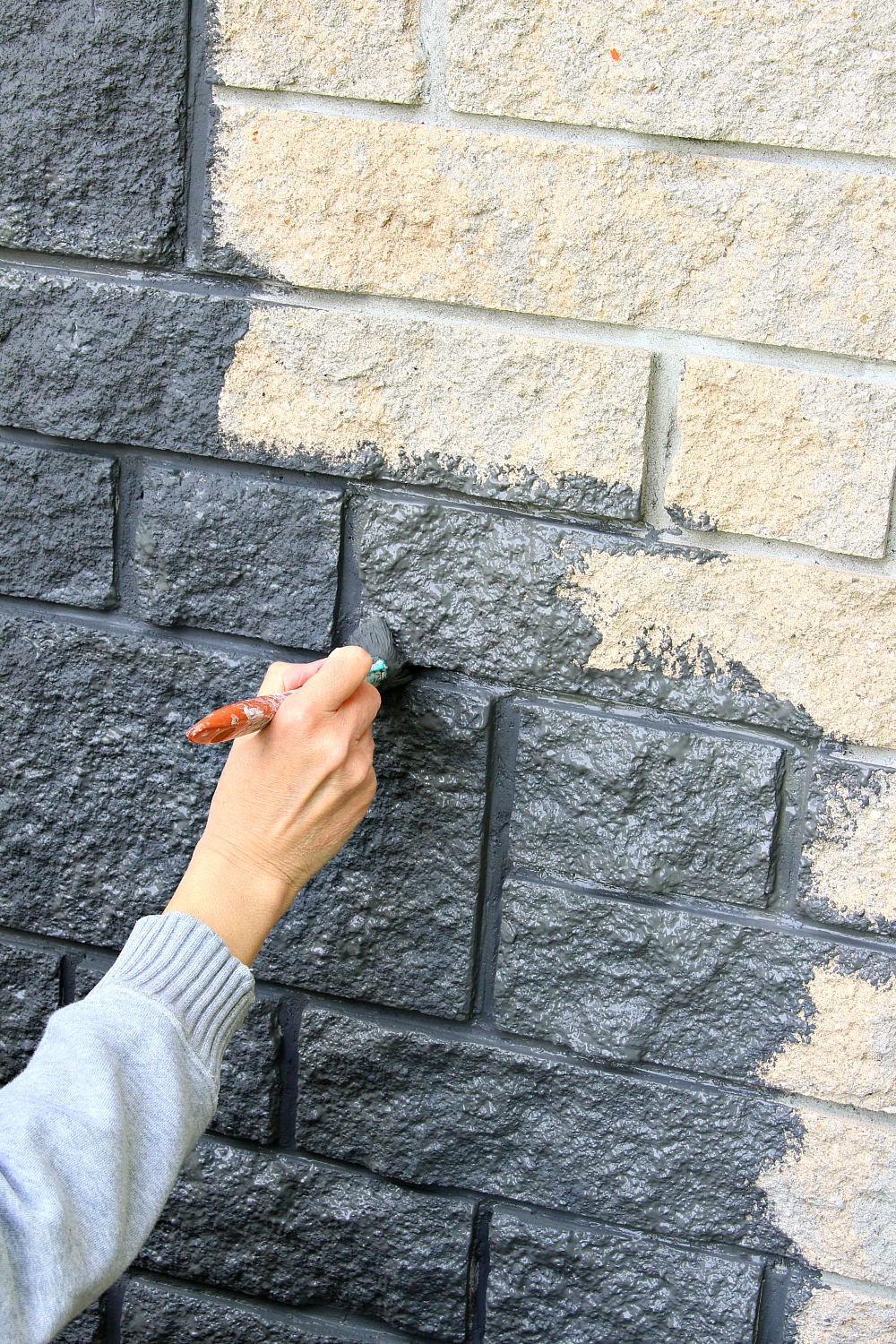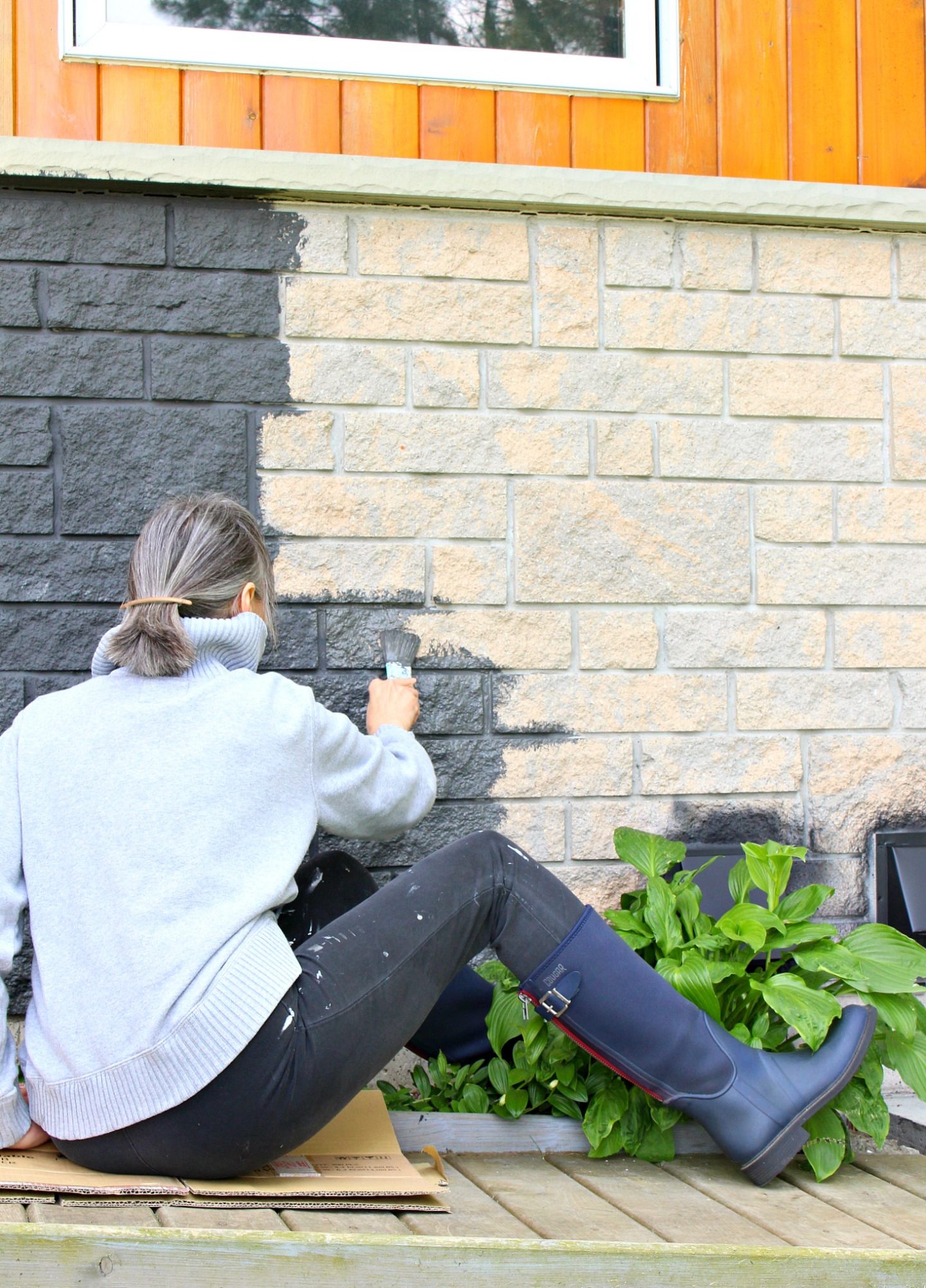 As you can see, we still don't have our new roof, soffit and fascia, siding or windows (installation has been pushed from the end of July to beginning of August), and so I haven't refinished the deck black yet either, but already you can see the transformation taking place, thanks to the charcoal grey painted stone exterior!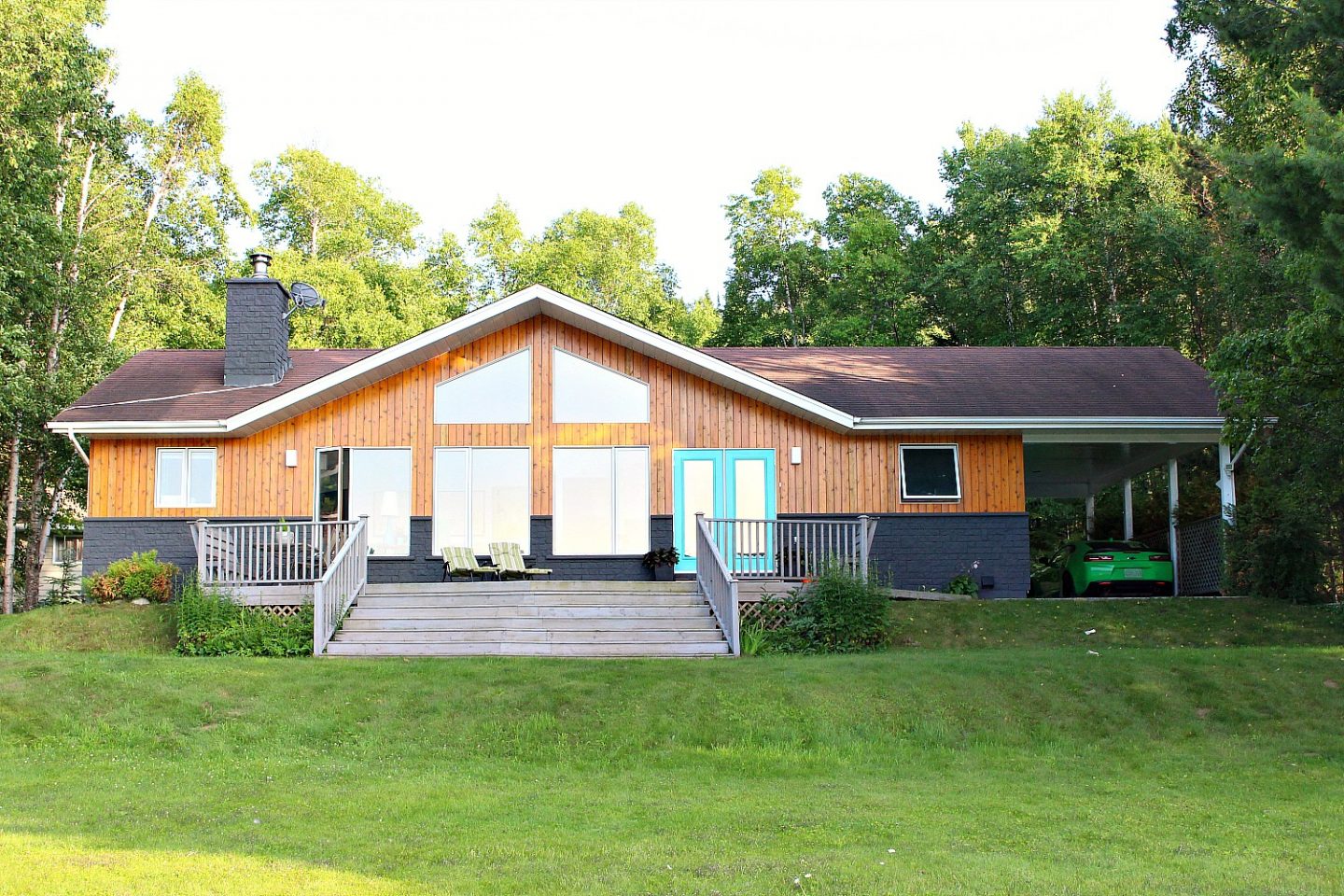 Here's a reminder of the before: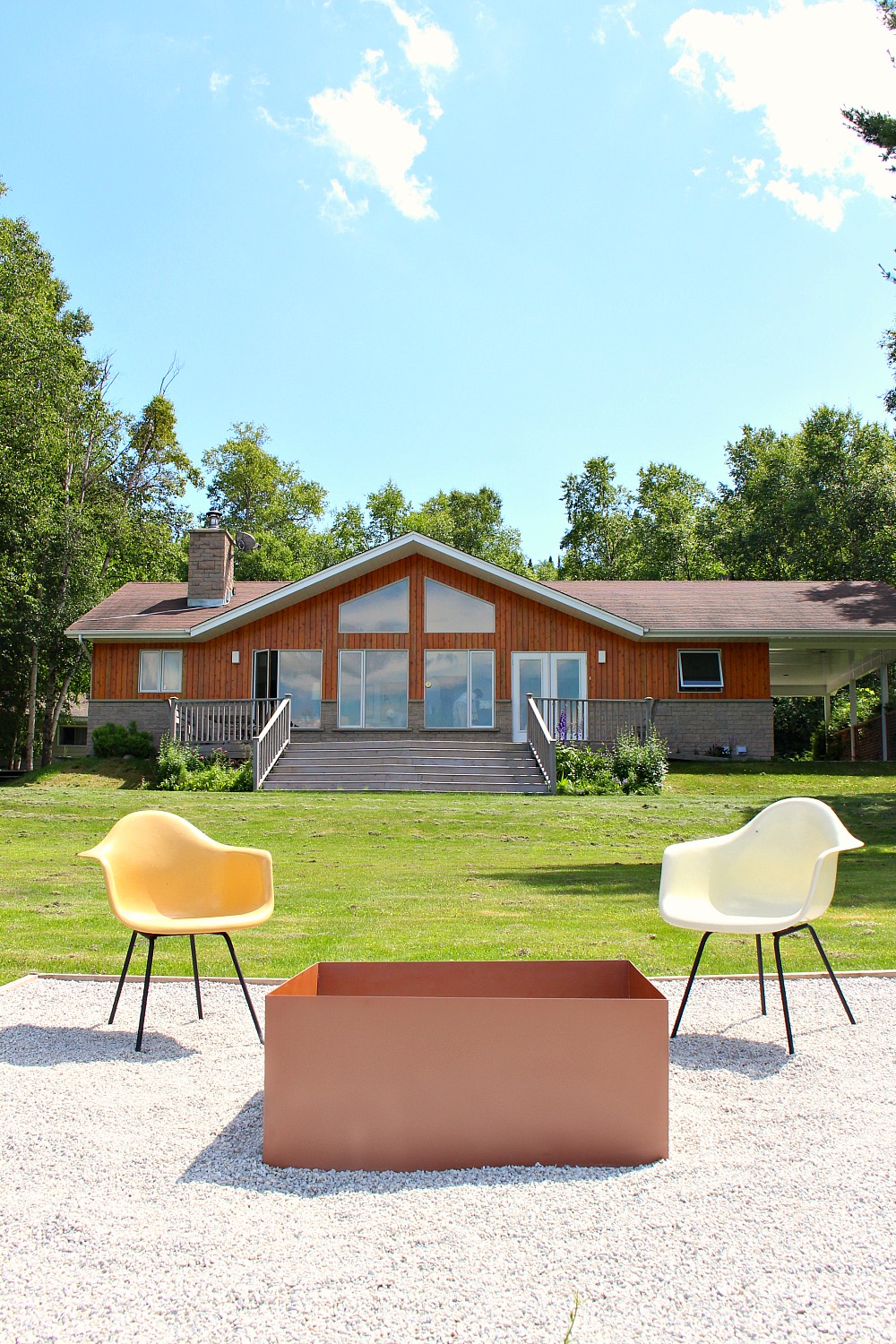 Why We Decided to Keep the Manufactured Stone:
We didn't plan on replacing the siding or windows this year but this project kind of mushroomed and it saved us a ton of money to do it all at once, but I feel like I had to rush some decisions because we needed to order the siding in time for a summer installation. One day, at the very last minute before we had to confirm our siding order, I woke up and decided I wanted to rip off the manufactured stone facade, which is some kind of composite with a peachy undertone that reads very 1980s to me – I always hated it, which is why I painted our fireplace! I polled everyone on Instagram and the vote for removing it was unanimous but I couldn't shake the worry. The older gentleman who built this house really adhered some things, like he was building on a fault line or something. He did some unreasonable things and didn't follow manufacturer's instructions, which has made removal of some stuff impossible without total demolition. After careful examination, even after a discussion with our contractor, we were worried about the damage it could cause to remove it and just how much it would cost to jack hammer that stone off. Plus I started to warm up to it because I really do love the texture of our fireplace, now that it's a moody dark grey. I pictured the charcoal grey painted stone exterior with the faux bois pressed metal siding and the textured copper roof. With more uniformity in the color palette, I think that these textures will play nicely together and so I opted for the safer route: keeping the stone facade. Plus it matches our chimney (which we would have been even more difficult to remove – although we could have clad it in metal).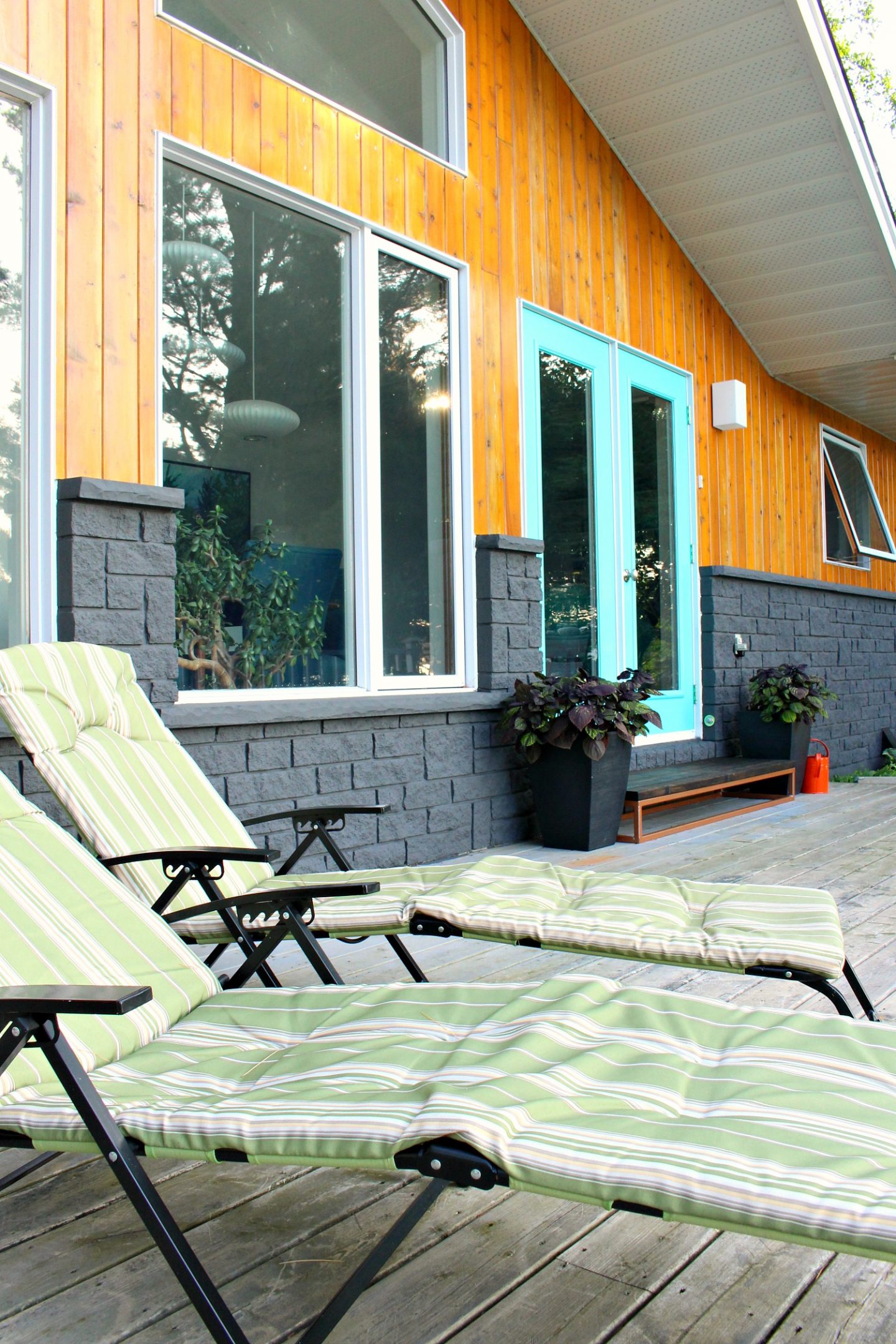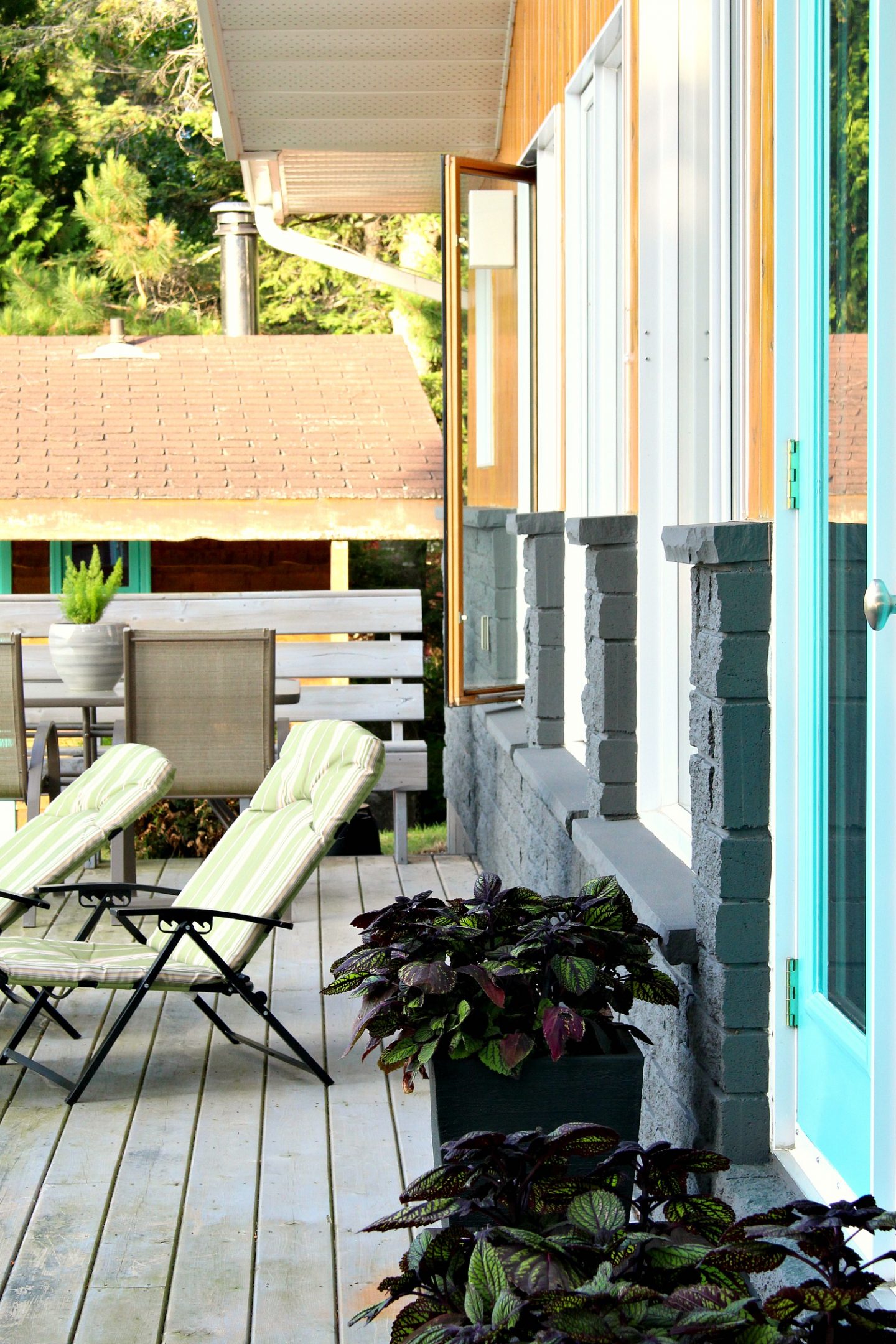 From this angle you can see that I still need to paint my way around the foundation but I am putting off that task and shopping for new patio furniture and outdoor sconces instead. Our charcoal grey painted stone exterior has helped me see that maybe our rickety 10 year old, green Walmart loungers are going to stick out a little because of their shabbiness, so I'm trying to find something a little more sleek, in a dark grey that blends in with the exterior.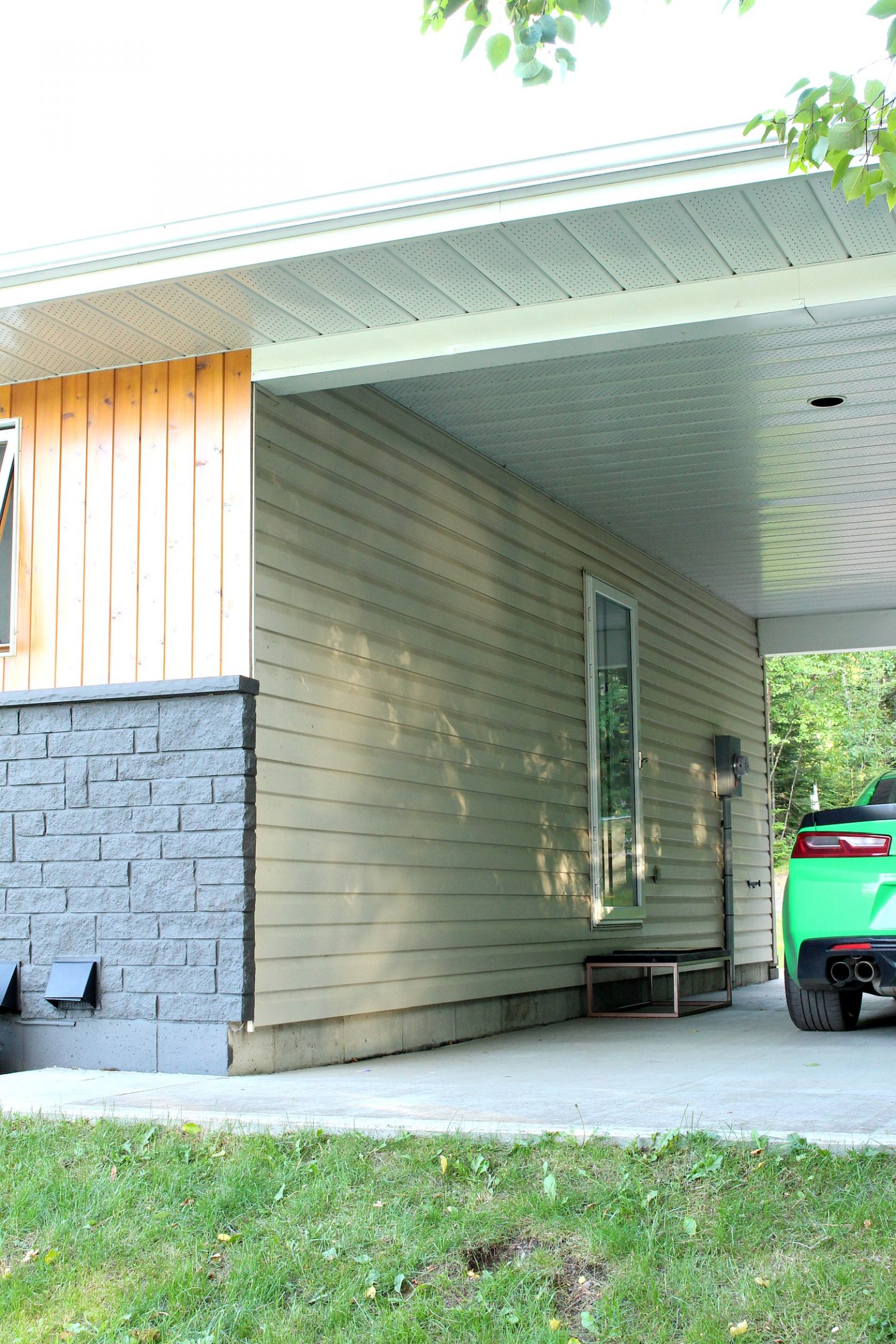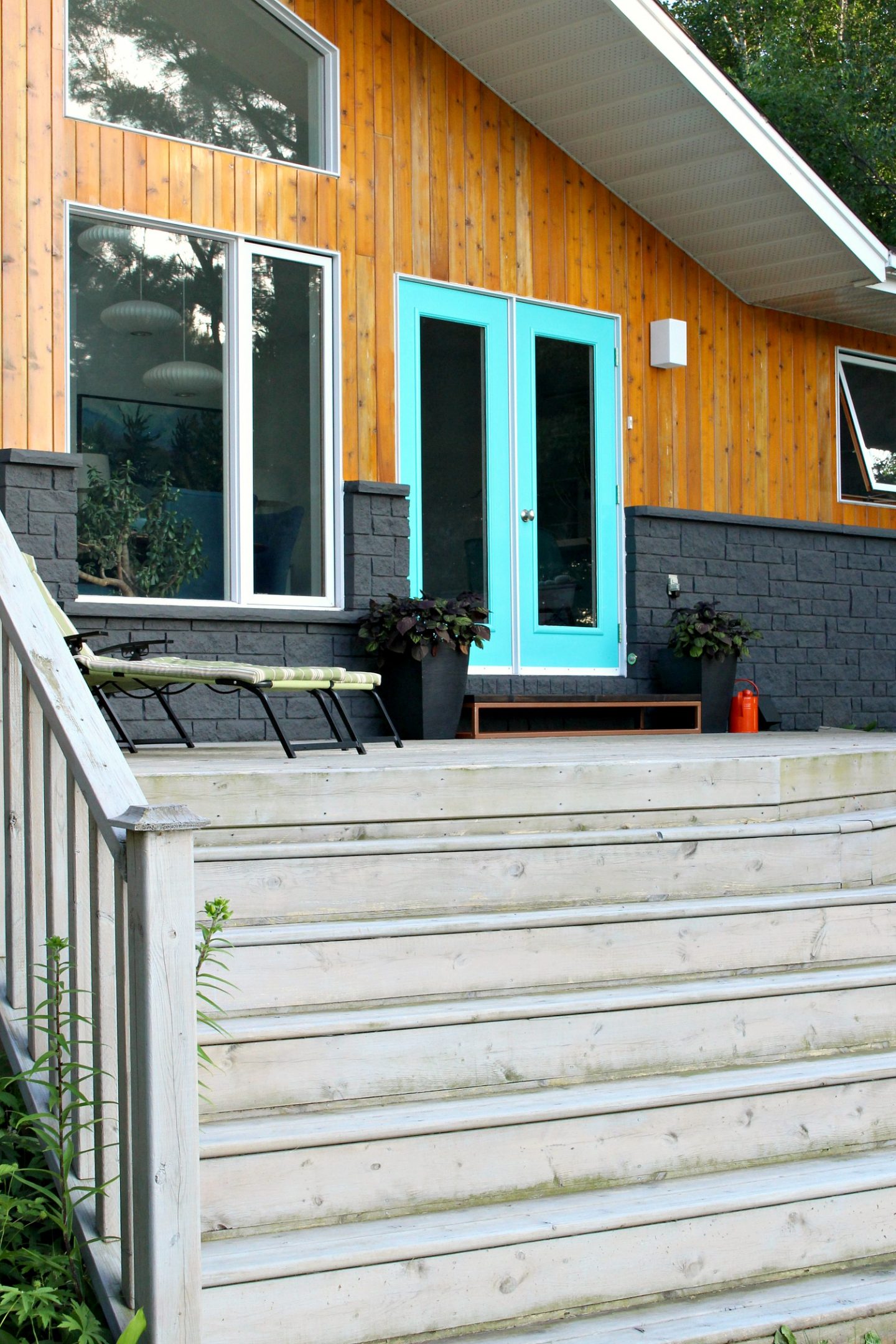 Make sure you're following me on Instagram, because I'm sharing lots of updates – like the shore work we're getting done – in my stories! I can't wait to start sharing the major exterior reno happening so soon…
P.S. Don't Forget to Pin for Later: