If you loved my shou sugi ban outdoor projects but were looking for a smaller wood burning project to try, I have an idea for you! I'm so excited to show off my new kitchen art – and the DIY wood burned picture frame Hubby and I made for this sweet painting. If you follow me on Instagram you might have caught a random Instagram story about this and gotten a chance to vote on the art I was pondering for the kitchen: a moody painting of three birds at night, an uncharacteristically dark choice of art for me because it was inherited from my grandparents.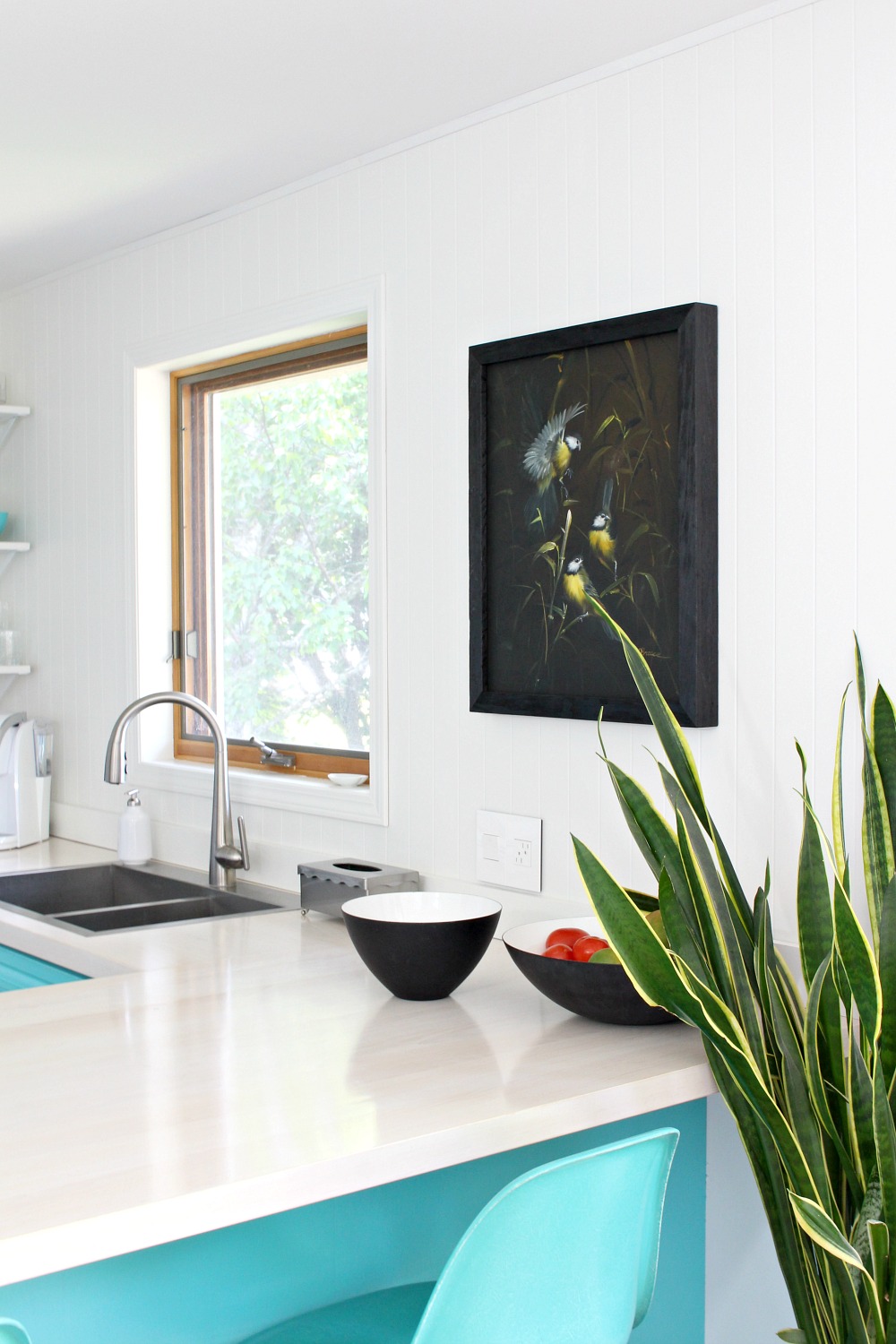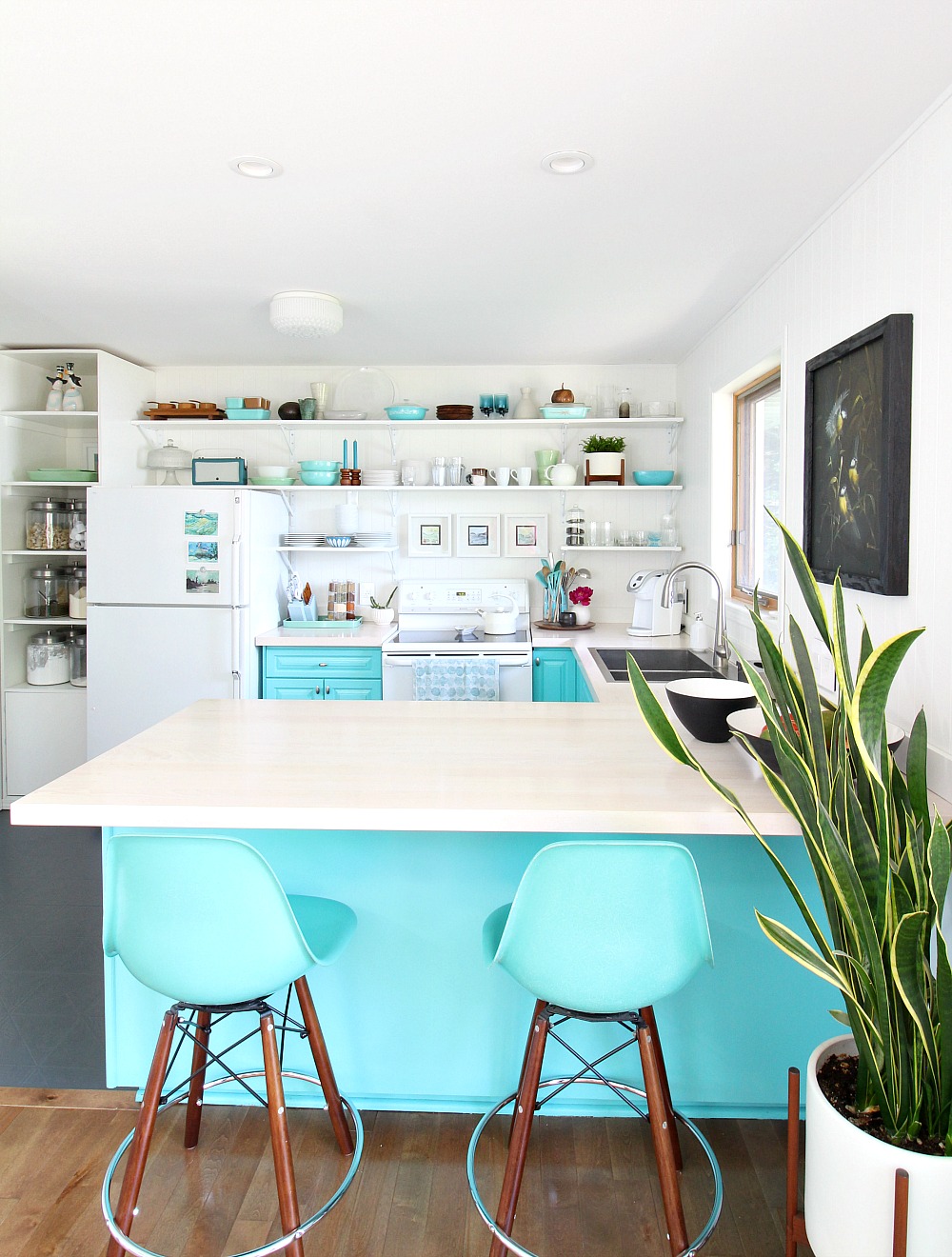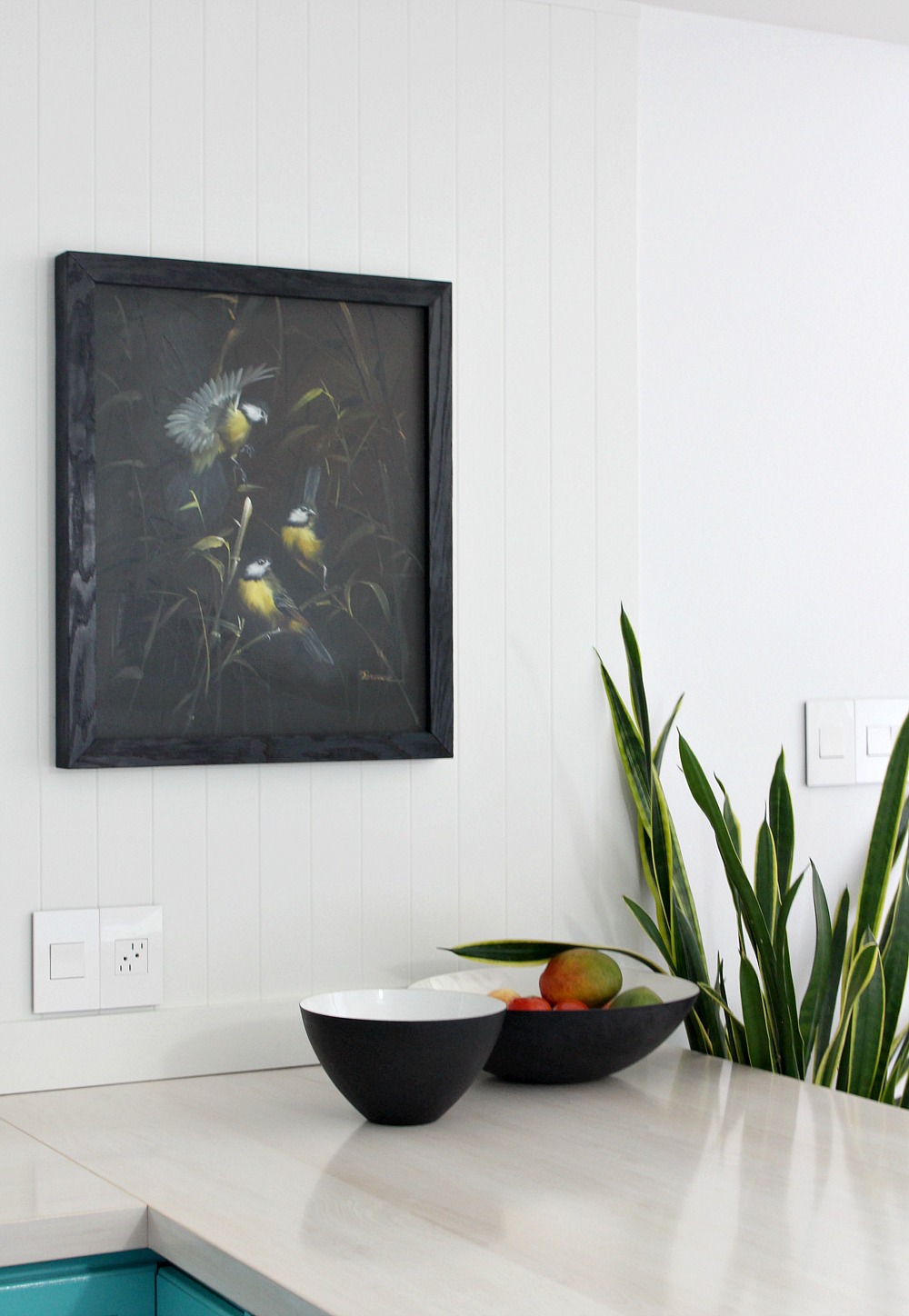 The original frame (see below) was not my style, but the painting always drew me in and because it was hung in my grandparents' "clean room" (as we call it in Hungarian), it seemed extra special to me as a kid. When no one else wanted it, I encouraged my Mom to take home the painting when we emptied and sold my grandparents' home a few years ago. I always envisioned it in a modern and dramatic black frame and her decor palette of warm hues seemed to suit it better than my lakehouse vibes.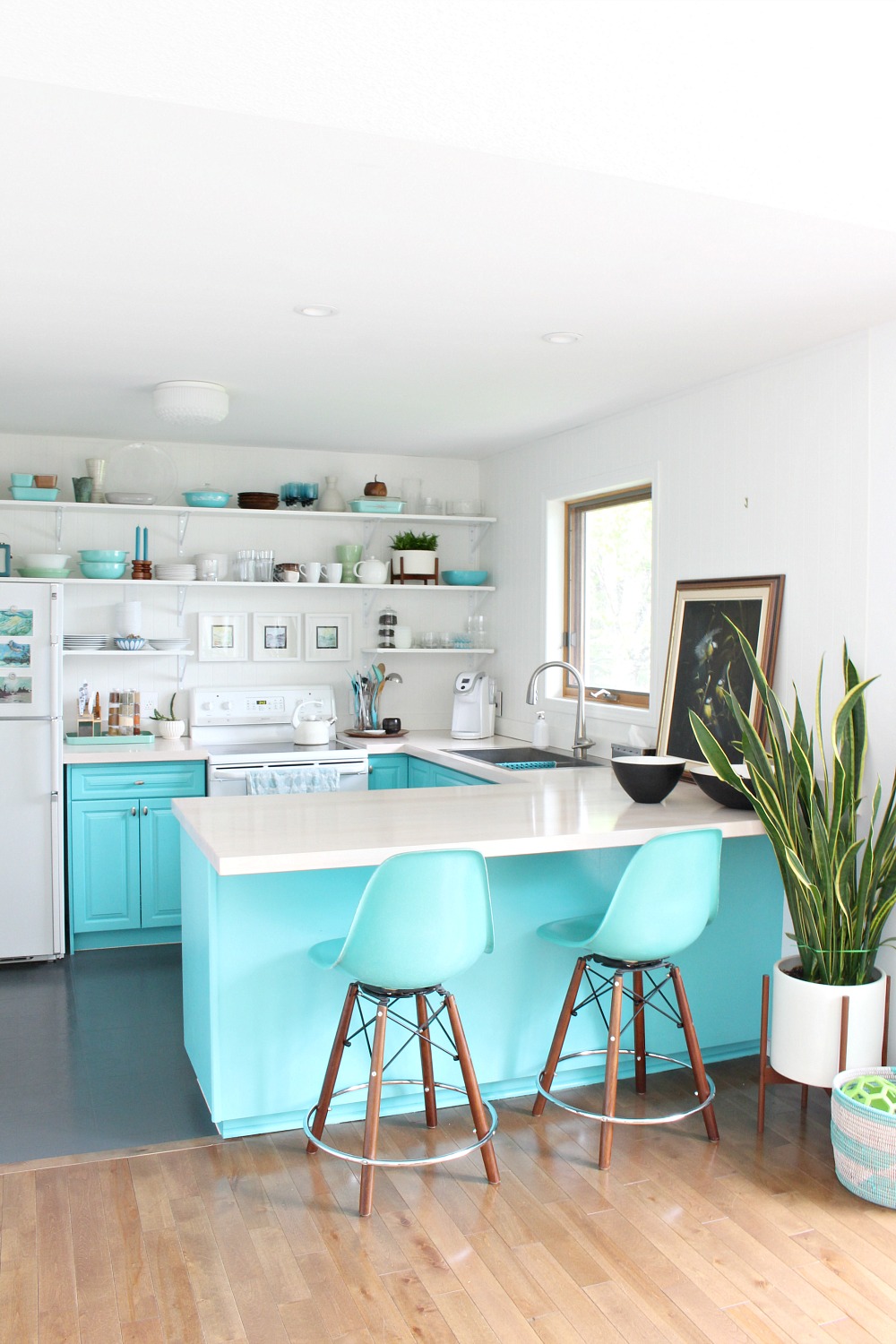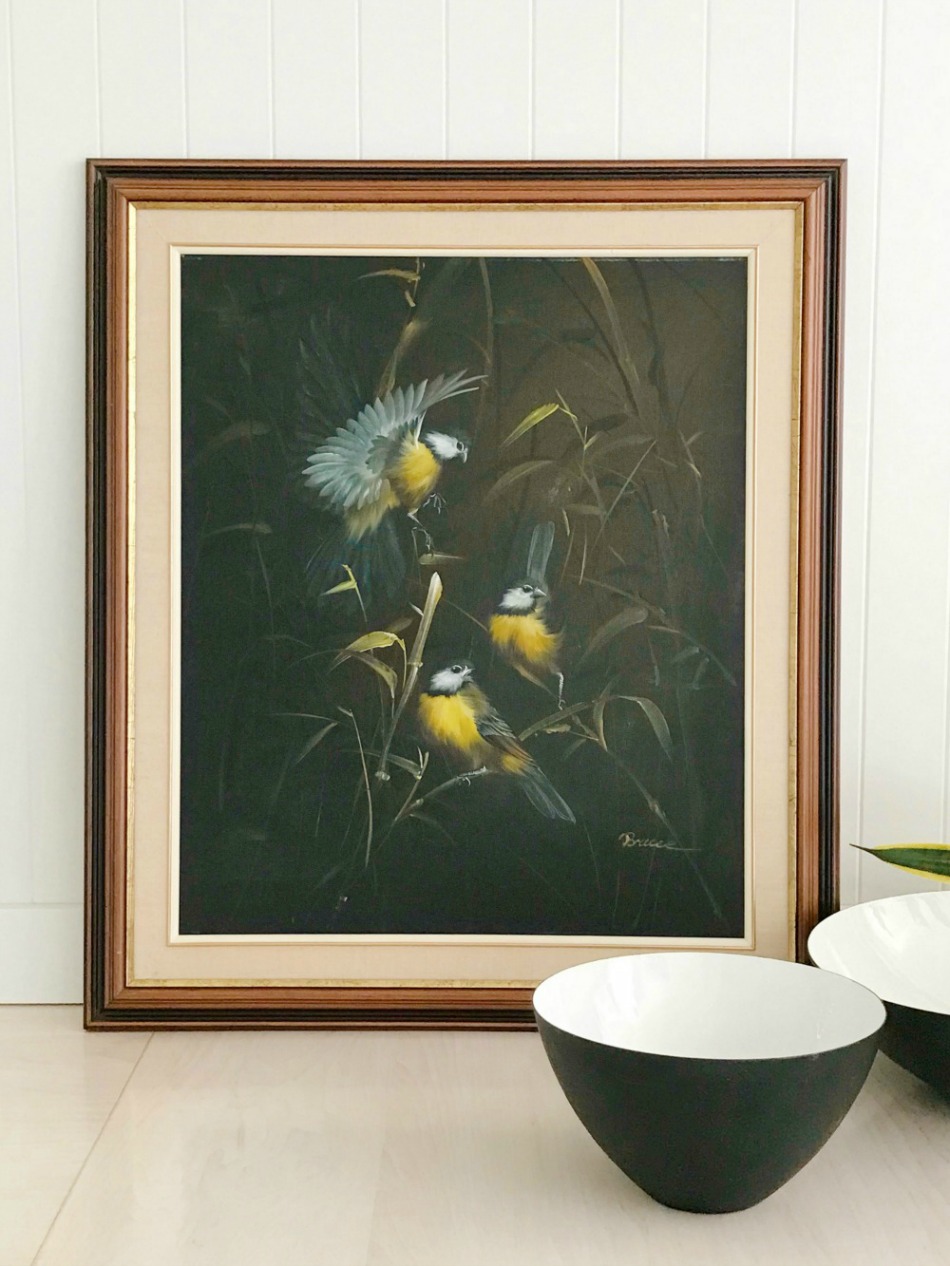 She didn't really share my vision though, so the painting sat in storage. Itching for a change in my turquoise kitchen – but unwilling to paint the cabinets I love so much – I focused on the art, because art is always an easy way to dramatically freshened up a room. I lugged that painting out of its storage spot and put it to a vote. 75% of people voted "yay," while 25% of Instagram friends were not feeling it (which side were you on?). That majority vote was all the encouragement I needed and I'm loving the modern black frame we made – and how both the painting and its new frame add a little earthiness to the kitchen decor and echo the wilderness outside of our windows. Although Lake Superior is our backyard, we have trees between us and neighbors and behind us is a forest and mountains so our location is definitely just as woodsy as beachy.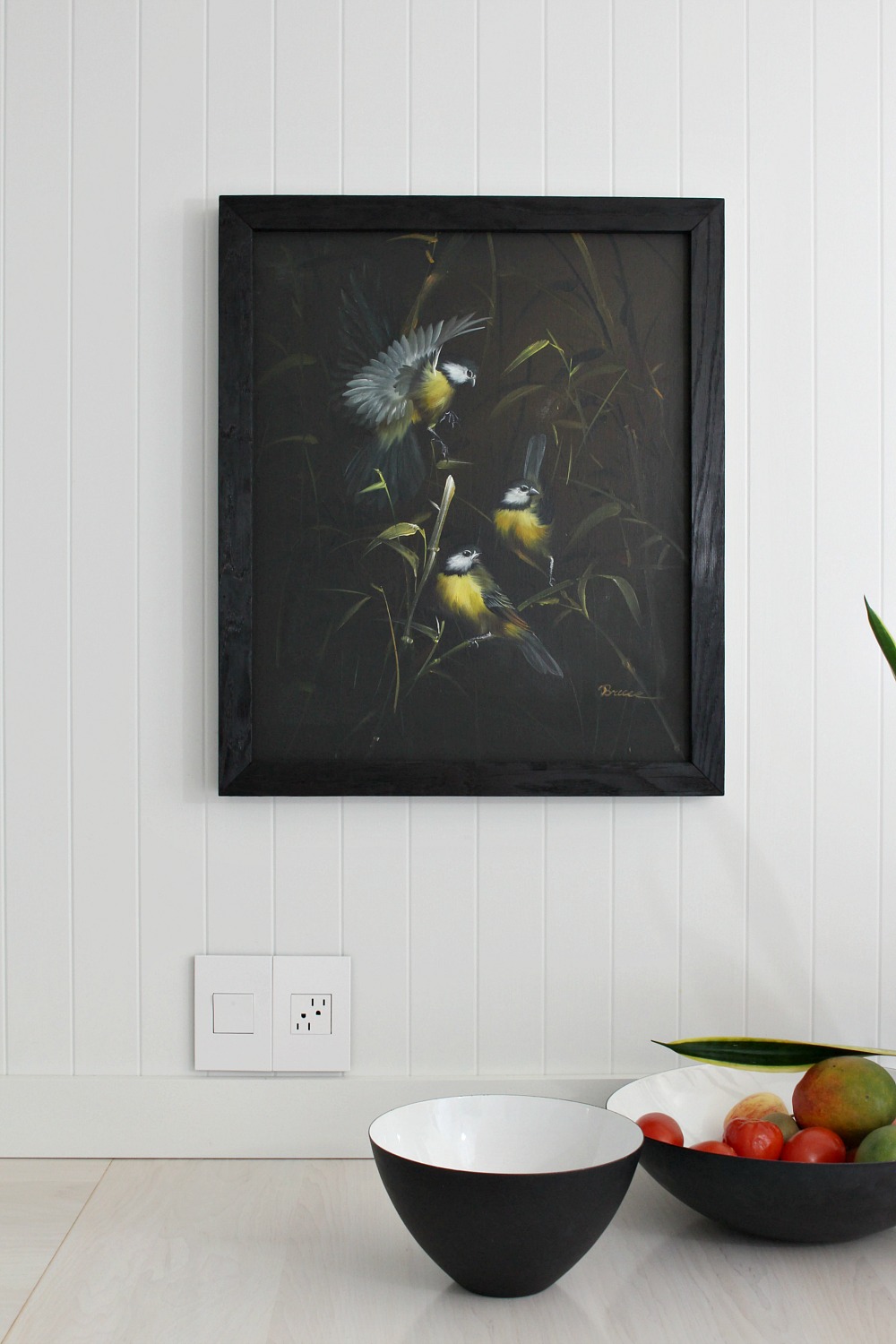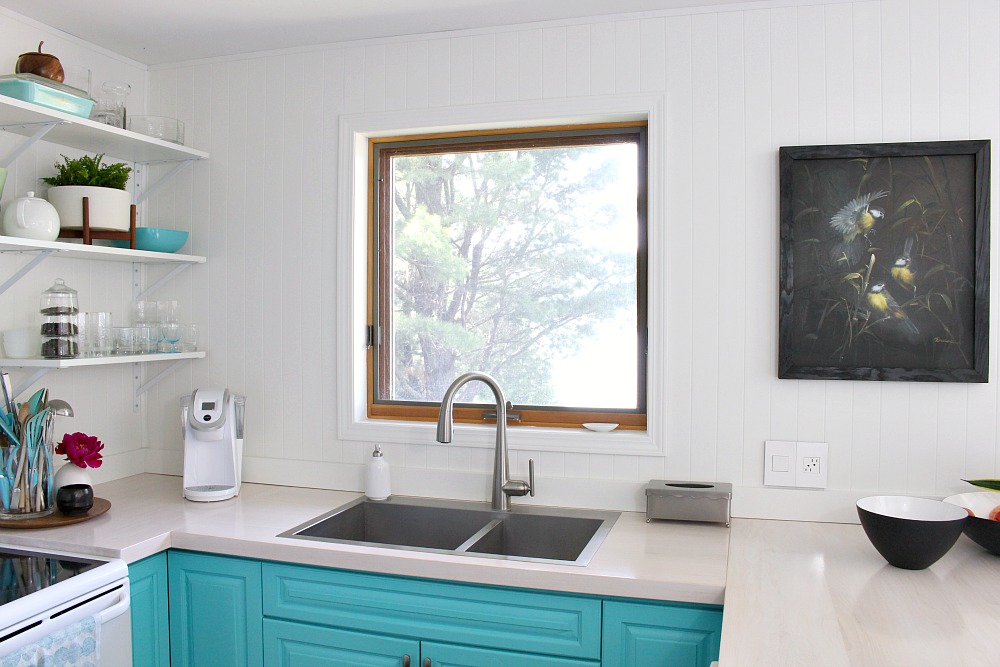 The frame construction is the same floating frame tutorial we shared a little while ago – but we just flipped it to cover the edge of the canvas because the painting didn't go all the way to the edge. With the solid red oak DIY picture frame built, I pondered finishes. Black paint? Black stain? I was on my shou sugi ban wood burning kick, and I had tons of propane and patience left, so I decided to wood burn it!
Supplies:
You can click over to see my full wood burning tutorial, but I did make one change with this wood burning project. I noticed with my wood burned steps and bench that the scraping process removed the coolest parts of the charred texture. That charred layer really shimmers and gleams but it can slough away so it's best to remove it. But for a piece like this, which isn't handled at all, I wondered if I couldn't just leave it and seal it in?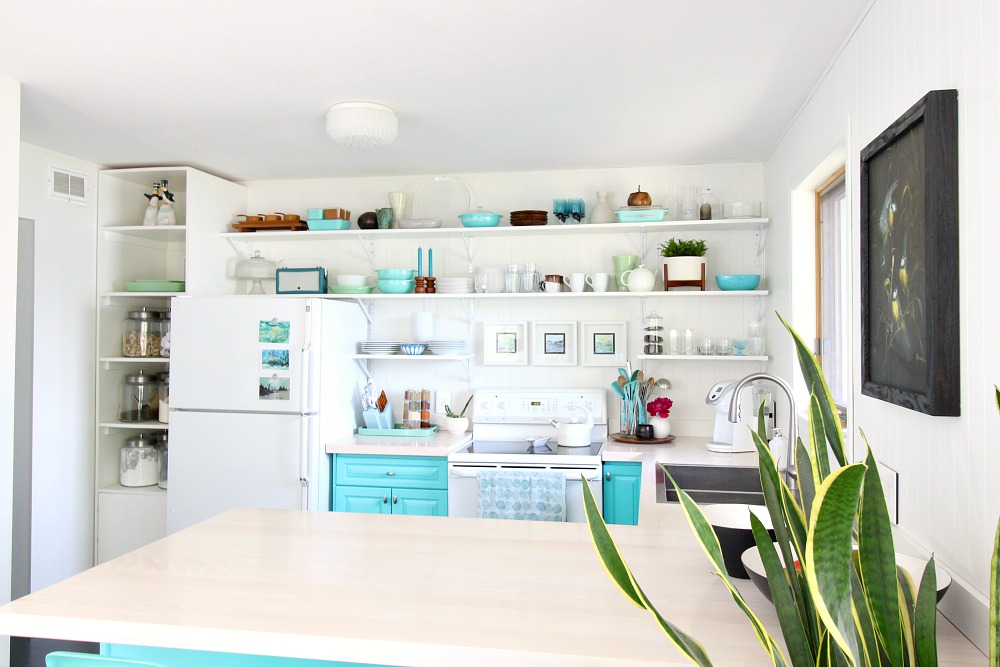 Just like the wood burned steps and bench, I used my mini blow torch to deeply char the wood. This frame took about an hour to char and then I very gently brushed any really loose pieces off. I didn't scrape it at all. Then I let it cool, and applied multiple thin coats of my favorite spray lacquer. I applied about six coats in total, to the front and all of the edge – basically any place I charred, to prevent any loose bits from falling out.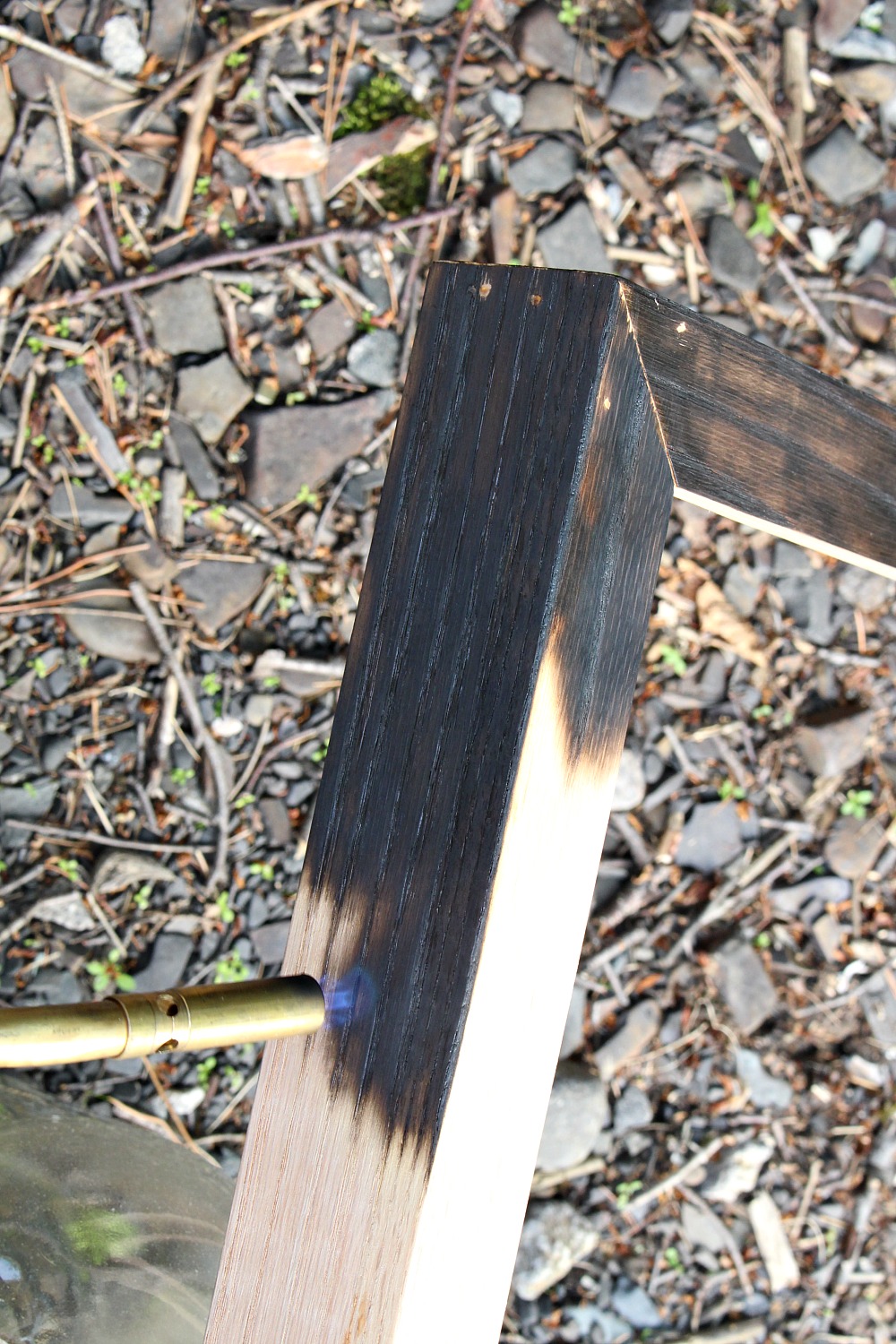 I was very nervous about the outcome and envisioned this picture frame shedding black soot anytime anyone sneezed in its vicinity, but I am pleased to report that the frame leaves NO ash or soot. The charring is completely sealed in there – there's not a hint of it on my white walls, which is such a relief. And I love how the wood burning lets the grain shine, which is a perfect complement to this woodsy painting. It's so much more interesting than just black stain or paint, plus this was a really fun wood burning project because I could seal in some of that gorgeous, shimmering charred texture – I love experimenting like this.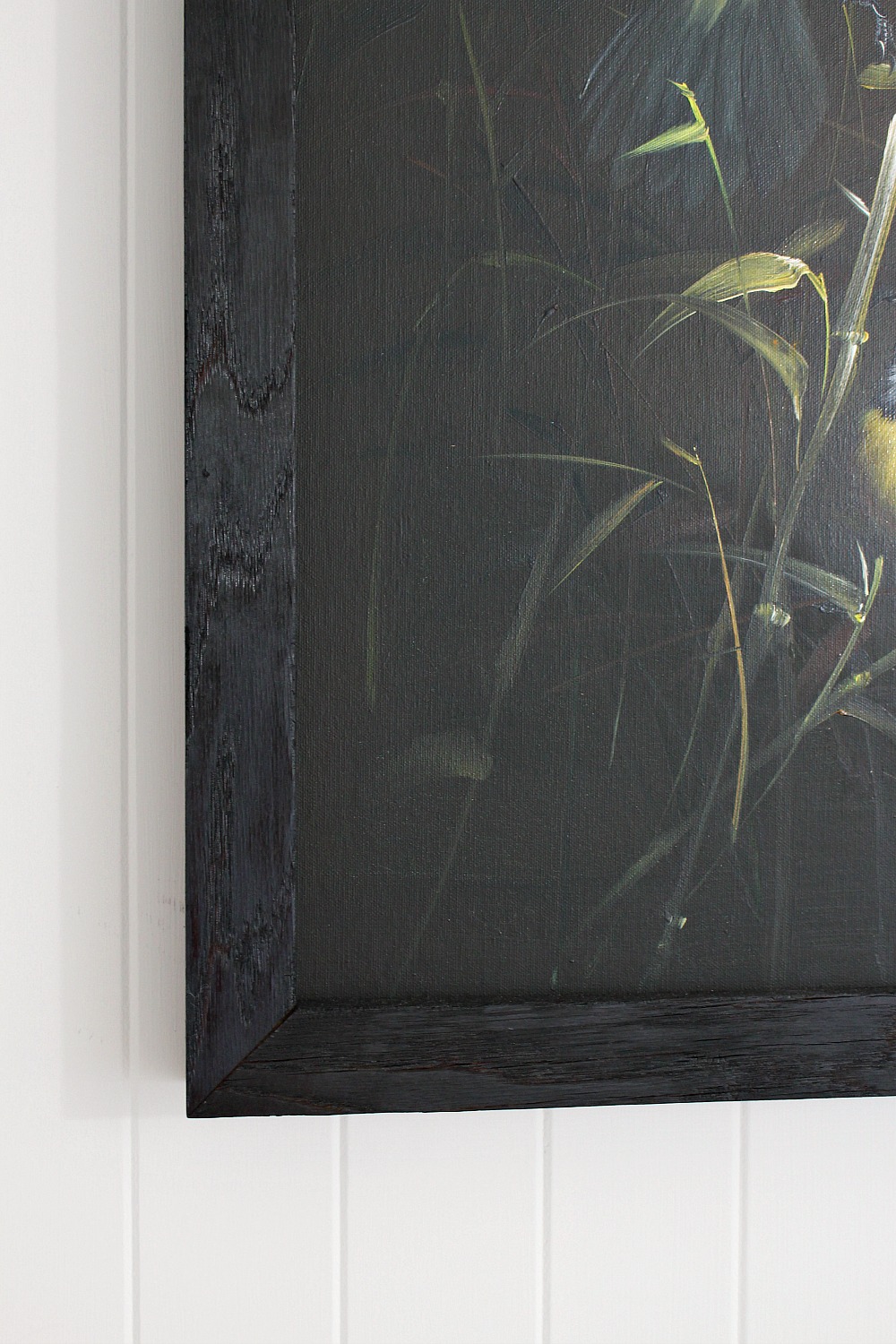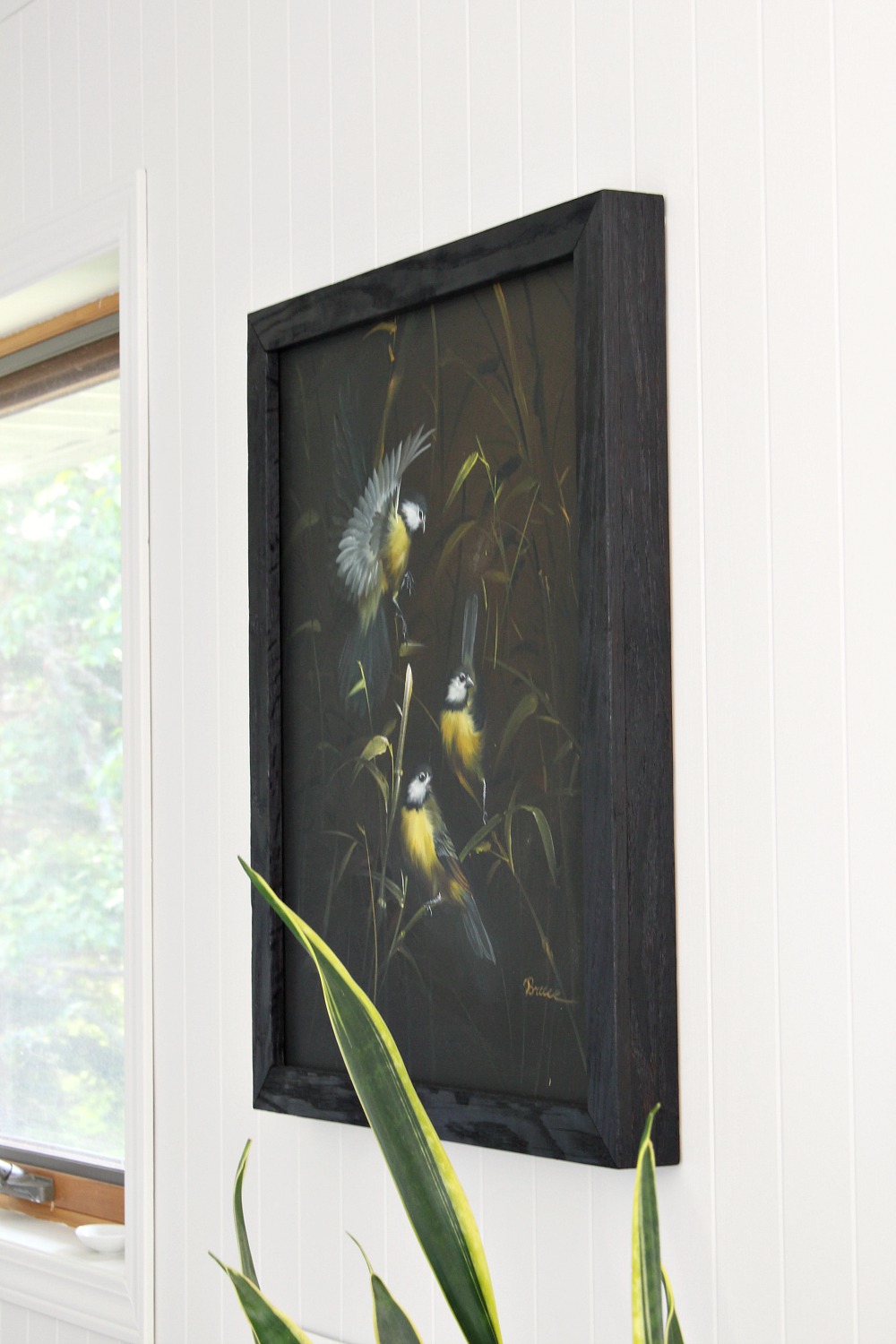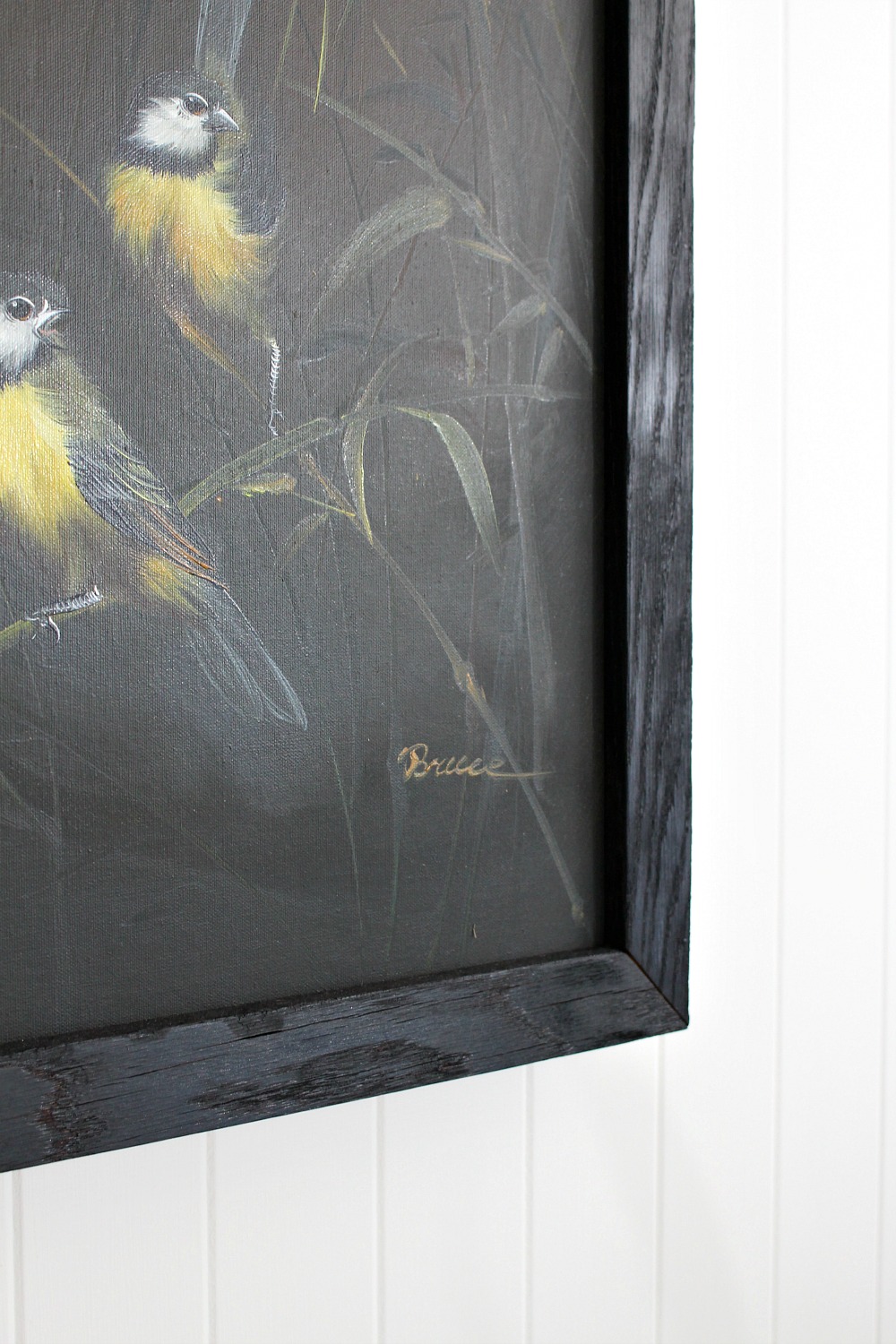 I wanted to share this project for anyone who wanted to try the wood burning tutorial (do it!) but didn't want to start with a large wood burning project. This is a great beginner wood burning project to tackle and you can even find inexpensive solid wood frames to experiment with at places like Michael's Crafts if you'd rather not build one.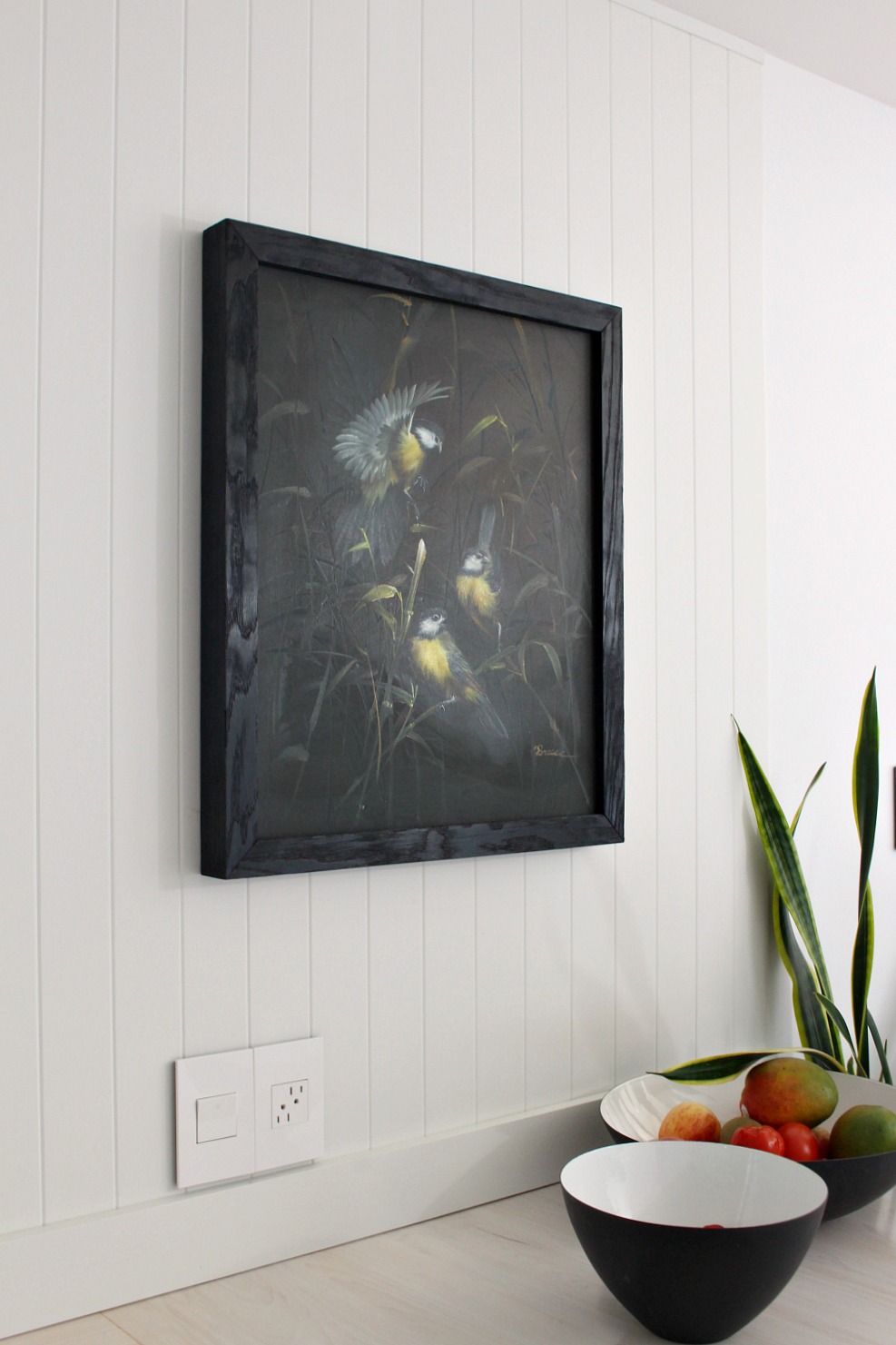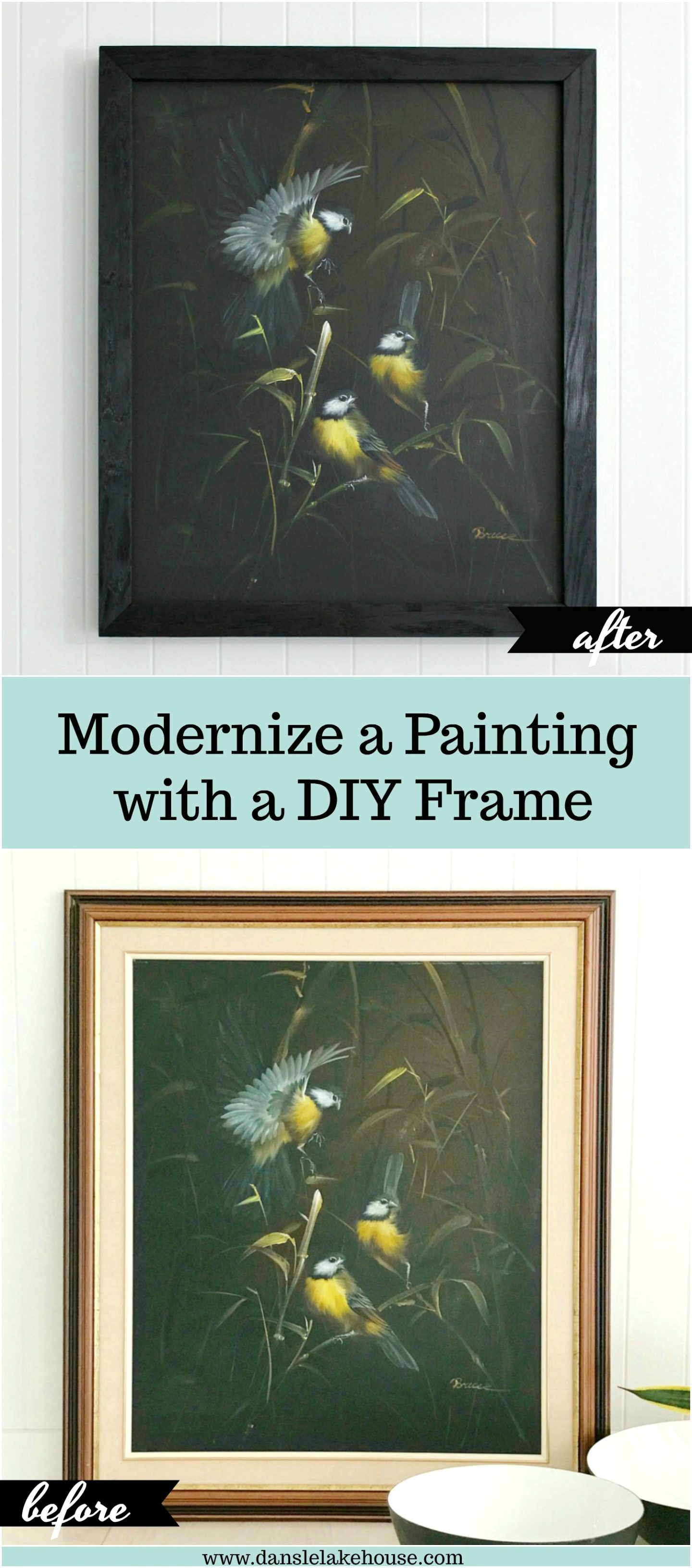 Along with the new art, I rearranged my kitchen shelves for a more eclectic and earthy vibe – but that's a story for tomorrow! Come back for the scoop.